Today, I'll be exploring the release of Historic Anthology 5. We'll be building some decks, giving each of them a rating that's entirely based on my opinion, and talking shop about how each card was used when originally printed. This Arena-only release adds 25 new cards into Historic, giving us even more juice to brew with after the successful yet controversial release of the Mystical Archive cards.
The addition of the Mystical Archive cards has had a great effect on Historic, completely reshaping it around some of the game's most iconic spells. As of writing this, Tainted Pact decks are out in full force, but the general consensus is that it will be banned soon, so I'm writing this article under the guise that the Tained Pact deck will not be a factor. [Copy Editor's Note: Smart call, Todd.] That's good news when you're introducing a brand-new set of cards into a format, and especially so when those cards entering the fray are some of Magic's greatest hits!
Historic Anthology 5 is poised to be one of the cooler additions to the format, if only because it contains so many fan favorites. It's no secret at this point that Commander drives sales, so expect a lot of cards coming to Historic in the next few months that are catering to that demographic, and Historic Anthology 5 is no different. The trick is finding a balance where certain cards can be desirable to both competitive and casual players, as well as just helping your player base have some fun!
First up, let's discuss the rating scale:
F: unplayable trash
D: not exciting, but potentially useful
C: solid but probably used sparsely or as a singleton
B: some decks will want four copies
A: will transform entire archetypes or Historic itself
Let's get to the list!
Relic of Progenitus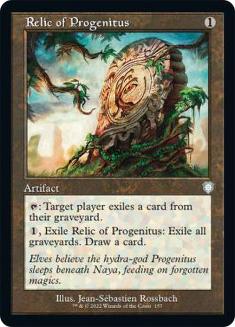 Old faithful, Relic of Progenitus is the benchmark for interacting with your opponent's graveyard. It's cheap and has the ability to attack the graveyard over time, replace itself, and nuke the graveyard completely. Every graveyard deck pilot fears Relic of Progenitus because it's effortless. It takes no risk to play Relic of Progenitus, which is why you see it in the maindeck far more often than other graveyard hate.
While Historic has quite a few anti-graveyard measures, I've been wanting Relic of Progenitus (or Nihil Spellbomb) for some time. It's not as good as something like Leyline of the Void or even Tormod's Crypt if your opponent is on the play and going off on the first turn, but that's not really a play pattern specific to Historic. Because of that, a more "value-centric" approach in Relic of Progenitus is excellent.
Grade: A+
Ichor Wellspring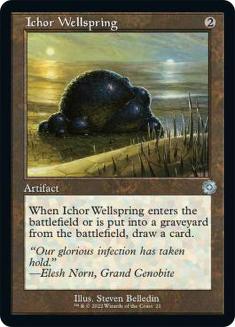 I've always thought Ichor Wellspring was good if you could sacrifice it easily. It also thrived in a format that revolved around Krark-Clan Ironworks because it became mana-neutral and drew an extra card. I will say that this card is more of a push toward something rather than actually doing anything right now. I don't think the tools currently exist in Historic to make this good, but we'll soon reach the point where any artifact body is a good artifact body. All it takes is one Urza, Lord High Artificer or Grinding Station.
Grade: D
Court Homunculus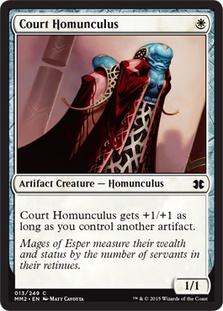 This is a pretty lackluster addition to the format. I can't recall it seeing play in any format outside of Alara Block Constructed in that old Brian Kibler deck. Even in that archetype, Court Homunculus was one of the worst threats of the bunch.
Is there a world where Court Homunculus is the ideal one-drop for Tempered Steel? Of course. Do I think it deserves the time of day? Absolutely not.
Grade: D
Elesh Norn, Grand Cenobite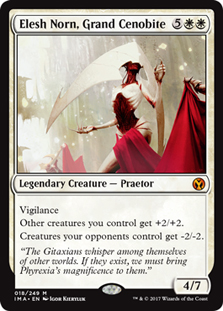 During its time in Standard, Elesh Norn, Grand Ceobite saw a lot of play alongside Unburial Rites. It just so happens that a creature that acts like Wrath of God but continues to apply the shrinking effect is absolutely brutal to most tribal strategies. While it doesn't have lifelink or evasion, it does stifle the development of any aggressive opponent, and can singlehandedly save you from creature-based rushes. Not all of the traditional reanimation targets can bail you out of sticky situations involving a rush of creatures.
While Elesh Norn will see play in those style of decks, it will be part of a larger suite of threats that are beneficial to mix numbers on based on the expected metagame. Back in Standard, Sun Titan was ridiculous alongside Phantasmal Image, but you still wanted some number of Elesh Norn to handle your worst-case scenarios. In Legacy, a solitary Elesh Norn was worth the slot because of Entomb. I love Elesh Norn, and I think it's an excellent addition to Historic.
Grade: B
Intangible Virtue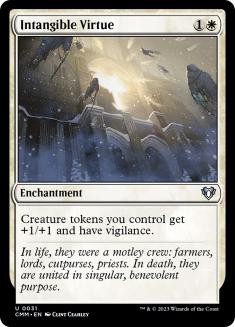 Intangible Virtue started its life in Magic by getting banned in Innistrad Block Constructed. Alongside a few token generators, namely Lingering Souls, the boost it provided was lopsided and devastating. It continued to see play in Standard, and later in Modern, as one of the pivotal pieces in Orzhov Tokens.
Lingering Souls was always the one-two punch with it, though. Without access to Lingering Souls on Magic Arena, I don't know if Intangible Virtue will see play right off the bat, but that doesn't mean it's bad. It's just less good in Historic than it could be, and will likely grow in value over time.
Grade: D
Ray of Revelation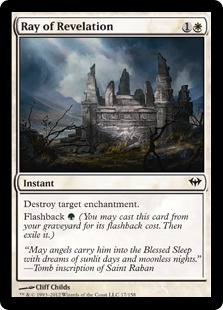 Ray of Revelation is an excellent card in just about every graveyard-related strategy involving both green and white mana. On occasion, you'll see it played in a deck that can only cast it from the graveyard! The whole point of a card like Ray of Revelation (and another card on this list) is that it can be used to tag two different opposing cards, or be found from graveyard-related shenanigans.
I doubt it will see play as more than a one- or two-of in a few different Unburial Rites decks, but there's value in a card like Ray of Revelation in a number of strategies.
Grade: C+
Jin-Gitaxias, Core Augur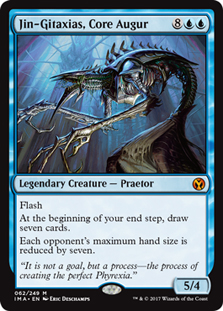 There were a few Reaniamtor variants over the years that tried to play some number of Jin-Gitaxias, Core Augur but it was always worse than Griselbrand. The body doesn't close games, it doesn't have evasion, and making your opponent discard their entire hand at the end of turn isn't as good as you think.
While there's no Griselbrand in Historic, I don't know if there's a Reanimator deck looking for Jin-Gitaxias as the payoff. Drawing a bunch of cards is much stronger when Force of Will or Force of Negation is in the format. In Historic, it will likely mean you're about to die with an extra seven cards in hand.
Grade: F
Merfolk Looter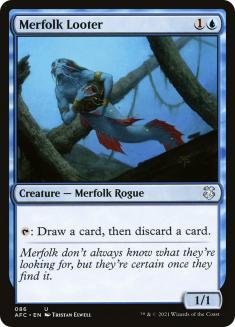 I'm actually pretty mad that this is getting printed instead of Jace, Vryn's Prodigy. I hope the cycle of creature-planeswalkers enters the format at some point, but Merfolk Looter will have to do for now. I've seen a lot of different archetypes want access to a Merfolk Looter in the past, but most of them were graveyard-related or had cool stuff like Fiery Temper or Basking Rootwalla to get some extra hits.
With that said, the play patterns that Merfolk Looter enourages are exactly the type that I enjoy as a Magic player. As they print cheaper cards that interact with the graveyard in value-centric ways, all "Looter" creatures will need to be looked at seriously. If Jace, Vryn's Prodigy isn't an option, Merfolk Looter might be the go-to.
Without Thing in the Ice in the format, Izzet Phoenix is currently relying on Sprite Dragon to do a lot of heavy lifting. It's possible that a two-drop that enables Arclight Phoenix could be a desirable addition to the archetype.
Grade: B-
Reverse Engineer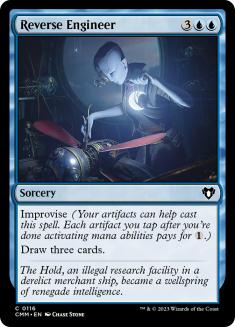 While improvise isn't quite affinity for artifacts, it plays mostly the same when your deck is full of cheap artifacts that don't need to be sacrificed right away. This culture of playing a ton of do-nothing artifact bodies so you can use them for mana or whatever is not a style of play I enjoy, but there's something magical about a two-mana spell that draws three cards.
You might be seeing a bit of a pattern here, in that many of the cards in Historic Anthology 5 need a little help to get moving. Over time, they will inevitably print another Mox type card, another one-mana artifact that cycles to draw a card (like Relic of Progenitus!), or two-mana artifact that does something disgusting if you keep it around for a few turns. Whenever they print a good, cheap artifact, Reverse Engineer isn't far behind.
Grade: C+
Stifle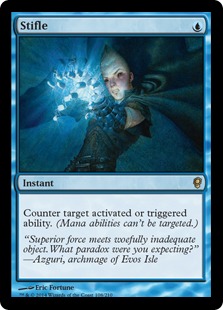 A juggernaut of mana denial in Legacy, Stifle is a pretty flat brick in Historic. It might see some fringe play in decks that try to "get" your opponent, but the true strength of Stifle always came from stopping Flooded Strand and company. At some point, they may add fetchlands to Historic, but I'm hopeful that it won't be for a very long time.
Grade: F
Whirler Rogue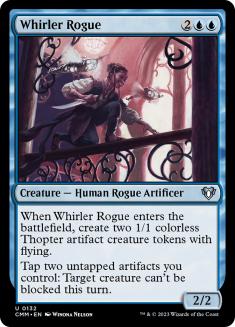 Another brick at the moment, but Whirler Rogue has seen some play in Modern Humans as a top-end threat that can break through battlefield stalls. Humans hasn't really picked up steam in Historic, but a few more rounds of additions from the era of Innistrad could solve that issue. All we need is a card like Aether Vial to get the ball rolling and we'll be able to port something over quite nicely. Even then, I don't know that Whirler Rogue will be good enough.
Grade: F
Sheoldred, Whispering One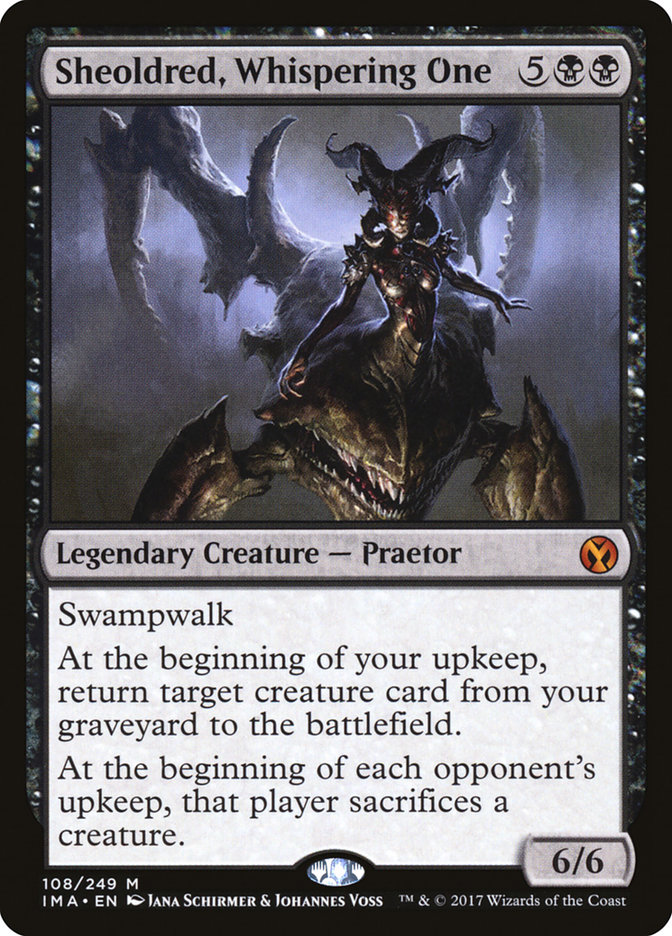 My vision for Reanimator in Historic is similar to the versions that were in Standard some time ago. Using Unburial Rites to bring back castable creatures like Thragtusk gave you a life buffer and resilient threat. Sheoldred, Whispering One could be a fine addition to that strategy, if only because it's one of those cards that just buries an opponent if they can't deal with it. I doubt it will see play as more than a one- or two-of, but I'm definitely happy to add this one to the arsenal.
Grade: C
Vault Skirge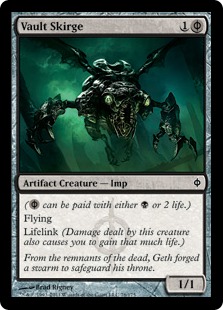 Alongside Court Homunculus, Tempered Steel is gaining two new potential one-drop creatures. In a deck that only cares about raw bodies and the artifact typeline, Vault Skirge just so happens to be one of the better threats ever printed. Lifelink and evasion have always been key components to the success of Vault Skirge. The third element is pumping the heck out of it.
It's not flashy, but Vault Skirge will be one of the best one-drops in any aggressive artifact deck. I love me some Steel Overseer. My friend needed some help.
Grade: B+
Ancient Grudge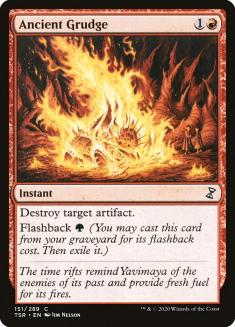 I've always loved Ancient Grudge. Artifacts just always kinda pissed me off. Having a spell that popped two of them made the absurd power level of Mox Opal palatable. In the past, that was always the downside of playing artifacts: the hate cards that killed them were cheap and occasionally devastating.
Cards like Ancient Grudge have been necessary to contain the raw power level of artifacts. While they don't necessarily dominate in Historic at the moment, Ancient Grudge is almost like a fail-safe to ensure those pesky robots never truly get out of control. Ancient Grudge is one of the best sideboard cards of all time, and will continue to see play in a number of Gruul-colored decks until the end of time.
Grade: B+
Dragonstorm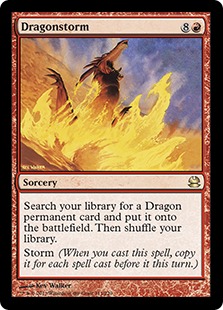 Without Bogarden Hellkite, I don't know if Dragonstorm will play the combo game well. There also aren't that many ritual effects in Historic, meaning it might be hard to chain spells into Dragonstorm for the full effect. With that said, Irencrag Feat exists, and you can certainly do some cool tricks with Velomachus Lorehold and Terror of the Peaks.
When it was in Standard, Dragonstorm was an absolute monster, but it was always the mana producers like Rite of Flame and Seething Song doing the heavy lifting. It'll be interesting to see if anyone goes hard to push Dragonstorm to the limit.
Grade: D+
Trash for Treasure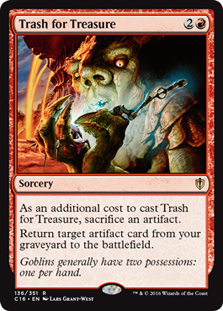 Faithless Looting changed everything.
Trash for Treasure and God-Pharaoh's Gift are like PB&J. Both are artifact- and graveyard-related, which means you should be looking for artifacts that don't mind being sacrificed (Ichor Wellspring), creatures that are also artifacts (Bomat Courier), and enablers that can do one or the other.
Gate to the Afterlife is an artifact that can tutor up one piece of the combo or help you discard some chaff. It's also possible to bring multiple archetypes together under one roof, acting as either a Reanimator deck or graveyard-engine deck. Refurbish might be the perfect card for pulling it all together, but I wouldn't mind a few more big artifacts like Combustible Gearhulk to give Trash for Treasure a few more hits.
My only regret is that we have access to Chromatic Sphere and not Chromatic Star.
Grade: B+
Urabrask the Hidden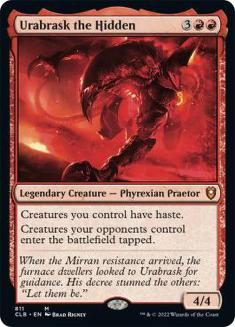 Among the Praetors, Urabrask the Hidden is the cheapest and most likely to be hard-cast in a competitive deck. It helps stifle aggression from creature decks, makes blocking impossible, and could potentially be a combo piece in some Genesis Ultimatum deck. Giving all your creatures haste leads to some weird games.
In this day and age, I doubt Urabrask will do much of anything other than look cool. It's a bit too expensive for an aggressive red deck, but I'm sure plenty of folks will continue to build a Commander deck around it.
Grade: F
Into the North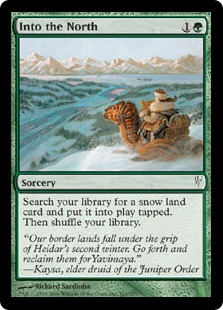 One of the coolest uses of Into the North was finding Dark Depths. In essence, Into the North acts as a Rampant Growth, but that utility to find a weird land or even tapped dual land is pretty sick. For now, that utility land will likely be Faceless Haven, which makes Into the North very interesting. One of the downsides to Rampant Growth effects is that drawing them later in the game is almost meaningless. If Into the North can ramp or find a threat, it becomes much more valuable.
I expect the best Snow decks in Historic will focus on utilizing either Blood on the Snow or Faceless Haven. It's possible that Into the North will allow for you to play both without much trouble. Since Blood on the Snow costs six mana, any spell that helps ramp toward it is desirable. The fact that it helps tie in that Snow permanent theme is also pretty sweet.
Grade: A
Vorinclex, Voice of Hunger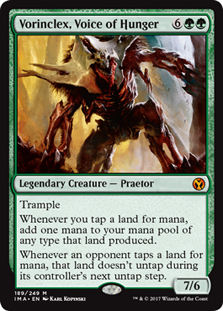 Not my cup of tea. I've never seen this card do anything outside of Commander and I expect that trend to continue. It's obviously powerful, but aburdly expensive. I just don't see it doing much of anything.
Grade: F
Ojutai's Command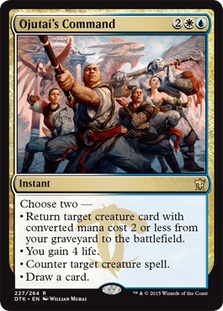 The Dragonlord Command cycle was always one of my favorites. I have a particular fondness for Ojutai's Command, as it buried opponents trying to cast Siege Rhino. When your win condition gets to be Jace, Vryn's Prodigy or some other cheap creature, a card like Ojutai's Command gains an entirely new dimension.
Counter plus draw will be one of the better uses for Ojutai's Command, but every mode is useful. As more creatures enter the pool, some of those creatures will be desirable for a control deck and have a casting cost of two or less. Young Pyromancer jumps to mind here, as it can provide you with plenty of pressure and defense. As far as two-mana creatures are concerned, you can do a lot worse.
Grade: B+
Silumgar's Command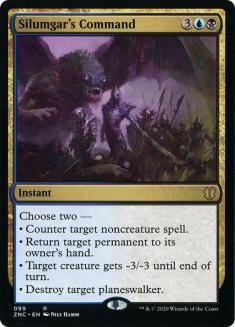 This is likely the worst of the bunch, though it's still certainly playable. I have always liked Silumgar's Command as a way to deal with planeswalkers, but mostly because it can "trade up." Interacting with planeswalkers after they've been used puts you at a loss on actual or virtual card advantage. Silumgar's Command is expensive, but dealing with one of those tough permanents and doing something else, like Negate, is outrageous. It costs five mana but it definitely gives you five mana worth of value.
Grade: C
Kolaghan's Command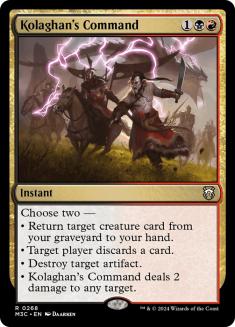 I'm a married man but even I take a second look when Kolaghan's Command walks by. It's an exceptional card that will help shape Historic for a long time to come. It's the quintessential "fair" card in that it can interact in a number of ways while generating value in multiple other ways. It encourages playing more interaction, cheap creatures, and will cause some major headaches alongside Lurrus of the Dream-Den.
I have long adored Kolaghan's Command. I will always seek decks that can play it because it emphasizes the type of Magic I like to play. As a control player at heart, all I want to do is return Snapcaster Mage to my hand. For now, I guess I'll have to settle for Young Pyromancer and Torrential Gearhulk!
Grade: A+
Atarka's Command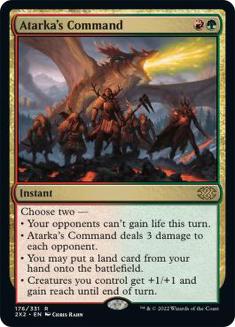 Burning-Tree Emissary is exactly the type of card you want to pair with Atarka's Command for multiple reasons. In fact, red aggressive decks that play a ton of cheap creatures helps push Atark's Command to its limit. The amount of burst damage you're capable of with Atarka's Command is incredible sometimes. For two mana, you sure could ask for a lot less and it would still be good. It's hard to block. It's hard to calculate just how much damage could be coming your way.
When it was in Standard, Atarka's Command was the reason to play red. It's been solid in Modern, great in Pioneer, and now it is poised to dominate in Historic. Just check out this ludicrous decklist posted by Ross Merriam in his article earlier in the week!
Grade: A+
Dromoka's Command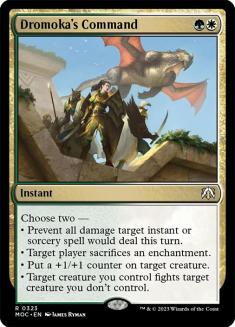 My primary experience with Dromoka's Command was it being a complete monster in Heroic decks. The heroic ability benefited greatly from cards that could target more than one of your creatures. It also benefited from a card that was versatile, powerful, and cheap. In a world full of prowess and magecraft, as well as some heroic-adjacent abilities, I could see Dromoka's Command finding a lot of different homes.
The "fight" mechanic used to be something of a joke. I don't know when it changed exactly, but at some point cards started to "fight" and it just… resolved? I think the trend of tapping out for bigger and better threats meant more people were tapping out rather than holding up some form of interaction. Whenever you would match your opponent's creature play with one of your own, that leaves you incredibly vulnerable to a card that pumps and fights, ultimately creating a space where an entirely new card type can shine.
Grade: B
Grisly Salvage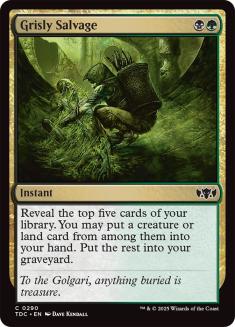 The "easy" way to build a Grisly Salvage deck is Abzan with Unburial Rites. You can play all sorts of reasonable midrange creatures like Thragtusk, toss in a few Llanowar Elves, and call it a day. If you want to get a bit more spicy, four colors with Faithless Looting tossed into the mix could add that level of explosiveness to make Unburial Rites ridiculous.
Grisly Salvage doesn't need a lot of help to make it good. It's been one of the better graveyard enablers over the last decade. Most of those decks wanted to find some sort of creature, usually one that could help start graveyard chains. At other times, hitting that land made the difference in your hand being playable or not. It's an incredible card that will see play in just about every graveyard deck. Of all the cards in Historic Anthology 5, Grisly Salvage has some of the greatest potential to spawn new archetypes. It's a clear home run for Historic. Not every card in this Anthology is a winner, but we've been given enough sweet tools to build decks around.
Grade: A+
Overall Thoughts
Overall, I think Historic Anthology 5 offers some of the most unique cards added to the format to date. Not only are there plenty of "build-around-me" cards, we're also getting quite a few heavy hitters and obvious bangers. I assume the goal is to slowly but surely add every card in Magic to Arena, excluding maybe Raging River and a few other nightmare rule-stretchers, but this suite of spells looks to be setting up for more cool things to come. Historic has gained a lot of traction since the addition of the Mystical Archive cards. People like doing powerful things, so having Historic Anthologies add some pepper improves quality of life.
One thing I love about Historic Anthology sets is that they haven't added new cards to the game. I was not a fan of Jumpstart specifically because cards like Muxus, Goblin Grandee don't exist outside of that set. They're fake cards that are pushed to sell product and ultimately ruin the play experience of everyone involved because someone decided it would be cool and good to make Goblins a good tribe again. Spoiler alert: we just want to cycle Gempalm Incinerator until our fingers bleed. We don't need six-mana "I win the game" buttons.
Balancing the release of new cards with "direct to format" sets will be tough. You're introducing a lot of factors at the same time. Any number of new cards introduced to an established format can have adverse affects. One single interaction can break the game. For the Mystical Archive, it was Tainted Pact with Thassa's Oracle.
I don't see anything like that in Historic Anthology 5. I just see a lot of fan favorites finally making their way into a pretty cool new format.