I was sure that bursts of inspiration for this column would dry up quickly this Standard season. An extremely established slew of contenders and an underpowered set in Strixhaven set us up for a few months of a very static metagame.
For the most part, this has played out as expected. The first week of Strixhaven Standard landed with a resounding thud. And while the metagame hasn't quite fully rebounded from that false start, this week did bring some pleasant surprises to the SCG Tour Online.
There weren't a ton of decks that came out of left field or anything, but some existing strategies picked up new tricks, and some fringe archetypes really started to get their act together. With a hiatus coming up for the SCG Tour Online, these lists are apt to be the launching point for the evolution of the Magic Arena ladder metagame for the next month or so. With that in mind, let's try to find something here to inspire us on the climb.
At some point in a metagame, you can always expect the midrange deck that gets smooshed by the biggest deck in the format to do the calculus and infuse some countermagic into their strategy, and it looks like Julian Felix Flury was the first to lead the charge for Naya Adventures. The addition of sideboard Mystical Dispute seems reasonably low-cost as far as these things go, and between this and Julian's Elite Spellbinders and Reidane, God of the Worthy, you'd expect some reasonable game against Sultai Ramp (Yorion). Indeed, Julian conquered the matchup three times in the Swiss before eventually falling in the finals to Emergent Ultimatum and friends.
If Julian has actually pushed this Sultai Ramp matchup to favorable, I really like this version of Adventures going forward. Julian even had the foresight to go back to two copies of Yasharn, Implacable Earth when many other players are playing zero. Why was this important, you ask?
Do you have any idea how lucky you are, dear reader, that Masahide Moriyama did not win this tournament? Seriously, I try to limit myself to only being insufferable for about 50-70% of my column (CEDitor's Note: Yeah ok…). If Moriyama had taken home the trophy, I would have easily exceeded 100% insufferable, consuming this whole article and some of my co-writers' articles with unfathomable amounts of "I told you so"s. Sadly, Moriyama pulled up just short in third place, but both Moriyama and Pro Tour Valencia 2007 champion Remi Fortier are putting in the work to get this archetype right.
The players differ on their inclusion of Extus, Oriq Overlord, but are finding interesting overlap in other spaces. While I'm sad to only see three copies of Plumb the Forbidden, I have to admit it's almost certainly correct. The first copy tends to either find you a second copy or just straight-up kill your opponent. There's no reason to insure we draw a ton every single game.
Another point of agreement is the full four copies of Serrated Scorpion. I resisted including this card in the archetype for a while, concerned it was just too underpowered. However, its presence leaves you better-equipped to play a game of chip damage, and this is doubly true when you add three maindeck Kroxa, Titan of Death's Hunger to the mix.
Both these deckbuilders have done a great job solidifying the identity of this archetype around its actual strengths. The Sultai Ramp matchup is just always going to be tough, and yes, it was by far the most-played archetype in Sunday's event, making up 24% of the field. The good news is that the chip damage plans have made the matchup much closer, as you can now find far more kills after your opponent taps out for Emergent Ultimatum. In fact, both Moriyama and Fortier went 2-0 in the Sultai Ramp matchup on Sunday. Add this fact to Rakdos Sacrifice's tournament-high win-rate of 61%, and I'm getting ready to rest my case on this archetype.
Plumb the Forbidden is not the next big thing anymore. It's just a big thing.
Riley Hicks is waving the heck out of the flag for this archetype… and by that I mean they're the only one playing it. But Riley has been crushing with the deck, and I think Jeskai Mutate does a really good job of combining the pressure plus disruption gameplan with the long game inevitability of Vadrok, Apex of Thunder and Lore Drakkis. And boy does it warm my heart to see someone finally getting up to some Lore Drakkis loops with Unsubstantiate. It certainly helps that Unsubstantiate is strong against Emergent Ultimatum and Embercleave wearers, and is still happy to protect your Goldspan Dragon from disaster.
Obviously, I can't confirm this without seeing games, but I have a sneaking suspicion that the reason only Riley is succeeding with this archetype is because it is nightmarishly difficult to play and they've put in the reps. Don't be surprised if you pick this one up and don't get it to do much of anything at first. There are a lot of modal cards, mini-combos, and cards with functions that dramatically change depending on what other pieces of your deck you have available at a given moment.
The fringe success of this deck reminds me of when Aaron Gertler was sitting atop the ladder for months with Temur Clover while everyone else was convinced the deck was Tier 2 at best. I think we know how that situation played out. I'm not saying Jeskai Mutate is on the same level as Temur Clover, but I wouldn't be at all shocked to see this deck have a late-season breakout.
When Ugin, the Spirit Dragon was revealed as a new Standard addition, my assumption was that there would always be an Ugin deck in the format from that moment forward. Emergent Ultimatum has thrown a serious kink in Ugin's plans for planar domination though, and there just hasn't been much space for the planeswalker in recent metagames.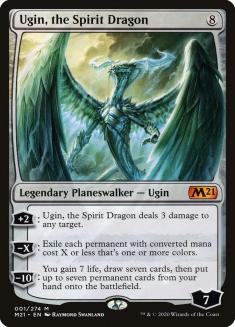 So what's changed here? I think the likely answer is "very little." Sure, the support cards have gotten better. The fact that you're able to ramp using the extreme modality of Prismari Command and Magma Opus means you aren't just racing to eight mana 100% of the time. There's also the addition of Draconic Intervention as a solid sweeper… at least if you're not up against opposing Goldspan Dragons.
I think Ugin still has the problem of being an eight-mana spell in a metagame designed to be hostile to exactly that type of thing. Further complicating Ugin's issues is the fact that it doesn't even win games upon resolution, unlike Emergent Ultimatum. I'm passing on this one for the time being, but if Rakdos Sacrifice decks are able to start taking up metagame share, this might be a nice option to keep in your back pocket.
Moving on to this week's Satellites, this Simic Aggro deck was looking to break out after a couple of strong performances, including this 6-0 list. Much like the Historic Simic Aggro list from last week's column though, this deck completely evaporated when it was time for the main event. I'm a little surprised, because I do like the idea of Decisive Denial plus a clock in the Standard context. Still, maybe asking this deck to exist without the explosiveness of Castle Garenbrig and Vorinclex, Monstrous Raider is just consenting to playing at a lower power level than the rest of the format. I can see games where you don't have access to the card advantage of The Great Henge getting really ugly, really quickly.
It feels like there's still a little tuning to be done here, and high on the list of cards I'm skeptical of is Quandrix Command. None of the modes seem particularly powerful given our core gameplan. Also, I love a Jaspera Sentinel more than most, but with only four copies of Lovestruck Beast and a single Stonecoil Serpent as other one-mana plays, it doesn't really work here. I'd bring this one back to the lab, but I'm a big fan of the concept.
Let's close with a bit of a flashback. An Izzet deck resembling this one found a small smattering of success in a much more powerful format than the current one, and I think Expressive Iteration is just a multi-format all-star that fits the bill really well here. My current problem with this deck is that I'm extremely concerned about its Game 1s. I think the tools available in the sideboard mean that after adjustments you have reasonable plans against the whole format. In Game 1 though, you're slower than the aggressive decks, you don't clock the bigger decks quickly enough, and you have actual zero disruption.
If this deck is going to carve out some space for itself, it needs to zero in on an identity and determine what it's supposed to be favored against in Game 1. I'd just look for a good Sultai Ramp matchup by trimming some of your clunkier creatures and adding disruption to the maindeck, probably in the form of Miscast. Sometimes you can't ask your deck to beat everything, but you've always got to ask it to beat something.
On the whole, I think this was pretty good output for this weekend's events. Nothing can shake this metagame to its core at this point. Small pieces of churn and occasional tier upgrades are probably all we're here for until Throne of Eldraine finally calls it quits. I've made peace with this. If I'm looking for wild unpredictability, I'll either go play Historic or just try to register for the Arena Sealed Open.
Some say there are still people out there "waiting for server" 'til this very day…