A PSA 10 Gem Mint Alpha Black Lotus sold for $540,000 and broke the record for highest selling Magic: The Gathering Card, breaking the record that a previous Black Lotus set in 2021.
The record-setting auction was held on PWCC Marketplace and completed yesterday, topping the previous Alpha Black Lotus by $28,900. This particular card is the crown jewel of any MTG collection, and even included a signed case by deceased illustrator Christopher Rush.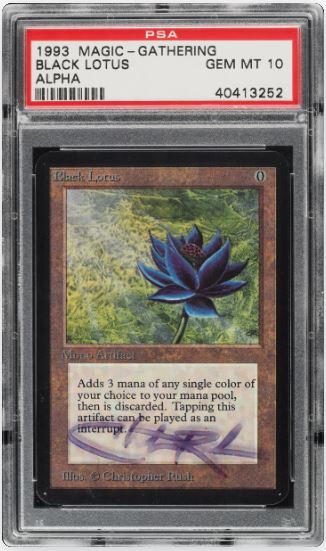 According to PWCC Marketplace, roughly 1,000 copies are believed to be printed, with only six getting a perfect 10 grading. The most iconic card from Magic always draws attention when they go up for auction. A signed artist proof version of Black Lotus recently made news when rapper Post Malone purchased it for $800,000.
How high do you think a Gem Mint Alpha Black Lotus can go following this auction? Let us know what you think in the comments on Facebook and Twitter.