The year is 2021, and you're at the very first SCG Tour Modern Open now that COVID-19 is firmly under control. You sit down for the first round, ready to stretch out your physical Magic skills like actually shuffling your own deck for the first time in over twelve months.
Fast forward a few turns and your opponent looks at your underwhelming battlefield with a mix of disdain and pity. You've got an Inkmoth Nexus and two Snow-Covered Plains with not much to show for actual threats. Your opponent has been setting themselves up nicely, casting an Arboreal Grazer and a Dryad of the Ilysian Grove, getting ready to follow up with a Primeval Titan and finish the game next turn.
Your opponent smirks as you play yet another land and activate Inkmoth Nexus. They pick up their pen, ready to take one poison counter. Then you cast Sigarda's Aid. Your opponent's eyes dart up and widen ever so slightly.

"Go to attacks?" you say.
Your opponent twirls their pen and mutters, "Sure."
You turn the Inkmoth Nexus sideways and they ask, "So, one infect?" as they start to mark down the damage on their life pad.
This is the moment you've been waiting for.
"Stop."
"What?"
"Hammer Time."
Colossus Hammer practically leaps out of your hand on to the Inkmoth Nexus, and leaves your opponent shaking their head.
"My first game in a year and I lost to Colossus Hammer."
Modern is back in its most enjoyable metagame cycle pattern yet. With Uro-oriented decks dominating the world of midrange, there are a handful of aggro, combo, and big-mana decks left to cling to the periphery of the format and try to find a foothold. That means a mix of the new Rakdos Death's Shadow archetype along with various Heliod Combo options, Primeval Titan decks, and Urzatron decks.
It's not a bad metagame to try to attack with cheesy Infect-lite decks! It seems as through traditional Simic Infect has fallen out of favor, but a new deck that looks like something out of a joke YouTube video or a child's imagination has picked up the slack as a surprisingly consistent way to end the game by Turn 4 in most cases while retaining a reasonable amount of mid-game staying power.
The printing of Colossus Hammer to go along with the bizarre and obscure rare from Eldritch Moon, Sigarda's Aid, meant that suddenly there was a little kid-style combo available in Modern. Just hook up the Hammer at instant-speed on an attacking (and unblocked) Inkmoth Nexus, and your opponent takes eleven poison counters on the spot!
Now, there are multiple different ways to build a deck around this interaction. There are three key elements that need to come together, and we are lucky enough to have multiple different sets of cards that fit those needs.
1. A Colossus Hammer
The deck doesn't really work without a big Hammer to beef up a small creature. Fortunately, the standard fare is four copies of Stoneforge Mystic and four copies of Steelshaper's Gift in addition to the four copies of the deck's namesake card. Some people go even further and include a very weak card, Open the Armory, in order to have even more virtual copies of this key Equipment.
You don't play this deck without playsets of Colossus Hammer, Stoneforge Mystic, and Steelshaper's Gift. That being said, this does make the deck quite consistent at finding a copy. You're about 80% to draw one of those twelve cards in an opening hand, and if you give yourself an automatic London Mulligan if you don't see one, you're over 95% to see one in two opening hands. That's not perfect, but it's good enough to hang an archetype on.
2. A Way to Equip It
Colossus Hammer needs a way to jump on to one of your creatures. You're almost never going to have the mana to equip it the hard way, so you need to include Sigarda's Aid and at least one supplemental way to cheat the equip cost. Fortunately, there are three:
Magnetic Theft requires a trip into red in order to cast it. It's not terrible, but there is a cost to including the card.
Kor Outfitter is a weak 2/2 for two mana, and it only does the equipping at sorcery speed. The problem with that is that oftentimes you want to equip your Colossus Hammer to your Inkmoth Nexus after your opponent declares no blocks, because you need that creature to fly over before it gets huge. Kor Outfitter prevents that. On the other hand, at least Kor Outfitter comes with a body that you can equip to, which means that even with a naked Hammer sitting on the battlefield you can always just pick it up with one of these and make yourself a 12/12.
Puresteel Paladin is better than Kor Outfitter if you build your deck to accommodate it. Obviously making your Equipment cantrip when they enter the battlefield is a huge benefit. Additionally, if you have a Puresteel Paladin on the battlefield, you can keep equipping your Colossus Hammers to other creatures. This is key. There's no other card that offers you more than a one-shot free equip. Paladin is the only one that lets you keep going when one equipped creature is killed.
But three artifacts on the battlefield in order to actually turn on metalcraft and allow you to equip for free isn't the easiest task in the world. If you have an Inkmoth Nexus to equip to (at sorcery speed, nonetheless), you only need one additional artifact sitting around.
In order to make this happen, the decks that include Puresteel Paladin include additional Equipment as well as a handful of zero-mana creatures in Ornithopter and Memnite. And while Ornithopter and Memnite are both threats with a Colossus Hammer on them, they aren't one-turn lethal threats. Are ten-power creatures good enough to build a deck around? It's close, but this is a legitimate archetype in Modern now, so it pays to know all the different ways to build it.
3. A Threat to Equip To
Inkmoth Nexus is the best of these options. Additionally, many people have Kor Duelist in their decks, which becomes an 11/11 with double strike, easily enough to finish the game if it gets through. After that, things get dicier.
The other creatures in the deck are always mediocre Hammer targets, offering two-turn clocks. Stoneforge Mystic provides its own body to equip, and there are always Kor Outfitters or Puresteel Paladins to pick up the Equipment, but there would be no serious deck if these were the only targets. Interestingly enough, some builds of the deck which incorporate Puresteel Paladin and the associated Memnites and Ornithopters actually give up Kor Duelist due to deckbuilding constraints. They recognize that making an 11/11 or 10/12 on Turn 2 and attacking with it might just be good enough regardless.
After those key elements, there's a fourth supplemental piece of the puzzle here. Most of the versions of Hammer Time going around online seem to have anywhere between one and eight cards designed to protect your critical creatures. Giver of Runes and Spellskite both act as lightning rods for removal spells so that the Inkmoth Nexus can survive. There are no Blossoming Defenses or Vines of Vastwood in this pseudo-Infect deck, so permanent-based preemptive protection creatures are the best bet.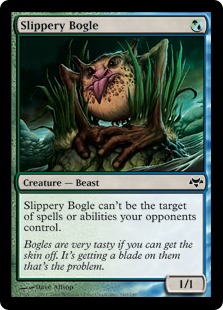 There's also exactly one decklist I've seen that includes a splash for green to include none other than Slippery Bogle itself. The idea of creating an 11/11 Hexproof threat is appealing in a couple of ways, though it seems strange to play it over, say, traditional Hexproof.
Perhaps the mix of some threats that are vulnerable to Fatal Push, such as Inkmoth Nexus, and some that are immune actually allows for a higher win percentage than one would expect. If this turns out to be the future of both Selesnya Hexproof and Hammer Time, it would be a shocking twist indeed.
Putting it all together, there are a couple of different builds that one can use, and over the last month we've seen the card choices shift dramatically. One of the most heartening things to see in a deck that is gradually rising in popularity is decklist card choice diversity. When there's only one decklist, that means the archetype is most likely nearly optimized, and you'll need to come up with a major theoretical overhaul in order to find an alternative list that advances the deck. When there are about three or four different overlapping lists with ten-plus individual card differences between them, you have fertile ground for optimization and tuning.
This is the case here, and it's likely that in the near future an optimized list will advance further towards a metagame high-water mark than previous ones. Additionally, even if no single list proves better than all predecessors, different angles of the deck with different balances of speed, consistency, and resilience to interaction mean that the deck will be able to better withstand the ebbs and flows of the metagame.
So what are the lists?
Creatures (16)
Lands (22) What a strange list! Andrey Yanyuk (Reynad) has a full fifteen virtual Colossus Hammers in his deck, along with eight one-shot-kill creatures in Inkmoth Nexus and Kor Duelist, and then a random smattering of hexproof threats across his maindeck and sideboard.
This is certainly worth investigating further. At the very least, I'd be interested in including a Lurrus of the Dream-Den as a near-freebie in the sideboard. It takes creative, outside-the-box thinking to develop a decklist like this. Bravo!
Creatures (20)
Lands (20)
Spells (20) I personally prefer having access to a few more protective creatures rather than more copies of Memnite or alternative Equipment like Cranial Plating, which some of these lists contain. The only weak spot here is the fact that there are only eight ways to cheat the equip cost of Colossus Hammer. I'd be willing to replace Spellskites with Kor Outfitters – or mangle the manabase and include Magnetic Theft – but then we would be reducing our number of artifacts necessary to maintain the consistency of Puresteel Paladin's metalcraft.
Thus one can commit to the alternative, which is significantly more all-in on cheating an Equipment onto a threat early, but lacks the repeatable effect of Puresteel Paladin. It does include a lot more protection creatures, though!
This is an alternative:
Creatures (20)
Lands (21) I'm a huge fan of Auriok Champion for decks like this, especially with their pronounced weakness to Rakdos Death's Shadow and the infinite removal contained therein. I just want to hook one up with a giant Colossus Hammer to cheese out the win against that deck while the pilot looks on in disbelief. Of course, your sideboard may vary, but in a deck like this, I want to pack my sideboard with…ahem…cards that will really hammer the opponent's entire deck.
Once you pick your exact list, your only remaining choice will be whether you choose to cosplay as MC Hammer out of enthusiasm at your first tabletop Modern tournament in 2021 or go with a less obvious signal of what deck you're playing in order to maintain some semblance of operational security. Clearly, if you want to have a rollicking good time playing with some surprisingly powerful cards that are super-frustrating to lose to, this is the deck to use. As a bonus, because it's fast, win or lose, you'll have plenty of time to commiserate and catch up with old friends, playing casual games between rounds as you get back into the swing of live tournament Magic.
After all, who could forget chatting with your friends when you're interrupted by that iconic sound that should be etched in every competitive Magic player's brain forever:
That is time in the round! Active player finish your turn, then you have five additional turns to complete your match.
Modern is getting better and better in anticipation of a glorious return to tabletop Magic, and I can't wait!