Pioneer has been going through a lot of changes lately, but everything seems to have settled now that Wizards of the Coast (WotC) has fixed the companion mechanic. Lurrus of the Dream-Den no longer runs rampant, and few if any people are regularly bringing an 80-Card Special to the table. It seems like everything has settled, or at least reverted back to the point where we were when Theros Beyond Death was released.
The major players are still there and continue to wreak havoc upon the format, but WotC has pretty clearly shown us that nothing is getting banned anytime soon. Dimir Inverter continues to be the best deck, even though it only has a 49% win rate against the field. Mono-White Devotion is the second-most-played deck, though the variations containing Yorion, Sky Nomad are few and far between. Instead, there's an emphasis on Karn, the Great Creator and a toolbox sideboard. I'm happy with this development, though I do loathe the combo finish. Mono-Red and Mono-Black Aggro continue to be the aggressors, but things are mostly balanced.
It's a tense peace, with multiple combo decks floating around at the top. I've been looking for something fun to try, and I think I found the perfect deck. Since Pioneer is full of die-hard try-hards playing all sorts of combo decks, or fair decks with a combo finish, it is basically impossible to play a "fun" deck. While the games might seem competitive, you'll regularly lose close games because you just don't have the right interaction, or your list isn't streamlined, or maybe it just isn't quite as powerful.
Dredgeless Dredge might be the deck to break the mold. If you're a fan of graveyard shenanigans, this will be the perfect Pioneer deck for you. A few months back, Ross Merriam won a Pioneer Challenge on Magic Online with a similar build, but the addition of Silversmote Ghoul could completely reinvigorate the archetype. Here's where we'll start:
Creatures (27)
Lands (20) So about the elephant in the room.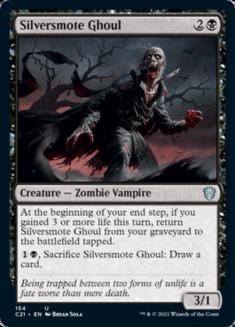 Pioneer "Dredge" will never be the same as other formats simply because it lacks the actual mechanic. I'm dubbing it Dredgeless Dredge for now, as the deck does mostly the same thing as normal Dredge, but missing that key mechanic means the games play out a bit differently. However, the core goal is to fill your graveyard and use creatures or effects to generate an advantage. Faithless Looting or Cathartic Reunion combined with a Stinkweed Imp allows for some busted starts that you don't have in Pioneer, but I see that as a very good thing. This Dredgeless Dredge strategy is a bit more tame, but still powerful because it attacks in an unusual way.
Silversmote Ghoul is an interesting addition to the archetype, giving the deck that Ichorid or Bloodghast threat that Pioneer didn't have before. Another creature to trigger Prized Amalgam is wanted, and I believe Silversmote Ghoul to be significantly better than the likes of Narcomoeba because the body is actually relevant. While Silversmote Ghoul won't win the game by itself too often, it's important to have critical mass when it comes to decks like this. Any creature that returns itself for free easily is a boon. Every body is important for emerge. Every creature that reanimates brings Prized Amalgam with it.
In previous versions of Dredge, smaller bodies like Narcomoeba were fine because free spells like Dread Return or Cabal Therapy didn't care what size the body was. Any creature dying also triggered Bridge from Below, generating a bunch of Zombies in place of whatever you sacrificed. Recent iterations of Dredge rely more heavily on creatures doing most of the heavy lifting instead of using the combo potential of Dread Return plus a giant game-ending creature like Iona, Shield of Emeria. But the coolest part of Silversmote Ghoul is the way it actually comes back!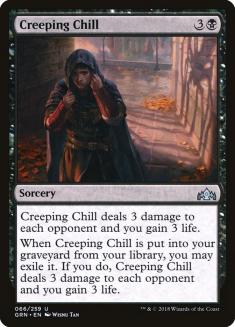 Creeping Chill pairs perfectly with Silversmote Ghoul, giving you a nice life buffer against aggressive strategies and helping accelerate the clock against an opponent with a combo finish. The lifegain immediately rebuys Silversmote Ghoul, which in turn helps apply pressure. This build relies on creatures to do a lot of heavy lifting, but sometimes you can cross the finish line with a lucky Creeping Chill or two. This iteration doesn't get to play Life from the Loam and Conflagrate like the Modern version, but it's still pretty sweet. A creature-based graveyard deck having the ability to burn the opponent out is a big deal, as that added angle of attack can surprise people in a pinch.
I think it's pretty clear that Silversmote Ghoul was designed with Creeping Chill in mind. My experience playing with Creeping Chill leaves me with a strange feeling: it's one of your best cards but you also sideboard it out a ton. I think Silversmote Ghoul might change that fact, but there's a solid chance you just sideboard out both of them when you fear a bunch of graveyard hate like Rest in Peace or Leyline of the Void.
Creeping Chill is a great card when you're goldfishing your opponent. In the first game of every match, most of your opponents won't have many ways to proactively interact with your graveyard. That means the value of a card like Creeping Chill goes up because you can afford to have a few more dead draws here and there. Actually drawing Creeping Chill is pretty terrible, and doing so after sideboard will only exacerbate any situation where your opponent is constantly tanking your graveyard.
I'll be the first to admit that I didn't see this one coming. Abundant Maw is far down the list of cards I'd expect to see play in any format. The emerge mechanic is quite sick with the likes of Haunted Dead and Prized Amalgam, as they're free creatures that have a relatively high casting cost. In turn, that makes your emerge creatures significantly cheaper. We've watched Elder Deep-Fiend dominate a Standard format before, but we've also had Big Pig (AKA Decimator of the Provinces) in previous iterations of this deck. Emerge is a real mechanic, so it only makes sense that we should take another look at the options at our disposal.
Abundant Maw's trigger looks an awful lot like a card we already have in the deck: Creeping Chill. Finding it via Grisly Salvage or Gather the Pack is trivial, and that effect will generate a lot of power onto the battlefield. The extra drain combines nicely with Creeping Chill to finish off enemies, giving you a small sense of being a "burn" deck even though you're a graveyard-related strategy.
Abundant Maw seeing play is definitely a head-scratcher, but many cards that show up in Pioneer look weird up until the point where they're just great and make a ton of sense. Abundant Maw is like the tenth-best emerge creature or whatever, but it's still pretty good on rate and does something incredibly specific. It's like playing Darkblast in Modern. It fills a role and "does the thing" your deck is trying to do.
These two are major factors in your deck's success, as well as your color selection. It seems green cards are the best for going self-mill at the moment, as you don't really have many other options. Also, without the actual dredge mechanic, it's important to fill your graveyard any way you can. Gather the Pack will regularly choose not to take a creature because most of your creatures are better off in the graveyard. However, as the game progresses, finding Abundant Maw or Decimator of the Provinces becomes really important.
Grisly Salvage is often your best play on the second turn, giving you a way to fuel your graveyard while digging for a land. Hitting that third and fourth land is often important, and Grisly Salvage is unique in that it can grab either, where your other self-mill effects can't usually do that. It's the bridge between the two different types of self-mill effects, as it does both in an incredibly efficient manner.
Satyr Wayfinder has been one of the best cards in Pioneer ever since Uro, Titan of Nature's Wrath was printed. It's a great way to defend against aggressive starts while building up a battlefield of your own. Its body can be sacrificed to an emerge creature to make it cheaper, or you can just toss it into the grinder with the rest of the ghouls while you try to deal the last few points of damage.
Stitcher's Supplier isn't quite as good as Satyr Wayfinder, but it's still very useful. It's also half the price. In older formats, having similar effects that cost less mana is often desirable because speed can matter so much, even when the card is significantly weaker.
These two creatures alongside the other graveyard enablers gives you just enough of a self-mill plan to actually work, even though you don't have the dDredge mechanic at your disposal. In these archetypes, consistency matters so much, which is why you see so many copies of this type of effect in the deck. We're not a combo, aggro, control, or even midrange deck. We're something entirely different that operates on an uneven playing field. Because of that, it is important to put aside such concepts as "card advantage" because spending three cards to do the same menial task usually results in a game-ending flurry of spells and effects.
The sideboards for decks like this almost always contain something like Abrupt Decay or Assassin's Trophy to handle a wide array of graveyard interaction. The first game is usually a freebie, but the sideboard games often require some sort of countermeasure. While Assassin's Trophy is technically card disadvantage, we have to ignore that fact if we want to understand why this deck is so powerful. Losing a card to Assassin's Trophy is worth much less than unlocking our entire graveyard. That extra card is actually significantly less relevant than the Rampant Growth acceleration effect, which is the true sacrifice of playing such a versatile card.
Reclamation Sage is important for this archetype because it can be found a number of different ways. Being able to use your graveyard enablers to find your anti-hate card is a huge deal, as it adds a bit of consistency in finding your answer. Rest in Peace is a significant hoser that sees play in a few different sideboards and just so happens to slow down Dimir Inverter by a few turns. It's popular enough, and disastrous enough, that we need to be unreasonably prepared. If you're a fan of Dredge, you should already know what I'm talking about, as finding the answers to Leyline of the Void and Rest in Peace is a never-ending journey.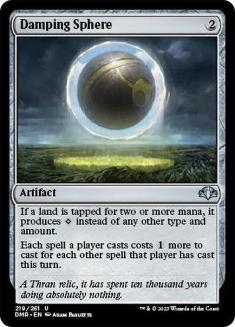 Damping Sphere is your go-to hate card for Lotus Breach, a combo deck you're not really good at interacting with and not fast enough to beat before they combo. As the graveyard deck, your strength is derived from interactive decks being unable to interact with you in a positive way. Removal is often lackluster or completely useless, and your clock is less important than dragging your carcass across the finish line…at some point in the future. When isn't as important, which leaves you quite vulnerable to combo decks.
Damping Sphere gives you the extra turn or two you need to get the job done, even if they have the Blast Zone as the answer. These graveyard decks are incredibly consistent because they're all built in mostly the same ways. And they can all kill pretty consistently by Turn 6 through interaction. Overall, even with Damping Sphere, I'd consider Lotus Breach to be a bad matchup, but the occasional Damping Sphere completely kolds them if they're not completely set up to deal with it. Casting it after they play Lotus Field usually beats them on the spot.
These discard effects in tandem with Damping Sphere give you a fighting chance against the combo decks in the format. Both Thoughtseize and Distended Mindbender function on similar wavelengths, as they disrupt the opponent from hand. That type of effect is common in black, yet uncommon in the maindeck of graveyard strategies. This type of effect is usually relegated to the sideboard, focusing on maximum synergy in the first game. After sideboard, both players tend to get a bit more interactive, and Dredgeless Dredge is no different.
Distended Mindbender is a nice one that hasn't seen much play recently, but it's quite ridiculous against Lotus Breach. It's not bad against Dimir Inverter either. Thoughtseize is one of those cards that can just "come in" when you have bad cards in your deck, yet can combine with a number of other hate pieces to overwhelm combo or control decks.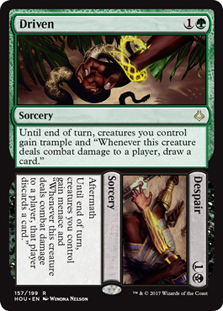 I've always disliked this card, but I've seen it do some incredible things in Pioneer. It once made me discard my hand on the fourth turn, and there wasn't really a whole lot I could do about it. I'm not sold that having any graveyard-related card in the sideboard is worthwhile, as you'll likely be fighting to gain any traction from the graveyard after sideboard anyway. This would be the place I look first if I need room to shore up some other matchups.
Looking Forward to Pioneer
The gameplay patterns of companions drove a lot of people away from the game, but I'm hoping Pioneer can recover. We saw similar interest in Modern when it was first released all those years ago, but it slowly grew in player base and popularity over time because it represented a way for people to continuously use their cards, even after they rotate from Standard. I've had a ton of fun grinding matches of Pioneer in the past, but it's been quite the slog since the release of Theros Beyond Death. It feels like there's so much combo in the format, and there are so few ways to interact.
My hope is that they do an overhaul of the format before adding it to Magic Arena, banning a lot of the two-card combos that are both easy to assemble and relatively cheap to cast. The fatigue created from playing a longer game only to have the rug pulled out beneath you over two turns when your opponent draws an unkillable Heliod followed by a Walking Ballista is so frustrating. The same is true for Inverter of Truth and Thassa's Oracle. It's just not what I signed up for, and they made it clear Pioneer shouldn't be about those two-card combos when they banned Felidar Guardian. I get that both current combos are slightly harder to assemble, but not by enough. Ideally, these combo cards wouldn't be printed in the first place, but here we are.
I'll likely be exploring the format a bit more in the near future. I'm hoping we get some kind of word from WotC on any plans to make changes or what their vision is for this fledgling format. It's less than a year old and has gone through so many changes already. I was very happy with the bans and changes they made in the beginning, but their lack of action against Dimir Inverter, Lotus Breach, and Heliod/Ballista continues to be an annoyance. Why can't we go back to having Glorybringer as one of the best cards in the format?
That's the kind of Magic Pioneer should be. That's the kind of Magic I was promised in the beginning. This combo fiesta is just so tired, and especially in an era with the need to ban so many cards so often. I don't know what's happening, and I don't know what Magic is going to look like in five years, but I hope some stuff starts to change in the near future before we go through another Darksteel era.