By Thursday this week, Zendikar Rising Draft will be live on Magic Online and Magic Arena. But now that every card has been previewed, we can use awesome tools like DraftSim to explore the potentials of the format. It's not particularly close to a true Draft experience; however, it provides the opportunity to practice early decisions over and over again in a fairly realistic fashion. Before I jump into the first few picks of a simulated draft, I want to discuss the best commons in the format by color:
| | | | | |
| --- | --- | --- | --- | --- |
| White | Blue | Black | Red | Green |
| Nahiri's Binding (5) | Into the Roil (3) | Deadly Alliance (2) | Roil Eruption (1) | Rabid Bite (7) |
| Farsight Adept | Bubble Snare (6) | Vanquish the Weak (4) | Fissure Wizard (9) | Gnarlid Colony |
| Shepherd of Heroes | Risen Riptide (10) | Feed the Swarm (8) | Akoum Hellhound | Territorial Scythecat |
The number in parentheses is my ranking of the Top 10 commons in Zendikar Rising.
Looking at my initial ranking, blue and black are likely to be the best colors, with green and white trailing as the worst. I'm fairly certain about my top two in each of these colors, but format context will matter a lot. For example, I expect Risen Riptide to be able to attack (or block) for five multiple times. If this isn't the case, a value creature like Cunning Geysermage or Tazeem Roilmage could make this list.
Another observation I have from this exercise is the amount of removal spells at common. With three extremely good ones in black, I would expect a black deck to be able to clear any threat. And there are quite a few removal spells that didn't make this list. Molten Blast, Synchronized Spellcraft, and Sizzling Barrage are all red commons capable of killing creatures, but they're either conditional or inefficient for their cost, and hence I don't believe they compete with the best efficient creatures in Fissure Wizard, Akoum Hellhound, or even Grotag Bug-Catcher (which could unseat Akoum Hellhound if party is substantially more important to red's identity than landfall).
With all of this in mind, let's jump into the first few picks of a Zendikar Rising draft!
Pack 1, Pick 1
The Pack:
The Pick:
Pack 1, Pick 2
The Picks So Far: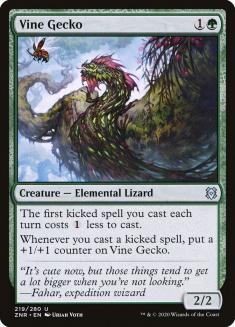 The Pack:
The Pick: