Wizards of the Coast (WotC) has revealed the 2023 Magic: The Gathering Holiday promo card — Seasonal Sequels!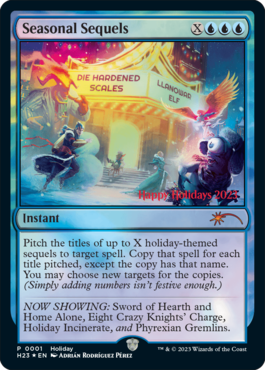 The tradition of Holiday promo cards began in 2006 with Fruitcake Elemental and has continued ever since. Oftentimes, these cards are fun spinoffs of real Magic cards, such as No Mercy and Snow Mercy, and Mishra's Workshop and Mishra's Toy Workshop.
This year's promo draws inspiration from holiday cinema, with references to the 1988 Christmas classic, Die Hard, plus Home Alone, Eight Crazy Nights, and more. When casting Seasonal Sequels, you'll target a spell, then the player casting Seasonal Sequels can name off any number of holiday-themed sequel titles in order to copy the targeted spell X times.
What do you think of Seasonal Sequels? How many holiday-themed titles can you pitch?
Read the original article from WotC.