As we discussed last time, you don't need to dig too deeply to find cool cards for your Commander decks in Dominaria United and Dominaria United Commander. If you do get out that shovel, though, there's more to unearth. With collector numbers belonging to Dominaria United Commander, but in my mind really belonging to the Dominaria United world as a whole, you'll find 28 additional cards.
The first group of twenty is enough to excite even the most jaded Vorthos. Collectively referred to as Legends Retold, they're new versions of old favorite characters (and hence legendary creatures) from the Legends set. The other eight cards are Set Booster Exclusives, simply additional treasures to find along the way. I'm going to cover the Legends Retold, mentioning the kind of deck I might build around them, where they might fit into existing decks, or both. I'll also show you the Set Booster Exclusives, and then we'll talk about them at some point in the near future. For now, it's all about telling new stories with some old friends.
Set Booster Exclusives
Legends Retold
Ayesha Tanaka, Armorer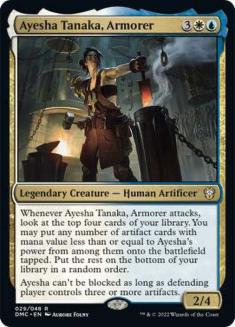 With all-important banding, original Ayesha also counters an activated ability from an artifact source unless the controller pays W. We see a more generative side of her armor-smithing abilities here. When she attacks, we look at the top four cards of the library and put any artifacts with mana values less than or equal to her power onto the battlefield tapped.
Her ability suggests two things in a build. First, we'll want some top-of-the-library control, like Scroll Rack, to make sure we're getting what we want. Then, we'll want some elements that buff her—like Equipment—in order to get larger things. Buffing her up makes her more dangerous because she can't be blocked if the defending player controls three or more artifacts, which is quite likely to happen in Commander games. Expect some commander damage kills here.
The Ever-Changing 'Dane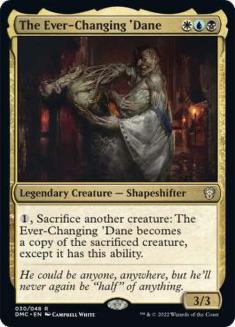 I'm surprised we don't see more of Halfdane, since it can get pretty savage. It doesn't become a copy of the targeted creature, but acquires its power and toughness. Our new 'Dane does become a copy, but it's of something we have to sacrifice, nicely also maintaining the ability to shapeshift again. The good news is that we're in Esper, which has the two best reanimation colors, black and white. Those creatures we sacrifice will be coming back, whether that's from Emeria, the Sky Ruin; Emeria Shepherd; Zombify; or Living Death. There's plenty of room to build to our tastes with The Ever-Changing 'Dane. It's high on my list of ones I'll consider building.
General Marhault Elsdragon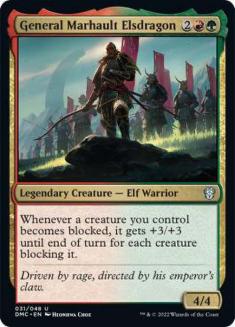 After watching Gavin Verhey open Infernal Medusa from a Dominaria United pack, I got to thinking about Lure effects and how they just kind of went away. That's the deck I'd want to build with the General, who gets +3/+3 for each creature blocking him. We'll then give him or all our creatures deathtouch with something like Bow of Nylea or Ohran Frostfang (or Saryth, the Viper's Fang, my new favorite) and one of a zillion ways to give our creatures trample. This way, we only have to assign one damage to each blocker and can trample over for the rest.
Hazezon, Shaper of Sand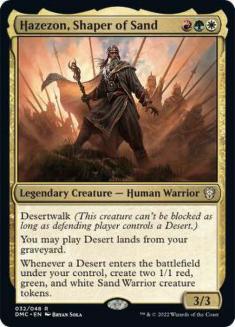 Everyone is very excited about getting Sand Warriors, like with OG Hazezon Tamar (a fun card, but unfortunately on the Reserved List and quite expensive). We have to figure out how to give Deserts to our opponents so that new Hazezon can desertwalk all over them.
Because we can play Desert cards from the graveyard, we can run the cycling lands, Desert of the Fervent, Desert of the Indomitable, and Desert of the True. We'll need a way to sacrifice Dunes of the Dead to recur that. Playing all those Deserts triggers the new Hazezon's ability (Desertfall?), creating those beloved Sand Warriors, which stick around even if he goes away, unlike the original. Speaking of the original, note that when he leaves the battlefield, all Sand Warriors are exiled, so you'll catch everyone's creatures that have the changeling ability as well.
Jasmine Boreal of the Seven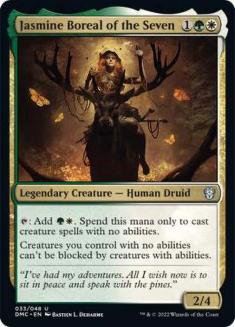 Our new, younger, smaller, less vanilla Jasmine Boreal provides mana to cast creatures with no abilities, which includes her predecessor. Our creatures with no abilities can't be blocked by creatures that have them, so remember to dust off that copy of Muraganda Petroglyphs you've been saving. In modern-day card design, those creatures don't pop up often. We have to look back to the Craw Wurm days of Magic to find most of them. We generally get a slightly better rate on creatures with no abilities (see Watchwolf, the creature that some people thought was going to break the game).
Jedit Ojanen, Mercenary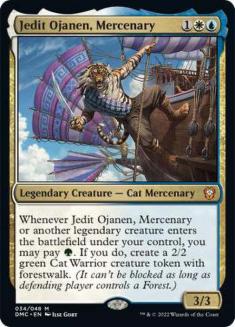 I'm not sure story-wise how Jedit Ojanen went from being Azorius colors to mono-green during his time in Efrava and then to Bant, but who am I to judge? Whenever the new Jedit or another legendary creature enters the battlefield under our control, we can pay G. If we do, we get a 2/2 green Cat Warrior. Seems like a pretty easy way to build up a pretty serious army of Cats.
The Lady of Otaria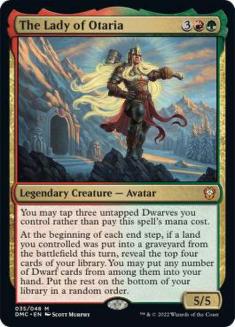 This Lady loves the Dwarves, and she'll get them to help mine the land. Search through your boxes for old classics like Zuran Orb, Dust Bowl, or the somewhat-newer Elvish Reclaimer, and you'll be fueling The Lady of Otaria's triggered ability every turn. We'll have to do some work to make Dwarf tribal function, although this path will lead you to the underplayed Dwarven Miner and secret commander Magda, Brazen Outlaw—which will mean you'll want some Dragons as well.
Ohabi Caleria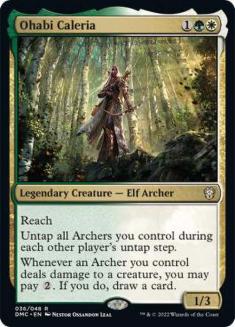 Further exploring under-served tribes, there are nearly twice as many Archers available to Ohabi Caleria than there are Dwarves to the Lady of Otaria. Ohabi's namesake, Lady Caleria, is one of them, and untapping her will have us ready to deal three damage to an attacking or blocking creature every combat. Ohabi will get us Brigid, Hero of Kinsbaile, another underplayed card, who can simply wreck decks that want to go wide with many small creatures. Archer tribal also gets us Halana, Kessig Ranger, who can help us pick off even more creatures. Equipping an Archer with Basilisk Collar will make it capable of taking down even the largest of creatures via deathtouch, netting us some life in the bargain.
Orca, Siege Demon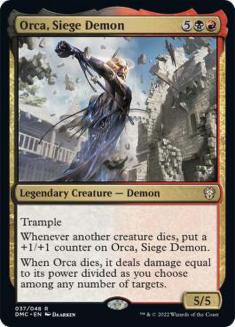 The original, Lady Orca, is a vanilla 7/4 creature for seven, which shows how far creatures have come these 30 years—especially since today's version has the same mana cost. It's "just" a 5/5, but it has trample and, more importantly, it gets larger when other creatures die—which red and black can make happen. Then, should anyone have the temerity to destroy Orca herself, there will be a retributive strike involved. She goes at the helm of a Rakdos "life is short" deck or makes a good role-player in a goad deck led by Karazikar, the Eye Tyrant or Kardur, Doomscourge.
Ramirez DePietro, Pillager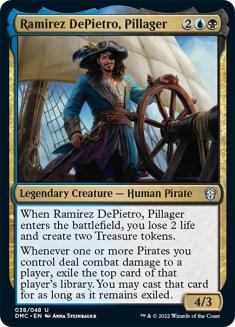 The OG was ironically popular, the hidden truth being that it was the only legendary Pirate and that it was somewhat over-costed. New Ramirez is anything but, and will let us play off our opponents' libraries. He's another Pirate that strikes a great thematic chord, triggering on one or more Pirates dealing combat damage to a player. If we spread our attacks around, we'll get more triggers.
Unlike some other cards that let us cast our opponents' spells, Ramirez doesn't have the text (probably due to space limitations on the card) allowing us to spend any color of mana to do so. Fortunately, we can create other players' colors via the Treasures that he (and I dare say a number of other Pirates) make. This is a sweet card and I look forward to lots of folks building around (even though Pirates as a tribe might be starting to wear out its welcome).
Ramses, Assassin Lord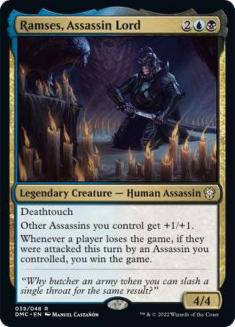 I believe that Wizards of the Coast (WotC) VP Aaron Forsythe, an early adopter of the format inside the building, still has his original Ramses Overdark deck together. The moody Richard Kane Ferguson art makes it an intimidating card, even more so in the hands of such a skilled player.
New Ramses is all mood, too, creating a powerful tension on the table. There are more Assassins than I had thought there might be, 60 in blue/black. The class of the bunch is Etrata, the Silencer, which will set up Ramses's alternate win condition. If the unblockable Etrata deals combat damage and gets a third hit counter onto someone's exiled creatures, then that player loses. Ramses then triggers and we're done. Ramses may well change how players approach the game vis-à-vis their opponents, since one player's loss can result in everyone losing. That alone makes is a very compelling card. This is great design.
Rasputin, the Oneiromancer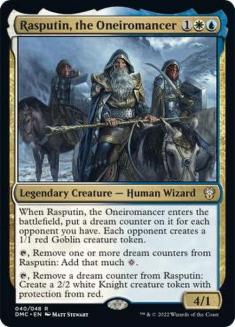 Original Rasputin Dreamweaver has a cooler name, although Oneiromancer pretty much means the same thing. It's one of those pricey Legends cards, expensive because it can turn mana-positive—it costs six and can produce seven (albeit colorless). It can turbo out quite a few things. New Rasputin doesn't get as many counters—the maximum being the number of opponents we have. It's half the mana cost, though, and can still accelerate us by three—a nice little Dark Ritual in colors not used to mana explosions. I'd want to start proliferating those counters with Contagion Engine and Contagion Clasp, since this Rasputin isn't limited to how many dream counters it can have. Then we'd be in business, jamming nice, lovely Eldrazi onto the battlefield. I mean, "cast Eldrazi" is a deck idea, right?
Rohgahh, Kher Keep Overlord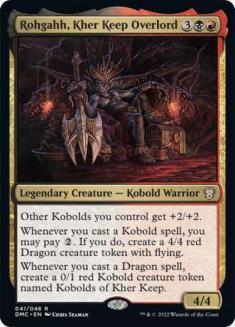 This is one I was looking forward to seeing, since I've been a fan of Rohgahh of Kher Keep despite its awfulness. Maybe because of its awfulness. New Rohgahh having Dragons spawn Kobolds and Kobolds spawn Dragons is endlessly amusing to me. With Mana Echoes, Cloudstone Curio, and two of the three zero-cost Kobolds, we could go infinite pretty quickly, increasing how much we're creating with every iteration. This is exactly the kind of jank I expect from a Commander deck.
Stangg, Echo Warrior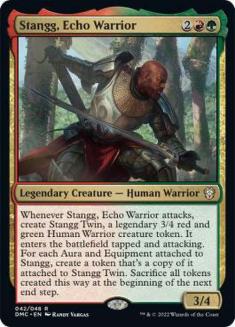 I was already on board with new Stangg also creating the Stangg Twin token. Then I got to the part about copying the Auras and Equipment, and I suspect you could hear me make the Scooby-Doo noise all the way from Florida. The Legends Retold keep making me think about cards from the ancient days. In this case, it's Frog Tongue. Or Eldrazi Conscription. Old Equipment, like Sword of Fire and Ice or Sword of Light and Shadow, also come to mind. What's really nice about new Stangg is that the token doesn't create the same vulnerabilities that our OG friend's token did, hence lower fear of a blowout.
Sivitri, Dragon Master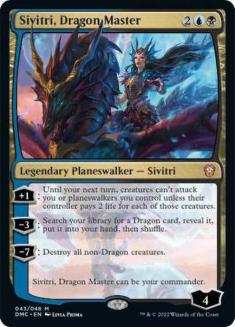 There it was, right there in the flavor text of the original: Scarzam's Dragon. Yet all we got was that hint. I guess it turns out that it's any of the ones you'll tutor up with the -3 ability on this original Legends character turned planeswalker commander. Still, it's a missed opportunity. One of the abilities should definitely have created a token called Scarzam's Dragon. I really like the +1 ability here, which goes a long way in protecting both our planeswalkers and our face. I'm not sure if I'd build this as a commander, but I would certainly use it as a player in my Merieke's Esper Dragons deck (which you'll note doesn't actually have all that many Dragons, something I should probably fix).
Tetsuo, Imperial Champion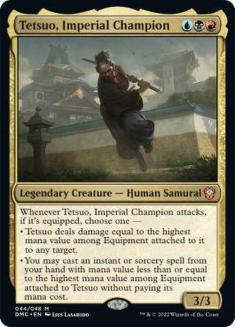 I like the flexibility of the two different modes on Tetsuo's attack trigger. It's important that it's an attack trigger instead of a combat damage one because we can remove potential blockers with the first mode. We can probably do it sometimes with the second mode as well, but you get the point. Once again, we have a commander that does a thing, but that thing isn't so narrow as to pigeonhole us into playing specific other cards. Sure, we have to play Equipment, but that gives us just under 350 choices. One of them is The Reality Chip, which is all I need to know.
Tobias, Doomed Conqueror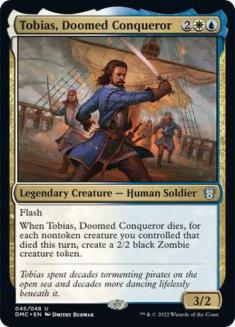 A white/blue commander that creates black Zombies is somewhat novel, although not unprecedented (see God-Eternal Oketra for another example). I'm not sure in the lore where it might come from, since the original Tobias Andrion is also Azorius colors with the creature type Human Advisor. There isn't much on the flavor text that would suggest Zombie involvement.
After that, we can see a creature-based strategy is the way to run with Tobias. We won't have too much Zombie-specific stuff to use, although we can go way far afield with Time to Reflect. Our build will want to go wide with a creature strategy that fits our own styles, whether that's tribal or just a collection of cool creatures. We'll then dare opponents to get rid of them, since we'll rebuild immediately. A favorite play will be having Faith's Reward return to the battlefield everything that got swept away, giving us all that and the Zombies to boot.
Tor Wauki the Younger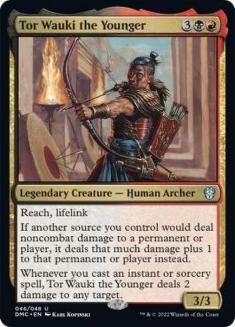 An Archer (which natively pings things for damage) with lifelink is a nice twist. Every Archer should have reach. Young Tor adding to noncombat damage to our other sources makes me think we should also add Torbran, Thane of Red Fell to the build as well, giving it a rare appearance in the 99 instead of leading. Unfortunately, this Tor doesn't help in those goad decks with Karazikar, the Eye Tyrant and Kardur, Doomscourge because they're life loss. What might be neat instead is to build a Devil deck with Tor, getting Zurzoth, Chaos Rider as the secret commander. If I don't build around this Tor Wauki, it likely merits a slot in Kresh into the Red Zone or something else that features Goblin Bombardment, doubling up the damage from one of my favorite enchantments.
Torsten, Founder of Benalia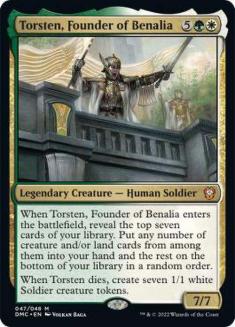 A truly epic-sized Human at 7/7 (only three others equal or exceed that power), the former Torsten von Ursus simply brings along more friends and land when he enters the battlefield, likely refilling our hand. At a very battlecruiser-y seven mana, Torsten is a very battlecruiser-y card. In addition to the card refill, when he dies, seven Soldiers will come remember him. Like with Tobias, Doomed Conqueror, I'm a fan of expensive commanders having some upside when they die in order to not feel completely blown out after making and losing that big investment. Torsten feels like a nice choice as the commander for a new player.
Xira, the Golden Sting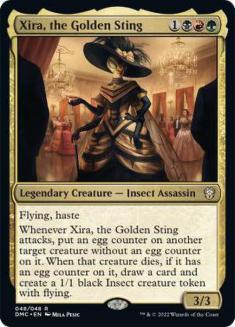 I sometimes play Xira Arien as an alternate commander for my Adun's Toolbox deck, and new Xira might get a shot in the rotation as well. With flying and haste, we're going to see her getting into combat right away, laying some eggs as she does. The delayed trigger will happen even if Xira is gone when the creature dies, so I like putting the egg counter on our own creature in order to mitigate the loss if it dies.
As we've seen multiple times across these Legends Retold, we have a commander that has an interesting ability but doesn't push us in a singular direction. There are enough Insects (179) for a tribal deck in that direction, and 60 more Assassins. For me, I'm most likely to build "creatures I really like in Jund colors," giving me the opportunity to put together a deck with some tried-and-true favorites. Alternately, I'll go to that box of old (pre-Zendikar) foils I have tucked away and just build right out of that. OG Xira Arien will have to go into that deck; I'm pretty sure I have an Italian one lying around somewhere (and if not, there's the Chronicles version for less than a dollar).
The Stories We Retell Ourselves
The twenty Legends Retold cards are exciting both mechanically and from a flavor perspective, giving Commander players two different ways to win. Even with a number of legendary creatures from Dominaria United and Dominaria United Commander screaming to be built, there are several here which are also calling out my name. I doubt I can assemble them all, so it's time to make some tough choices. If only all our tough choices could end up being so easy.
Remember that we have a channel on the Commander RC Discord server dedicated to discussing my articles. I'd love to hear about features that you'd like to see, material you want more coverage on, or even things that you think just aren't working. I'm all ears. Join more than 7,000 friends for discussion of not just this piece, but on a wide variety of topics—both Commander-related and not. Hope to see you there!
Visit my Decklist Database to see my Signature Decks, the Chromatic Project, and more!