The Food mechanic has interested me since its debut, though I never fully fiddled with it. I found it cute but ineffective. It made Throne of Eldraine flavorful, but that's all it really did for me. Then The Lord of the Rings: Tales of Middle-earth revisited the artifact token, and I was smitten. I don't know if it's the way the tokens are drawn, or just how cozy it makes me feel, but I can't help but love Food in Magic now! With that being said, I thought it would be fun to explore some powerhouse pieces (both old and new) for your Commander Food decks! It's time for elevenses, everyone!
Academy Manufactor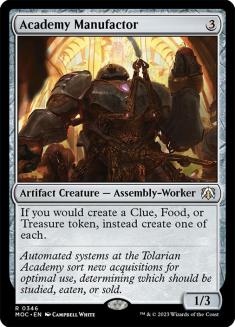 Totally insane! I mean, we all saw it coming right? Academy Manufactor is the first card I think every Clue / Food / Treasure deck should run. There are almost always cards that synergize strongly with artifacts, and having tons of them never really hurt the strategy. While, yes, you could possibly run the more flavorful Fae Offering, what Academy Manufactor lacks in flavor, it makes up for it in sheer power. This card, when paired with pieces like Disciple of the Vault or Reckless Fireweaver, can turn your teeny-tiny snacks into a stomach-busting buffet.
Tireless Provisioner
I promise we will eventually get to the newer cards. I mean, technically this card has a newer printing in one of the The Lord of the Rings: Tales of Middle-earth Commander precons, so it counts…right?
Tireless Provisioner is the prettier, funnier, smarter sibling to Tireless Tracker (a card I despise). Its landfall ability is incredibly potent, as it gives you the ability to create Treasure or Food tokens whenever a land enters the battlefield under your control. Now, in the past I have solely used this card to create Treasures. In the land of Middle-earth, though, I'm seeking solely to create little treats for my Halfling friends to feast upon. I playtested this Elf in my Frodo / Samwise partner deck, and it was an absolute powerhouse. Now I must ask: which art do you run?
Eastfarthing Farmer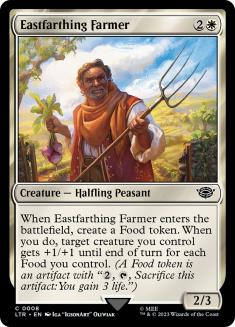 Dang, I love this card so much! If Eastfarthing Farmer has thousands of fans, I am one of them. If it has one fan, it is me. If it has zero fans, I am dead.
I know what you're going to say: it's just a common! And you would be correct; however, commons can be good in commander too! It doesn't always have to be a format of rares and mythics. The lower rarities deserve to shine too! Would this card be better with flash? Yes, but a Vedalken Orrery can fix that. This creature gives one of your creatures a temporary buff when he enters the battlefield for each Food you control. Think of how flipping huge you can make one of your creatures! It's remarkable. I love this card so much and will always be one of its loudest supporters.
Rapacious Guest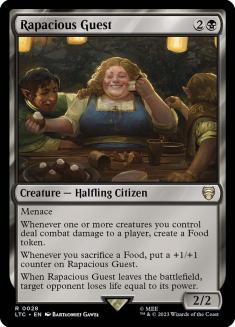 Don't worry about this card; it definitely isn't a Karen. I find Rapacious Guest weirdly intriguing. To me, it feels almost like a fixed Marionette Master / Grim Hireling hybrid. Like Grim Hireling, it gives you tokens whenever your creatures make contact with your opponents (except they're Food and not Treasures). It gets bigger whenever you sacrifice Food and, much like the Marionette Master, it deals a large amount of damage to an opponent when it leaves the battlefield.
The Master is a bit more methodical, as it deals damage whenever your artifacts leave the battlefield and hit the graveyard. The Guest has to leave itself. Still, this fixed mashup is a great way to be a bit more aggressive with your Food strategy (as I feel Food decks tend to be a bit more passive in nature). Good luck getting rid of this rowdy partygoer.
Banquet Guests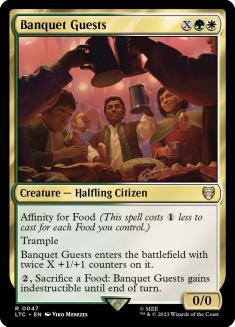 Never in my eight years of playing Magic did I think I would ever see a card with the words "Affinity for Food" on it, but here we are in the year of our Lord 2023. Commander players love big beefy creatures, and boy howdy can Banquet Guests get huge! While sinking mana into this X-spell is always an option, the fact that your Food makes this spell even bigger is just crazy to me.
This piece belongs in a deck that runs Mondrak, Glory Dominus; Anointed Procession; and Parallel Lives. It thrives on gluttony and wants as many Food tokens as it can get, so token doublers are a must. I, for one, cannot wait to windmill-slam this card down in a Commander pod and watch my opponents lose their minds. I love it so much!
Winner Is Served
What once was a novel and cute ability in a fairy-tale set has become a powerhouse subtheme in Magic. As a participant in the LoadingReadyRun Pre-Prerelease for The Lord of the Rings: Tales of Middle-earth, I was able to see the sheer powerhouse that Food has become in Magic. Sure, we used to make jokes about Gingerbrute and Gilded Goose, but we aren't laughing anymore. No. We are taking our Lembas, charcuterie, and gingerbread, and shoving them down the throats of our opponents…with no water or milk to chase it. Happy munching and happy brewing, deckbuilders.