The end of the Phyrexian arc is upon us, and as we touch back down to terra firma, we're engulfed in the agonizing final throes of a war that has raged in one form or another for millennia. You know we're going to get some exciting cards out of that. I'll note that there's a new card type, called Battle, which I don't have space to go into this time. I'll be dedicating some column inches to it next time, though, since I'm a fan of it mechanically.
The first of the March of the Machine previews have started in earnest, and it's a great deal to take in. Let's take a look at some of what we've seen so far, focusing on a few of those that are particularly noteworthy (there's already too many to have space to talk about them all). We're naturally looking at things through the lens of Commander.
Ayara, Widow of the Realm
First up is the Commander RC (Rules Committee) preview card, which showed up on our stream last night.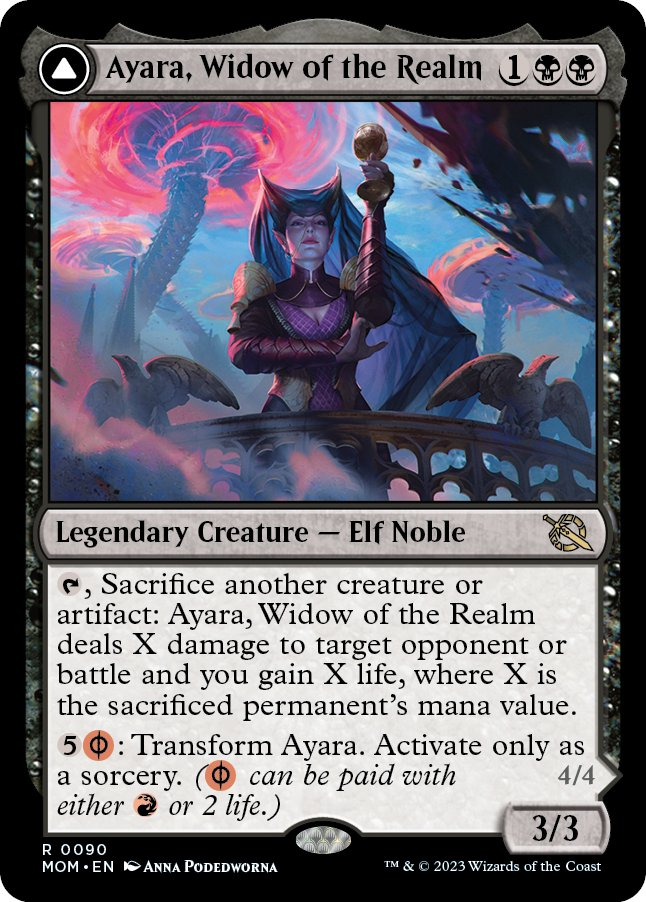 The updated version of Ayara, First of Locthwain charges into the final battle still bent on sacrificing creatures for value. Coming in with a power/toughness of 3/3, she's a Legendary Elf Noble. She's expanded her profile to sacrificing any creature, not just a black one, adding artifacts to the pile as well. She drains an opponent or Battle (we'll get to that in a minute), meaning she'll deal damage and we'll gain that much life, for the sacrificed permanent's mana value.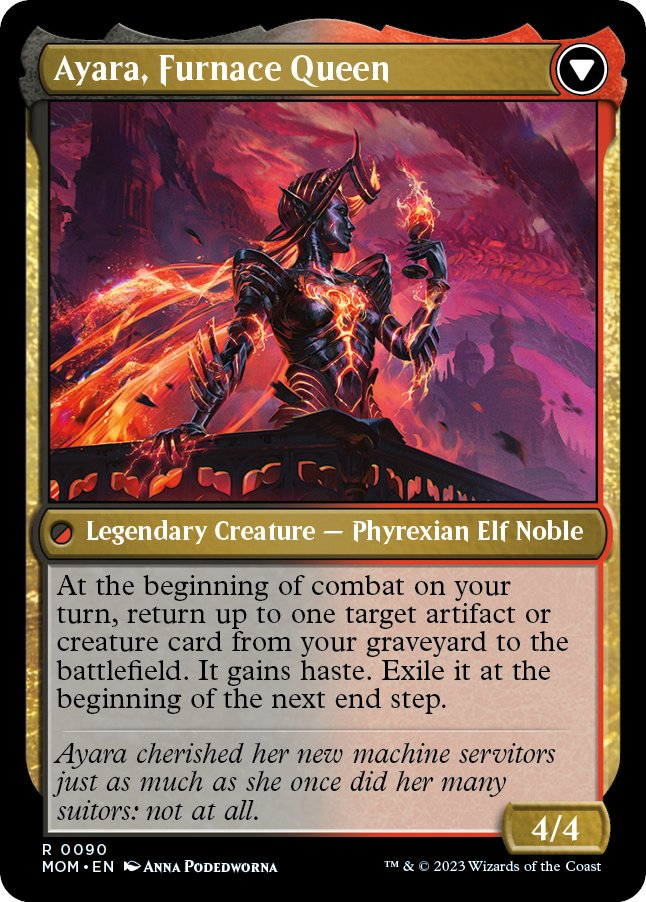 Then, for five generic and a Phyrexian red mana, she transforms into Ayara, Furnace Queen. She's now a Legendary Phyrexian Elf Noble. At the beginning of combat on our turn, she'll return an artifact or creature card from our graveyard to the battlefield, giving it haste. It will exile at the beginning of the next end step.
This is a sweet card. I'm personally a big fan of sacrificing stuff for value and graveyard recursion, so this is right up my alley. For me, the sacrifices will largely be creatures. The life draining is limited by the mana value of what we're sacrificing, as opposed to the power. I simply see the sacrifice as a little bit of something that gets us to the bigger step. It's nice in response to something getting targeted for destruction. We'll likely use it as a way to get stuff into the graveyard for later recursion with either the transformed Ayara or some other way.
With a color identity of Rakdos (black/red), Ayara slots into decks led by a host of Jund or Grixis commanders. For me, that will certainly be Kresh the Bloodbraided and either the Kresh Into the Red Zone or Kresh Next 99 deck. Since the deck is effectively "stuff I want to Saw in Half," Ayara could also go into my Maarika, Most Brutal deck to bring back the previously Sawn stuff. Of course, we'd prefer that the end of turn exile not happen, so we'll have other sacrifice outlets at the ready to get the creature back into the graveyard in order to have the run-backs next turn. Bringing back Gray Merchant of Asphodel or Kokusho, the Evening Star for repeat performances is always nice.
As a commander herself, Ayara tightens up on the sacrifice theme, likely adding more artifacts to the mix. The first one that comes to mind is Spine of Ish Sah, which deals a pile of damage and returns to the hand for further engagement. Wurmcoil Engine is another—drain for six, get the two creatures. We could get some interesting loops out of Drach'Nyen, which is a little pricey at first, but then all upside. For less expensive but high-value options, we have things like Ichor Wellspring, Sleeper Dart, and Mycosynth Wellspring. Don't sleep on one of my favorite Hidden Gems, Tsabo's Web. We can arrange to sacrifice it, then return it to the battlefield after our untap, so that our opponents are affected but we're not. All the while, we'll be drawing extra cards.
We can run things like Daretti, Scrap Savant, and so sacrifice whatever we return (well not the Spine) to avoid the end of turn clause. I like the idea of using Trash for Treasure to sacrifice the artifact on its way to exile to reanimate some other artifact that's made its way to the graveyard. Any old sacrifice outlet will do.
We previewed Kethek, Crucible Goliath during Phyrexia: All Will Be One season. Ayara, Widow of the Realm (and don't miss the sweet alternate art version) is a powerful follow-up. The two have some synergy together as well. It's a little fiddly, but we can get there. As always, thanks to Wizards of the Coast (WotC) for the free preview. It's a card we'll be happy to be associated with.
Ayara isn't the only card we've seen so far. In the epic battle taking place for the heart of the multiverse, there are powerful forces on both sides foaming at the mouth to get into your Commander decks. Let's take a look at some of them.
Archangel Elspeth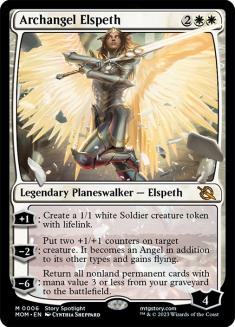 More of a powerful story element than a must-play card, Archangel Elspeth still merits lots of consideration. I've seen mostly excitement from folks commenting on it. All three abilities are relevant. The +1 ability is straightforward, netting us a 1/1 white Soldier token, with lifelink as a nice bonus. The -2 ability, which we'll be able to use twice without plussing up Elspeth, puts two +1/+1 counters on a creature, makes it into an Angel, and gives it flying. This one is worth more than meets the eye. A creature previously with no evasion getting the jump is huge, just like it was with the original Elspeth, Knight-Errant—only this one is permanent. The -6 ability will depend on how much value we've stacked into the graveyard. If it's something Sun Titan can get, it'll come back with Elspeth's big ability.
Breach the Multiverse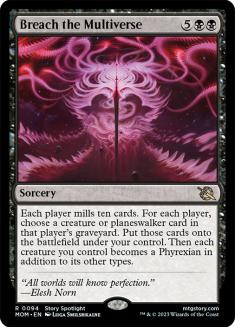 It's pricey but splashy, exactly the kind of thing we love in Commander. Breach the Multiverse mills everyone for ten, then for each player lets us reanimate a creature or planeswalker from that player's graveyard. It doesn't have to be one of the milled cards. We're not done yet, though. Each of our creatures becomes Phyrexian as well. This compleation will have value with other cards. Strong stuff.
Bright-Palm, Soul Awakener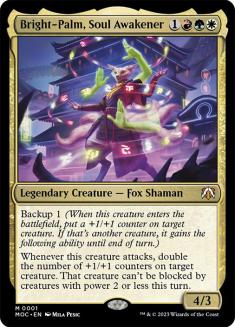 A legendary Fox Shaman to run our Naya team, Bright-Palm features the new mechanic backup. Backup puts X +1/+1 counters on a creature, and if it's a creature other than the one that's generated the ability, it gains the card's other ability until end of turn. For Bright-Palm, it's a backup of just one, but the triggered ability is quite strong. Whenever the creature with the ability attacks, we double the number of +1/+1 counters on a target creature and it can't be blocked by creatures with power 2 or less this turn. Make something huge, and no chump blocks. That's all there is to it. "All."
Chandra, Hope's Beacon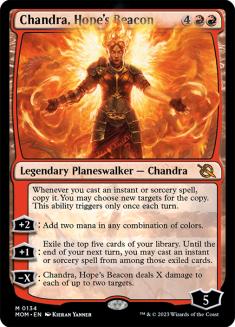 Another moderately expensive card at mana value six, Chandra will pay big dividends. Even before we get to the activated abilities, we have a triggered ability which triggers once per turn: when we cast an instant or sorcery, we copy it and may choose new targets for the copy. Once per turn might initially seem like a limitation, but it means we could still get four copies per turn cycle.
The +2 ability gets us two mana in any combination of colors to fuel those spells. The +1 ability plays into the triggered one by exiling the top five cards of our library. Until the end of our next turn, we can cast an instant or sorcery from among them. That gives us plenty of time. The final ability is -X, dealing X damage to any target. I'll be playing it for the triggers and trying to make sure that it hangs around a few turns.
Drana and Linvala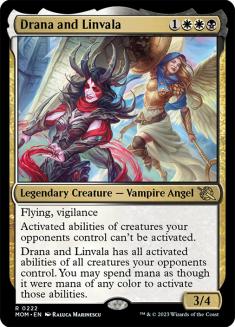 Combining the legendary creatures is genius. This pairing is extremely strong in Commander and I expect to see it at the helm of decks. It's a 3/4 with flying and vigilance for only 1WWB, but the value doesn't stop there. It turns off activated abilities of creatures our opponents control and gives them all to Drana and Linvala. Amidst concerns that costing commanders this aggressively is going to invalidate generations of other legendary creatures, this is a card I will admit to wanting to play. My group's tolerance for it remains to be seen. I'm building something off Drana and Linvala, for sure. I think it should be required that if you build a deck with this at the helm, you have to include at least on Drana and one Linvala card in the 99.
Elesh Norn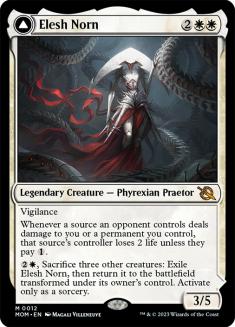 We knew it was coming. The wait was only in what form. This one is cool.
Starting as an easy four-mana 3/5 with vigilance, it has an activated and a triggered ability. The trigger tells us that whenever a source an opponent controls deals damage to us or one of our permanents, they lose two life unless they pay one mana. This will be especially hurtful to go-wide decks that want to damage you with lots of creatures.
The activated ability spends 2W and sacrifices three other creatures in order to turn Elesh Norn into a Saga called The Argent Etchings (so obviously we have to get the etched foil, right?). Chapter 1 is worth the investment already, incubating 2 five times, then transforming all our Incubator tokens. The combat is on in Chapter 2 as our creatures get +1/+1 and double strike until end of turn. Chapter 3 is particularly hairy, destroying all other permanents except artifacts, lands, and Phyrexians. But that's not enough. The Argent Etchings then transforms back into Elesh Norn.
This is the kind of card that defines a set and a story arc. It's brilliantly done. It's sizzling with power and dripping with flavor. Really, there's not much more that we could ask.
Etali, Primal Conqueror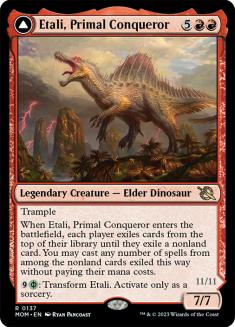 Trampling 7/7 for seven with the Etali ability to cast stuff from other players' libraries for free is already a habanero-level card. For the hefty cost of nine and a Phyrexian green mana, we can also transform it into Etali, Primal Sickness. It's an indestructible, trampling 11/11 with a relevant triggered ability. When it deals combat damage to a player, they get that many poison counters. It's Blightsteel Colossus-level murdering right there. And no, these cards still haven't engendered discussion of raising the number of poison counters.
Ghalta and Mavren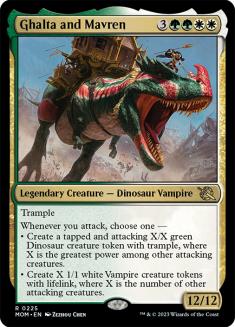 Okay, now we have 12/12 tramplers with no downsides for seven mana. See where I'm going? Still, the Timmy in all of us will love Ghalta and Mavren because it simply smashes. Whenever we attack—and not just with our commander, meaning we can cast it before combat, then swing with another creature to get the trigger—we either get a tapped and attacking X/X Dinosaur, with X being the greatest power of attacking creatures, or X 1/1 white Vampires with lifelink equal to the number of attacking creatures. They're not attacking. I don't think my advice to play your Fogs has ever been more relevant. Or, in this case, maybe your Clones.
Heliod, the Radiant Dawn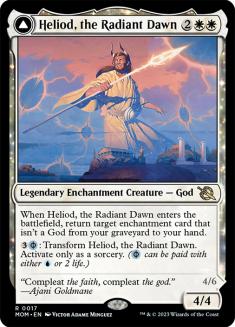 Heliod, the Radiant Dawn is the mullet of March of the Machine cards. The front face part of Heliod is kind of medium, just returning an enchantment to hand from the graveyard. The back side is where the party is.
This (destructible) version of Heliod is Vedalken Orrery with upside. Not only can we cast spells as though they had flash, those spells cost one less for each card our opponents have drawn this turn. We can manifest this in a bunch of ways. On our turn, it can be Howling Mine and the like, dropping our cost by three right away. On other players' turns, it can be Temple Bell for the same basic effect. Now drop a Windfall into the mix, and we have lots of discounted stuff in our (now much fuller) hand. As a commander or one of the 99, this Heliod will be compleately house.
Jin-Gitaxias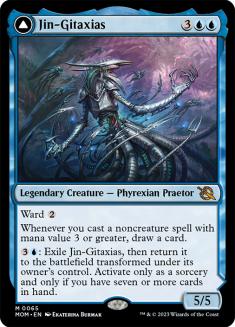 This is a card I have some concerns about, but I'll admit that the big investment in mana, relatively long vulnerability period, and more difficult condition might make it okay. I'd play this transforming card without the back side. It's a 5/5 for five mana with ward 2 and the triggered ability of drawing a card when we cast a noncreature spell with mana value three or greater. There's a reason to play those three-mana-value rocks. Most of our artifacts, enchantments, instants, sorceries, and planeswalkers are going to draw cards.
We can transform it for 3U (note no Phyrexian mana), but only if we have seven or more cards in hand. Once we do, it becomes a Saga called The Great Synthesis that's going to tell quite a story. Chapter 1 doubles our hand size, with no maximum for as long as we control it. Chapter 2 bounces all non-Phyrexian creatures to their owners' hands, a nice, zero-mana sweeper, after which we can drop stuff onto the battlefield. We might, however, wait until Chapter 3, when we can cast any number of spells from our hand—and here's the concerning part—without paying their mana costs. Then we return it face up to start the insanity all over again. I don't think it'll break the format, but I'm certainly willing to run it through its paces.
Omnath, Locus of All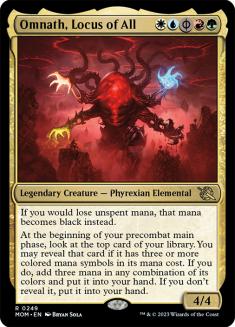 We suspected something like a five-color Omnath was coming. The Phyrexian black mana in the middle is a particular stroke of creative genius. The replacement ability is insane—Kruphix, God of Horizons gone all dark. The precombat main phase trigger is a little tricky: packing our deck with spells that have three or more colored mana symbols isn't easy. Fortunately, they can all be the same color. Then, we get three in any combination of its colors and put it into our hand, nominally to cast it, but we can cast anything. It's a trigger that's going to fail sometimes without aggressive top-of-library control, but when it works, it's beautiful.
Quintorius, Loremaster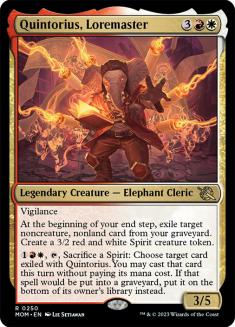 In what will be a nice addition to my Hofri's Spirit Forge deck, as an end of turn trigger, Quintorius lets us exile a noncreature, nonland card from our graveyard to create a 3/2 Spirit token. Then, it let us pay 1WR and sacrifice a Spirit in order to cast the card without paying its mana cost. What's best is if the spell would be put into the graveyard, it goes to the bottom of the library instead (and not exile!), which is consistent with how Hofri operates.
I'm just saying that casting a second Teferi's Protection, Fling, or Comeuppance in a game won't be awful. Also love that they did the Strixhaven Secret Archive version of the card as well. Neat artistic choice.
Thalia and the Gitrog Monster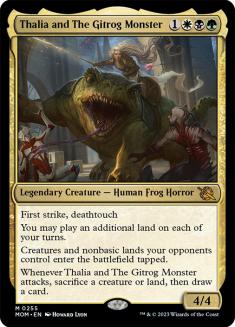 Another card that would have exploded heads if dropped into Magic 1999, a 4/4 first strike, deathtouch creature for four mana, Thalia and Gitrog does what its component constituents want. We get to drop an additional land, our opponents' creatures and nonbasic lands enter the battlefield tapped, and then we have a new trigger. Whenever Thalia and the Gitrog Monster attacks, we sacrifice a creature or land and draw a card. For me, the creature sacrifice will be the thing, as this slots better into Karador, Ghost Chieftain decks than OG Gitrog Monster did. I'm more in on it as one of the 99 than at the top, but I'm certainly interested in seeing what folks build.
Wrenn and Realmbreaker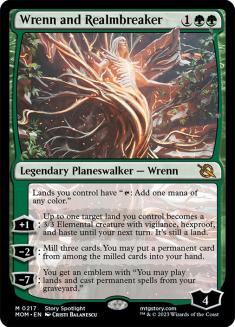 A three-mana planeswalker with four loyalty is already something. If nothing else, it gives us the static ability to get any color of mana from our lands—something I might work a deal with my opponents to leave alone if I promise not to use the activated abilities. I'm not big on making my lands into creatures, but since that's the only way to plus up other than proliferating (a viable choice), it's what we have. The -2 ability is fine, but it's the emblem at -7 that piques my interest. Once we get the emblem, Wrenn and Realmbreaker is better than Karador, since we can cast any permanent from the graveyard, and we don't need it on the battlefield to do so. I think I'll be playing the hell out of this card.
Yargle and Multani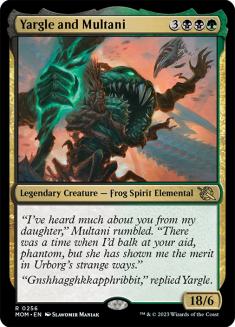 18/6 for six mana? Yeah, we pretty much live in the end times.
March of the Machine, as befits the set at the culmination of an epic story, will fill our Commander decks with extremely strong and flavorful stuff. This sneak peek at some of the early previews (we'll just have to wait for the full set review for the rest) tells us there's more to come in this titanic battle for control of worlds, for the soul of the multiverse.
Always remember, we have a channel on the Commander RC Discord server dedicated to discussing my articles. I'd love to hear about features that you'd like to see, material you want more coverage on, ideas for subscriber/Patreon benefits you'd like to see, or even things that you think just aren't working. Join nearly 10,000 friends for discussion of not just this piece, but on a wide variety of topics—both Commander-related and not. See you there.
Visit my Decklist Database to see my Signature Decks, the Chromatic Project, and more!