Our first peek into the Wilds of Eldraine reveals a landscape of legendary creatures ready to helm our newest Commander builds. From the aggressive Agatha of the Vile Cauldron to the slick Will, Scion of Peace, the possibilities stretch on and on. Let's take a look at the 22 we've seen so far (as of this writing) and discuss what we might do with them in the wilds of our local environment.
Agatha of the Vile Cauldron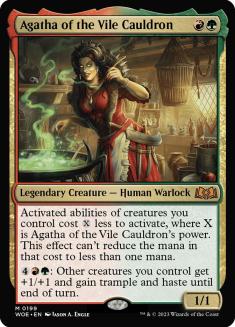 Cost reductions are always valuable, as they allow us to do more in a turn. We'll want to buff Agatha's power a bit in order to get everything less expensive to activate, until we're down to a single mana, most often cutting out the entire generic mana portion. Then we're off to the races.
Most interesting is Agatha's second ability, giving our team +1/+1, haste, and the all-important trample. As a commander, Agatha wants a build with some beef on a tight curve in order to be a little aggro and take advantage of both of her abilities. The first card that comes to mind is the prohibitively costed Etali, Primal Conqueror. If we can reduce that nine generic mana by a bit, we'll be truly hot.
Ash, Party Crasher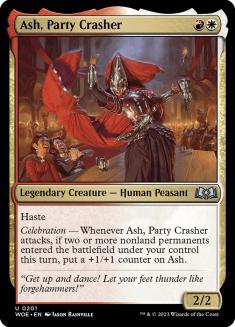 We'll need to be careful early on to not get Ash into deep trouble by attacking, but afterward, we should have a nice Voltron/commander damage build.  We can get our two nonland permanents many, many ways, like with Andúril, Flame of the West or Hero of Bladehold.  Then, it's Ash into the Red Zone for fun and profit.
Beluna Grandsquall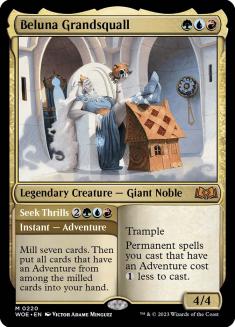 We'll seek some thrills and go on Adventures with Beluna, in what I suspect will be some nice, theme-driven decks. Beanstalk Giant and Beanstalk Wurm are likely to be favorites, but don't sleep on Illithid Harvester and Monster Manual. We also have the new Virtue of Knowledge to consider; doubling up on triggered abilities is not trivial.
Eriette of the Charmed Apple
We could be dancing a tightrope with Eriette, since we could enchant a creature and then have Eriette go away, thereby losing her protection. Still, we have the second ability, which is strong. We can enchant permanents we own as well in order to get the bonus. We can start with things like Pacificism and Darksteel Mutation, but then graduate to bigger things like Celestial Mantle and even Eldrazi Conscription. Remember also that Curses are Auras, which is the direction I'd want to take Eriette if I were to build her.
Greta, Sweettooth Scourge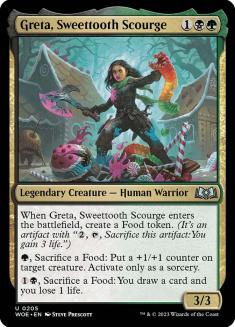 Greta looks more like one of the 99 in an Abzan Food deck than she does leading her own effort. She'll make a nice piece of a Bilbo, Birthday Celebrant deck, for example. Turning Food into cards at the more-than-acceptable rate of two mana and a life is good stuff.
Hylda of the Icy Crown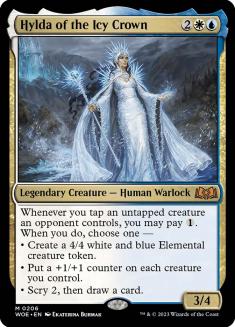 Hylda and Opposition are made for each other. An Azorius (blue/white) control deck featuring the ability to tap down things will lead to tremendous value plays. I'd want to focus mainly on creating the Elemental army that's going to go into beatdown mode, but we'll also use the other two modes to buff our team and draw cards to make our mission happen. Hylda is quite reminiscent of Talrand, Sky Summoner in that regard. Hylda is a strong candidate for the first thing I build from Wilds of Eldraine.
Imodane, the Pyrohammer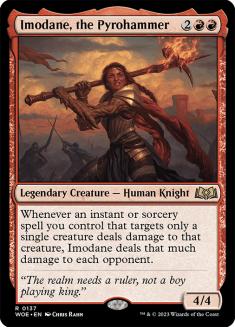 A great addition to our Knight theme decks, Imodane will lead us to play some damage-based removal, something that I find is often sorely lacking in the format. Imodane could also take a spot in decks like Mizzix of the Izmagnus, which enjoys casting instants and sorceries. Double up the damage on one player by targeting our own Boros Reckoner, Truefire Captain, or Mogg Maniac.
Johann, Apprentice Sorcerer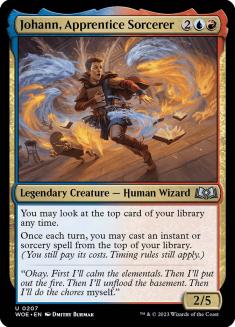 Another one that looks better as a role-player, this time in a deck led by Mizzix of the Izmagnus, Johann will help us tear through our library with some of what I call effective card draw. It's not actually drawing cards (which has a definition in Magic), but mirrors the process. Inexpensive Future Sight variants are strong cards which I'm happy to play any time.
Kellan, the Fae-Blooded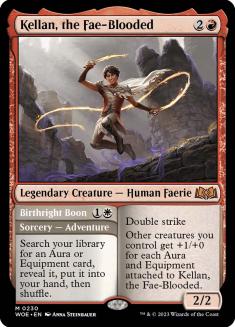 Kellan leads us right into playing a Voltron strategy with a commander that can get out of hand pretty quickly due to having double strike. We don't need to get its power too much higher than its native two in order to start piling up commander damage. With Kellan, we get the choice of also playing Auras to go along with the standard Equipment line. What's cool is that while Kellan is threatening commander damage kills, our other creatures are getting larger and also doing work on opponents' life totals. This is a Boros take I can get behind.
Lord Skitter, Sewer King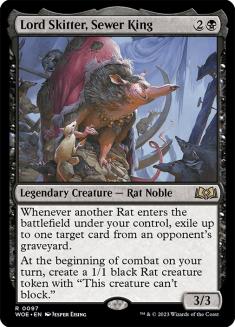 Cheeky Lord Skitter will gnaw his way through graveyards in no time. Fortunately, it's only opponents' graveyards, so he won't turn on us and start munching our own. We'll get one card every combat step as Lord Skitter generates a Rat token to grow the army or to feed to our favorite sacrifice engines.
Neva, Stalked by Nightmares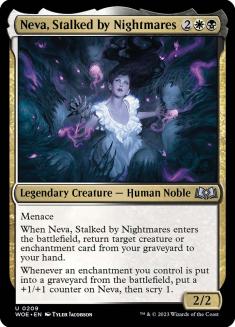 The nightmare-stalked Neva will have trouble fitting into a Commander world that features so many great Orzhov creatures already, like Liesa, Shroud of Dusk; Daxos the Returned; Lurrus of the Dream-Den; and 60 total choices. Neva fits into a Daxos the Returned deck as a backup threat. There are plenty of enchantments going to the graveyard, as Daxos creates enchantment creatures.
Obyra, Dreaming Duelist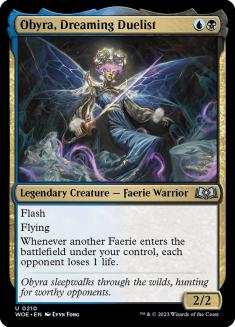 Continuing our string of creatures as role-players in other decks, Obyra is a stone-cold killer in a deck led by Oona, Queen of the Fae. Create some Faeries, murder the battlefield. Sometimes, things are just straightforward and we enjoy them for what they are.
Rowan, Scion of War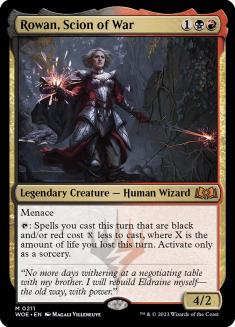 Half of everyone's favorite brother-sister team, Rowan is a little tricky to get rolling. We'll want to loop spells through Bolas's Citadel; K'rrik, Son of Yawgmoth; or even a simple Defiler of Flesh / Defiler of Instinct in order to eat into our life total. Then we can have big spells blasting away. Three or four spells into Comet Storm or any other thing which deals out X damage will wreck people pretty quickly.
Ruby, Daring Tracker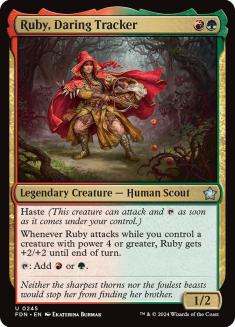 Another card that fits as one of 99, Ruby is a decent mana creature, producing both red and green mana. She looks more like a card that'll fit into other formats, which is fine. Not everything has to be built for Commander.
Sharae of Numbing Depths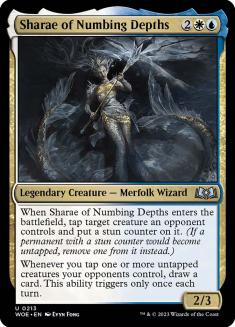 A companion to Hylda of the Icy Crown, Sharae ups our value quotient. We can conceivably draw four cards in a turn cycle for zero mana with her triggered ability and a card like Opposition. I also don't need much more incentive to play Frost Titan, which, by the way, taps permanents, not just creatures. Hylda is still the commander of this deck, but we could probably run Sharae in charge without too much degradation of our gameplan.
Syr Armont, the Redeemer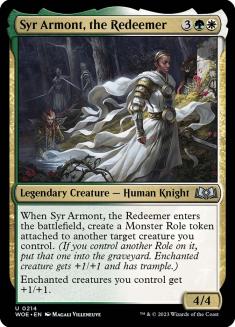 Roles are token Aura variants, of which each player can only have one on a creature at a time. Syr Armont is an expensive Anthem for our enchanted creatures that could easily lead a go-wide deck, either themed on Humans or Knights or just good-stuff creatures. I'd be down either way.
Syr Ginger, the Meal Ender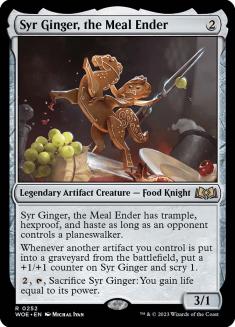 The hero of the original Throne of Eldraine release video, good Syr Ginger can lead an artifact deck that likes to sacrifice its own things. I'd love to build a Scarecrow deck with it, featuring Scarecrone, but there aren't enough cards to fill out a list.
Talion, the Kindly Lord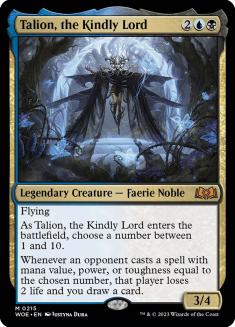 Our friends Josh Lee Kwai and Rachel Weeks and their team over at Command Zone podcast crunched some serious numbers on Talion. They came up with the strongly definitive answer that two is the right call except in a few side cases. I'm willing to trust their work. What deck we build after that is left to our tastes and mood. Talion is a Faerie Noble, so there's a theme deck to be had. Given the Dimir colors, "Clone and copy" is a viable choice. It's one I'm always happy to run because it requires some play and judgment of the battlefield state instead of just plopping cards down. There are plenty of graveyard and recursion strategies to explore as well. The TLDR is that Talion offers us lots of different opportunities to play the kind of Commander we want to.
The Goose Mother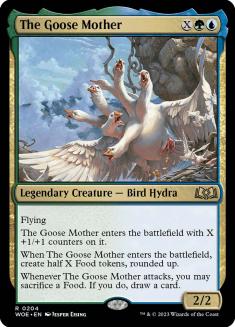 Who doesn't love a good Bird Hydra? It's a straightforward X creature that offers that many +1/+1 counters, like most Hydras. Even if we're not going with a Hydra theme, we play it with Doubling Season, Master Chef, The Great Henge, and Hardened Scales, also slipping in The Ozolith to move counters around. Forgotten Ancient is good times here as well. Evolution Vat will really get the motors running, as will the cleverly designed Visions of Dominance. Tanazir Quandrix presents compelling possibilities. Once again, we have a commander that will offer us lots of opportunities to explore whatever we'd like to in the format.
Totentanz, Swarm Piper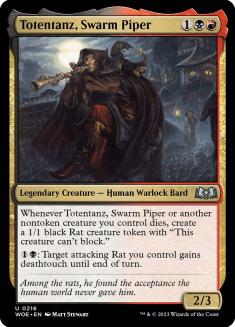 Here comes another Rat swarm, this time in Rakdos (black/red) instead of mono-black. The threat of giving an attacking Rat deathtouch means that we can often get through unscathed. We can then have things that trigger on dealing combat damage to opponents. Dowsing Dagger transforming into Lost Vale is cool. Elbrus, the Binding Blade into Withengar Unbound is another excellent transformation. Kaimanu Battle Armor is set up to goad everyone. Everything in the Sword of X and Y line shines. If I were to build Totentanz, I'd return to The Lord of the Rings: Adventures in Middle-earth and get that Ring temptation line going, given that our Rats are already nearly unblockable once they're wearing said Ring. Looks like we have fun times here all around.
Troyan, Gutsy Explorer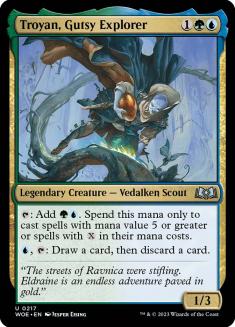 The commander that's going to fuel dropping large monsters on the battlefield, Troyan runs right alongside cards like Gwenna, Eyes of Gaea and Gilanra, Caller of Wirewood. We can also slot him into a Hydra or other creature deck with X in its cost. There's also the looting ability; I'd love to see someone jam a Circular Logic or Welcome to the Fold into a deck just for grins. Circular Logic is likely to be a very big blowout.
Will, Scion of Peace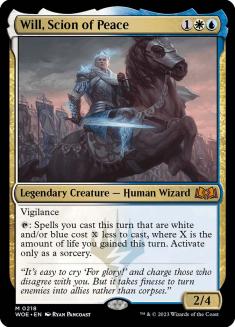 The other half of our great sister/brother duo, Will is all about the lifegain. We can include our favorite creatures with lifelink and then cast things postcombat, notable because Will has vigilance and can get in there himself, although we'll need some other way to have him gain life, like one of my recent favorites, Resurrection Orb. If we want to go way up the scale, there's always True Conviction, giving our creatures both lifelink and double strike for twice the lifegain goodness.
Will is built to be a commander instead of one of 99. His build-around ability needs guaranteed action and not just sitting in the deck, hoping to get into the game. That said, how we have that action is up to us, so—in a theme often repeated on this list—we have copious choices in what we can put together.
Bird's-Eye View
What we've seen so far of the legendary creatures from Wilds of Eldraine is an open environment, ready to let builders and brewers test the limits of their creation skills. Instead of leading us down obvious paths, most of the available commanders here are wide open, giving us a little kick in a direction, then allowing us to explore the depths of the format. This is a great design choice from our friends in Studio X, and one that I'm sure will yield some thrilling possibilities.
Always remember we have a channel on the Commander RC Discord server dedicated to discussing my articles. I'd love to hear about features that you'd like to see, material you want more coverage on, ideas for subscriber/Patreon benefits you'd like to see, or even things that you think just aren't working—especially now that our revamped Patreon is live and ready to engage you with new benefits! Join 10,000 friends for discussion of not just this piece, but on a wide variety of topics—both Commander-related and not. See you there!
Visit my Decklist Database to see my Signature Decks, the Chromatic Project, and more!