Wizards of the Coast (WotC) has released their weekly MTG Arena update that includes details on Arena Championship 1, a bonus Play-In event, and more.
Arena Championship 1
September 24–25, MTG Arena's best will compete for $200,000 in prizes. The event starts Saturday at 9 AM PT and will feature Traditional Alchemy and Traditional Dominaria United draft. For full details, be sure to check out the viewers guide.
Bonus Play-In Event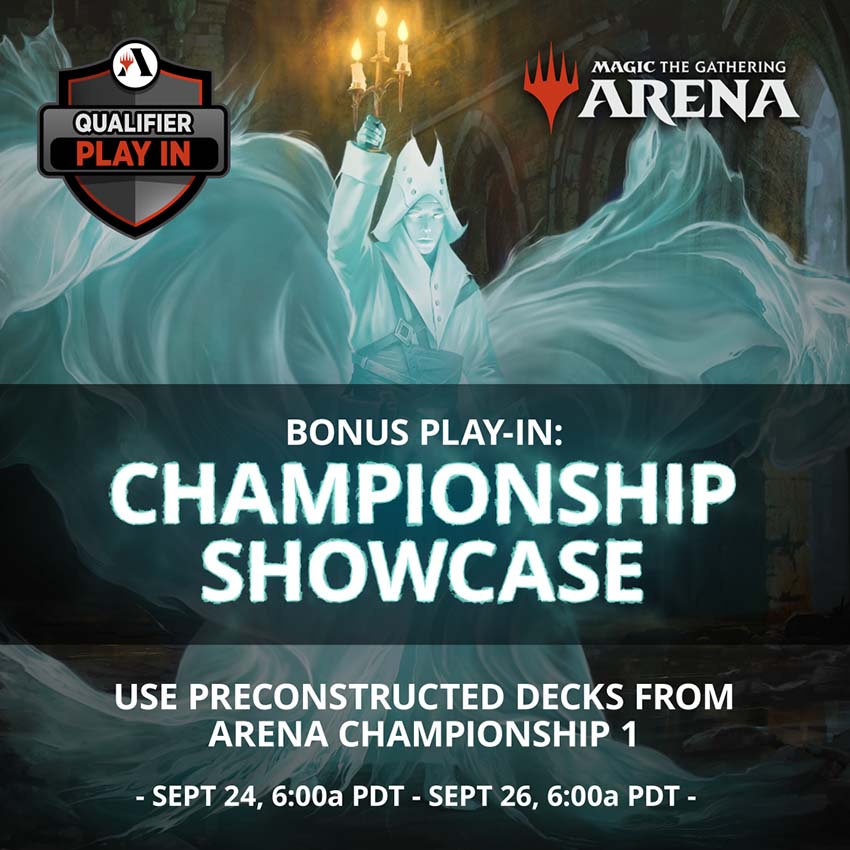 For the duration of the Championship weekend, players can participate in a Best-of-One bonus Play-In event featuring the Alchemy decklists used by the Championship competitors.
Arena Open
The next Arena Open event will take place October 1-2 and will feature Best-of-One and Best-of-Three Dominaria United Limited queues and prizes up to $2500. Any players who enter will also earn a Sheoldred, the Apocalypse Phyrexian card style.
Event Schedule
Events open at 8 AM PT (UTC -7) and close at 8 AM PT (UTC-7) on the dates shown unless otherwise noted.
September 15-24: Sleeper Agents
September 16-19: Dominaria United Constructed
October 6–8: Into the Future
October 6–16: Premier Draft Dominaria United
October 8–10: The Ultimate Showdown
October 14–17: Alchemy Metagame Challenge
Quick Draft
September 16-30: Dominaria United
September 30-October 14: Innistrad: Midnight Hunt
October 14–28: Dominaria United
Midweek Magic
Midweek Magic events open on Tuesdays at 8 AM PT and close on Thursdays at 8 AM PT.
September 20–22: Brawl Showcase
September 27-29: Historic
October 4-6: On the Edge
October 11–13: Alchemy
October 18–20: Explorer
Premier Play Schedule
All times listed are Pacific time (UTC -7).
Note: The format for the August Qualifier Play-In and Qualifier Weekend events has been updated to Alchemy. For full details, see the event pages linked below.
Qualifier Weekend Events
Day One and Day Two events close to new entries at 8 AM PT (UTC 15:00) each day.
Qualifier Weekend events are two-day events in which eligible players compete for invitations to the Arena Championship held in the fourth quarter of 2022.
October
Arena Open
October 1–2
Day 1, October 1: Dominaria United Sealed Best-of-One and Best-of-Three
All participants will receive the Sheoldred, the Apocalypse card style
Day 2, October 2, Draft One and Draft Two: Dominaria United Player Draft Best-of-Three only
Note: There are two drafts for the Day 2 Arena Open, with three wins or one loss.
Qualifier Weekend
October 15, 6 AM PT – October 17, 4 PM PT
Format: Standard (Best-of-Three)
Read the original article from WotC.