Ah, adventurers! Allow me to introduce you to my contact and leader of the Guild, Nine-Fingers Keene! Fear not, she is not nearly as deadly as the rumors make her out to be. Reputations, you know? Don't worry about your gear. It will be returned to you at the conclusion of our meeting.
Keene is willing to provide us with the information we seek, but is curious about where each of you hail from. Now, now, don't be shy; everyone has a background, and if you aren't proud of yours, well, we all have our secrets, myself included. Besides, we're all friends here.
Speaking of friends, I wanted to give you the lowdown on certain characters you might run across here in Baldur's Gate. Some of them are as likely to put a blade in you as greet you, so it may be best to heed my advice. With that, let's take a look at some of the new legendary creatures featured in Commander Legends: Battle for Baldur's Gate!
Warning: This article contains spoilers, including for every Baldur's Gate game and Baldur's Gate: Descent into Avernus! Ye be warned!
Baldur's Gate
Gorion, Wise Mentor
Gorion, pronounced Go-Rye-On, raises the original Baldur's Gate game's player character, who is thus known primarily as Gorion's ward. (In the canon version, Gorion's ward is revealed to be Abdel Adrian.) Gorion raises his ward in the vaulted halls of the fortress-library of Candlekeep. [While in Candlekeep, Gorion's ward may encounter the prophecies of Alaundo the Seer, which hint to the character's mysterious lineage.]
The game opens with ill-tidings. Bandits attempt to kill Gorion's ward. Determining Candlekeep is no longer safe, Gorion leads his ward away from the library-fortress and is murdered by a mysterious armored figure.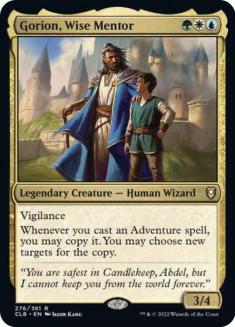 Critical Hit: Gorion, Wise Mentor
I love everything about this card, from the color selection and artwork to the abilities and flavor text. Gorion is a kindly wizard who has been trying to protect his ward from his lineage since he was a child and has remained vigilant ever since. Bant is the perfect color combination for this. He also knows when it is time for the two of them to set off on what will be his final adventure, thus making great use of the returning Adventure mechanic. Finally, the flavor text is just beautiful: "You are safest in Candlekeep, Abdel, but I cannot keep you from the world forever." Gorion knows the lineage of his ward will come to him one day, and eventually Gorion will have to see his ward off on his adventure. The art shows the loving bond between father and adopted son. It's beautiful. I'm not crying. You're crying!
Grade: A+
Sarevok, Deathbringer
The mysterious armored figure who murdered Gorion is eventually revealed to be Sarevok. After escaping Candlekeep, Gorion's ward discovers the secret of his lineage: he and Sarevok are half-siblings, both progeny of the dead Lord of Murder, Bhaal. Now, through the hoarding of resources, pressure from bandits, and the political power of the Iron Throne, Sarevok is preparing his own bid for godhood.
By driving both Amn and Baldur's Gate to war, he plans to cause murder, death, and carnage on a massive scale, thereby securing his place as the new Lord of Murder. Fortunately for the people of the Forgotten Realms, Gorion's ward successfully defeats his sibling Sarevok. Finally, it seems that peace has been returned to the realms.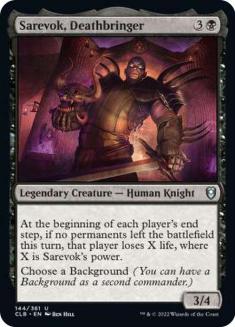 Critical Miss: Sarevok, Deathbringer
Okay, so this one isn't really a critical miss for me as much as it is a near miss. I get that they are trying to make him an Equipment- and buffs-matter commander (when you Voltron him up, he can do some big damage to your opponents if nothing's left on their battlefield), but for someone who is attempting a bid for godhood, I feel like giving him an ability to make himself indestructible, even temporarily, would have been a better fit.
I do like the versatility of him being able to have a background, as Sarevok is an optional companion at the end of Baldur's Gate II. However, this card is just a miss for me.
Grade: C-
Jaheira, Friend of the Forest
After Gorion is killed, his ward makes his way to the local inn, where he meets Jaheira, Friend of the Forest, and her husband Khalid. Jaheira was friends with Gorion and is eventually revealed to be a Harper, same as Gorion. The Harpers are a secret organization dedicated to maintaining the balance between good and evil. She is also one of the first companions Gorion's ward is reunited with in Baldur's Gate II, and she discovers that, to her great sorrow, her husband has been slain in the dungeons of Irenicus.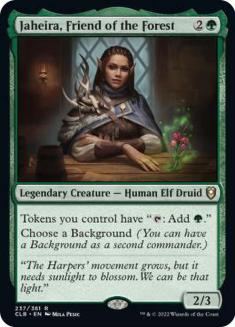 Honorable Mention: Jaheira, Friend of the Forest
Jaheira is one of the few companions that contains flavor text, and it is superb: "The Harpers' movement grows, but we need sunlight to blossom. We can be that light."
I love Jaheira's call to action. And this enigmatic quote encapsulates the Harper organization. If you look very closely, you can see a Harper pin on Jaheira's cloak. Fantastic flavor!
Grade: B+
Baldur's Gate II
Wilson, Refined Grizzly
There are a handful of companions from Baldur's Gate II that did not appear in the original Baldur's Gate, including Wilson, Refined Grizzly, a grizzly bear who can drink potions and has a taste for the finer things in life. What else is there to say about this fancy bear?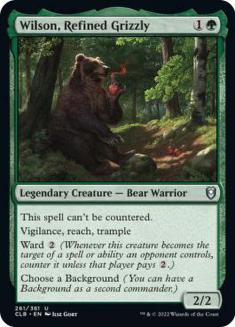 Critical Hit: Wilson, Refined Grizzly
Who doesn't love a bear as a companion? I mean, honestly? Everyone loves bears. My favorite part about Wilson is that he is just a grizzly bear with a few other abilities that make him a better fighter. Other than that, he is nothing special, but he gets a background, which is hilarious. In Baldur's Gate II, he can't use weapons, wear armor, or use items other than potions. Plus, his art shows him daintily consuming a healing potion. Adorable.
Grade: B+
Jon Irenicus, Shattered One
Baldur's Gate II cold opens with Gorion's ward awakening imprisoned in a cage and subject to the cruel experimentation of Jon Irenicus, Shattered One, an elven mage exiled and cut off from the lifeforce of his elven people, which resulted in him having human ears. Soon, Gorion's ward is rescued; the party escapes the dungeon and finds themselves in the city of Athkatla, confronted by Irenicus.
Irenicus is detained by cowled wizards for using unsanctioned magic and held captive in a prison called Spellhold. Upon killing his captors and escaping, Irenicus is once again able to imprison and experiment upon Gorion's ward and his party, and drains the soul from both Gorion's ward and another party member (Imoen), placing them within himself and the vampire Bodhi.
The party escapes once more, finds Bodhi back in Athkatla, and kills her, freeing Imoen's soul. The party makes their way to the elven city of Suldanessellar, where Irenicus is beginning the process of granting himself immortality by sapping energy from the elven world tree using parasites. Upon slaying Irenicus, the party and Irenicus are dragged down to hell. After a lengthy battle, they finally confront Irenicus one final time, defeat him, and reclaim Gorion's ward's soul.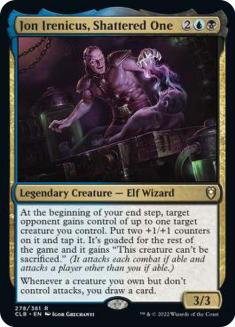 Critical Miss: Jon Irenicus, Shattered One
Am I too hard on the interpretation of villains in this set? But for a character who–other than the player character–carries the weight of the series, Jon Irenicus, Shattered One felt a little off-brand.
I suppose you are experimenting by giving away creatures and gaining card advantage when they attack. For someone whose whole shtick is draining souls and obtaining immortality, I would have liked to see taking control of someone else's creatures or enchantments, or a surveil mechanic. At least they got the ears right.
Grade: C
Mazzy, Truesword Paladin
Mazzy, Truesword Paladin is a brave halfling fighter who serves Arvoreen, the halfling god of war and protection. Accompanied by a group of halfling companions, Mazzy attempted to destroy a powerful undead known as the Shade Lord. Unfortunately, this ended with Mazzy imprisoned and her companions slain and transformed into living shadows. Upon escaping, she and Gorion's ward stop the Shade Lord and avenge her fallen companions. Mazzy chafes at the notion that halflings are not known for their courage nor martial prowess–a notion she intends to disprove through deeds and devotion to Arvoreen.
Honorable Mention: Mazzy, Truesword Paladin
Mazzy wished to become a paladin and battle against evil with the full aid of her god, Arvoreen. As Baldur's Gate II was based on Advanced Baldur's Gate 2nd Edition, Mazzy was unable to become a paladin due to being a halfling. [In 2nd Edition, only humans could become paladins.] In 5th Edition, anyone can be a paladin, but Mazzy has certainly earned her title. Hail to the might and valor, small paladin! Mazzy encourages those who are valorous and blessed with enchantments to wade into battle and can return enchantments to the battlefield. I think these are appropriate skills for a paladin.
Grade: B
Descent into Avernus
Nine-Fingers Keene
The events of the D&D 5e module Baldur's Gate: Descent into Avernus take place 120 years after Baldur's Gate II. The module opens with the Holy City of Elturel having been ripped into Avernus, the first layer of Hell. As the adventurers approach Baldur's Gate, they find it teeming with Elturian refugees.
The adventurers are tasked by the Flaming Fist to seek out the Cult of the Dead Three, whom they incorrectly assume are behind the disappearance of Elturel. In order to discover the location of the cult, the adventurers might enlist assistance from Baldur's Gate's notorious crime syndicate, known only as the Guild, through the leader of the Guild herself: Nine-Fingers Keene.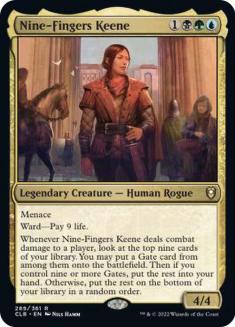 Critical Hit: Nine-Fingers Keene
I won't pretend I am not playing favorites here. I really like the enigmatic leader of the Guild. She is menacing, and if you interfere with her, you will likely pay with your life. She also secretly controls the comings and goings from all the gates. As a leader, she values information, and as she asserts control over all the gates, she tightens her grip on resources and information. They also used nine in her ward value, the number of gates you need, and the number of cards you look at. Brilliant!
Grade: A+
Raggadragga, Goreguts Boss
The players find themselves in the City of Elturel, now trapped in Avernus, when they come across Duke Ulder Ravengard, who is also trapped and encourages the adventurers to find a way to sunder the chains binding Elturel to Avernus. Along the way, they are attacked by Raggadragga, Goreguts Boss, an Avernian warlord who rides upon a cobbled war-machine fueled by the souls of the damned. After dispatching Raggadragga and his lycanthropic gang, the adventurers can steal his war-machines and tear a path across Avernus.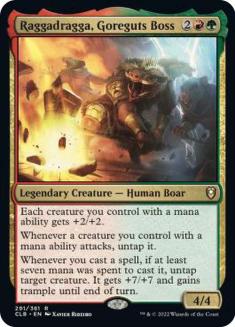 Critical Miss: Raggadragga, Goreguts Boss
A Wereboar commander that leads a group of lycanthropes who drive infernal war-machines across the barren hellscape of actual hell. If you want a more relatable visual, what if Bebop from Teenage Mutant Ninja Turtles was in Mad Max:Fury Road…but in Hell? How cool!
This card had so much potential for either lycanthropes or Vehicles or even both! Either direction would have been fine. Instead, we ended up with a commander where creatures with mana abilities matter. Powerful design, a flavor fail.
Grade: F
Duke Ulder Ravengard
Duke Ulder Ravengard served in the Flaming Fist under Abdel Adrian (aka Gorion's ward) before ascending to both Marshal of the Flaming Fist and Grand Duke of Baldur's Gate and leader of the Council of Four. Rising through the ranks of the Flaming Fist, Ulder Ravengard was a natural leader who led his troops from the front and kept a cool head in the heat of battle. Ulder Ravengard's ultimate test would come when he and his contingent of Flaming Fist troops were present during Elturel's Descent into Avernus. As the city was literally plunged into hell, Ulder Ravengard kept his cool and was able to survive the city's descent and return to the mortal realm.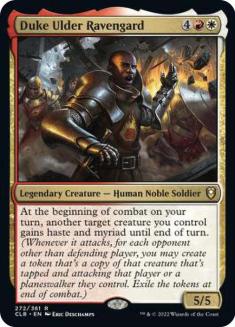 Honorable Mention: Duke Ulder Ravengard
It is really cool to see Ulder Ravengard ordering members of the Flaming Fist in battle as Elturel is literally ripped into Avernus around him. The art alone deserves an honorable mention. Super cool!
Grade: B+
Baldur's Gate 3
Astarion, the Decadent
Astarion, the Decadent is a centuries-old high elf rogue who has prowled the night as a vampire spawn under the thrall of his sadistic vampire master. Unexpectedly freed from that servitude by a mind flayer tadpole, Astarion also gained the ability to walk in the sunlight. Filled with ambition to become the greatest vampire in the world, the only thing standing in his way is his old master, this newly found parasite, and his own dark past.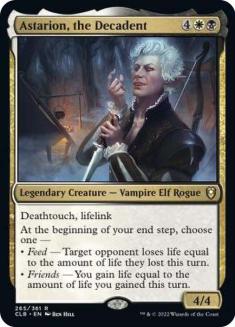 Critical Hit: Astarion, the Decadent
Astarion walks the line between darkness and light, between having friends and eating them. This card shows the deadliness of Astarion with deathtouch and his vampiric nature with lifelink. He also gets to choose to feed on his opponents or aid his friends and heal. I wish that the other companion cards offered choices the way that Astarion does. It would have made each of them so much more interesting. However, he doesn't get a background like the rest of his friends, and that makes me sad.
Grade: A-
Gale, Waterdeep Prodigy
Gale, Waterdeep Prodigy is a human wizard driven by ambition to become the greatest wizard in the world. Yet his hubris, thirst for knowledge, and the love of a goddess have caused him to become afflicted with the dark and ancient magic of Netheril. Where his heart once beat, now beats a Netherese Destruction Orb which contains enough power to level a city, and it is beginning its slow countdown to destruction. He must find a way to undo the magical corruption plaguing him and regain the favor of his goddess before he (and everything around him) is destroyed.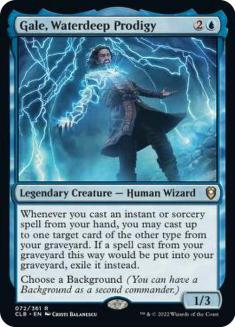 Critical Miss: Gale, Waterdeep Prodigy
Where's the Kaboom? There was supposed to be an Earth-shattering Kaboom. Seriously. Instead of tapping into possibly the coolest part of the character, the Netherese Orb of destruction beating within his chest that will eventually explode, we get another pseudo-flashback commander. Despite an interesting design, ultimately this is a flavor fail for me. They did get his type right and focused him on casting spells, so that earns him a C-.
Grade: C-
Wyll, Blade of Frontiers
Wyll is a human noble who has become known by the moniker "Blade of Frontiers." Wyll is a hero in his own right and a living legend in his time. He is also a man with a well-hidden secret. He owes his new-found glory and success to a bargain he struck with a devil years ago. Desperate to escape his Faustian deal, he seeks to be free of his pact before he loses his very soul. Even if this means rescuing the devil who struck the deal with him itself.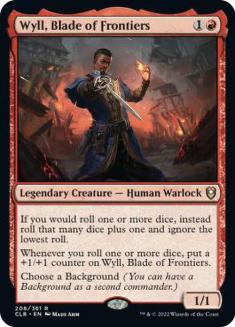 Honorable Mention: Wyll, Blade of Frontiers
I really like the subtlety here. Wyll made a pact with a devil to manipulate fate to become the "Blade of Frontiers." His ability to manipulate dice in his favor is a brilliant nod to the character's dark pact that has caused his current fortunes. Brilliant!
Grade: B
Journey's End
Well, adventurers, I think you've now officially earned your title. We've taken a long adventure together as we have plumbed the depths of Baldur's Gate's extensive lore. The fire around which we sat has been reduced to embers. Thank you for coming along.
As you can see, there are now hundreds of years of lore to cover and many familiar faces to discuss. I hope I have been able to shed some light upon the characters from throughout Baldur's Gate's long and complicated–but very interesting–history. Perhaps it will give you some insight into your own history as adventurers of the Forgotten Realms!
In the meantime, let us throw some water on the fire's remains, and away to bed to rest these weary bones. Take care, adventurers.
Keep an eye out for more articles coming soon!
I hope you enjoyed this article. If you are a Dungeons & Dragons fan like me and want to read more of my musings about dungeons, dragons, and Game Master advice, check out my blog.