The sets are coming at us faster and furiouser than ever. The Streets of New Capenna are still smoking with action, but we're moving on to the major Commander release of the year, set in one of the most infamous places in the Forgotten Realms.
This is the first week of previews, one of which I was fortunate enough to be able to show everyone on the first day. Jon Irenicus, whose name means "the Shattered One" (hence the epithet), was a significant character in Baldur's Gate. Once the most powerful elven wizard in the city of Suldanessellar, he was outcast for attempting to use the Tree of Life to attain even greater powers and ascend to godhood. The card shows his dark nature.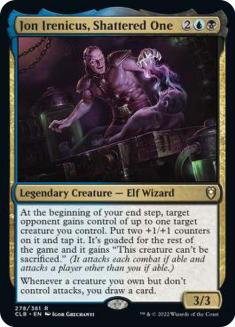 Jon's two abilities are by themselves valuable; when combined, they offer even more power. The first gives away creatures, makes them larger, and goads them. The second is a card draw engine. Let's explore how we might take advantage of them.
Trigger Happy
The first ability is an end-step trigger. A target opponent gains control of up to one creature, we put two +1/+1 counters on it, and tap it. It's goaded for the rest of the game and, very importantly, gains the ability "can't be sacrificed." Because the ability is targeted, we can't give creatures to a player who has hexproof, like with Leyline of Sanctity or Spirit of the Hearth. The creature is also targeted, which means we have to identify it when we put the trigger on the stack. Since we're targeting it, we get around hexproof, but not shroud.
The second ability is simple, but it will drive how we build a deck around it or what kind of deck we might put it into. Whenever a creature we own but don't control attacks, we draw a card. Obviously, the second ability plays well with first one, but is also valuable without it. We just have to figure out how to exchange or give away creatures.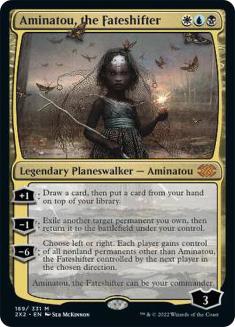 As one of the 99, Jon Irenicus goes straight into a deck led by Aminatou, the Fateshifter. Once we use Aminatou's ultimate ability to exchange permanents, we drop him onto the battlefield and profit. He'll go into any Grixis deck with a goad theme or sub-theme. While he'd be quite something for Zedruu the Greathearted, he can't go in due to everyone's favorite Minotaur Monk (TIL Zedruu's not a Goat) not having black in its color identity. Also be careful when you're looking for cards for your own build that create tokens for the opponent, like Forbidden Orchard or Hunted Phantasm; the opponent owns the tokens that they create, even if it's your ability that did it.
Building a Jon Irenicus Deck
The deck we'll build around Jon Irenicus has lots of exchange effects. We'll have to be careful because some of them, like Avarice Totem, might get our commander stolen, putting a big crimp in our plans. We'll also have to be able to kill creatures like Brooding Saurian and have some nonbasic land hate for Homeward Path. We can then really lean into the exchange theme, taking it to the next level with cards that exchange things other than creatures, like life totals (although maybe we'll skip the $700 Mirror Universe). The double next level is using cards which simply use the opponents' cards against them. Here's the list I came up with, and then I'll mention certain relevant cards.
Creatures (26)
Planeswalkers (1)
Lands (38) How It Works
The deck rests firmly in a style which I prefer: mid-powered, with the pilot needing to get extra mileage out of the deck through play skill and battlefield assessment. I don't want to just plop cards onto the table and win; I want my brain to have to do the heavy lifting.
The deck wins primarily by trading its bad creatures, like the Thrull tokens from Endrek Sahr, Master Breeder, for someone else's good creatures and getting value from Jon Irenicus's abilities. The state of the battlefield will determine which creatures those are. Commanders are good beats here because they can still kill people with high life totals. Big, stompy monsters are also quite nice to trade.
There's also something to be won with life-total switching with Magus of the Mirror, the somewhat-pricey but repeatable Soul Conduit, and the very pricey Profane Transfusion. I wanted to avoid the easy kill of adding Wound Reflection to that mix. Once a player has been swapped to a low life total (perhaps our own), then the creature battles can be enough to get them. From there, it's just tons of tomfoolery with spell and permanent switching.
Highlight Cards
Let's look at some individual cards that excited me to build with.
Chromeshell Crab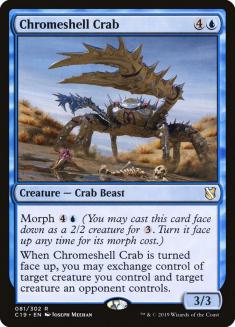 As you see with the decklist, I went down a rabbit hole of cards that were once relatively common in the format but don't see much play anymore (although it did get reprinted in Commander 2019). The occasional Chromeshell Crab happens, usually in combination with some Cloudstone Curio trickery involving another morph, but it's otherwise fallen by the wayside. Note that while many times folks choose to swap the Chromeshell with whatever they want to steal, this isn't a requirement. We can send whatever we want over to someone else's side.
Fallen Shinobi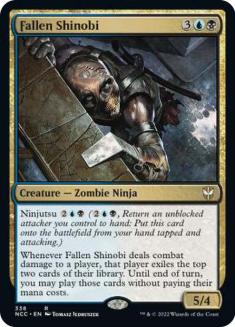 One of the first cards I added to my Satoru's Shadow Ninjas deck, Fallen Shinobi is another card that I expect would see more play than it does (although maybe it will after its inclusion in New Capenna Commander). Even just dropped onto the battlefield early, one lucky hit can change the course of the game.
Gonti, Lord of Luxury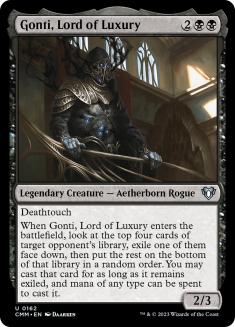 It's become a classic, but Gonti ramps up the fun and variance. There was the memorable time in which Tom Delia (@mtgradio) hit me with his Gonti, getting mine off the top. Choosing it also led me to Arvinox, the Mind Flail, the in-universe version of Mind Flayer, the Shadow from the Stranger Things Secret Lair.
Illusionist's Gambit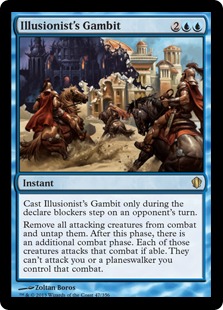 A Commander card if there ever was one, Illusionist's Gambit is a Fog on steroids. It takes a team off our face and sends them directly to someone else's. If there are attack triggers, the opponent will get them again since there's another combat phase. Still, that's a small price to pay for our own safety. That also got us to Portal Mage, which is a little different. Portal Mage simply reselects who gets attacked, but since we get to choose, it's not us.
Midnight Clock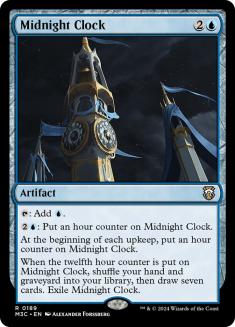 While there are some OG three-mana rocks that do other stuff/have other abilities, like Darksteel Ingot or Coalition Relic, it feels like Midnight Clock was the acceleration point. It boosts our mana production until we basically don't need it anymore, then replaces itself with cards. Now we have all kinds of great cards in the three-mana slot, a few of which are in the deck—namely Replicating Ring and Strixhaven Stadium.
Political Trickery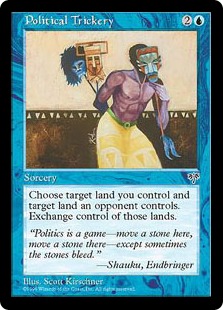 Swapping control of lands is extremely strong in Commander, the format that sees Gaea's Cradle; Nykthos, Shrine to Nyx; and Cabal Coffers (two of the three in this very deck). Give away a basic land, get something bonkers. I also 100% swear that this is not a metagame choice to steal Scott Larabee's Maze of Ith.
Puca's Mischief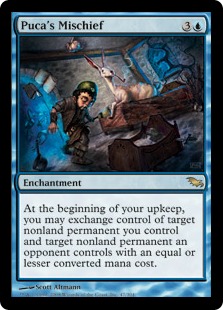 A longtime favorite of fellow Commander Rules Committee member Toby Elliott, Puca's Mischief is the only card in the deck that might get Jon Irenicus stolen—but the mayhem it creates is well worth the risk. We don't give away Puca's Mischief itself (unless we want to, I suppose, if we're about to get it back with Aura Thief anyway), which was how I first misread the card. I suppose there's a whole line with Illusions of Grandeur / Delusions of Mediocrity here, but that's a road that's been too well-traveled in the past and hardly creates a positively memorable game.
Reins of Power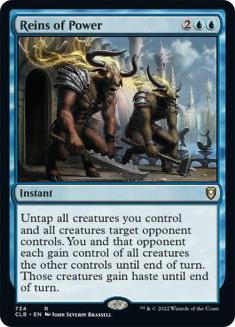 It's wild to me that there are still folks who haven't heard the good news about Reins of Power. It doesn't really synergize with Jon Irenicus, but it always provides blowout moments. One of my favorites was when someone cast Heroic Intervention in response to a battlefield sweeper. I exchanged control of creatures with that player, and everyone lived happily ever after. Well, mostly me, but you get the point.
Repulse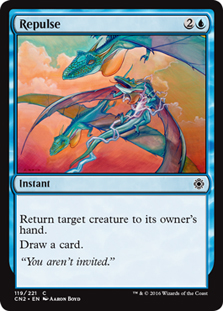 Sometimes I just want to feature and play old cards that don't get any love anymore. Enter Repulse, which does multiple things, all while drawing us a card. Repulse can save one of our creatures from targeted removal or a battlefield sweeper. It can get that last blocker out of the way. It also keeps a potentially-lethal creature from hitting us in the face. There's everything to love about this classic.
Sleeper Agent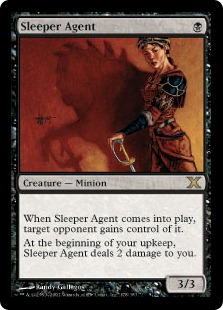 The first card I thought of when I saw Jon Irenicus, it made me sad that Xantcha, Sleeper Agent is outside of our color identity. The Sleeper Agent mechanic is one I'd love explored more. Commander product is the perfect place to do it. Maybe I'll spin up a few designs and see what our Studio X friends have to say.
Sly Instigator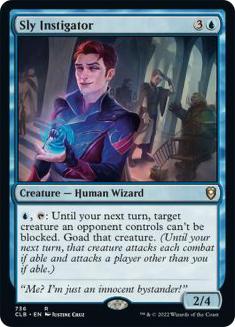 Sly Instigator does, as its name suggests, more than one might think. Making an opponent's creature unblockable provides damage to someone else as well as political capital. We'll obviously need to activate it before the opponent declares attackers to get full value and not have to play a game of chicken with something large. The nice part of goading the creature is if its controller creates extra combat steps, the creature still can't be blocked and still has to hit someone else.
Unlicensed Hearse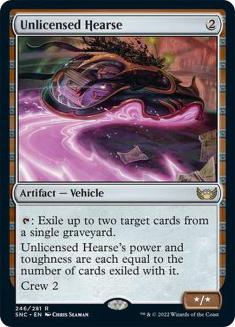 I don't care if we never crew and attack with Unlicensed Hearse; it'll still pay huge dividends. Repeatable graveyard control for zero mana is simply strong. More like Unlicensed House.
Visions of Duplicity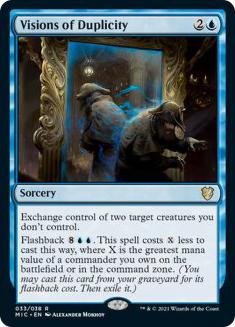 I look forward to seeing the battlefield states that make Visions of Duplicity something wild instead of just raw chaos. I came down to wanting to play either this or Visions of Dread, and figured this one has the potential for the craziest interactions. We'll see.
The Waiting Game
I'm going to wait to assemble this deck for two reasons. First is that I want to see what other cards come from Commander Legends: Battle for Baldur's Gate. I suspect that there will be a few gems to add to the build. Second is that it's not going to play particularly well over Spelltable. It'll be hilarious in person but kind of obnoxious online. Being irritating isn't what I want the deck remembered for.
As always, we have a channel on the Commander RC Discord server dedicated to discussing my articles. If you think there's a card I'm really sleeping on and missed out on for this deck, pop on by and join the more than 6,000 friends willing to engage on this and a host of other topics. See you there!
On the weekend of June 3-5, thousands of Magic: The Gathering fans will converge upon the Greater Richmond Convention Center to celebrate their favorite 100-card format at CommandFest Richmond! Experience Commander Legends: Battle for Baldur's Gate for the first time and meet dozens of fan-favorite Commander personalities and special guests. Register now for the can't-miss Magic: The Gathering event of the year!
Visit my Decklist Database to see my Signature Decks, the Chromatic Project, and more!