Alrighty, Commander players! The Brothers' War has been previewed in its entirety, which means it's time to rifle through all the new cards and share with y'all some of my favorites. The Brothers' War is a major piece of Magic history that many players are able to experience for the first time in this modern telling. The line of precons, exclusive pieces in boosters, and main set are full of incredibly flavorful and exciting pieces that have me excited to slot into some Commander brews! Let's gear up and take a peek!
Hostile Negotiations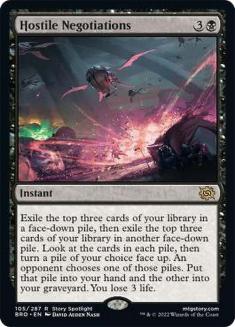 I absolutely adore this card because it instantly made me think of the infamous mono-blue card Fact or Fiction. There are, however, key differences between these two cards. Hostile Negotiations, in my opinion, is way more fun because there is more to lose and more mystery involved. I adore the fact that one of the piles stays face down, leaving a great air of mystery and mistrust about what you seek to gain. Sure, this mystery is solved once the unchosen pile goes to the graveyard, but I love the weird little minigame this card presents to you.
Visions of Phyrexia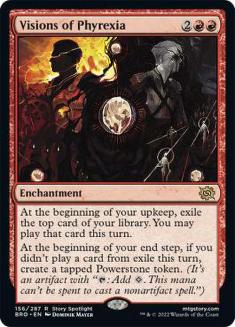 As a lover of all things red, I am constantly on the lookout for sweet tech that gives me card advantage. I want to be able to cast all the cool sizzly things I toss into my deck. Visions of Phyrexia helps you do exactly that. This enchantment really excited me because it gives you an extra card each turn with literally no downside. You don't take damage if you can't play it; in fact, if you don't play that card from exile, you get a tapped Powerstone token instead. You literally get mana from not playing the card.
Card advantage and mana are issues I often come across when playing red, so seeing this card was beyond exciting for me. Not to mention that there are some amazing decks out there that focus on playing things from exile (looking at you, Prosper, Tome-Bound), and I can see this being a great addition to lists like those.
The Stasis Coffin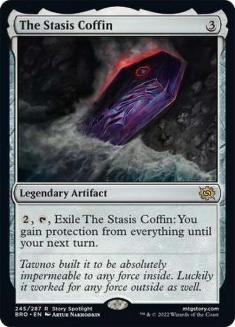 I hate The Stasis Coffin. Specifically, I would hate to see this card across the battlefield from me. Nothing rips the joy from my soul like protection. The Stasis Coffin is literally the emergency button in a game of Commander. Move to combat with lethal creatures? No problem. Infect making you sweat? Not anymore! What about noncombat damage being tripled? Say less. This card saves you from an alpha strike and can put you in the position to turn the tides on your next turn or at the very least buy you some time to dig your way out of an early grave. Get it? Grave, like coffin? I like this card is what I'm trying to convey.
Blast-Furnace Hellkite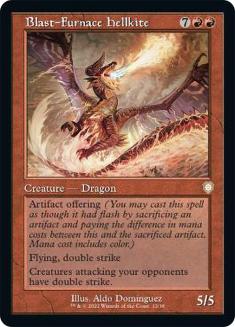 I stumbled upon Blast-Furnace Hellkite the other night whilst building Farid, Enterprising Salvager on stream and immediately fell in love with it. Don't let the mana value fool you: this bad boy can cost as little as two red mana. I mean, sure, you have to offer up an artifact to reduce it, but it's possible!
This Dragon's combat interactions initially piqued my interest. It encourages your opponents to attack each other rather than focus on you! Did I also mention that the artifact offering ability allows you to cast the creature as though it had flash? This can lead to a fun way to kill an opponent on someone else's turn! All you have to do is wait for blockers to be declared before you flash in this bad boy and watch their life total diminish.
March of Progress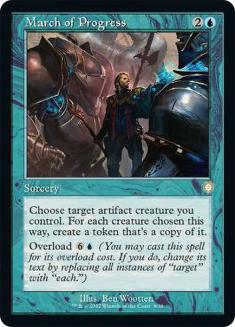 March of Progress dares me to brew evilly. How evil, you say? Well, with this card, you can get double Blightsteel Colossus. You could also get two Platinum Angels or two Kappa Cannoneers! Oooooor, if you're feeling sassy, you could overload the spell and get a token copy of each artifact creature you control! Imagine casting this card when you have a Mycosynth Lattice out! Crazy possibilities like this inspire me to brew crazy things, which is why I am so excited about this card.
Staff of Titania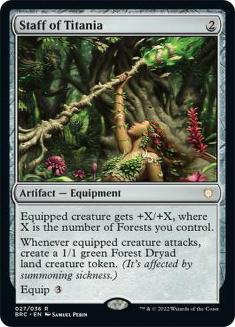 This Equipment is absolutely wild. Staff of Titania specifically pays attention to the number of Forests you control, and yet you could run this card in a mono-black deck or a Boros deck if you so desired! But how would it be good there? Well, when the equipped creature attacks, you make Forest Dryad land creature tokens! Yea, you read that right, it makes land tokens! While it might not be the most optimal play, it's still doable and also just incredibly fun. Who needs a Yavimaya when you can just make your own lands instead!
Scholar of New Horizons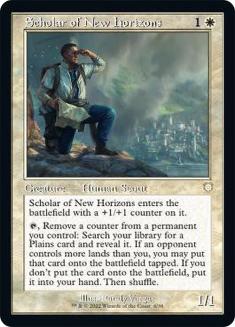 White has been getting some really fun toys lately, especially when talking about ramp and card draw. Scholar of New Horizons joins the cool white card club by allowing you to ramp in an interesting way. This card allows you to remove counters from cards in order to tutor for a Plains card.
What makes me excited about this card is that it says "a counter from a permanent you control." This means any counter. It doesn't even have to be a +1/+1 counter. Lore counters, loyalty counters, shield counters, heck, even -1/-1 counters can be removed with this card. I can't even begin to imagine how fun this card could be in persist decks. It is such a fun and ingenious way to take one resource and convert it into another. I can't wait to sleeve this into my Boros Superfriends deck!
Sarinth Greatwurm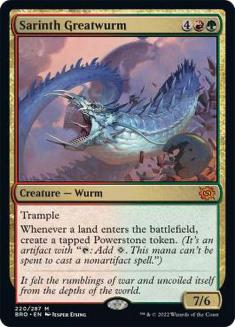 My jaw dropped when I first laid my eyes on Sarinth Greatwurm. In fact, I had to read the card over a few times. Why, you may ask? Well, darling reader, this bad boy triggers whenever a land enters the battlefield. Yes, a land. Any land. It doesn't have to be yours! You will generate dozens of mana rocks in a game of commander with this creature out. Cultivates no longer just benefit the person ramping! Land deck players will see this creature out on the battlefield and regret keeping their hand that includes multiple land drop pieces. After all, why should they be the only ones allowed to ramp at high velocity?
Sardian Avenger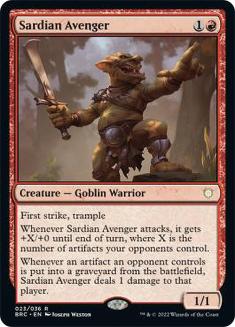 I absolutely love seeing the fun and interesting ways the designers at Wizards of the Coast (WotC) are introducing Treasure hate into Commander, and Sardian Avenger is one of those ways. At first glance, this seems like a regular Goblin who gets buffed based on how many artifacts your opponents control.
While that in itself is fun tech, the next ability is what sticks out to me! Whenever an artifact an opponent controls is put into the graveyard from the battlefield, it deals 1 damage to that player. This is the most insane anti-Treasure tech I've ever seen, and I absolutely adore it. It also hurts against Clues and other artifacts in general, but when I saw this, I immediately thought about Treasures. You love to see it! Just don't run Dockside, and you'll be fine!
Rootpath Purifier
Rootpath Purifier is probably the card I am most excited about from The Brothers' War. Rootpath Purifier is a house of a card because it impacts your very manabase, making all lands you control on the battlefield and in your library basic. That means you can Cultivate for an Urborg, Tomb of Yawgmoth and a Field of the Dead or Kodama's Reach for an Ancient Tomb. This Druid is a lands deck's dream. I will definitely be snagging a few for my decks and some extra to set aside just in case.
Oh, Brothers'
I am absolutely obsessed with this set. The Brothers' War is proving to be a balanced yet incredibly fun and exciting artifact-heavy set that weaves lore and game design beautifully. These ten cards are just scratching the surface when it comes to pieces I am excited about. Let me know if you agree with my picks and if you have some that differ from my own! I'd love to see what your all-stars are from this new set and line of precons! As always, happy brewing, deckbuilders!