To celebrate 626 day, Disney's Lorcana trading card game (TCG) has shared a brand-new legendary Stitch card! Check out Stitch – Carefree Surfer!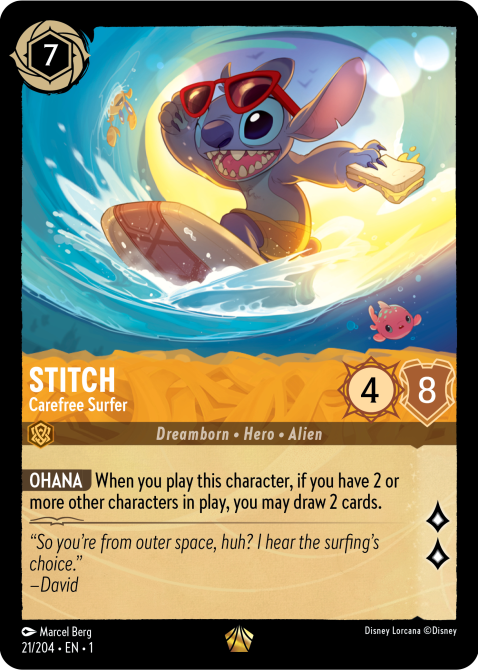 Stitch, Carefree Surfer is a seven-cost 4/8 that quests for two lore. This amber ink-aligned legendary is a powerful late-game card that can easily turn a midrange slog in your favor. His Ohana ability allows you to draw two cards if you have two other characters in play, and while seven can be a lot, you can always add him to your inkwell in a pinch.
Shifting gears, Lorcana has already shown off a ton of classic princesses, however one fan-favorite has been missing up until this point. For enjoyers of the film, Tangled, the wait is over. Check out Rapunzel – Letting Down Her Hair!
A six-cost 5/4, this ruby ink-aligned princess is a strong late game threat at common rarity. Thanks to her five strength, Rapunzel is able to successfully challenge most glimmers, and can also quest for two lore. Her Tangle ability also removes one lore from each opponent, helping you recover some lost ground. It's also important to note that this Rapunzel cannot be used as a resource in your inkwell.
Also revealed today was the loyal reindeer companion from Frozen — Sven – Official Ice Deliverer!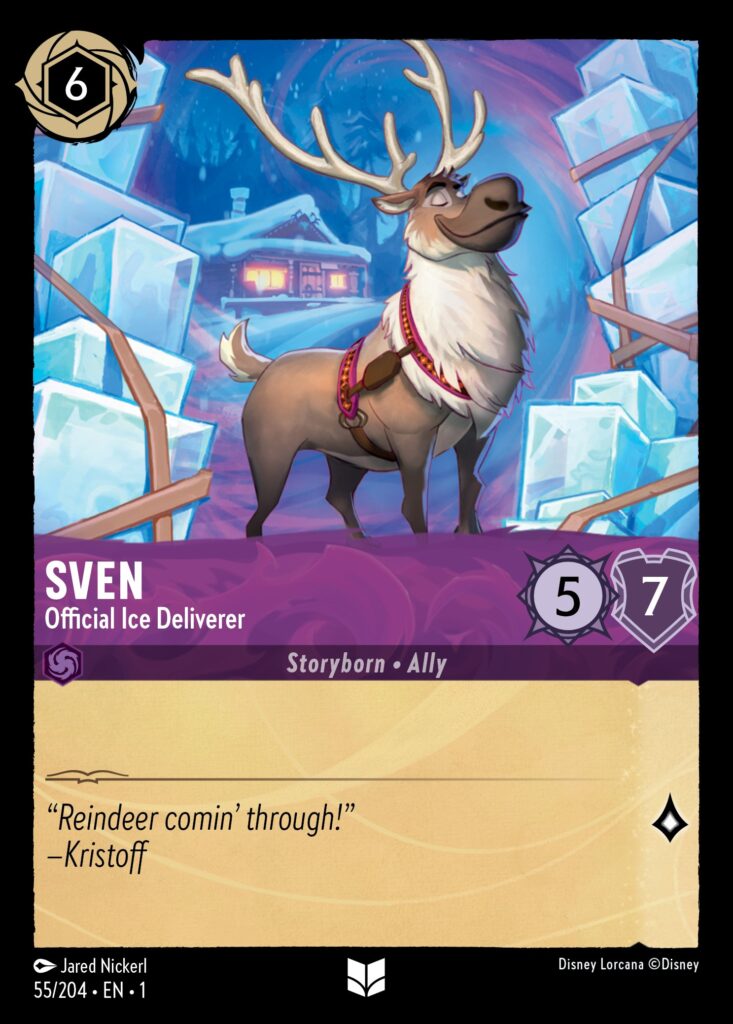 Sven is a six-cost, vanilla (meaning it has no abilities) 5/7 that is amethyst aligned. The loyal companion of Kristoff, Sven is able to quest for just one lore, but can also be used as a resource in your inkwell.
Lorcana's The First Chapter is scheduled to release on August 18 in local game stores and September 1 for mass-market retail.
If you're just now learning about Lorcana, be sure to read our comprehensive articles below, detailing how to play, the game's product lineup, deckbuilding, and more.