James White, the creator of Flesh and Blood, teased the next set during his keynote address at the Pro Tour in Baltimore, MD yesterday.

Dusk Till Dawn will be the 10th booster set and is scheduled to be released on July 14. The expansion is designed to expand Classic Constructed and isn't intended for Limited play. Dusk Till Dawn continues the central story arc of Flesh and Blood and is Part 2 of the War of the Monarch trilogy. The set features the return of Light and Shadow heroes, including Prism, Advent of Thrones.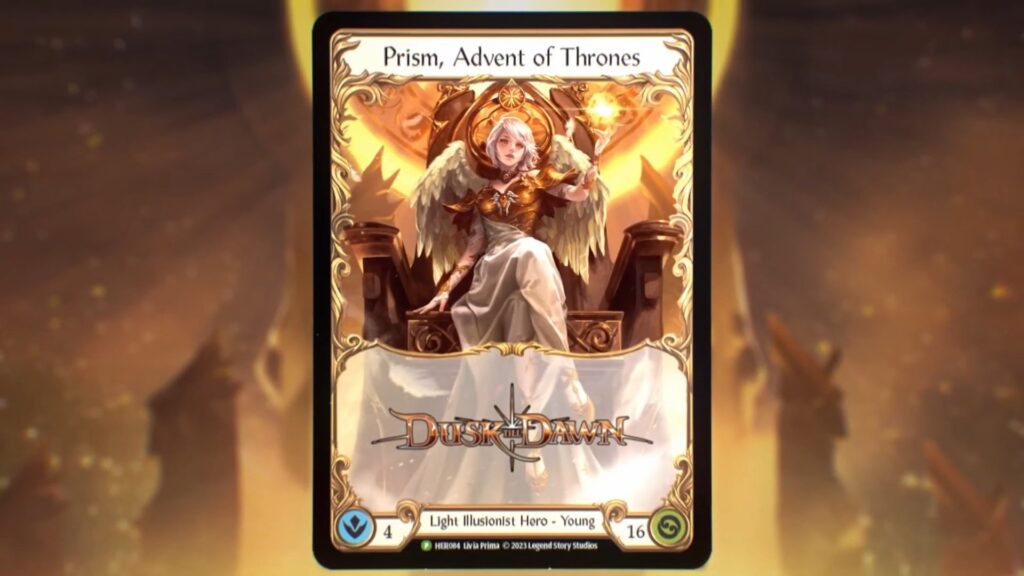 The set will also introduce a new Shadow Runeblade hero, Vynnset, but all we know is the name so far. Other tidbits for Dusk Till Dawn include:
Set will have 236 cards
10-card packs, boxes will have 24 packs
1 Fable
8 Legendary cards
56 Majestics
77 Rares
94 Commons
10 Marvels
As a celebration for being the 10th booster set, Dusk Till Dawn will honor the original Light and Shadow Living Legend heroes: Prism, Sculptor of Arc Light and Chane, Bound by Shadow. There will be 10 copies of each hero in special cold foil, serialized, hand drawn artist sketch form with art by the original artists: Livia Prima and Federico Musetti. These incredibly rare versions will only be available in product in North America, Europe, and Brazil.
Despite being an expansion set that isn't made for Draft or Sealed, Dusk Till Dawn will have prerelease events on July 7-9. The prereleases will use the original Monarch set for Limited play and award Dusk Till Dawn prize packs. Players can win cold foil versions of the new Prism and Vynnset cards. Extended art rainbow foil participation cards will be given out to all players.
Using Monarch for the prereleases is a good way to get in some practice for Nationals, as this year's National Championships will use Classic Constructed and Monarch Draft. Nationals season will start on August 25 and 43 countries will host tournaments to crown a National Champion.
Watch the whole keynote address below.
The full product announcement for Dusk Till Dawn will be available from the official Flesh and Blood website Sunday afternoon.