Legend Story Studios (LSS) gave us the first look into Outsiders, Flesh and Blood's ninth booster expansion that introduces hybrid cards to the game.
Outsiders will have six heroes and offer players multiple heroes within each class to make the drafting experience deep and rewarding. On top of the six heroes to choose from when drafting, hybrid cards will also enhance your options as they can be played by two different classes. The first look at a hybrid card can be seen below.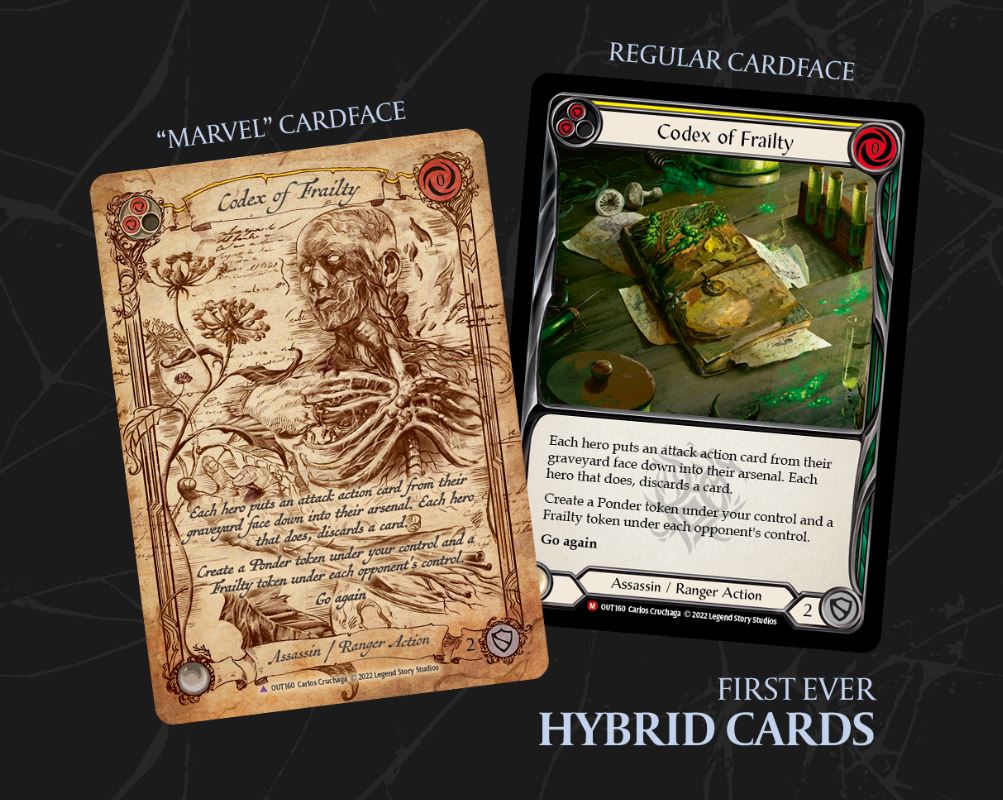 Codex of Frailty is an Assassin/Ranger Action that highlights how each class can leverage the majestic. It also shows off the next Marvel variant uses the "research notes" style. The three most iconic hybrid cards will receive this treatment.
Of the six heroes, there is a mix of returning and new characters. Katsu, the Wanderer and Azalea, Ace in the Hole return (along with their Young versions) along with Benji, the Piercing Wind are the heroes that return in their old form.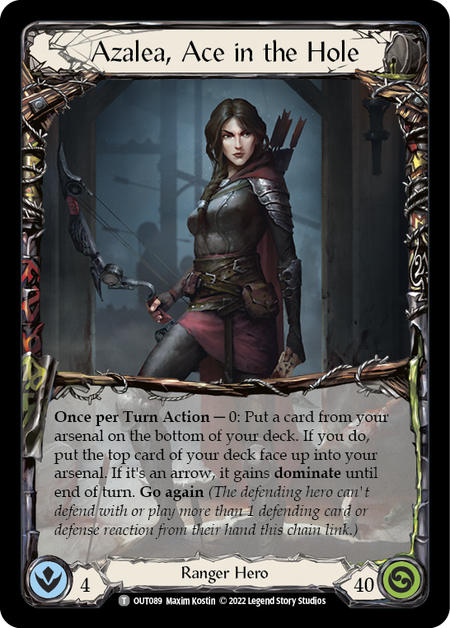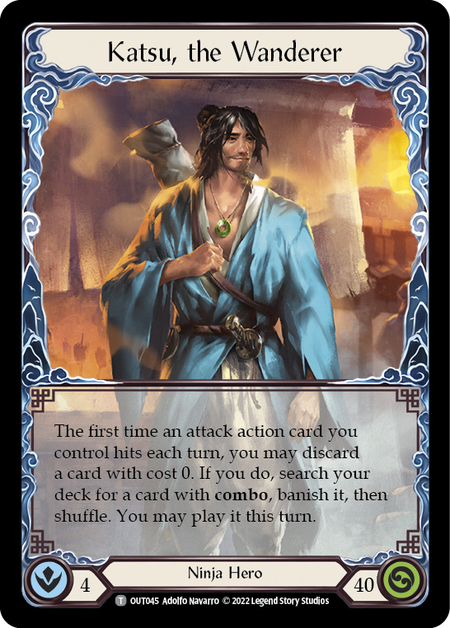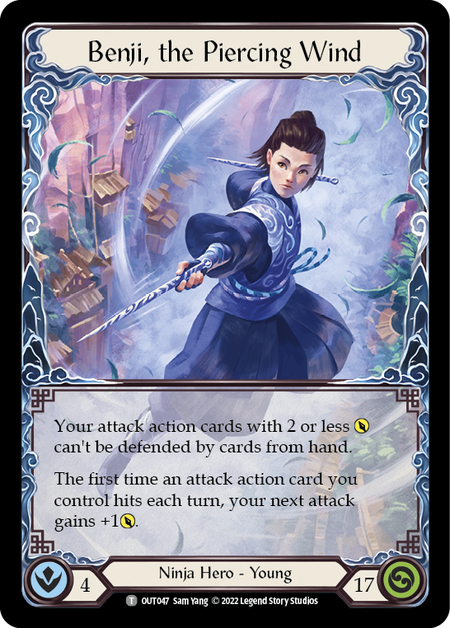 For the new heroes, let's start with a different version of Arakni! Arakni, Huntsman and his young version showed up in Dynasty, but Outsiders introduces Arakni, Solitary Confinement as young Assassin. Riptide, Lurker of the Deep is a new Ranger hero and Uzuri, Switchblade is yet another Assassin, both also have a young version.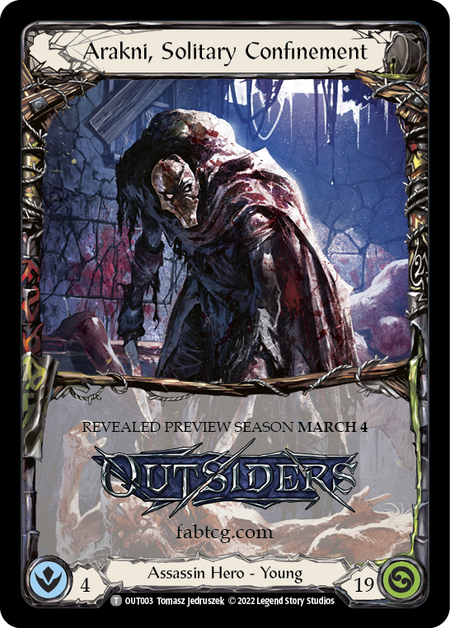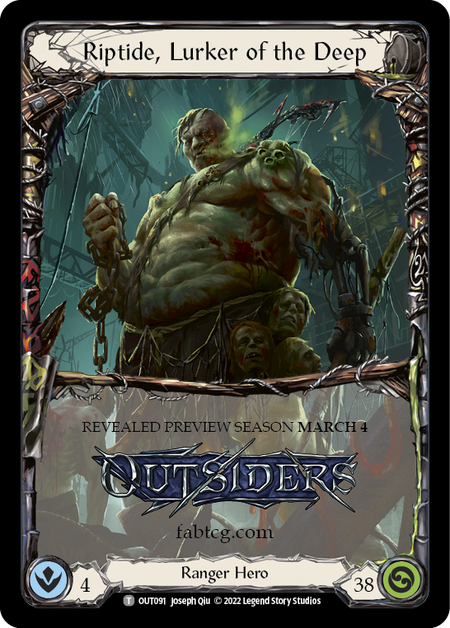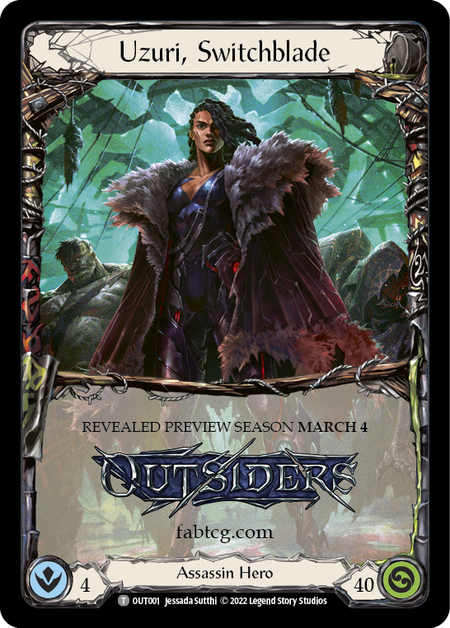 The six young heroes are for Limited play and Blitz, while Classic Constructed gets two new adult heroes in Uzuri and Riptide.
Outsiders is a 239-card set that breaks down to: 1 Fable, 5 Legendary cards, 31 Majestics, 51 Rares, 128 Commons, 20 Tokens, and 3 Marvels. Booster displays have 24 packs with 16 cards per pack. The set will have cold foils and come in English, French, German, Spanish, and Italian. Each young hero will have a Blitz preconstructed deck associated with it.
Outsiders Key Dates
Card preview season starts March 4
Prerelease events in selected stores worldwide: March 17- 20
Release date March 24, 2023
Outsiders will be on full display at the third Flesh and Blood Pro Tour on April 27-30 in Baltimore, MD.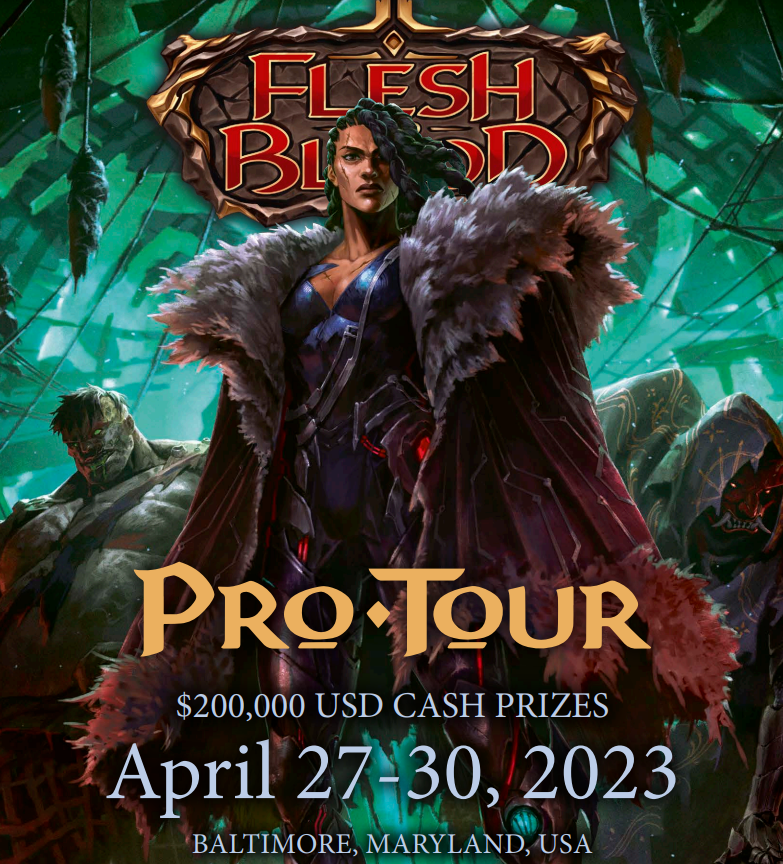 Read the original announcement from LSS.