Seasoned trading card game players looking to get into Flesh and Blood have a handful of options to dip their toes in the water or take the plunge with the hottest new, classic TCG on the market. Flesh and Blood is a deeply strategic, hero-centric game, focused on in-person play, that is played in more than 3,000 stores over 40 countries. Learning the basics of the game only takes a few minutes, which allows players to jump into their first games almost immediately.
Check out Star City Games' How to Play video below to get a feel for the game.
Once you know how the game works, you're ready to play some games with the Ira Welcome Deck.
Ira Welcome Deck
Players can get a free Ira Welcome Deck from their local game store, or print one out from Legend Story Studios' website. The Ira Welcome Deck is a product designed to teach players the fundamentals of Flesh and Blood. This 30-card deck strips the game down to the basics: learning how action points work, how resource points work, and how combat works. LSS has a quick learn to play video, specifically featuring the Ira Welcome Deck.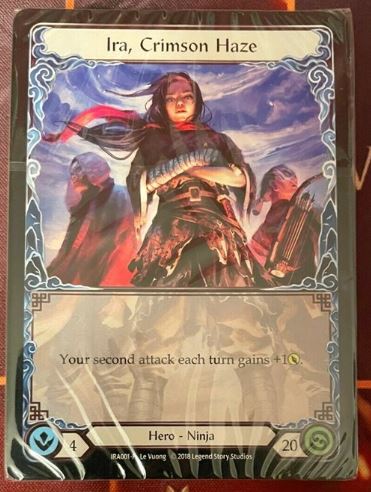 The Ira Welcome Deck leaves equipment out of the game to teach you core tenants of gameplay while introducing some of the awesome cards the Ninja class has access to from the start.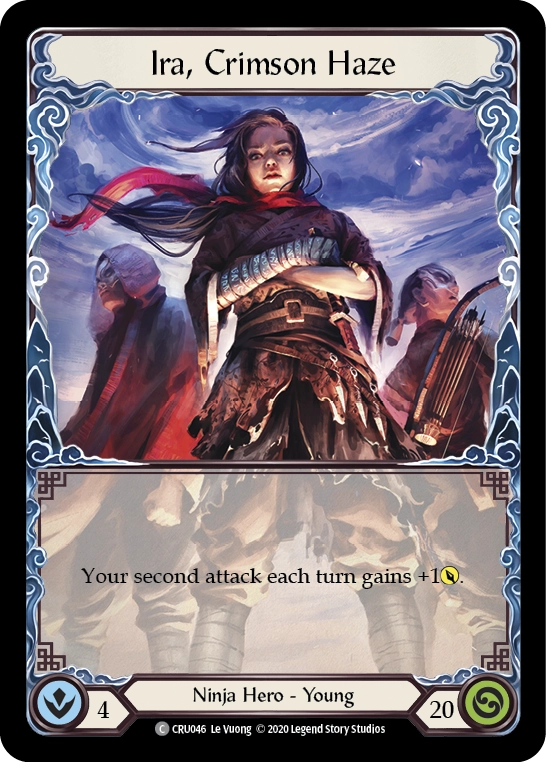 Once you have learned how to be a Ninja, step up to Classic Battles: Rhinar vs Dorinthea.
Classic Battles: Rhinar vs Dorinthea
This product features two ready-to-play 40-card Blitz decks, complete with weapons, equipment, and more. The decks were carefully crafted to create an amazing first play experience and showcase two of the original heroes from Welcome to Rathe.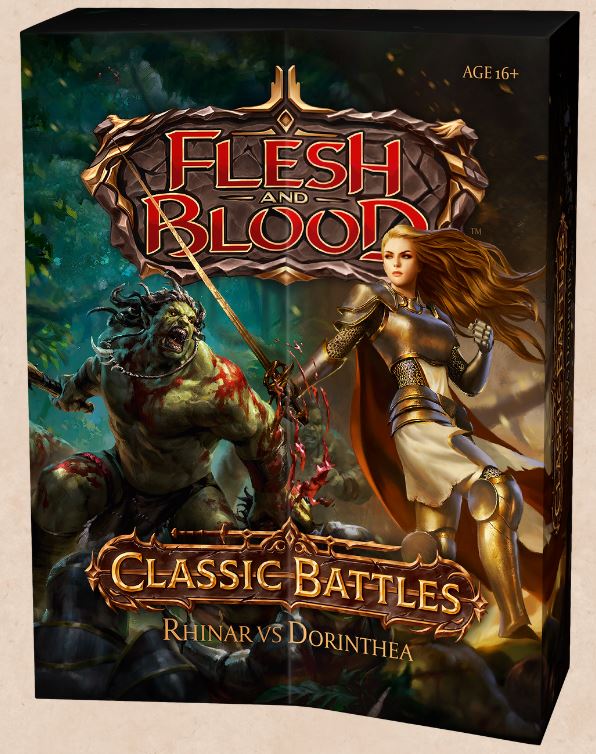 Each deck has a cold foil hero and weapon and four pieces of rainbow foil equipment. This product is a great move up from the Ira Welcome Deck, allowing players to get familiar with a full deck, utilizing equipment, and trying out new strategies. It even includes a quickstart playmat and mini lore book that gives you the backstory on Rhinar and Dorinthea.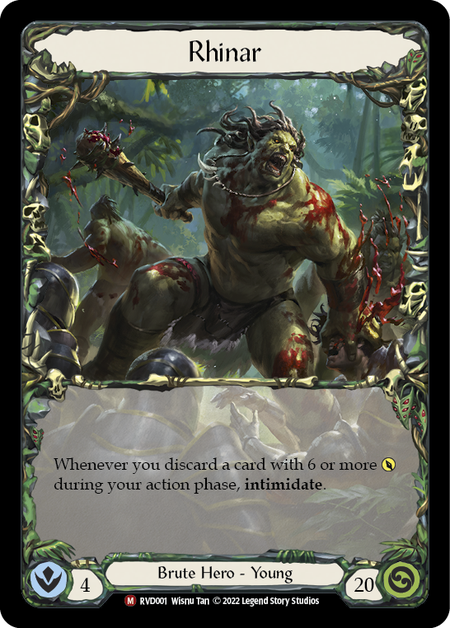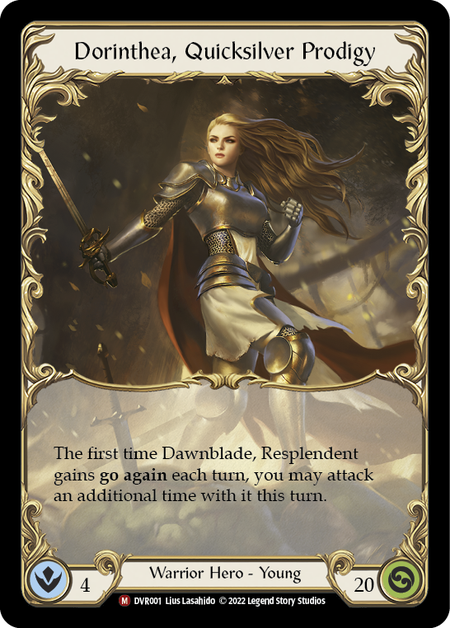 Get more details on Classic Battles: Rhinar vs Dorinthea here.
After you mastered Rhinar and Dorinthea from Classic Battles, you're ready to check out the plethora of Blitz preconstructed decks.
Blitz Decks
Preconstructed Blitz decks are affordable starter products that let players explore different heroes and their play styles. These decks are ready to play out of the box and are perfect for kitchen table play. With 21 different heroes to choose from, players can find the class that speaks to them. The heroes are linked with corresponding booster sets, allowing for a clear direction to go when looking to upgrade a deck.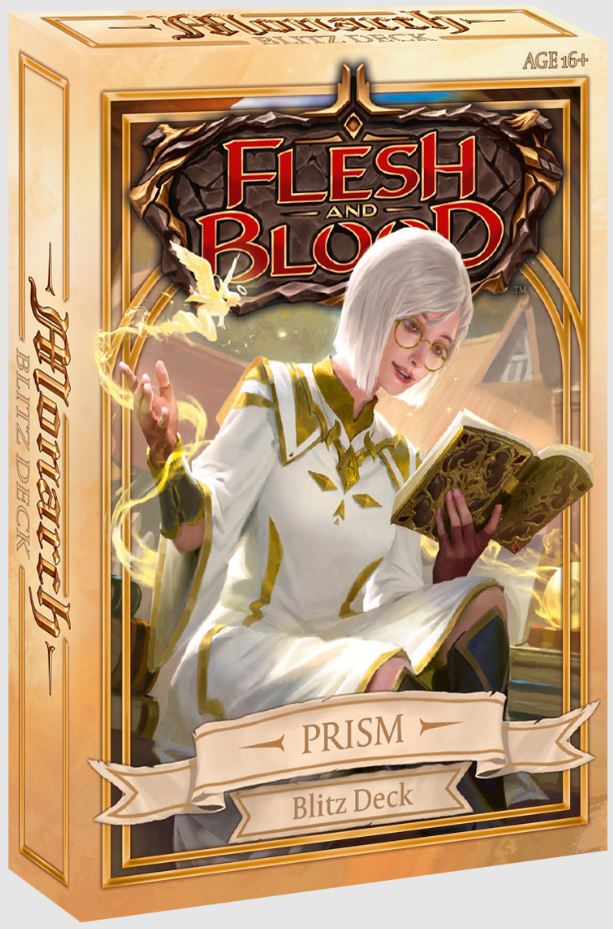 History Pack 1 Blitz decks are the first ready to play decks printed in French, German, Spanish, and Italian and can easily be supplemented by booster packs of History Pack 1, which are also printed in the four listed non-English languages. They are already available in Europe and will be released to the rest of the world on April 7.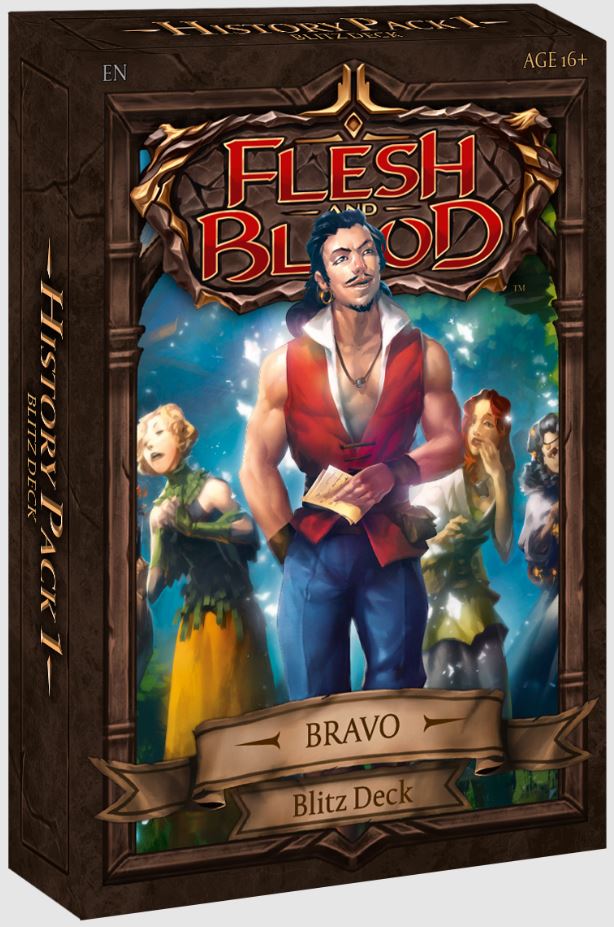 Outsiders Blitz Decks
Outsiders, Flesh and Blood's latest set, has six more Blitz preconstructed decks that introduce three brand-new heroes. Outsiders and the accompanying Blitz decks released yesterday. You can play as any of these heroes:
A new stealth-based Assassin — Arakni
A trap-themed Ranger — Riptide
A tricky new Assassin — Uzuri
A fan-favorite Ranger — Azalea
A scrappy Ninja — Benji
A combo-centric Ninja — Katsu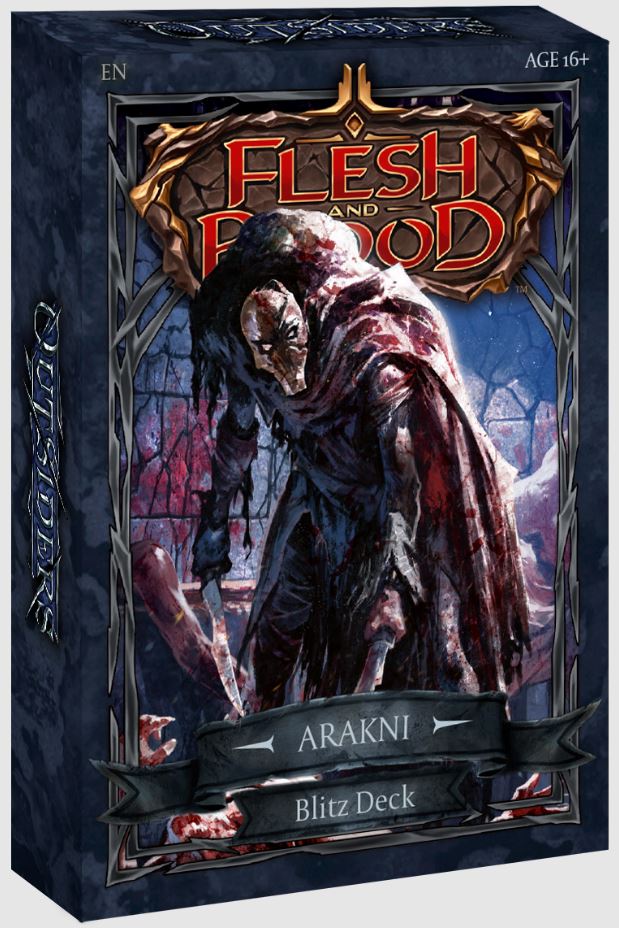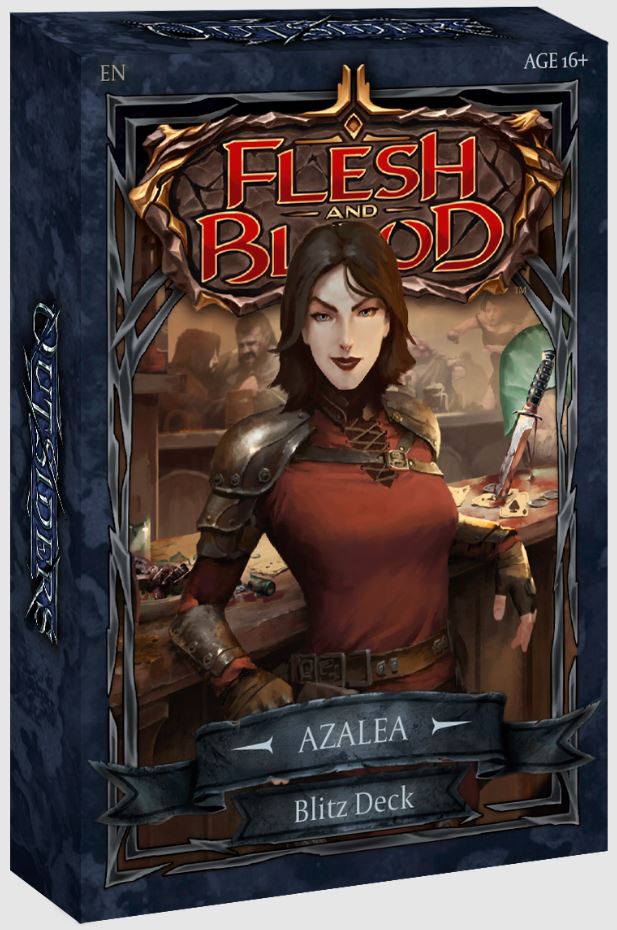 More details on the Outsiders Blitz decks can be found here.
Now you know how to play and have a deck. Let's get involved and start playing in the flesh and blood.
Flesh And Blood Events
One of the key philosophies of Flesh and Blood is bringing people together in the flesh and blood through the common language of playing great games. Getting involved with your local community begins with joining events at your local game store. Start things off with a Welcome Event or any of the weekly Armory events.
Welcome Events usually include an hour of open play where you learn to play with the Ira Welcome Deck, followed by a short casual tournament. You can use the store locator to find Welcome Events near you. There will even be a special Welcome Deck event at Pro Tour Baltimore as part of the Fresh to FAB package (more details to come).
Armory events are considered the lifeblood of Flesh and Blood Organized Play and are the recommended entry point for players getting into the game. Armory events are held at local game stores around the world, providing a perfect opportunity for weekly play and to meet other players in your community. Add exclusive promos and playmats on top of that and you'll want to come back every week. Find Armory events near you with the store locator.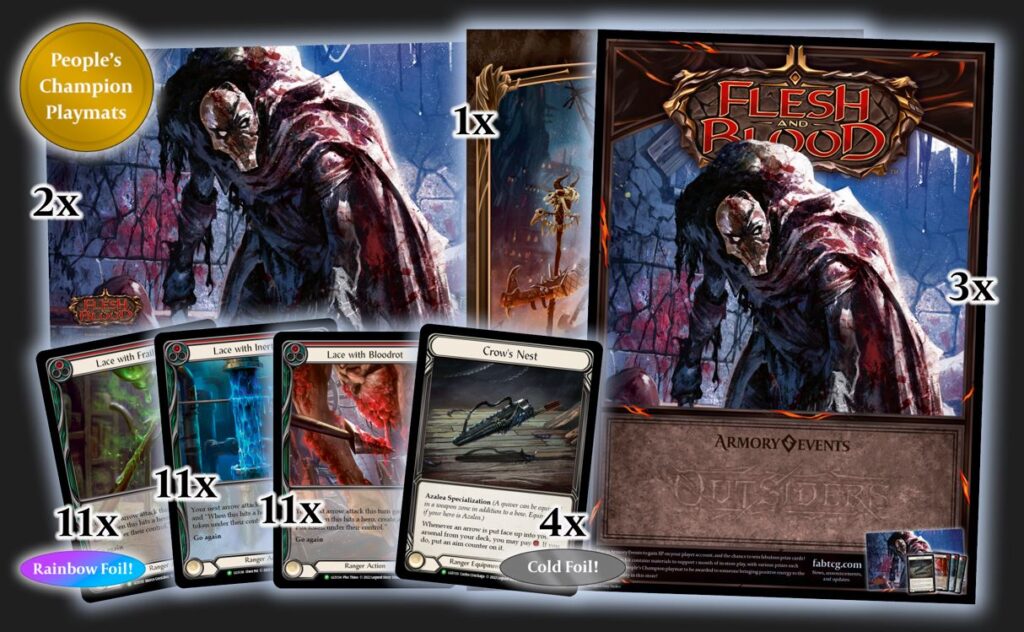 For those that feel comfortable at Armory events and want to move on to bigger competition, the Flesh and Blood Organized Play system offers a pathway to climb up through smaller events at the local game store level up to the World Championship.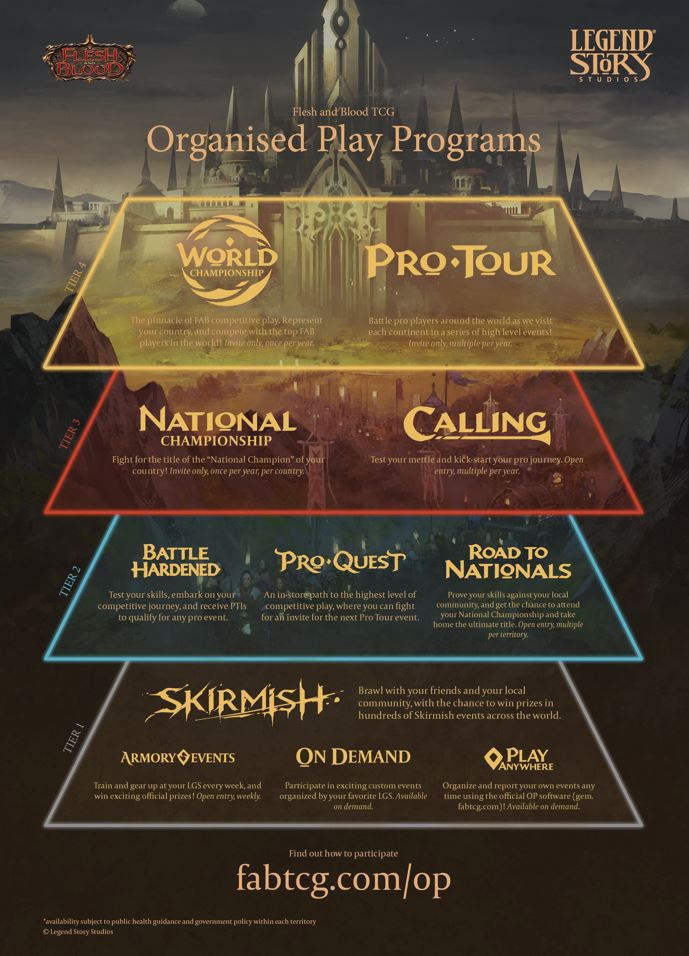 Players can get involved in Pro Quests and Road to Nationals in their area, then advance to traveling to regional Battle Hardened events. From there, Nationals and Callings gives player premier competitive play opportunities with avenues to get to the Pro Tour and even Worlds.
Don't Forget The Lore
For players who want even more out of their TCG, Flesh and Blood also has plenty of lore available. Get to know your favorite heroes, where they call home, and more. From the underworld of The Pits to the mythical sanctuary of Aria and even to the volatile kingdom of Volcor, the world of Flesh and Blood is vivid and deep.



Read up on the world of Rathe here and find the backstories for the heroes of the game here.
For any other questions, check out the Flesh and Blood website to find upcoming events, card galleries, player leaderboards, articles, and more.