If you're anywhere within driving distance of Richmond, Virginia, this weekend, you've got to make your way here for The Biggest Magic Weekend Ever! Otherwise known as the
StarCityGames.com Open featuring the StarCityGames.com Invitational.
Yep, there are four Open events (including the first two ever Draft Opens!) to kick off the 2011 season, plus the All-Star-studded Invitational events, and when the dust settles, over $60,000 in prizes are going to be given away.
On the side, there are Grinders on Friday to try to make it into the Invitational, Two-Headed Giant Sealed, a Legacy Challenge on Saturday, pickup Booster Drafts, Win-A-Box Constructed tournaments, and four-player Elder Dragon Highlander games. Wizards of the Coast R&D member Mike Turian will be there as a gunslinger, and artist RK Post will be there to sign cards and sell some of his awesome Magic artwork.  
I'm pretty sure Evan Erwin will be there snapping up content for The Magic Show, and from Twitter, I gather Adam Styborski (writer of
Serious Fun
on MagicTheGathering.com), the guys from the Yo! MTG Taps podcast, Megan Holland of the awesome Magic calendar site MTGMom.com (and
recently featured in the GP Nashville coverage
) will be here, and I'm sure many more Good Men and Good Women of Magic. To say I'm stoked would be a severe understatement!*
In the interest of making sure that everyone who comes here from out of town has minimal distractions from immersing themselves in Magic, I thought it would be helpful to write up a "Magic Player's Guide to Richmond" to give you a one-stop place to go to figure out where to eat and drink and how to get around between slinging Magical cards. I've lived in Richmond all my life, and while I don't get out and prowl around the city as much as I did in my younger days, I'm a Richmonder through and through and am happy to drop wisdom your way.
First off, they're calling for cool weather this weekend, highs around fifty degrees, lows in the twenties. Here's a
handy link to the current weather
stats. Definitely jacket weather, but I'd be careful about too many layers. Richmond tends to be humid even when cold, and with a lot of Magic players crowded in, things might get hot.
Next, here's a
printable map of downtown Richmond
with some local attractions noted. You'll want to print this out and keep it handy. If you don't feel like driving (or find yourself having imbibed a bit too much), here are some local cab companies:
Yellow Cab – (804) 222-7300
Veterans Cab – (804) 275-5542
Manhattan Taxi – (804) 643-6791
Getting Around Town
The key to Richmond isBroad Street . If you keep in mind whereBroad Street is at all times, you'll almost never get lost in Richmond. Particularly downtown, in the maze of one-way streets,Broad Street is the two-way safe haven that gets you where you want to be. It stretches to its eastern-most point in historic Church Hill, and runs west through downtown, out into western Henrico County, and eventually runs all the way to Charlottesville.
Downtown Richmond is laid out like a grid, and if you remember two rules, you'll do fine. First, the streets running east-west are "named" (Cary, Main, Franklin, Grace, Broad, Marshall, Clay, Leigh, Jackson), while the streets running north-south are numbered (from 1st Street in mid-town, all the way through 20th Street in Shockoe Bottom). Almost all the streets besides Broad are one-way, so sometimes to get where you need to go you need to drive one block up and then make a few turns to loop around. Most of the "named" east-west streets run nearly the entire length of Downtown, with the exception of Grace and Franklin, which are briefly interrupted by the Governor's Mansion, some other governmental buildings, and Main Street Train Station, before resuming in Shockoe Bottom.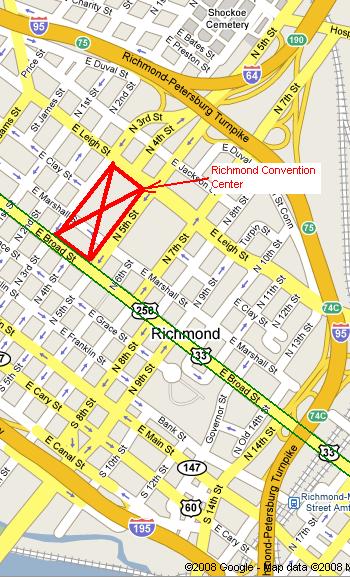 Parking downtown sucks, so carpool to save aggravation and parking costs. Also keep in mind that meters aren't checked on the weekends unless it says so specifically, so feel free to grab a meter spot. It's hard to beat the convenience though of just parking in the deck attached to the Convention Center.
The Greater Richmond Convention Center (301 North Third Street ) is located in Downtown Richmond. Head west on Broad, and you'll be going Uptown, past Virginia Commonwealth University (VCU), and eventually out to the West End suburbs in the county. Head east on Broad, and you will eventually go down a very steep hill into Shockoe Bottom, and the area to the right/south of Broad (17th, 18th, and 19th Streets) is where there are a plethora of nightclubs and restaurants where you can eat, drink, and be merry.
To the southwest of Shockoe Bottom (and roughly south by southeast of the Convention Center) is Shockoe Slip, a slightly more upscale stretch of restaurants and clubs along a cool cobblestone section ofCary Street .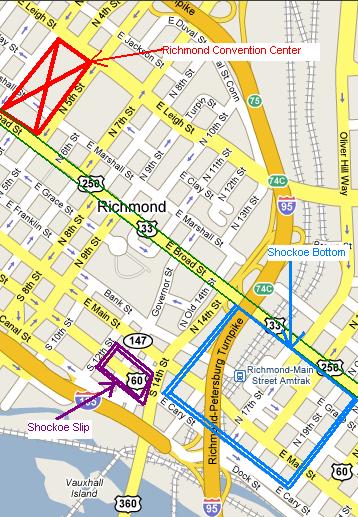 Here's a
link to Google Maps
for the Richmond Convention Center; you can start here and plug in any address to pull up a map of the directions.
Food & Drink
There's a restaurant guide & map (
linked here
) you can pull up that shows nearby restaurants (and is also a pretty good map of the area). Here are the ones within easy walking distance, 1-3 blocks from the Convention Center (I've numbered them according to what's on this map):

9. SUBWAY
321 East Broad Street
804.649.SUBS(7827)
Sat 8am-9pm Sun 9am-7pm
Directly acrossBroad Street from the Convention Center. You know, subs!

10. LOUISIANA FLAIR
322 East Grace Street
804.612.9066
M-F 7am-6pm;
Sat 11am-4pm
Cross Broad Street from the Convention Center, go up 4th street to Grace Street. Authentic Cajun eats (
for reviews go here
), seafood po' boys, catfish, shrimp Creole, gumbo, alligator, bread pudding. It's a shame this isn't open later, but if you get eliminated early this could make for a mighty good consolation prize!

12. GREAT AMERICAN GRILL
(inside The Hilton Garden Inn)
501 East Broad Street
804.344.4300
Breakfast: Sat-Sun 7-11:30am
Lunch: Daily 11:30am-2pm
Dinner: Daily 5-9pm
Located across Broad Street from the Convention Center at 5th street. Daily breakfast buffet. Freshly prepared a la carte lunch and dinner.

13. T-MILLER'S SPORTS BAR & GRILL
(inside The Richmond Marriott)
500 East Broad Street
804.648.2255
Sun-Thurs 6:30am-midnight;
F-Sat 6:30am-2am
Located right next to the Convention Center across 5th street. Enjoy sandwiches, burgers, steaks, salads, pasta, and big-screen TVs. Open late on Saturday night!

14. STARBUCKS
(inside The Richmond Marriott)
500 East Broad Street
804.343.6926
Open daily 6am-5pm

8. KENN TICO CUBAN BAR & GRILL
204 East Grace Street
804.225.9216
F-Sat 11am-11pm (happy hour 4-7pm)
Cross Broad Street on 3rd Street one block to Grace Street, take a right, and it'll be on the right. Experience authentic Cuban cuisine and beverages.

5. MAMA J's
415 North First Street
804.225.7449
Sat noon-10pm; Sun noon-7pm
Walk west on Marshall Street two blocks from the Convention Center, take a right on 1st Street, and it'll be on the right. Come experience great Southern cooking, just like Grandma's house, with outstanding service in a relaxing atmosphere.
Some other good places to eat, drink, and be merry nearby:

COMFORT
200 W Broad St
Richmond, VA 23220
804.780.0004

www.comfortrestaurant.com

Mon-Thu 5:30 pm – 10:30 pm
Fri-Sat 5:30 pm – 11:30 pm
Full bar, including a huge selection of bourbon, whiskey & scotch
About six blocks due west of the Convention Center. Offering such standouts as Shrimp & grits, and venison with mac & cheese, this popular dining spot offers great food & atmosphere, but there are no reservations and lines can get long on Saturday night so choose your time wisely!

PENNY LANE PUB
421 E Franklin St
Richmond, VA 23219
804.780.1682

www.pennylanepub.com

Authentic English pub food. Four blocks away. Go south on 3rd Street from the Convention Center, cross Broad Street and Grace Street, take a left on Franklin Street, go a block and half.

BISTRO 27
27 West Broad Street
804.780.0086

www.bistrotwentyseven.com

Dinner: M-Sat 5-10pm; Sun 5-9pm
Four blocks west of the Convention Center onBroad Street (you'll have to go past it and then make a U-turn). Savor great, globally inspired cuisine in a casual, yet sophisticated elegance.

ALAMO BBQ
2202 Jefferson Ave
Richmond, VA 23223
804.592.3138

www.alamobbqva.com

Mon-Sun 11:30 am – 9 pm
You can't walk here, but it's an easy 7-9 minute drive from the Convention Center and well worth the trip—go east on Broad Street, down the big hill, take a left on 21st Street, it'll bear right and turn into Jefferson Avenue, and Alamo will be up about a block. How does a pork burrito, jalapeno mac and cheese, and lime-aid sound to you? Huge portions, outdoor table eating or take-out.

CAPITAL ALE HOUSE
623 E Main St
Richmond, VA 23219
804.780.2537

www.capitalalehouse.com

Mon – Sun: 11am – 1:30am
Large selection of craft and imported beer. Four minute drive from the Convention Center, head east on Broad Street, take a right onto 8th Street, then another right onto Main Street, go a block and a half.

FIVE GUYS FAMOUS BURGERS
931 W Broad St
About a five-minute drive west on Broad Street from the Convention Center, this is on the VCU campus, open 11am-10pm every day. They will be on the left-hand (south) side of Broad. This place makes
ridiculously
good burgers, and their fries are delicious and plentiful. Five Guys is located on a strip of eateries including Extreme Pizza, Coldstone's Creamery (ice cream to die for), Qdoba (burritos), and Tropical Smoothie. Plus, there are always tons of lovely students walking around! Art chix rule!

AUNT SARAH'S PANCAKE HOUSE
4205 W Broad St
6am – 3pm every day
This is less than four miles from the Convention Center, probably about a 10-minute drive even with the traffic lights. Head west onBroad Street , Aunt Sarah's will be on the left-hand (south) side of the street. Aunt Sarah's has a great southern flair to it; you can even have fried catfish and eggs for breakfast here. Sadly, you can't get pancakes at midnight. If you're coming into town from the west along I-64E and want to stop for pancakes, take I-195S and get off on theN Hamilton Street exit and turn right ontoBroad Street . Aunt Sarah's will be on the left.

GRANDPA EDDIE'S ALABAMA RIBS & BBQ
11129 Three Chopt Road
Richmond, VA 23233
804.270.7427

http://www.grandpaeddiesbbq.com/

Mon – Thurs: 11:30am – 9ish
Fri-Sat: 11:30am – 11:59pm
Sunday: 12pm – 9ish
I talked about this place in my column
No Time to BBQ Standard.
This is about a 20-minute drive from the Convention Center, but if you're already heading west on I-64 to go home and you want some kickass BBQ on the way, this place is awesome! Take exit 178B to merge onto US-250 E/W Broad St toward Richmond, turn right at Cox Road, take the 3rd right onto Three Chopt Road, Grandpa Eddie's will be on the left hand side. You need to at least sample their smoked BBQ chicken wings, they are divine! Stop in or call a take-out order.
Nightlife
I imagine most of you will be drafting 'til you drop if you're not playing in the main events or playtesting for the next day, but if you've got the urge to be social later, I can suggest a place called The National near the Convention Center, or you can head east on Broad Street, down the hill into Shockoe Bottom, which is ground zero for Richmond nightlife. Take a right onto 17th Street and start looking for parking—between Franklin and Canal Streets, you will find a plethora of bars, clubs, and restaurants jam packed with party-goers on Friday and Saturday night.

THE NATIONAL
708 East Broad Street
Richmond, VA 23219-1836
(804) 612-1900

http://www.thenationalva.com/

Five blocks from the Convention Center is a pretty good club venue featuring dance parties and bands. Head east onBroad Street from the Convention Center, it'll be on the left-hand side near the corner of7
th
Street .
Fri., Dec. 3 (9:00 PM) – "Lady GaGa vs Madonna vs M.I.A," A Dance Party with DJ Lil'e
Sat., Dec. 4 (7:00 PM) — The Whiskey Rebellion: playing high-energy, joyful brand of bluegrass, with skillful picking and two and three-part harmonies. Known for its imaginative remakes of songs by the Beatles, Johnny Cash, Gnarls Barkley, and Bob Dylan.
Questions?
If you have any more questions about Richmond for this weekend, post them in the forums, and I'll do my best to answer them. If you're staying longer than Saturday and Sunday and are interested in some sightseeing, drop me an email, and I'll be glad to offer some suggestions. Hopefully I will see a lot of you here, please hunt me down, and say hello! I plan on playing in the Constructed events both Saturday and Sunday, but if I get decimated, the consolation prize of ripping through some EDH pods will keep me smiling!
Take care,
Bennie
starcitygeezer AT gmail DOT com
Make sure to
follow my Twitter feed,
I'll be tweeting all weekend!
New to EDH? Be sure to check out my EDH Primer:

part 1
 

part 2


part 3
 
My current EDH decks:
Vorosh, the Hunter (proliferating madness)
Bone-Gnawer (Relentless Rats are back!)
Skithiryx, the Blight Dragon (Poison Apocalypse)
Brion Stoutarm (R/W goodness)
*and I really am stoked—no one asked me to write about this weekend, but since I'm the resident local SCG.com writer, I feel like everyone's cool uncle, looking out for you and giving advice to help you have a good time! At least I hope I'm the
cool
uncle…