Standard is a format all about Thoughtseize, right?
Don't pose that question to Kent Ketter. He might not be able to hear it over him comically flapping his arms as he impersonates a 4/4 flying Dragon with haste.
Ketter and Stormbreath Dragon are tight. Ketter doesn't leave home without a playset of the Theros mythic rare. He hasn't played in a StarCityGames.com Open or Invitational this year without them. He also hasn't finished lower than twelfth place in any of those events. Thoughtseize who?
That's right—Ketter has played in four Standard Opens (Indianapolis, Columbus, Nashville, and St. Louis) and the Invitational in Charlotte this year. His worst finish was twelfth place in Indianapolis. It's safe to say that no player on the Open Series had more success than Ketter throughout Season One. Ketter started the year nowhere near the Top 100 on the SCG Players' Championship Leaderboard. A couple months later he was within striking distance of the Top 32, where players had accumulated points dating back from events through April 6 of 2013.
Ketter's success hasn't just come from jamming four copies of Stormbreath Dragon into a deck, turning them sideways, and flailing his arms wildly while doing it. It has come from hard work and testing with his friends in Bloomington, Indiana. Ketter is going to community college there and plans to finish up his bachelor's degree in public affairs at Indiana University starting in the fall. Until then Ketter spends his time working for American Paintball Players Association, endlessly testing with his friends, and traveling to Magic tournaments.
"I trust the people I test with and their intuition," Ketter said. " While getting ready for events we're all reading SCG articles, looking at results across the world, and picking whatever deck looks most powerful, and every time it is a Stormbreath Dragon deck."
While Ketter's tear through Season One has made his name known to anyone following the Open Series, success wasn't instantaneous. Ketter's road to Open Series Top 8 regular took time.
Like many, Ketter has played Magic off and on for a large chunk of his life. Ketter's first taste of the game came in high school while playing casually. He moved on to local FNMs where the game of choice was Mirrodin-Darksteel Draft, a format that sent him home without a victory in his first five visits. He then played a bit here and there when he traveled to the Czech Republic and Thailand as a foreign exchange student.
Ketter saw how widespread Magic had become during his high school years, but he found out how important it is when he joined the Army after high school in 2007. Ketter met people like Corbett Gray and Gavin Verhey along with many other members of the Seattle Magic scene in January of 2008 that changed the way he looked at the game.
"The military was a good experience for me, and it also gave me the opportunity to see Seattle and meet the Seattle Magic scene," Ketter said. "Meeting a lot of people that were or are influential in the game lit a passion for me with the game because I met people who loved the game so much and I never had seen that before."
Ketter's time in Seattle was brief. He only had the chance to play in one FNM in the Emerald City before being deployed to Iraq, where he worked as a human intelligence collector. He spent six months in Iraq working and talking with Iraqi people to help find the people that were disrupting their communities and continued his training, including observing interrogations and source training. No matter where Ketter went, Magic always seemed to be there. While in Iraq he found people who played, and they kept him interested in the game for when got back to the States.
Ketter kept playing while he was in the Army online but drifted away from the physical game until he settled in Bloomington after his years in the military. He was pulled back into paper Magic in a roundabout way during the Prerelease of Gatecrash. Ketter was managing a pizza shop and coordinated an order from a card shop needing a bunch of pizza for the midnight Prerelease. After a conversation with the store owner on the phone where they worked out the order, the store owner sent back a bunch of packs as part of the tip with the driver.
The next day Ketter went to the shop to check it out and was playing again by the day Gatecrash was released, this time with his biggest drive yet. Less than a month later, Ketter attended Grand Prix Pittsburgh and made his first day 2 in Gatecrash Limited.
"I came back to Magic after getting out of the military, went to the GP after playing a ton of Sealed events online and drafting a bunch, and made day 2. It was my first day 2, my first anything really," Ketter said. "It made me realize that playing competitive Magic is simply about your mental process and preparation. I felt very prepared for that GP, and mentally I wasn't worried about my results."
The testing Ketter put in leading up to the GP would pay off in a Top 16 finish after an eventful day 2, where his first draft pod was stacked with big names.
"Sitting down on day 2, I had never been to day 2 before in my life. I got there, and in my first pod was Luis Scott-Vargas, and to his left was Shuhei Nakamura," Ketter said. "I immediately had an 'I don't care' attitude. I knew how to draft the format. I wanted to get into Orzhov early and execute my game plan, and if it dried up, I'd go into an aggressive white deck. And that's what I did."
Ketter went 2-1 in both drafts, including a win against Nakamura in round 13. While he missed out on Top 8, Ketter's fire was lit, and his attitude toward getting better has been constant. Ketter spent the rest of 2013 testing with Phil Silberman, Evan Smith, Justin Adams, and Spencer Garnier. He went to Open Series and made a couple Top 64s but nothing big.
All that changed with one decision.
"In the summer of 2013, I had some success in some PTQs. I lost in the finals of a Sealed PTQ and lost in the Top 8 of another, and I realized I played my best Magic when I'm in my comfort zone," Ketter said. "In Limited it was easy. I was comfortable playing aggressive strategies and knew what color combinations I liked. In Constructed I just played the best deck, but I never felt like I understood the deck like I did in Limited, making intuitive plays, playing to different lines, and feeling comfortable. I decided in December of last year that I would pick a deck, stick with it, and keep playing it."
The deck he decided on was R/W Devotion. Ketter and his group took the list Thea Steele used to Top 8 the Invitational in Las Vegas and made a few tweaks. Ketter finished 9-2 for twelfth place in Indianapolis, with his only losses coming from Brian Braun-Duin and Chris VanMeter, who were both playing G/R Monsters, which at the time was still a rogue deck. Ketter took R/W Devotion to Columbus two weeks later and made it to the finals of the Standard Open before losing to a bigger Boros deck piloted by Mike Kenney.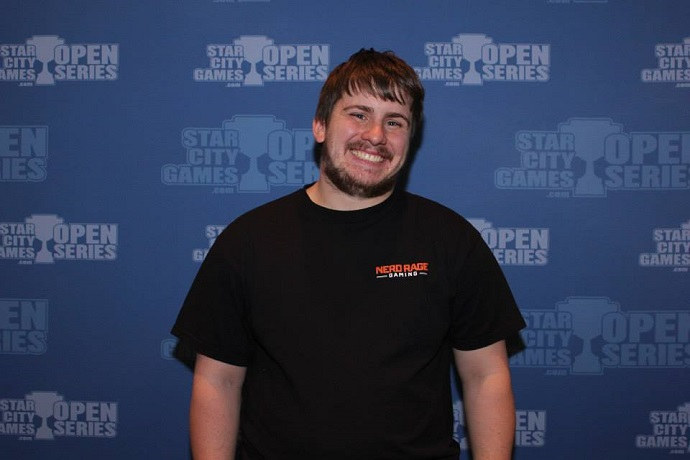 Ketter knew with the growing presence of U/W Control decks that it was time to put the R/W Devotion deck to rest. He came around to another Stormbreath Dragon deck, this one similar to what BBD and CVM beat him with in Indianapolis.
"I switched to Monsters after Columbus because the U/W decks were becoming more popular. Phil was supporting the deck, and I really respected his opinion on control decks and wanted to be able to beat those decks," Ketter said. "When Phil said that U/W was going to be the deck, I moved in on Monsters and made some changes to a list CVM wrote about on SCG by changing Fanatic of Xenagos to Courser of Kruphix and started playing it with Domri Rade and the heavens opened up."
Ketter made it to the finals of Nashville with G/R Monsters before losing to Mono-Blue Devotion, but he didn't let it deter him. He wrote about wanting better matchups versus creature decks and moved to Jund Monsters, a deck Cedric Phillips popularized that week, with which he made the Top 8 of St. Louis. Joining him in the Top 8 was Silberman playing U/W Control. While both players fell in the quarterfinals, their work and knowledge of the metagame clearly had paid off.
Ketter finished Season One with a ninth-place finish at the Invitational in Charlotte, just a win away from another Top 8 on the season and a chance to take the event down for an invite to #SCGPC. Ketter played a B/R Aggro deck that topped out on his trusty Stormbreath Dragon to prey upon Esper Control. Though he came up a bit short at the Invitational, Ketter has made it clear with his play and determination that he wants to be playing in Roanoke in December as part of the sixteen-person SCG Players' Championship.
"My goal is to make the SCG Players' Championship. I don't care if I get there from being a points leader of a season, but I'd really like to get it from an Invitational win," Ketter said. "I want to be there and cap off a year of hard work with a high-pressure finish. Just show up and play good Magic against the best field available and try to Top 4."
With what Ketter has already accomplished this season, making a run at the top spot of the #SCGPC Leaderboard in one of the next three seasons doesn't seem outside the realm of possibilities. Season Two continues this weekend in Milwaukee, Wisconsin, which Ketter has already confirmed to be attending.
Our home for the weekend is the Wisconsin Center in downtown Milwaukee, just walking distance from the Milwaukee Theatre and the Milwaukee Public Museum.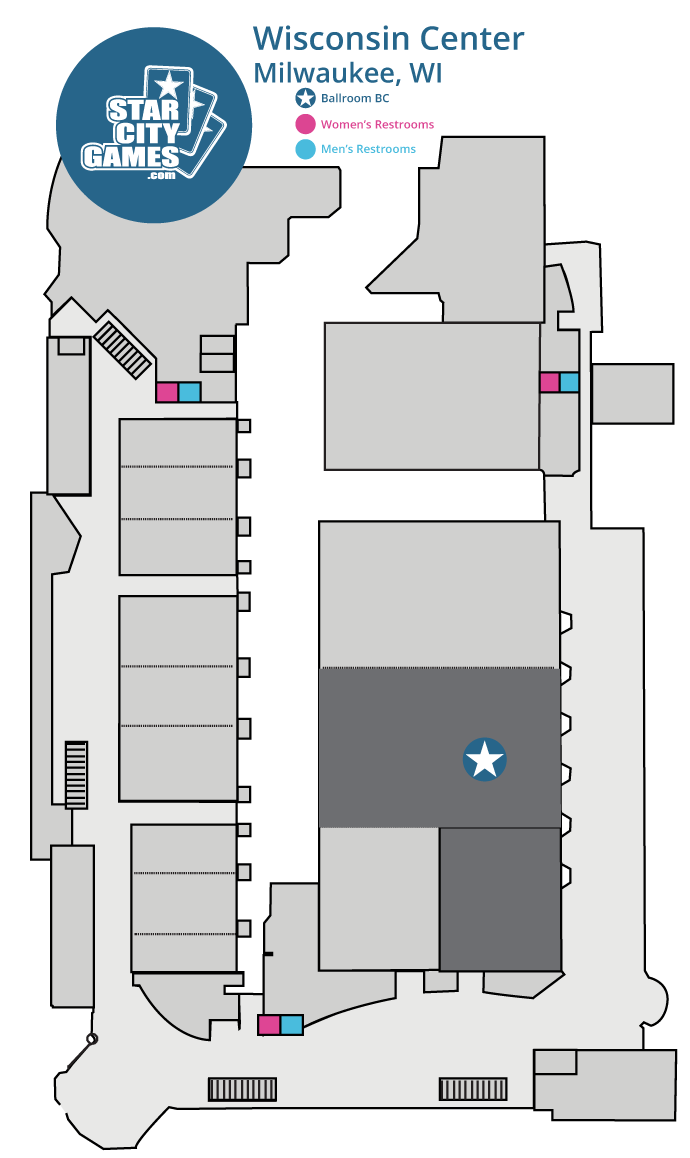 The Wisconsin Center is very close to many food options for varying appetites. Patrick Sullivan will be relieved that there is a Dunkin' Donuts just a block from the event, so don't worry about finding a place for plenty of caffeine. Here are just some of the food options.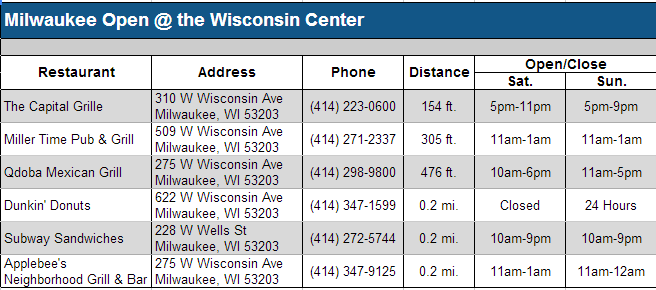 And lastly, @SCGLive will be on hand providing the best Magic: The Gathering coverage on the planet. Cedric Phillips and Patrick Sullivan will be calling the action from the booth all weekend long, starting with the Standard Open at 11:30 EDT Saturday morning.
See y'all in Milwaukee!