Even a foot of snow couldn't put a damper in SCGCon Winter 2018. While the
venue was closed down on Sunday, the lobby of the staff hotel (with a fair
number of players staying there as well) was bustling, continuing on the
path we had started walking on Friday and Saturday toward days of epic
games of Commander. In fact, the games on Sunday may have been the most fun
of all, even with some outlandish occurrences the prior two days. All in
all, it was a weekend of meeting friends-some old, some new-and just having
a grand time with our hobby of choice.
While this report is coming a few weeks later than it otherwise might have
due to the holidays, I'm offering it because I think that some of ideas and
attitudes I encountered along the way are important to the bigger picture
of the format. I won't get into any individual game breakdowns, but I'll
list the commanders folks played to give you an idea of what was running
around our tables.
The only significant event on Thursday was getting checked in and having
dinner at Lucky's, one of Roanoke's cool restaurant/bars, with friend,
fellow foodie, and WotC R&D member (not to mention Commander 2018 Lead Developer) Gavin Verhey, Star City Games Vice
President Crystal Van Hise, and her friend Josh. We drafted-appetizers. I
highly recommend the practice. Gavin and I talked a little about the future
of Commander before Crystal and Josh arrived, but that was about the extent
of the Magic talk for the evening. Even in a setting with other Magic
people, I have a (not particularly hard-and-fast, but still somewhat firm)
rule that Magic talk cease during dinner. I'll do my best to steer
conversations in other directions. Many of the people who engage in this
hobby are fascinating; I want to discover the things about them I might not
be able to guess due to our one shared passion.
One of the things I did over the weekend was ask players a simple question:
if you could ban a card, what would it be? I made the question a little
more thought-provoking by adding the caveat that this would be the last
card you could ever ban. The breadth of answers surprised me. I suspected a
narrow band of the usual suspects, such as Cyclonic Rift, Deadeye
Navigator, Iona, Shield of Emeria, and Sol Ring. There were multiple
instances of all of but Sol Ring (obviously, our sample size was small),
but the following also got mentioned: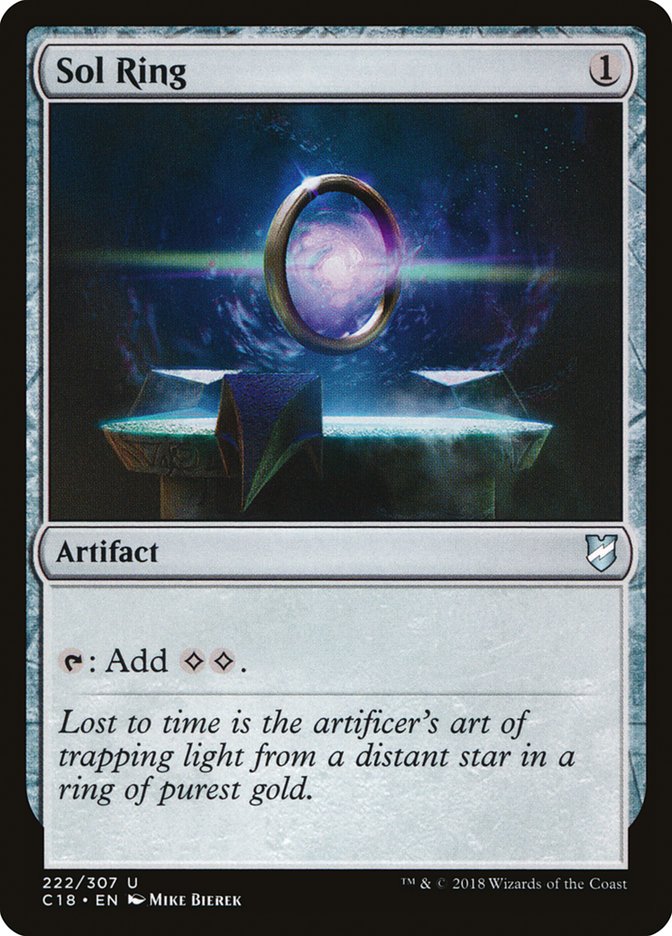 Cabal Coffers; Consecrated Sphinx; Craterhoof Behemoth; Derevi, Empyrial
Tactician; Elesh Norn, Grand Cenobite; Flash, Humility; Inalla, Archmage
Ritualist; Laboratory Maniac; Mana Crypt; Palinchron; Oloro, Ageless
Ascetic; Privileged Position; Prossh, Skyraider of Kher; Rhystic Study;
Seedborn Muse; Stasis; Sunder; Tooth and Nail. Also mentioned during this
discussion was "unban Primeval Titan and Balance while you're at it," but
that's a road we're not ready to go down. I've frequently said in the past
that if we were to Survivor-style the banned list one at a time, Balance
would be the last card standing. Now I'm actually curious about a "come off
the banned list" bracket. Might have to run one in the near future…
The number of different responses indicates something we already know: that
there's a rather wide swath of perceptions and experiences in Commander.
The format means radically different things to different people; I just
figured there would be a few universally hated cards that would keep coming
up. It also leads me to the conclusion that there are quite a few "feel
bad" cards running loose in the format. Players seem to have the
expectation-which is in line with the Rules Committee's ideals-that taking
the game away from them isn't all that much fun. While we don't want
confirmation bias to happen, it's nice to have things reinforced.
Friday I got in five games:
Game 1:
Gabe (Oloro, Ageless Asetic), Chris (Marath, Will of the Wild), and Brandon
(Kemba, Kha Regent)
Game 2:
Chris (Ruric Thar, the Unbowed), Brandon (Tuvasa the Sunlit), and Jon
(Child of Alara, with Maze's End as the win condition)
Game 3:
Jon (Tuvasa the Sunlit), Chris Shipper, who has been kind enough to record
play-by-plays for me in the past at both GP Atlanta 2015 and this past
summer's SCG Con (Ghave, Guru of Spores), and Daniel (Ravos, the Soultender
and Tana, the Bloodsower)
Game 4:
Ed (Jodah, Archmage Eternal), David (Inallia, Archmage Ritualist), and Phil
(Kaalia of the Vast)
Game 5:
Ed (Jodah again), David (Ezuri, Renegade Leader), and Brandon (Meren of
Clan Nel Toth)
Easily the most epic of the games was number three in which there was an
Elesh Norn, Grand Cenobite on the battlefield and I decided that it would
be good idea to play Endless Whispers from my Ikra Shidiqi, the Usurper and
Kydele, Chosen of Kruphix deck. It was about to get thoroughly silly after
I played River Kelpie; Chris rightfully exiled it to prevent me from
drawing a jillion cards with its' first triggered ability, since River
Kelpie doesn't care whose permanents are put onto the battlefield from the
graveyard. The game descended further into madness when a second and later
a third Elesh Norn (although the last one was a Clone) made appearances.
About half the players I played with on Friday had also been at the
previous SCG Con. I had even tweeted about one of them, Game 4's Phil, who
had hit me with a Mind Twist in one of those previous games. Phil helped me
overcome-or at least address-one of my prejudices. Here's the thing: Phil
is a genuinely nice person. I mean for real nice. He's reserved but
friendly. There's nothing mean or dishonest about him. In fact, I asked him
if my assessment that he was honest to a fault were accurate; I told him I
couldn't imagine him cheating in any way, shape, or form (at Magic or on
his significant other). I get the impression that he's good company. But
then he plays decks with Winter Orb and Stax cards in them. Here's where my
prejudice comes in (and I'm not being sarcastic in the slightest here):
it's difficult for me to process that a kind, friendly person can play the
kind of decks that take away the game from opponents (in Commander; on the
other hand, some very, very good people have played prison decks in
competitive events, which I can wrap my brain around pretty easily). I have
to confront my own judgmental nature about players based on the kind of
deck they're playing. I want to reinforce to myself that not everyone who
plays Stax is also the kid who burned ants with a magnifying glass or
delights in the misery of others. Some of them are fine human beings, just
like Phil. I'd be faced with that same sort of self-evaluation on Saturday.
Before that would happen, however, I'd have a great dinner at Frankie
Rowland's Steakhouse with Gavin, Magic Hall of Famer and R&D member
Mike Turian, and the president of this very outfit, Pete Hoefling. I turned
them onto Super Tuscans, one of my favorite types of wine, in this case an
Antinori Tignanello.
I got in seven games on Day 2, although due to time constraints and people
waiting to play, I only noted the commanders on the first three:
Game 1:
Kolin (Multani, Yavimaya's Avatar), Daniel from yesterday (again Ravos the
Soultender and Tana, the Bloodsower), and Sam (Oona, Queen of the Fae).
Game 2:
Cody (Tana, the Bloodsower and Sidar Kondo of Jamuraa), former Level 3
Judge and all-around good egg Nicholas (Niv-Mizzet, Parun), and Sam (Jace,
Vryn's Prodigy).
Game 3:
Zack (? but had black), Eric (Estrid, the Masked), and Nicholas (Zacama,
Primal Calamity).
The most Commander-esque moment of the day came from this game. Playing my
Ruhan of the Fomori deck, I had a face down morph creature (which is always
Willbender, right?) Zack, sitting to my left, cast Emrakul, the Promised
End. Its cast trigger went off, targeting Eric, then I turned the card face
up: it was Kheru Spellsnatcher. The trigger still resolved, but the spell
was countered. Then on my turn, I got to cast Emrakul, of course targeting
Zack. When it came to his turn, he gave me his hand, which consisted of
Sower of Discord and Hatred. Without prompting, he said some variation of
"I did this to myself" and was bravely hoisted on his own petard.
In one of the later games, I was once again confronted with my bias. We,
which included Dan, who I had played with in the summer, and Mike Turian,
were waiting for a fourth, when a player who said we could call him
"Costas" asked if he could take the seat. In jest, I said "I dunno; are you
the kind of person we want to play a game with?" He shrugged and said
"Yeah, why not?" He was quite friendly and engaging. He ran some early
infinite turn combo with Wanderwine Prophets. We shuffled up and played
another; he played Jhoira of the Ghitu. He suspended some things and then
cast Apocalypse. I asked him if he was aware that these were not the kinds
of things that made friendly games. He seemed genuinely surprised that
anyone-let alone a majority of Commander players-would consider them
unfriendly. Again, I was faced with a person who was pleasant and affable,
but he was playing the kinds of decks that I believe are bad for the format
and certainly not anywhere near what anyone, even the most diehard
competitive player, would recognize as friendly. I once more had to remind
myself that people see and get different things from the format; for some,
if it's legal, anything goes, and it's not done with negative intent.
People that play antisocial decks aren't inherently antisocial themselves.
One of the issues of managing a social format that wants to have the
tightest possible banned list is not just that some people didn't get the
memo, as it were, but that some folks don't see what the majority would
call unfriendly as anti-social in any way to begin with. Our edges are
fuzzier than any other format. One of the recurrent criticisms we hear is
that some people don't want the socially-engineered version, they want the
hard-and-fast rule version. They don't like that there are legal cards
which many still consider off-limits. I get that criticism; it's not likely
to change how the Commander Rules Committee approaches things, but I
understand what those people are getting at. We've have tremendous success
with Commander by doing it the blurrier way, and we'll continue on that
path.
Saturday evening's dinner was at Fortunato, with the previous evening's
three plus Kenji Egashira ( @NumotTheNummy on Twitter)
and our own Ari Lax. The discussion turned again to Super Tuscans. The
waiter turned us onto one that wasn't on the list but was a great blend of
Sangiovese (the grape that goes into Chianti) and Cabernet Franc. Big
thanks to Pete for treating us all to a great meal.
Sunday, of course, was snowed out. We didn't get to run the Commander
panel, but that was about the only thing I missed out on. Fortunately,
there was enough table space in the lobby of the hotel for a bunch of us to
play. It wasn't just Commander; there was at least one cube that got
drafted more than once. I believe that I played as many games on Sunday as
I did the previous two days combined, even turning a few folks onto the
format who hadn't played it. Many of those games were with fellow Commander
writer Bennie Smith, who showed us the glory of Grothama, All-Devouring. I
was skeptical about the deck working at all (save for the obvious value of
its mono-greenness); I am a doubter no more. Kudos to the staff of the
Courtyard for going the extra mile to make us feel welcome, and especially
for keeping the bistro open extra hours so that folks didn't have to risk
heading out into a foot of snow.

Many thanks to Pete and the SCG team, especially Chris McCurry, who took
even better care of me over the weekend than he had in the summer. Still
recovering from surgery (but determined it wasn't going to make me miss the
show), I wasn't moving all that fast and I couldn't lift anything over ten
pounds (which included my own bag), and Chris made sure that things went
seamlessly for me. He was also kind enough to bring lunch to me in the hall
so that I could continue playing with folks. The Command Zone at SCG Con
has become one of my favorite destinations for playing Commander. I can
only hope that this one won't be the last.

Check out our comprehensive Deck List Database for lists of all my decks:
SIGNATURE DECKS





Purple Hippos and Maro Sorcerers

;

Kresh Into the Red Zone

;

Halloween with Karador

;

Dreaming of Intet

;

You Did This to Yourself

.
Mono-Color


Heliod, God of Enchantments

;

Thassa, God of Merfolk

;

Erebos and the Halls Of The Dead

;

Forge of Purphoros

;

Nylea of the Woodland Realm

;

Karn

Evil No. 9.
Guilds






Lavinia Blinks

;

Obzedat, Ghost Killer

;

Aurelia Goes to War

;

Trostani and Her Angels

;

Lazav, Shapeshifting Mastermind

;

Zegana and a Dice Bag

;

Rakdos Reimagined

;

Glissa, Glissa

;

Ruric Thar and His Beastly Fight Club

;

Gisa and Geralf Together Forever

.
Shards and Wedges









Adun's Toolbox

;

Angry, Angry Dinos

;

Animar's Swarm

;

Borrowing Stuff at Cutlass Point

;

Ikra and Kydele

;

Karrthus, Who Rains Fire From The Sky

;

Demons of Kaalia

;

Merieke's Esper Dragons

;

Nath of the Value Leaf

;

Queen Marchesa, Long May She Reign

;

Queen Marchesa's Knights

;

Rith's Tokens

;

The Mill-Meoplasm

;

The Altar of Thraximundar

;

The Threat of Yasova

;

Zombies of Tresserhorn

.
Four Color


Yidris: Money for Nothing, Cards for Free

;

Saskia Unyielding

;

Breya Reshaped

;

Yidris Rotisserie Draft Deck

.
Five-Color
Partners



Tana and Kydele

;

Kynaios and Tiro

;

Ikra and Kydele

.


Adun Oakenshield Do-Over

;

Animar Do-Over

;

Glissa Do-Over

;

Karador Do-Over

;

Karador Version 3

;

Karrthus Do-Over

;

Kresh Do-Over

;

Steam-Powered Merieke

Do-Over;

Lord of Tresserhorn Do-Over

;

Mimeoplasm Do-Over

;

Phelddagrif Do-Over

;

Rith Do-Over

;

Ruhan Do-Over.

If you'd like to follow the adventures of my Monday Night RPG group (in a
campaign that's been alive since 1987) which is just beginning the saga The Lost Cities of Nevinor, ask for an invitation to the Facebook
group "Sheldon Menery's
Monday Night Gamers."