Like a marathoner in the final mile, I can see the finish line. Yeah sure, all the Kenyans finished two hours ago and I'm hoping I don't crap my pants in the final push, thus embarrassing myself and making me completely unhuggable should any loved ones be waiting for me at the finish line. Things got a little dodgy in the excrement department back around Green, but that was only a second wind trying to push its way through, and by Gold we were sailing smooth once more. I'm going to finish, dammit, and there's nothing you or anyone else can do to stop me now.
What's that? I have to start this final Timeshifted installment with Green cards? Oh sh**…
Green
Avoid Fate
Confound saw play in Block Constructed, but it drew a card in exchange for what it did. Avoid Fate is cheaper, counters instants and enchantments that target your permanents and not just your creatures, and yet it doesn't touch a sorcery, meaning you can't use it to defray land destruction. It's not great at what it does, but it is a Green counterspell, and I suppose because of that Avoid Fate is doing fine simply by existing.
Rating: **
Call of the Herd
Look, we all know why Call of the Herd is awesome. Really two spells in one package, the first elephant is cheap, and the second one, while it costs you mana, is free in terms of cards — an exceptional deal. This wasn't completely outclassed the first time around, in spite of living in a Psychatog and Mongrel world. In fact, it saw a lot of play in a Red/Green deck that mashed both madness and Tog late in their careers and before Wake began to dominate. Expect to get even sicker of it this time around.
Rating: ****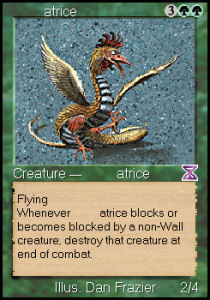 Cockatrice
Five mana for a flying 2/4… in Green! Meloku has conditioned us to pay attention to those particular stats, but Cockatrice is from way back, when creatures were bad, and you might even think paying this cost for such averageness was worth it. Okay, you really didn't (mostly because Serra Angel and Sengir Vampire were around), and you'd not going to play it now either.
Rating: *
Craw Giant
One of the coolest Timmy cards from back in the day, Craw Giant costs 3GGGG to put into play and still doesn't win the game outright. Verdant Force is in the format until at least next summer, costs a similar amount, and just seems better.
Rating: *
Gaea's Blessing
More dirty combo cards, this time in Green. You never quite know what it will be used for, but you do know that at some point Gaea's Blessing will get play in almost every format where it's legal, and you also know that when it does, the deck is likely to be very good. No, I don't entirely understand why this is either; I just know it to be true.
Rating: ***
Gaea's Liege
In the long history of competitive Magic, Gaea's Liege has never been good enough to dent a format.
Rating: *
Hail Storm
There's a line of Green control cards lurking that appear to be ready to take care of weenie rushes without any help from traditional ally Red. White/Green has often combined in recent years to produce excellent decks, including a very strong control package back in Affinity-riddled 2004. If such a thing is going to happen again, it feels like Hail Storm will play an important role. Red is still obviously better at such things, but this is notable because it's very out of color and still reasonably good for the price.
Rating: **
Hunting Moa
I really like Hunting Moa, I just wish there were some creatures in the format that cared about +1/+1 counters. Oh wait… (Graft, Mindless Automaton, and probably at least twenty other cards and effects in the format have the potential to make this tres awesome.)
The downside of this card is that it gives Flores more excuses to talk about Bill Macey.
Rating: ***
Jolrael, Empress of Beasts
As cool as this ability is, it's more frequently used as a Wrath-a-geddon against opponents than it is as a win condition. The price for the spellshaping is steep and Jolrael's body isn't exactly what one would describe as busty, but the effect is so powerful that if it's abuseable, someone will find a way to abuse it. I'm also deeply enamored of the Matthew D. Wilson art.
Rating: **
Krosan Cloudscraper
Cloudscraper's fifteen minutes of fame have come mostly from lingering in the graveyard so that Sutured Ghoul can abuse his size. Other than that, I got nuthin…
Rating: *
Scragnoth
Scragnoth will absolutely, positively resolve past any number of counterspells an opponent holds in his or her hand. Scragnoth is also guaranteed not to die to Psionic Blast or Prodigal Sorcerer, you know, in case that's important. He still costs five mana for a 3/4, so while he might be able to finish off a control opponent who is a few points short of dying, he's not going to sit in the front line of any deck's aggressive army.
Rating: **
Spike Feeder
Peaches! Yet another Green control card that keeps the beatdown decks from overwhelming Green players, Peaches is guaranteed to see play in the next two years, though to be fair, unless you've got some sort of counters theme going, Loxodon Hierarch is still a better value.
Rating: ***
Spitting Slug
I'm going to go out on a limb here and just say no. Not because it's inconceivable that the Slug might see play, because a 2/4 for three is a perfectly reasonable investment, but it doesn't block fliers and Green wants aggressive creatures.
Rating: *
Thallid
I eat guys like this for lunch.
Rating: *
Thornscape Battlemage
This Battlemage was always obnoxious in Limited, and the Shock ability plus having a versatile piece of artifact removal puts it right on the cusp of Constructed play. The Standard environment looks too powerful, but it should be welcome in Block.
Rating: **
Verdeloth the Ancient
There are cheaper ways to get Verdeloth's saproling bonus, and a 4/7 body for six mana is nothing special in Constructed. Verdeloth will always be bonkers in Limited, but the Constructed world has yet to find a legitimate use for him.
Rating: **
Wall of Roots
Boy, are there going to be a lot of weird freaking counters in the new format. Bring dice, five colors of beads, and something stupid yet entertaining for the more eclectic ones. Anyway, Wall of Roots is great, and we all know it. Let's move along, shall we?
Rating: ***
Whirling Dervish
Dervish was very, very good against a select subset of decks during a certain period of time. In fact, he was good in much the same way as ARod is good. As long as it's not crunch time in a close game that matters or his team is behind, you can expect ARod to be the best hitter on the planet. As long as you need Dervish's services, he'll be very good to you — just don't expect it to come up quite as often as ARod does when a game isn't on the line.
Rating: **
Gold
Coalition Victory
Once upon a time, professional pimp Andy Stokinger actually used this and Sliver Queen as a win condition in an Extended Masters deck. That was possibly the only time this card saw play in a competitive environment.
Rating: *
Fiery Justice
The mana cost on this is really steep. Yeah sure, the effect would normally cost you 4RR, but that's without the downside of your opponent gaining any life. I guess if it basically comes to you at no cost in terms of sacrifices made to your manabase it at least deserves some consideration, but even now I don't think we live in that world, and even now I don't think a deck that wants to run this card is also interested in giving an opponent five or more free life.
Rating: *
Jasmine Boreal
Jasmine baby, don't hate me, but I can't even give you an extra star for having super-awesome Richard Kane Ferguson art. Hey, I heard a rumor RKF will be at an upcoming Pro Tour… I wonder if he still has the original of this.
Rating: *
Lightning Angel
Lightning Angel saw considerable play in Invasion Block Constructed, but only managed to find a sideboard slot in EDT's Trenches build from Grand Prix: Milwaukee. That always made me sad, partly because I had a foil Lightning Angel that I really wanted to play more often, and partly because Lightning Angel was just that cool and I wanted it to see more play. Now we once again live in happy times and Lightning Angel is hoping for a spot in the starting lineup. Will it see any play this time around? There's no doubting the Angel's abilities are impressive and numerous, but the problem is the same as that of Mishra — it costs you four mana to cast, three of which must come from different colors. Nobody's rooting for Lightning Angel more than me, but the realistic side of me says that even with Ravnica mana, this is still a longshot to spearhead a return of Star-Spangled Slaughter, a name which I only mentioned because it absolutely, positively should go away with the current worldwide political climate. I normally can't even spell PC, but this one is pretty callous.
Rating: ***
Merieke Ri Berit
This one is a tricky one to evaluate. Like many of the old legends, Merieke's mana cost is painful. In return, you get a creature with a solid ability and the potential to be a gatling gun with some sort of untap ability powering her. Unfortunately, all of Merieke's cool comes attached to a 1/1 body, which is likely never living long enough to do interesting things.
Rating: **
Mystic Enforcer
Ben Goodman loves this card because he managed to use it and win in Legacy. I tend to think it's rather powerful myself, but also recall that it exists in a format where Threshold doesn't have any true enablers and Wild Mongrel isn't around either. In sum, I'm on the fence. If you give the Enforcer threshold it will rule the board (rules! It rules!), but if you don't, it's a pro-Black Hill Giant. Yaaaawn.
Rating: ***
Mystic Snake
I'm not certain, but I think this might be the coolest actual counterspell ever made. Because it stays in play, it's subject to all sorts of recursion that you can never do with normal counterspells, and Mystic Snake can always beat for two in a pinch, which happens more often than you might think. Green/Blue was already good heading into the new block — I see no reason why it won't continue to be strong with new ammunition like the Snake in its arsenal.
Rating: ****
Nicol Bolas
Assuming you can afford the upkeep, the only elder dragon legend to be reprinted in this run is another excellent reanimation target. This bad boy will never nickel and dime you when he hits, instead smashing for seven and Mind Twisting your opponent's entire hand. That's an effect worthwhile enough to pay big money for, though once again, the full price mana cost is eight and includes UU, BB, and RR. I like this man, but the upkeep cost is still a cost, and Akroma and Avatar are just better.
Rating: **
Shadowmage Infiltrator
Jonny Magic is back, and he doesn't have to compete with Psychatog this time around, which means he may see play. These days, Jon just has to outperform Hypnotic Specter and Ohran Viper, which are weaker than Tog, but sort of fill the same roles and are similarly difficult to cast. I think we all want to play Shadowmage and will look for excuses to put him into decks, thus guaranteeing he will get some action.
Rating: ***
Stormbind
The first time around, Stormbind caused all sorts of problems, though to be fair, you were just trading cards for Shocks… not great but still worthwhile. This time around you can actually access madness effects, likely making the Ice Age enchantment even better. The only problem is that in Standard, all the madness lies in Black, which will push you into a third color if you want to maximize the discarding. Either way, Stormbind is still very good.
Rating: ****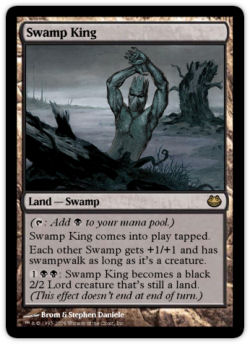 Sol'kanar the Swamp King
Sol'kanar was my first legend. No foolin', I saw him used in a game against a friend of mine and decided I needed to own at least a copy or two. Back then, a 5/5 for five mana was quite good, especially when it came packaged with one relevant ability and one bonus perk. (Swampwalk was relevant due to all the original duals running around.) Anyway, long story short, I have much love for our friend Sol here.
Unfortunately, my "much love" doesn't mean I'm not going to rain on his parade. This are different times for our Van Winkle friend, and he has awakened in an era where creatures are a lot better than they used to be. If his evasion was more universal (say he had fear, flying, or shadow instead), he might merit a third star, but as it is, the mana cost combined with two relatively unimpressive abilities (you aren't splashing Black mana these days just for Mind Twist like you were in the past) mean he's probably a sideboard card or block player at best.
Rating: **
Spined Sliver
The ability is somewhat negligible, but Spined Sliver is a bear in the right colors for aggressive sliver usage and should fit into the archetype like a pair of old shoes.
Rating: ***
Teferi's Moat
In the original incarnation, Teferi's Moat saw play in Block and Standard as part of Blue/White Control decks. With an even larger Gold complement than during the Invasion era, this becomes likely better than it was previously, though there's more good enchantment removal running around now as well. It shuts down all non-flying evasion, which appears likely to matter. The only real hurdle in the Moat's way is whether Blue/White already has enough creature control that it won't need this.
Rating: ***
Vhati Il-Dal
It confuses me when I review Magic cards whose name looks strangely like the Egyptian food I ate on Monday. Regardless, I will persevere. Vhati's a funky dude. His stats are alright and his ability is alright, but neither are something you pay for in Constructed. When we pay for cool tap abilities, they either need to tap something, deal damage, or deal death. In spite of the piercings and the funky rope fetish, Vhati isn't actually killing anything by himself, and that alone rules him out of the realm of the playables.
Rating: *
Void
I'll try not to Goodman you here and tell you it's good when it's good and bad when it's bad and instead tell you why this may or may not be necessary for Red/Black decks to compete. The answer to the may side of the equation is mostly just "Akroma." The answer to the may not side of the equation will take a bit more time.
Machinehead managed to win Tom van de Logt a World Championship title and Void played a big part in that… or did it? Everybody remembers Machinehead as this Red/Black deck that had to play Void somewhere, but take a look back at the Top 8 decks from that Worlds and you'll note Void is conspicuously absent. Some might even say there is a chasm or… void… where they expected Void to be. The Machinehead that Van De Logt played was actually a fast (Dark Ritual, dude), disruptive (Duress, Rishadan Port, plus almost every creature) removal fest that only ran two Flametongue Kavu. (Sorry, that was cruel. I just wanted to see if your head would asplode.) It didn't have time to d*ck around with five-mana removal spells, its creatures didn't even cost that much and Vendetta plus Terminate were fine at killing the animals. With the right tools, Black/Red can win just fine without Void.
Therefore, it is my opinion… that Void will only see play if it is really needed, and even then it will either be out of the sideboard or as part of a deck that is completely unlike Machinehead.
Split
Assault / Battery
It was highly mediocre the first time around, falling about in the middle of the pack in terms of quality when compared to other split cards. Now it's probably slightly below middle of the pack, and does things that are shockingly vanilla in application.
Rating: **
Artifact
Claws of Gix
You ever get the feeling that R&D puts certain cards into a set just to f*** with your head. Say for example you look at Claws of Gix, and you think, "What could this possibly be good for." Then you ponder what it does and break it down to either sacrificing permanents at will or gaining an arbitrarily large amount of life. With these two things in mind, you suddenly set forth on a quest to figure out which one of these takes the least steps/other cards to break in half, and now you are in the dirt, mucking around with awful cards like Restore Balance in a desperate attempt to break synergy or as some like to say it, "To screw your opponent right in the ***."
That sort of weird compulsion is exactly what it's like to be Greg Weiss, or Pat Chapin, or any of the great Japanese deckbuilders. I just thought you might want to know.
Rating: *
Dodecapod
I hated this card the first time around because it tempted you with promise but never freaking did enough. Decks that were going to be making you discard stuff were always ready with artifact removal or bounce, which kind of ruined the fun, you know what I mean? Okay sure, this is sort of like the weird first cousin to madness cards that no one really likes to hang around at family gatherings because all he wants to do is talk about what the optimal bugs to feed pet iguanas happen to be, and that's kinda cool, but not that cool, if you know what I mean. What I am trying to say is that Dodecapod and I had a relationship the first time around, and he just didn't give enough. This in turn makes me a little uncomfortable about flirting with him now that he's back in town, but you are welcome to try your luck and tell me how it goes.
Rating: **
Feldon's Cane
I used to think this was a harmless little card that seemed kind of cool in what it did for such a low mana cost. I later learned that, much like Enduring Renewal, in spite of looking harmless, Feldon's Cane is used almost exclusively for the power of evil, seeing competitive play mostly in dirty combo or lockdown decks. Gaea's Blessing typically does this job better.
Rating: **
Grinning Totem
Anyone get the sense that this is going to be used in a future Building on a Budget or House of Cards, perhaps in conjunction with Muse Vessel in a deck designed to utterly abuse opponents with their own cards?
Me neither.
Rating: *
Mindless Automaton
Automaton is a tough card to get used to in the beginning and one that newer players rarely seem to understand how to maximize, which is good because it's an utter smashing in draft. In Constructed it should be better than it was in the past, due to the fact that it's a madness enabler and a card that rewards the skilled, performing valuable resource conversion. Remember, though it starts out as an unimpressive 2/2 for four mana, it always replaces itself, and can get out of hand rapidly if you find the right synergies.
Rating: ***
Mirari
As we learned in 2003, Mirari can produce absurdly dominating decks, provided those decks can produce massive amounts of mana. What was interesting is that the two primary abusers of Mirari in Standard (Mono-Black Control and Mirari's Wake) used the orb for very different purposes. In new Standard, it's entirely conceivable that Mirari will once again power board control decks, but it's also possible that Mirari will herald the arrival of a new combo deck as well. Any time Early Harvest is hanging around looking for a home, you have to respect its combo power, and Mirari is fully capable of creating cheap copies of that spell and many more.
Rating: ***
Serrated Arrows
In much the way that Desert and Shadow Guildmage are primetime performers, Serrated Arrows is around to keep weenies in check, and has served that purpose admirably since Homelands debuted so many moons ago. While four mana may seem a heft price to pay for the effect, it gets around any notable protection, avoids creature removal and land destruction, and the effect delivers —1/-1 counters, meaning it's almost never completely useless and regeneration doesn't fix the problem.
Rating: ****
Tormod's Crypt
This card is clearly here to fix problems in Extended related to the dredge mechanic. That's a rather brute force solution to the issue, but one that when combined with Sudden Shock, should radically alter the landscape of the format for years to come.
Rating: ***
The Rack
I asked earlier in the review whether cards should get extra stars for synergy with Megrim and the answer was obviously no. The Rack has never lived up to the dominance of evil twin Black Vise, and Rack-like effects, though often played, rarely dominate formats. I think this will see some occasional use in the coming two years, but the inherent strategy involved in exploiting The Rack is not strong enough to merit additional stars.
Rating: **
War Barge
Despite any cute interactions with Merfolk Assassin, this effect isn't worth a card in Standard.
Rating: *
That's it for the review portion, kiddies. Check back tomorrow when I give you something a little different in the set review department and deliver a decklist for you to ponder this weekend.
Teddy Card Game
[email protected]