This year was a big one for Magic: the Gathering. 25 years? Amazing.
League of Legends has been around for nine years so far.
The original NES lasted eleven years.
World of Warcraft is fourteen years old this year.
Women have been playing basketball professionally in the WNBA for 21 years.
The kind of longevity Magic has enjoyed is remarkable to basically anyone
that has never played (since it doesn't take many games to see just how
impossibly vast of a world Magic takes you to).
Magic has a rich and fascinating history, and this past summer, I wrote a
series of articles discussing the top 25 cards of all-time for each color,
starting
here
. With Ravnica Allegiance preview season about to hit fast and
hard next week, I'd like to take this opportunity to look at the top 25
artifacts of all-time. Cards will be chosen based on both abstract power
level and contextual relevance. It's not just what are the best artifacts
in Vintage, but also, what are the artifacts that would be the strongest if
they were to reappear in Standard?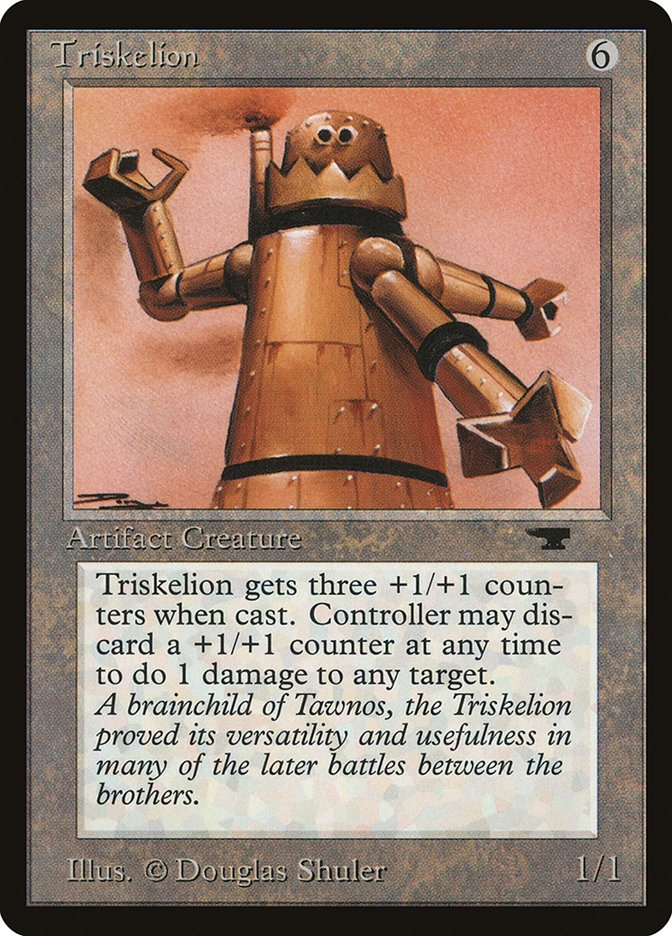 Triskelion might seem a little unassuming, but few cards in the game's
history have been considered "surprisingly good" in as many decades as
Triskelion. The card's secret is a combination of three factors:
Flexibility – It's a threat, removal, finishing reach, potential card
advantage, and with a zero-activation, gives you lots of options at all
times.
Color Pie Bleed – Regardless of what colors you're playing, Triskelion
gives you access to potent direct damage and a variety of angles of attack
traditionally only found in red and black. Not surprisingly, Triskelion has
seen the most play in green, blue, and especially, colorless decks, where
the novelty of its abilities is most appreciated.
Synergies – For such a simple card, Triskelion has a deceptively long
list of powerful synergies that make more out of the card than meets the
eye.

While Triskelion started showing up in decks the day it was originally
printed in Antiquities, thanks to Mishra's Workshop, that's not
enough to get it on this list.

What's next? I mean, are we really going to list every single Su-Chi, Slash
Panther, and former Extended banned card Juggernaut?

It wasn't just that you could Mana Drain out Triskelion and that it would
live through your The Abyss.

Triskelion shooting Ali from Cairo, Birds of Paradise, and opposing
Juggernauts was surprisingly relevant.

While Triskelion's reign as a straight up finisher waned with the release
of more cards, its combo potential only increased. For instance:




While GP Charlotte 2005 will forever be remembered as Dredge's true
breakout event, Kyle Goodman's Top 8 list was a nice one, featuring the
elegant Triskelion + Mephidross Vampire combo, permanently locking out
opposing creatures.

With Triskelion and Mephidross Vampire both on the table (which Tooth and
Nail conveniently arranges), every time your Triskelion uses a counter to
shoot a creature, it gets a +1/+1 counter, setting up the next shot. While
Kiki-Jiki and Darksteel Colossus would often be found to kill in one hit,
that's a risky approach against someone with removal. Kiki-Jiki and
Sundering Titan also made a great pair but could easily lose to an opponent
with a strong game state. Triskelion and Mephidross Vampire was the pairing
of choice for losing positions, since even against multiple removal spells,
you'd immediately be able to kill every opposing creature before it was
even possible to stop you.

Nowadays, Triskelion doesn't get paired with Mephidross Vampire in
competitive too often, but if you did want to revisit that synergy,
Mikaeus, the Unhallowed can be used as the other half of an even more
powerful combo. With Mikaeus, you can shoot the opponent, themselves, as
many times as you wish. Just keep using the last counter to have Triskelion
shoot itself. It will keep coming back with four +1/+1 counters, giving you
three extra shots before it needs to shoot itself again.

While Triskelion is super sweet in certain combo applications, don't get
the wrong idea… the card is just a straight-up banger.

Whether fueled by Urza lands, Goblin Welder, Survival of the Fittest, Spike
Feeder, Tinker, Cloudposts, Worn Powerstone, or Ancient Tomb, Triskelion
just keeps showing up and getting the job done.

Number 24 on our list has also appeared in no shortage of Tooth and Nail
decks, including above; however, Mindslaver also has a rich history as a
quasi-control card, frequently abused with cards like Goblin Welder,
Tinker, Academy Ruins, and Thirst for Knowledge.

Historically, there have been a lot of ways to get extra mileage out of
artifacts, so whenever an artifact has a particularly novel effect, it's
worth sitting up and taking notice.

For many years, Control Slaver was one of the pillars of Vintage, starting
with Kim Kluck of Team CAB debuting Control Slaver in 2003:




The proud Control Slaver tradition was carried on by many pilots, for many
years, most famously Brian DeMars and Rich Shay, with absurdly long lists
of Vintage tournament success with the archetype they were both famously
known for.

By the way, honorable mention to Tormod's Crypt. It doesn't quite crack the
top 25, but it sure does a big job for zero mana and for anyone that wants
it. This one is a classic and will likely continue to show up in sideboards
of any format it's legal in, as long as they keep printing graveyard cards
(which seems pretty likely).

Vedalken Shackles debuted during an odd period of Magic's history and
probably would have been totally crazy in Standard during most times.
Full-on Affinity was a pretty distorting influence, but even still,
Vedalken Shackles had a big impact.


Yeah, this was literally the playtest card we used when I was out
there.


While the Shackles did show up from time to time, ending a year-long
drought where blue was weirdly the worst color for basically the first time
ever; it was in Extended (and now Modern) where the card has actually
enjoyed the most success.




While Next Level Blue was hardly the first or last Vedalken Shackles deck,
I think it makes a great example, since historically, basically every
Vedalken Shackles deck is really about Vedalken Shackles, yet usually, some
other card or synergy gets the credit.

As we evolved Next Level Blue, we moved away from the Living Wish package
towards even more Control Magic effects.

Paul Cheon even went a step further, cutting the Sensei's Divining
Top/Counterbalance package, making room for Ancestral Vision and Force
Spike.

In many ways, this next step almost seemed a giant leap backwards, as
alluded to in his tongue-and-cheek naming of his version, "Previous Level
Blue."




The truth is, Magic strategy is often cyclical. If you're playing
Paper-Rock-Scissors, everyone knows Rock is the most popular, so level one
is playing Paper in order to beat Rock. The Next Level is playing Scissors
in order to beat all the people playing Paper. Sometimes, the level after
next, looks suspiciously like a tuned version of what people might have
played a couple levels ago (Rock).

Masticore was a revolutionary threat in Magic's history. You have to
remember, Urza's Destiny was long before Mirrodin block.
Masticore marked the first time the debatably best creature in Standard was
an artifact creature. Steel Golem was a notably strong artifact creature
threat in its day, but it's not like this was the best creature in Standard
or anything.

While Combo Winter was coming to a close, just as Masticore entered the
fray, it wasn't just the banning of more than a dozen cards that shook the
game to its very foundation. Masticore revolutionized the game, changing
the meaning of one-toughness creatures, artifact removal, discard, kill
conditions, and more. The card was so ubiquitous and so powerful, it really
defined what sorts of games could even be played (for better or for worse).

Masticore easily made the jump to Extended, particularly when used
alongside permission, artifact-heavy strategies, or Necropotence (who cares
about the discard?).




This pitch spell Necro deck, designed by one of the godfathers of Magic
strategy, Eric "edt" Taylor, made excellent use of Necropotence as a means
of offsetting the card discard requirements of Unmask, Contagion, Spinning
Darkness, and of course, Masticore.

Nowadays, every creature is just so good, but back then, if you were going
to pick a creature to win with, it was hard to do better than Masticore
(particularly in a format with Lightning Bolt).

You know what the most expensive card was in 1993? Yeah, you guessed it,
Gauntlet of Might (with Black Lotus, Shivan Dragon, and Royal Assassin
trailing close behind). By the time The Dark dropped, Black Lotus
had taken the top spot ($39), but Gauntlet of Might was still close ($30,
good for top five most expensive cards in the game).




While Gauntlet of Might was born in the wrong era for it to succeed, the
card is quite powerful and would be really strong if it were ever reprinted
(maybe as a 3R enchantment, since reserved list, bleh). Afterall, Mirari's
Wake was a big hit, and it cost five, instead of four.

Just imagine if Ming Xu had access to the card in the following list. Like,
I get that people can play artifact removal, or whatever, but they don't
always have it.




Besides, sometimes you just drop Gauntlet of Might and make the mana up
that turn from the other Mountains you tap, and that's to say nothing of
the impact it has this turn, for letting your Siege-Gang Commanders, or
whatever, dominate the battlefield.

They aren't ready…