Last week, I played Ravnica Allegiance Standard on Magic Arena.
Yeah, that's right! Last week!
Somehow, I got to play Constructed before Limited three days before my
local Ravnica Allegiance Prerelease event. I don't know what's
happening to Magic, but I love it! Oh, and I'm also writing this on a plane
as I head to Wizard of the Coast headquarters.
Someone wake me up because I must be dreaming!
This weekend, as most of you know, is SCG Indianaplolis and the return of
Standard Opens on the SCG Tour. I'm so unbelievably happy about this, but
sadly, I won't be able to compete myself. A long week away from home has me
needing to get back and make sure I've got all my ducks in row before the
upcoming Mythic Championship. After that event, my fiance' and I are
planning a move out to Seattle, an event that is both exciting but also
very time-consuming.
Okay yeah, I'm obviously dreaming now, because this is just too good to be
true!
Even though I won't be at SCG Indianapolis competing, that doesn't mean I
haven't been spending much of my time working on the format. It's not easy
to figure out Standard before the Prerelease even happens, and I'd venture
a guess that it's closer to impossible than we all think. I know Team Lotus
Box is working very hard at cracking the Standard code as that team has
their eye on the Players' Championship later this year. I'm excited to see
what they bring to the table, but I'd imagine it's not as spicy as their
tweets have been.
BANT Monsters is the deck you must check out and the Lotus
Boxers have the tech for you! #MTGRNA
https://t.co/Hn0qa3e44k

—
Team Lotus Box (@TeamLotusBox) January
21, 2019
My guess is someone will do well with a highly tuned version of Mono-Red
Aggro or Bant Nexus at SCG Indianapolis and feel very good about
themselves. But that's not really saying much, though, because for other
events we can all predict the metagame somewhat accurately, but who really
knows what will happen next weekend? Honestly? Anything can happen!
Brian Kibler could descend from the convention center rafters with
a perfect Temur Aggro list.
Austin Collins, the 15-year old phenom, might crack the Prime
Speaker Vannifar.
The possibilities from now until then are endless. It could just take one
article published on Friday for everything to change, leaving this article
completely outdated. It's the world we signed up for because it's the world
we love. Yay, a new Magic format!
Sure, you can try to predict what's going to be brought to Indianapolis
this weekend, but early on it's very chaotic. There are people just trying
new things out while others are trying to perfect last season's decks. On
top of all that, there's two extremely polarized strategies that both look
amazing. It's not easy to get it all figured out right off the bat, but we
can at least start laying down some of the ground rules of the format.
There's a very low chance something won't catch us by surprise, but at the
same time, there are decks we know will show up. Thus, we should be
prepared.
Rule #1: Don't fold to Mono-Red Aggro
Creatures (20)
Lands (20) The most common issue I've had with every deck I've tried is a poor
Mono-Red Aggro matchup. It's easy to forget about this deck, as it wasn't
that great by the end of Guilds of Ravnica Standard, but that's
because every deck was focused on making sure that was the case. Now we're
all back to testing new cards, and for whatever reason that meant we throw
the previous formats rules right out the window. No deck was more egregious
than my Temur Vannifar deck.
Creatures (34)
Lands (24) While there's a lot to unpack here, let's hold off doing so until I finish
my point: Mono-Red Aggro had a field day with this deck. Everything I cast
in the first two turns could be easily killed by Shock and if Mono-Red won
the die roll, it was way too easy for them to dictate the pace of the
entire game. This didn't mean I lost every game to Mono-Red, but I
knew this deck was built very poorly to beat it.
I did really like many of the cards in this Temur deck, though. I just
assumed Carnage Tyrant would sit on top of Ravager Wurm, and that still may
be the case, but it's much closer after playing with the card. Its
abilities are relevant, especially so in a deck that needs to play catch up
sometimes.
That's the big take away from my time with Temur. This color combination
rarely plays catch up well. I assumed this deck would lose far too many
games when it started on the backfoot, but the opposite happened. The deck
is filled with cards that can help catch up when behind. Rekindling Mage,
Siege-Gang Commander, Ravager Wurm, and even some of the utility creatures
did an excellent job catching me back up from even the quickest of starts
by my opponents. I really believe there's something here, but I personally
haven't figured it out yet. Due to that, it's not a deck I would suggest
unless your list is more evolved than mine.
---
---
Back to Mono-Red briefly, the deck is going to be very popular this weekend
in Indianapolis. It did get some new cards yes, but it's also common for
players to pick up linear strategies like this on week one. And in all
honesty, it's smart to do so. Playing an untuned midrange deck is a risky
decision week one, especially when you put yourself in the middle of
Mono-Red and control decks centered around Teferi, Hero of Dominaria. I
didn't mind doing that last season, but it was only after I truly
understood every deck in the metagame.
Whatever you do, make sure you're not behind against Mono-Red. While I
don't think the deck will end up being that great, I do expect it to
overperform week one while decks are still being developed.
Rule #2: Don't Ignore Golgari Midrange
Creatures (26)
Planeswalkers (3)
Lands (24)
Spells (7) I can imagine your surprise – the man who maybe loves midrange a little too
much is telling you to respect last month's hotness. In my defense, these
rules aren't in order of importance. I merely placed this rule here so I
didn't have to post my Temur Vannifar list again! That said, another issue
I kept running into with Temur Vannifar was that I couldn't break through
against Golgari Midrange. It wasn't one specific reason why they were
beating me; it was just that they could grind more than I could.
For example, I really started to like Growth-Chamber Guardian, especially
against control decks alongside a set of Negates because, really, that's
all you need to beat a control deck. After they performed so well there, I
assumed they would have some impact on a game against Golgari Midrange, but
that just wasn't the case. I would load up the battlefield, but either
Wildgrowth Walker or Finality would eventually keep them from impacting the
game. In all honesty, I found it very difficult to deal damage to Golgari
with Temur strategies outside of an interesting "meme strategy."
This combo is absolutely real, but I didn't get enough time to find the
perfect home for it and it's going to take a lot of work to find a proper
sideboard for a strategy that wants this maindeck. We need to find a deck
that doesn't want to maindeck many non-creature spells to support Nikya of
the Old Way, but also have enough ways to interact with a game of Magic. On
top of that, we need to understand sideboard plans very well so we know how
to sideboard against certain matchups. I believe it will take me a long
time to solve this problem, but I know it's one that I'm excited about.
Back to Golgari Midrange though, I don't think it's a bad choice for the
weekend. I wouldn't have said that two days ago, but I've really been
struggling against the deck on Arena (I've lost quite a bit to it with
almost everything I'm playing). I think it's another strategy that won't be
great in the long run but shouldn't be a bad call if you don't know what to
play for the weekend.
Rule #3: Have a Plan for Bant Nexus
Creatures (1)
Planeswalkers (5)
Lands (25) I really don't know what to expect to come out of next weekend, and I'm
pretty sure others feel the same. That's why I predict this deck to be
highly played by the SCG Tour regulars because it's a great strategy until
the entire metagame attacks it. The new set has shaken Standard up, so many
of the new strategies won't be fleshed out well enough for the matchup.
There's also the possibility that Growth Spiral and Wilderness Reclamation
improve the deck so much that people won't even have enough hate for the
matchup. Trust me – it's not difficult to underestimate a strategy like
this, and this deck's top draws are completely absurd and almost as absurd
as the perfect Mono-Red Aggro curve.
I wish I had the best answer for you on how to approach Bant Nexus, but we
will just have to wait to see what the best version of this deck is first.
Once we have that, we can begin work on the antidote. As for how to build
it, I won't be indulging in that practice because I dislike this deck a
lot. It's not fun to play against and seems way too powerful for Standard.
I'll pick it up if I absolutely must, but only after I've exhausted all
other options.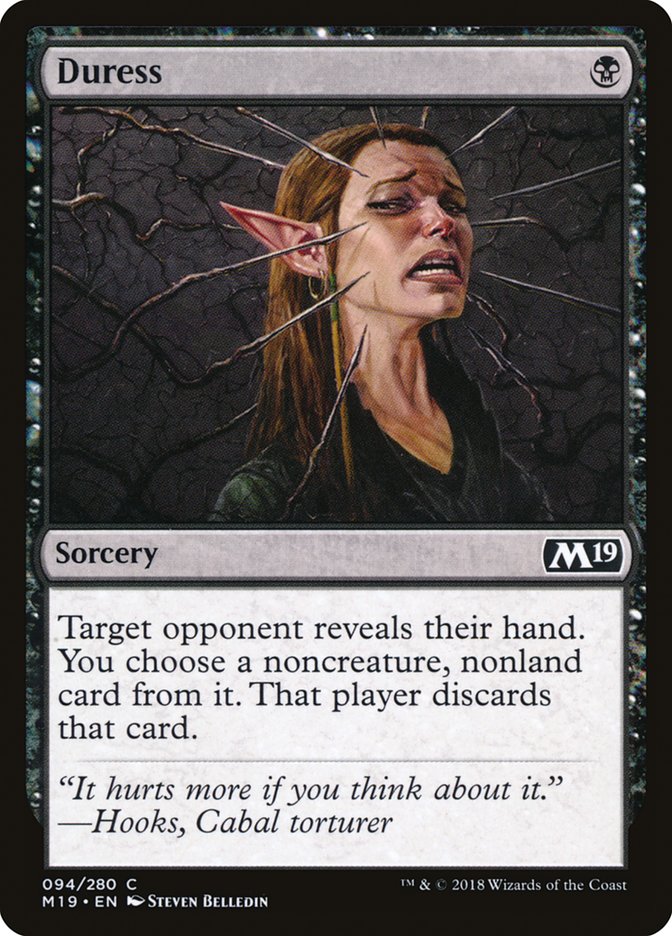 It looks like I've exhausted all other options….
Now we're moving onto my biggest goal with Ravnica Allegiance
Standard. Right now, I'd most likely play one of the top three decks if I
were heading to SCG Indianapolis this weekend, but I say this without
putting a weeks' worth of testing into the tournament. Knowing me, I'd
spend at least a couple days trying to find the best home for Judith, the
Scourge Diva.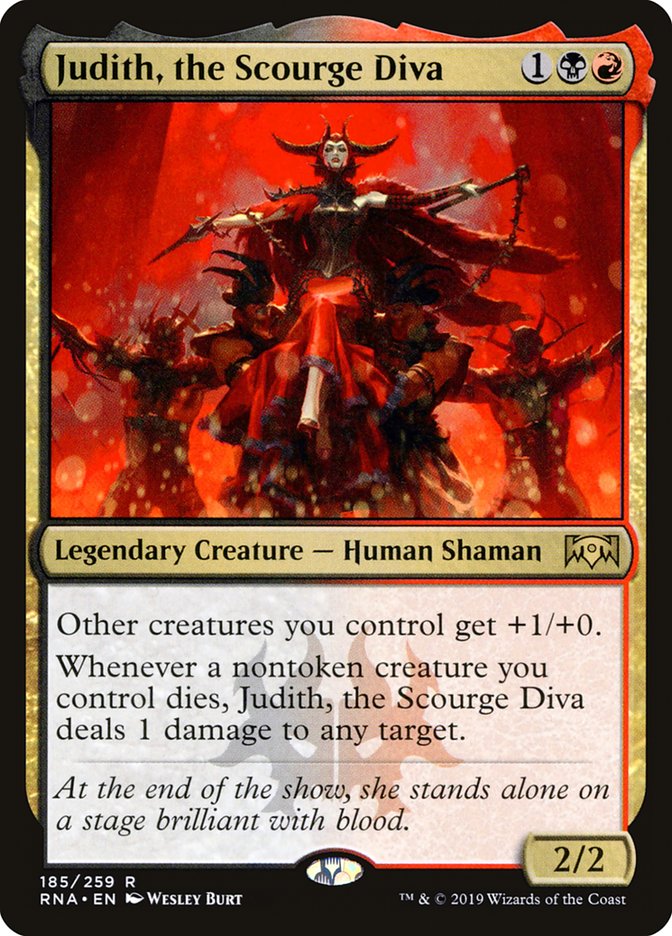 I absolutely love Judith, but I'm still unsure what to do with her. I could
see the answer being in a more token-based deck with Priest of Forgotten
Gods, but I'm just not sure those style decks will be good in a format
filled with Llanowar Elves and Teferi, Hero of Dominaria. That's why I've
been working on this deck to begrudgingly medium results thus far.
Creatures (25)
Lands (25) We've seen Knight of Malice and Knight of Grace strategies in the past, but
not having access to the Orzhov Syndicate really put a damper on the
strategy. Now that we have access to all the guilds, this strategy should
be explored once again. These Knights can be very powerful with History of
Benalia, but now there's also Judith to help pump these two-drops up.
Four-power first strike creatures are very good in Standard and is
something I'm interested in working on, especially when Judith can be
paired with Aurelia to make sure we're dealing as much damage as possible
in the early turns.
Sadly, though, this deck has struggled against Mono-Red when they're on the
play and Golgari Midrange, given how good that deck is against
strategies like this. Also, the damage output isn't that great against my
limited Bant Nexus testing. All in all the deck hasn't performed well
enough for me to give it my stamp of approval, but at the same time, hasn't
performed so poorly that I must keep it out of this article. I'll most
likely go back to working on strategies like this next week when I get back
from my stay in Seattle.
Goal #2: Be the best I can be for this game
I've concluded all the strategy content for the day, but I'm not ready to
go just yet. I'm wrapping this article up from the lobby of a hotel room,
and while this isn't the first time – in fact, I've done this many times
before – this time it's a little different. As I look out the window, I can
see a giant Wizards of the Coast sign as I'm right across the street from
Magic's headquarters. Tomorrow, I head there to start the Magic Pro League
Boot Camp. I can't say what's going to happen, but I can say this is a
special time to be a Magic player.
For the past three weeks I've begun streaming regularly, and the experience
couldn't be better. The community is amazing, friendly, and inviting. It
just feels like everyone wants the best for our game, and I'm now in a
position to help make that happen. While I don't have much power, I do have
a voice and plan to use it for the betterment of the game we all love. I
truly think 2019 is going to be an amazing year for this game and I am
excited to be a part of it!
I'll see you all this weekend over at twitch.tv/SCGTour where, just
like everyone else, I'll be watching all the coverage of SCG Indianapolis.
I can't wait to see what the SCG Tour's finest bring to the table!