On we go with the rest of the set. Two more colors today, using the same system and ranking we all know and love. Remember, I am not doing all the cards this time… just the ones that are worth mentioning.
Constructed: 2
Limited: 3
Best use for this card: Limited creature.
This guy is not exciting enough, compared to hits like Yukora the Prisoner and Rumbling Slum. You pay through the nose to keep him around, and he only gets on par the third turn he is in play. You hardly see Yukora around anyway, so I wouldn't expect this guy to show up. In Limited this is a good creature that should close down the game soon enough, but I am reluctant to rate creatures with cumulative upkeep very high.
Constructed: 2
Limited: 3
Best use for this card: Limited removal
In this Limited format, this card is suprisingly useful, despite there being an infinite amount of snow creatures around. There's still a bunch of non-snow creatures that can be a problem, especially rares. This is what you want in your removal spells — the abilityt to deal with problems. However, understand that against some decks this will not have enough targets, and therefore should be boarded out. In Constructed this has to fight cards like Mortify and Putrefy, and even Wrecking Ball. Forget it.
Constructed: 5
Limited: 4
Best use for this card: Sideboard.
This is on par with the best removal spell in the game. One mana to kill a guy hasn't been possible since Swords to Plowshares left, and that means that no matter what you are playing, if you can produce Black and expect Green or White creatures, put this in the board. In Limited you can almost always maindeck this; heck, I played three main once, and most decks will have targets. It's good enough to play, even if it will sometimes be a blank.
Constructed: 1
Limited: 4
Best use for this card: the new pinger is black!
A 3/1 for 4 will never see play in Constructed, even though it is quite versatile. In Limited this is a pinger until you need to kill that big guy… and then it does just that. It even hits for three if there is nothing else to do. An awesome creature.
Constructed: 1
Limited: 2
Best use for this card: sideboard card for Limited.
Board this in if they have a bunch of pingers or tappers, but in general the one damage this deals as standard will do not that much. Of course, this gets better the more you get… but still, the fact that it is a sorcery that doesn't always do anything means I will try and keep it in the board as often as possible. In Constructed you can only play 4, making it a bad Sicken…
Constructed: 4
Limited: 5
Best use for this card: Damage on the stack, kill your guy.
An almost strictly better Dark Banishing, this guy gives you versatile removal that you can recur if you want to… but you don't have to. The thing that sets it apart is its ability to go two-for-one, as well as the ability to swing when you want to. Great card. In Limited you get to do all of this even more often, making it even stronger for the forty-card game.
Constructed: 4
Limited: 1
Best use for this card: With discard effects of course.
Creatures that can come back are always going to be at a premium, and this guy is very good at what he does. His "knight returning" ability will often do nothing, and he will not be great as a Nether Spirit kind of roadblock (you take two each time you chump), but in a midrange deck with Compulsive Research, or in a Rakdos deck with Rakdos Guildmage, Avatar of Discord, or Delirium Skeins, this will be awesome. He is asking for a deck to be built around him. In Limited, never play this. He will sit in your hand, staring at you.
Constructed: 1
Limited: 3
Best use for this card: Limited finisher
This card is pretty slow, and as far as late-game fatties go, he isn't the most exciting. In Limited he makes your opponent chump block until he runs out of lands, then he dies. Add to that the fact that he doesn't even deal a lot of damage the first time he can attack, and you have a fatty that survives for a turn or two when he is good, and then leaves. Now, if you got to keep the lands…. In Constructed this is the same, except he just gets killed.
Constructed: 3
Limited: 1
Best use for this card: Board against Ichorid in the mirror.
I remember when Carrion Beetles were around, and against the right deck they were an excellent sideboard card. This guy does essentially the same thing, but a little better, and should be nuts in Ichorid mirror matches. In draft, even though there's a bunch of recover spells around, this will be too cumbersome, or it'll appear at the wrong time.
Constructed: 1
Limited: 4
Best use for this card: Winning Limited games.
This guy is going to be unblockable 95% of the time, and that means he is a great creature in Limited (past turn 5 or so). He is also a Junun Efreet for Constructed, which is not quite good enough. The 3/3 for three isn't that exciting… but add the upkeep, and you have a creature that doesn't make the grade.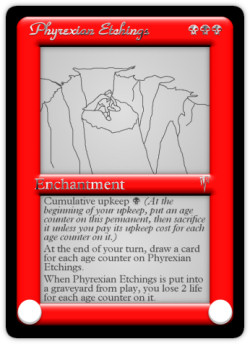 Constructed: 2 or 3
Limited: 2
Best use for this card: A very very poor man's Phyrexian Arena.
It looks like Phyrexian Arena, which is just strictly superior to this card in so many ways, is going to be legal for a long time, so I don't see this card ever making Constructed. It is ridiculously slow, it uses your mana so you can't cast the extra cards you are drawing, and threatens to kill you faster than Arena ever will. It is still a card-drawing mechanism, and as such isn't awful, but c'mon… at this speed, you are better off playing Jaemdaye Tome.
Constructed: 3
Limited: 3
Best use for this card: Mono-Snow Control.
In the quest for decent snow permanents for a snow control deck, this is one of the few that shines through for Constructed. He is costed very efficiently, and has a great ability that is costed right. As a non-snow creature this guy would be costed at two, which means that adding snow has cut its cost in half. That is usaully enough to make something Constructed viable. In Limited this is a nice early beater as well as a great roadblock for all those scary fatties. I love this guy and I'll play him every time my manabase can handle him. (Read – enough Snow mana).
Constructed: 2
Limited: 4
Best use for this card: Necro.
Now we are getting somehwere! This card seems like it is pretty good, despite it not being close to Fireblast (which it seems to be compared to a lot). If played in a Mono-Black deck with 4 Dark Confidants and some Phyrexian Arenas, the cards won't be a problem, and you only need to worry about hitting it with your Bob. That doesn't stop people from playing Hit/Run, so this could see play. I am still not really sure how many of these "pitch cards" you can play before they clog your hand, as they are all insane card disadvantage, but this one has possibilty. In Limited this is just a seven-mana removal spell, and a pretty good one at that.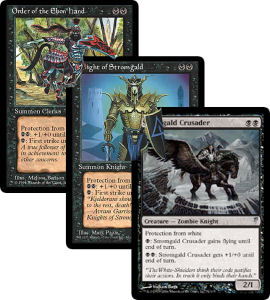 Constructed: 4
Limited: 4
Best use for this card: Black Weenie.
I already covered his White brother last time, and the same goes for this guy. As efficient as a guy is ever going to be.
Constructed: 1
Limited: 3
Best use for this card: Draft as many as you can.
Read my rant about ripple later this week, in the fourth article… if you dare. This card is very good if you have six or more, and completely random if you have less. I hate this mechanic.
Constructed: 2
Limited: 5
Best use for this card: Limited bomb.
This guy is insane in Limited, since you are guaranteed to see creatures dying at some point. Once they start blocking and chumping, this gets even more out of hand. First pick it every time. In Constructed this doesn't come close to a dragon or anything. There's just better stuff around.
Constructed: 1
Limited: 3
Best use for this card: a combat trick in a format with very few tricks.
This would normally be a very unexciting card, as Howl From Beyond style tricks tend to be poor. Sure, it can win you the game in complete Fireball style if you have a creature to force through, but if you don't, or it's early in the game, you're screwed. The fact that this card is a cantrip though is pretty much its savijng grace, as that means that if you use it as a combat trick (which this format is very light in) then you don't lose cards. In Constrcuted you can simply play as many Blazes and Demonfires as you want. Those cards are far better than this.
Constructed: 1
Limited: 2
Best use for this card: Confusing your opponent. And yourself.
Now, don't get me wrong, I understand what this card does. But only barely, and only after a bunch of reads. A 3/2 with a medicore ability will never be Constructed playable, but even in Limited – where there are a lot of Hill Giants available – this guy's ability will never come up as something very exciting. Maybe if you have a bunch of Ophidians you would like to force through… I guess.
Constructed: 2
Limited: 1
Best use for this card: Cumulative upkeep decks much….??
This card is interesting in the sense that it actually gives you something as an upkeep instead of taking it away, making it one of the first cards ever to have a positive cumulative upkeep. Of course, it often results you into manaburning a lot, so you need to really build your deck around it. I guess a burn deck can use this and cheat a lot on lands, or a deck that wants to pay a lot of upkeeps can also run this, but I don't think those decks exist to warrant wasting a card.
Constructed: 3
Limited: 2
Best use for this card: Sideboard hate.
Another one of those new-style color hosers, and while this is fine, and three damage might come in handy… it's still just a Stone Rain. Not exciting by any means. Boarding extra Stone Rains in a land destruction/Ponza/Fujita style Boros deck might be good, and then this thing will be on top of the list. Not for every deck though, as you don't really board Stone Rains… do you?
Constructed: 3
Limited: 4
Best use for this card: RG beats.
For Limited this could get out of hand quickly, and therefore it is a very good card. Even for Constructed, it is a 3/3 the first time it attacks, and it gets to be something they need to deal with very quickly. Of course, as soon as they do, your mana is free again, making it a fine guy. Right now the competition is steep for its spot, with great guys all round, but who knows in the future. He is not bad by himself.
Constructed: 1
Limited: 2

Best use for this card: Those decks that need more Relentless Assaults.
And those decks would be? Yeah, I don't know either. I definitely couldn't see myself ever paying the alternative casting cost. In Limited, to attack again can win you the game… but most of the time this will be completely useless, and I don't like running useless cards.
Constructed: 2
Limited: 3 to 4
Best use for this card: Very nice Limited creature.
I only included this guy in the list because I am kinda in love with him. He looks like a dork with a fairly mediocre ability, but in reality he creates a lot of very good race opportunities for you, and he wins games by himself. The haste is just gravy, but it does come in handy lots of times, and I have already won many a Limited game thanks to this guy alone. He could even be okay in Constructed, against decks with those nasty dragons… but probably not.
Constructed: 1
Limited: 2
Best use for this card: The "flip a coin" deck.
Yeah, because that is what this format needed more of – random elements. As soon as you play this guy and leave him in play, you put yourself in the position to win or lose games based purely on winning flips. Nice if that is the only way you will plan on winning, but not if you feel you don't want to risk it all on Jose Barbero-style escapades. I could see boarding this in against decks with a lot of one-toughness tappers and pingers, especially when you have nothing of your own, but I won't be picking it high any time soon. At least you get a 3/3 guy, I guess.
Constructed: 3
Limited: 4
Best use for this card: Life From The Loam decks.
I see this card come around the table a lot in drafts, and I really have no clue why. This card is a spectacular Limited spell, and one of the best uncommons in the format. You control when to play it, and can easily set it up to always have a huge advantage. In Constructed this is a poor man's Seismic Assault, but it works much the same way with cards like Life From The Loam, albeit a little less effective. I don't think this is enough to get the great CAL deck in Standard, but it's another step in the right direction, that's for sure.
Constructed: 1
Limited: 2
Best use for this card: Kill the one-toughness guys.
If your opponent has s slow deck with a lot of utility men, this can be a gamebreaker. But if you are racing, and trying to develop a board fast, this card is bad. That means it is a sideboard card for Limited, and it falls well out of Constructed range. Another one of those cards that looks so much better than it is.
Constructed: 3
Limited: 4
Best use for this card: Red control.
This guy is interesting, because the other Martyrs are mediocre picks… and people tend to pass this guy along in drafts, too. This card is an Earthquake, and depending on how many Red cards you have in the deck, it becomes an actual Savage Twister-like card most of the time. That makes this a card that should be picked a lot higher than where he is picked now. It's a small common bomb. In Constructed, you can add him to your Mono-Red deck and make this an excellent board clearer, and a fine addition if you need the Earthquake effect. Pyroclasm is good, and this card can be better!
Constructed: 3
Limited: 5
Best use for this card: Being the Dragon Ryusi never was.
Mike Flores loves to say how seven is the new six, and he is right. This guy is another in a long string of finishers that will see a lot of play as soon as the Kamigawa dragons leave the field. Not only is the Icy-like effect pretty good versus other big guys, but the Stasis effect definetely pushes it over the top. In Limited, this is the best ever. Glare was insane, and this is the same.
Constructed: 4
Limited: 5
Best use for this card: Monosnow control.
For one mana we get another amazing removal spell… if we are playing enough snow. For Limited there are a bunch of snow permanents, and this will always kill everything if you paid anough attention to drafting snow lands. It works at instant speed, which makes it the best removal spell in the set. In Constructed, spells that only burn creatures and not players usually arent very good, but any creature kill spell that can kill almost any guy for one mana is just too good. Of course, it is only playable if the snow deck works out and there are enough targets.
Constructed: 4
Limited: 4
Best use for this card: Flametongue Kavu is back…
Sure, it's a lot worse, and sure, it only kills 2/3s or weaker, but it's still the best 187 creature we have had in a while. The bounce ability will not be much of a factor because, at sorcery speed, it's slow and cumbersome. It might be a factor in Limited, if the amazing 3/3 body doesn't get you through. In Constructed it will be played for quite a while to come, killing all the knights and Bobs.
Constructed: 3
Limited: 4
Best use for this card: Ripple done right.
This is what ripple should have been. Instead of putting it on very unspectacular cards that would be very late picks without the ability, this is a card that will get pick regardless of its ripple nature. Consequently, this will keep it in check. A solid removal spell with a slight shot at being a little bit better, so a high pick in Limited. In Constructed, this will never be good enough. Heck, Incinerate is rotating back soon!
…
That's it for this part, and as you might have started noticing, this set is not very exciting. I like Red as a Limited color – to me it is clearly the best in the block – and the snow mechanic is almost interesting, but this set begs for other sets like it to act in complement. Of course, nothing like that will ever occur.
Next up I'll take a look at Green, and after that, a little round-up article.
Jeroen
[email protected]