SCG Con Winter 2018 is happening this weekend, and despite the world's best
efforts to keep me away, I'll be there. You can find me most of Friday
through Sunday in the Command Zone, playing the 100-card decks with as many
people as we can manage-including, at times, Danny West. I'm also doing the
Commander Panel at noon on Sunday, alongside luminaries Gavin Verhey and
Bennie Smith. Jeremy Noell
(the most appropriately-named person in Magic for the holiday season) is
still collecting questions, so if you have something you've always wanted
to know about the format, tell him all about it.
I haven't played in a while, so I'm itching to get out there and sling
spells. When I came to the previous SCG CON, I thought that I'd play in
fewer games than I actually did. This time, I'll come loaded for bear. Last
time, I brought these decks: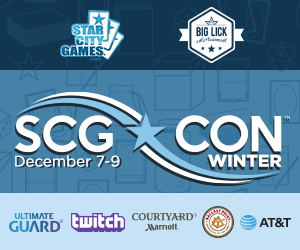 Purple Hippos and Maro Sorcerers


Borrowing Stuff at Cutlass Point

I also left home the pile of commanders that went with them (I have them
stored in top loaders so they're easy to find). The SCG team scrambled the
first morning to get copies of all of them for me, taking them away from
the vital task of serving the real customers; I won't make that mistake a
second time. I don't necessarily want to duplicate too much effort, but
there are some decks that have to come with me. Here's what's definitely
going to be in the bag, the current list, and some of the deck's features.
The first three were snap calls. The others needed some thought, as I
wanted to make sure I had some diversity going.
Creatures (29)
Lands (38) Commander 2018
Updates:
In:
Estrid's Invocation, Ever-Watching Threshold, Myth Unbound
Out:
Icy Blast, Maro, Sea Gate Oracle
Guilds of Ravnica
Updates: None
The flagship deck of the format, Phelddagrif must always come to events.
This particular instantiation of everyone's favorite purple hippo is all
about, as the title says, Maro Sorcerers, which means it's all about
drawing cards and then the occasional beatdown with the ever-larger
creatures. The deck features a modicum of control elements; it's tough to
be in blue and white without them. It also features a few surprise and
hidden gem cards. If you're a long-time reader you'll know how much I'm in
love with Keep Watch and Equal Treatment. If you're not, I have a thing for
Keep Watch and Equal Treatment. Keep Watch can get played on anyone's
combat step, but I've used it most effectively in the past to draw answers
to someone else attacking me. Equal Treatment is the card that everyone
should play. One, it's a nice message. Two, it will keep you from getting
killed by numerous things. I've even used it offensively once or twice, to
have a number of creatures which were only going to deal one damage double
their output. Using it like that is really only useful in a situation which
you'll kill someone, and it's a huge surprise-especially since the
situations don't come along all that often.
Creatures (34)
Planeswalkers (1)
Lands (37) Commander 2018
Updates: None
Guilds of Ravnica
Updates: None
Another signature deck, this is one that I play far too little. I get the
feeling sometimes that I've played it too much in the past, which leads to
some entropic logic loop of the deck not getting played at all. Well, it's
coming with me, and people are getting stuff flung at their faces. I'd
really like for it to be more like its name and get into the red zone more
often. Kresh loves to battle, but the killing via spells or Stalking
Vengeance triggers ends up being loads easier. The deck really isn't going
to surprise you all that much, although like nearly every deck I have, it
contains at least one Fog effect; this one is the marvelous Tangle. It's
pretty aggressive and offensive. It's not likely to kill fast, but it will
kill big. Triple digits to the dome are not unheard-of. It's the
deck that I might want to play most often over the weekend, just for
nostaglia's sake. The best nostalgic moment would be to kill someone with
Anathemancer-one of those cards that's not that great until someone gets
greedy, in this case with nonbasic lands. I also haven't gotten to play
Regal Behemoth enough. Games in which there is a monarch are always very
exciting to me, since they change a small piece of the dynamic. Plus,
cards!
Creatures (13)
Planeswalkers (3)
Lands (37) Commander 2018
Updates:
In:
Magus of the Balance, Coveted Jewel
Out:
Flameblade Angel, Mimic Vat
Guilds of Ravnica
Updates:
In:
Truefire Captain
Out:
Kheru Spellsnatcher
This is the deck which has created some of the wildest memories in all my
days playing Commander. It was several years ago now, while at GenCon, that
ally (we were playing in a five-player star format game) Eric Klug (the
finest of all alter artists) decided to activate Heartless Hidetsugu, even
though it would hurt is friends.
The irony of Ruhan commanding this deck is that he doesn't do much thinking
at all, he just gets in there. This is a very thinky deck and you have to
make sure you plan your moves accordingly. Often, it's about not pulling
the trigger too soon on the spells. Obviously, if you have the
Sunforger/Mistveil Plains engine going, you can be a little more carefree.
I keep threatening to take the Sunforger package out of the deck, but it
gives a great deal of flexibility to a deck which essentially does nothing
unless other people are trying to do broken things. Sure, it might
occasionally get in a lucky Ruhan commander damage kill, but since he
doesn't have evasion and there's not really any in the deck besides Rogue's
Passage, it's a quite rare occurrence. The heart of the deck is
Parallectric Feedback, which hurts you in proportion to whatever silly
thing you try to do. One of the first times I ever played the deck, I got
to use it on the card that was probably in the back of my mind while I was
brewing: Exsanguinate. Somebody did the Cabal Coffers/Urborg, Tomb of
Yawgmoth thing, and there may have been some untapping too. There was 50+
mana involved. They got what was coming. If you play against this deck,
just sit there. I swear nothing bad will happen.
Creatures (37)
Planeswalkers (2)
Lands (38) Commander 2018
Updates: None
Guilds of Ravnica
Updates: None
The polar opposite of Ruhan, Saskia really gets in there, and somewhat
quickly. The deck is chock full of some of my favorite cards, like
Seedguide Ash, Puppeteer Clique, and Karametra, God of the Harvest. Two
older cards provide some surprises. The first is Cauldron Dance, which
during combat lets you put a card from your graveyard and one from your
hand onto the battlefield. During the next end step, the ones still around
swap places-the graveyard card goes to your hand and the hand card ends up
in the yard. You can use the card offensively, since it gives the creatures
haste, or you can use it defensively in some kind of big blowout. Getting
to regrow the Sun Titan that someone (justifiably) blew up or the Karmic
Guide which we didn't pay the echo on has additional beneficial effects.
The other old card which really gets me going is Mercadia's Downfall. While
you probably want to use it during our own combat, there's nothing that
says we can't use it during someone else's. It's a much bigger surprise,
and clearly you get style points along with the point for the kill should
the extra damage make the difference.
Creatures (26)
Planeswalkers (2)
Lands (36) Commander 2018
Updates:
In:
Ravenous Slime
Out:

Scrabbling Claws
Guilds of Ravnica
Updates:
In:
Omnispell Adept
Out:
Riftsweeper
I want to bring along an alt-win condition deck, and nothing does it like
one of the original Commander cards, The Mimeoplasm. It all started as a
mill deck to enable the commander to grow stuff out of the graveyard, and
metamorphosed into primarily focusing on the milling. Of course, things
like Eldrazi such as Kozilek, Butcher of Truth or Ulamog, the Infinite Gyre
can ruin that plan, but it's a small price to pay. Plus, there are still
definite normal win conditions like a huge Consuming Aberration or The
Mimeoplasm copying something spicy. I think I really just want to play the
deck so that I can cast Villainous Wealth, the not-as-good Genesis Wave.
When I built this deck there weren't four color commanders yet, so it was
really the only deck to put Villainous Wealth into-and it's a card you
really want to play. There's also a mini-theme with Spiders, to include
Ishkanah, Grafwidow, as suggested by friend of the show Brian
David-Marshall, although he doesn't like johnny-come-lately Spider cards
like Arachnogenesis.
I'll be bringing a sixth deck, but I'll keep that one secret for now. The
spread of decks should yield some very good times. I'll be in the Command
Zone from roughly 9am to 7pm Friday and Saturday; I'm not sure yet how
early we're ending Sunday, but rest assured I'll squeeze in as many games
as is possible. Here's hoping we see you there.
Question of the Week


This week's question comes from Kemev on the

official Commander forums

:

How often do you build a new deck from scratch? When you do, how long
does it take you to build and then tune? Do you use EDHrec or any other
deck-list suggester tool?

Unless I get an out-of-the-blue inspiration (by which I mean stealing whole
hog from a really cool idea I saw someone else roll out in person, like the
last time I was at #SCGCon), I limit myself to new decks as suggested by
cards from recent sets. Every set has more potential cool commanders than I
can put together. My primary focus is using new cards to update existing
decks, but some of those new commanders are undeniable. Relatively
recently, that's been with Gishath, Sun's Avatar for

Angry, Angry Dinos

and Admiral Beckett Brass for

Borrowing Stuff at Cutlass Point

. The very cool new cards generally obviate thoughts of putting together a
new deck with older cards, because there's only so much time in the day.
The only tool I use when building is Scryfall and that's
mostly to look up cards that I struggle to remember the name of. I know
what the staple cards are, so I know how to avoid them if that's important
for the particular build. I'll also use it to do searches on keyword or
other abilities, phrases, tribes, or conditions if that's warranted. I
usually have about a 2/3 idea of what's going into the deck from the
get-go; the rest is just fitting into the theme.
Check out our comprehensive Deck List Database for lists of all my decks:
SIGNATURE DECKS






Purple Hippos and Maro Sorcerers


;


Kresh Into the Red Zone


;


Halloween with Karador


;


Dreaming of Intet


;


You Did This to Yourself


.
Mono-Color



Heliod, God of Enchantments


;


Thassa, God of Merfolk


;


Erebos and the Halls Of The Dead


;


Forge of Purphoros


;


Nylea of the Woodland Realm


;


Karn


Evil No. 9.
Guilds







Lavinia Blinks


;


Obzedat, Ghost Killer


;


Aurelia Goes to War


;


Trostani and Her Angels


;


Lazav, Shapeshifting Mastermind


;


Zegana and a Dice Bag


;


Rakdos Reimagined


;


Glissa, Glissa


;


Ruric Thar and His Beastly Fight Club


;


Gisa and Geralf Together Forever


.
Shards and Wedges










Adun's Toolbox


;


Angry, Angry Dinos


;


Animar's Swarm


;


Borrowing Stuff at Cutlass Point


;


Ikra and Kydele


;


Karrthus, Who Rains Fire From The Sky


;


Demons of Kaalia


;


Merieke's Esper Dragons


;


Nath of the Value Leaf


;


Queen Marchesa, Long May She Reign


;


Queen Marchesa's Knights


;


Rith's Tokens


;


The Mill-Meoplasm


;


The Altar of Thraximundar


;


The Threat of Yasova


;


Zombies of Tresserhorn


.
Four Color



Yidris: Money for Nothing, Cards for Free


;


Saskia Unyielding


;


Breya Reshaped


;


Yidris Rotisserie Draft Deck


.
Five-Color
Partners




Tana and Kydele


;


Kynaios and Tiro


;


Ikra and Kydele


.



Adun Oakenshield Do-Over


;


Animar Do-Over


;


Glissa Do-Over


;


Karador Do-Over


;


Karador Version 3


;


Karrthus Do-Over


;


Kresh Do-Over


;


Steam-Powered Merieke


Do-Over;


Lord of Tresserhorn Do-Over


;


Mimeoplasm Do-Over


;


Phelddagrif Do-Over


;


Rith Do-Over


;


Ruhan Do-Over


.
If you'd like to follow the adventures of my Monday Night RPG group (in a
campaign that's been alive since 1987) which is just beginning the saga The Lost Cities of Nevinor, ask for an invitation to the Facebook
group "Sheldon Menery's
Monday Night Gamers."