Hello everybody and welcome to the 2015 Players' Championship details! Today we're going to go over last year's event, some issues and concerns that were raised, and how we'd like to
address them for this years' event.
The 2014 Players' Championship

16 players entered. One Brad Nelson reigned supreme.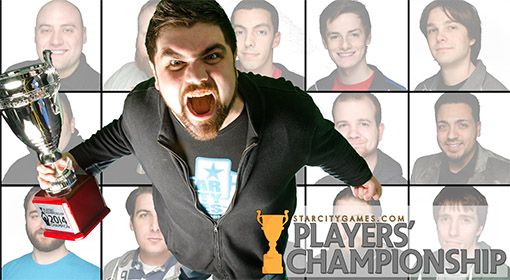 With big-name players, two full days of exciting Magic, high stakes, great games, big drama, and thousands of viewers, it was a great way to kick off our
flagship event.
With that said, we're hardly ones to rest on our laurels. Even as the event was in progress, we were thinking about how to improve it for 2015 and wish to
thank the community for their feedback as well. Now we want to share our plan with you. First, let's review some of the highs and lows from the 2014
Players' Championship.
What We Felt Went Right

Random Pod Placement
Using a random method live on-air to place players in their 4-player pods was really fun and exciting. While we will do some slight alterations to how it
works this year, we will still be using a "random drawing" setup to populate initial brackets.
Every Match Matters
There was some concern that coverage was occasionally a bit skewed towards those who were in danger of being knocked out of the tournament, but there was
no denying that every match, even every game, mattered. One of the main pieces of feedback that we received from players was how incredibly exciting the
event was to play in and how much they wanted to make it back. We were pleased with how this drama and excitement played out on the broadcast.
Nonstop Magic
With little commercial interruption, there was continuous high-stakes Magic on camera and some really great play all through Saturday and Sunday until the
broadcast day was over. We felt the entire production crew along with Cedric, Patrick, and Matthias did a terrific job at keeping the pace up and things
moving.
What We Believe We Could Improve

Defending the Title
As the inaugural event, inviting the previous year's winner to next years' event was something that wasn't relevant in 2014 and was overlooked going into
the event. We rectified this shortly after the first Players' Championship and don't expect to deviate from it going forward. Good luck to Brad Nelson in
this year's upcoming event!
Early Knockouts
It is understandably frustrating to play in only four rounds before you are knocked out of the event. We've noted and addressed that. With sixteen players
there is no perfect setup, and some players will inevitably be knocked out earlier than others. But this year we will be bringing twelve players into Day 2
instead of just eight, and everyone will participate in the entirety of Day 1.
Unclear Structure
This year we are making some tweaks and simplifications based on lessons learned and feedback. This includes new terms to detail the stages of the event,
along with an easier-to-follow final bracket on Sunday.
Incorporating All Open Series Formats
We are excited to include not only Standard and Legacy but also Modern as a format in the SCG Players' Championship! This year's new setup allows for all
three formats to get their time to shine, along with a unique way to include up to three different formats in the finals of the event.
Tiebreakers
We will be simplifying and clarifying the way we communicate tiebreakers this year to avoid having one player higher than another with the same match count
for what are seemingly unknown reasons. For 2014 we adopted the default tiebreakers you see at most other Magic events. Unfortunately, while these work
pretty well on a large scale, on a small scale things appeared arbitrary.
For 2015 we will be using the following tiebreakers that are a more natural fit for the Players' Championship and will help to clear up confusion that can
come from small group play
Match Wins (Most)
Game Wins (Most)
Game Losses (Least)
Season Four 2015 Season Rank (Best)
Compare one of the more confusing situations from last year, in particular Group C: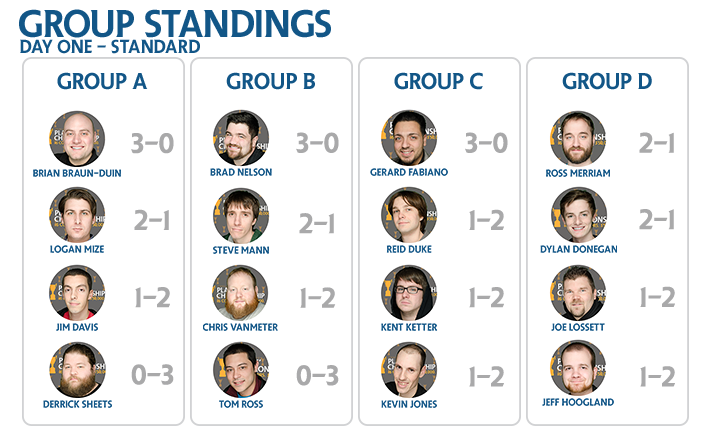 Now look at how our expanded tiebreakers clearly show the hierarchy.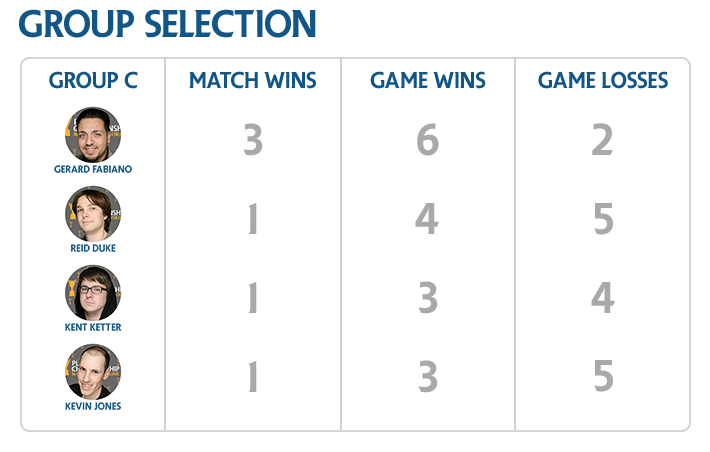 We believe that this new tiebreaker system will help to clear up confusion that can come from small group play. Of course, it is possible that two players
could wind up completely tied with their match win, game win, and game loss counts the same. In this case, we will have the same final tiebreaker as last
year: Season Four Leaderboard ranking.
The StarCityGames.com 2015 Players' Championship Overview


The 2015 Players' Championship will feature sixteen competitors, three formats, and two days of Magic.
Saturday will consist of two sets of Group Play: Legacy, followed by Modern. The Top 8 players from the Legacy portion will play Modern for a bye on
Sunday, while the remaining players will play Modern to advance. Sunday will consist of a twelve-player Standard-format single-elimination bracket leading
to an epic final featuring best-two-of-three matches.
To be clear – the finals are best-two-of-three matches, featuring Standard, Modern, and Legacy, something that is completely unique to
this event.
So that's the overview. What has changed, and how does it work?
Day 1: Group Stage




Legacy Group Play

Just like last year, players will be randomly placed into four pods of four for round-robin Legacy group play. This begins with the Invitational champions,
followed by the Season Point winners, then the at-large placements (including the previous year's Players' Championship winner).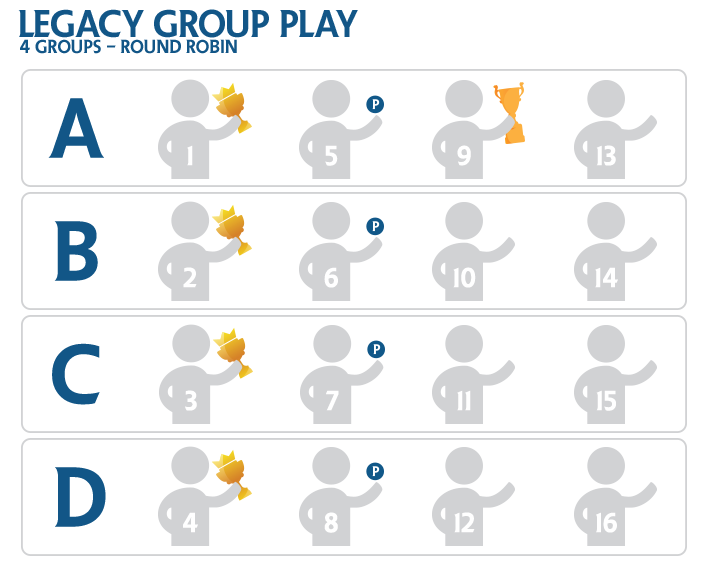 After four rounds of play, the Top 8 go to the "Battle for Byes" group, while the Bottom 8 go to the "Play to Stay" group for the Modern rounds:
"Battle for Byes" Group
The top four players in these pods earn a bye for the first round of the Sunday Standard playoffs. All are guaranteed to make the Sunday single-elimination
rounds.
"Play to Stay" Group
The top four players in these pods advance to the Sunday Standard playoffs. The bottom four are out of the event.
Day 2: Knockout Stage

If you're familiar with the NFL playoffs, you will be very familiar with our Sunday setup. Just replace your favorite teams with some of Magic's biggest
stars and voila: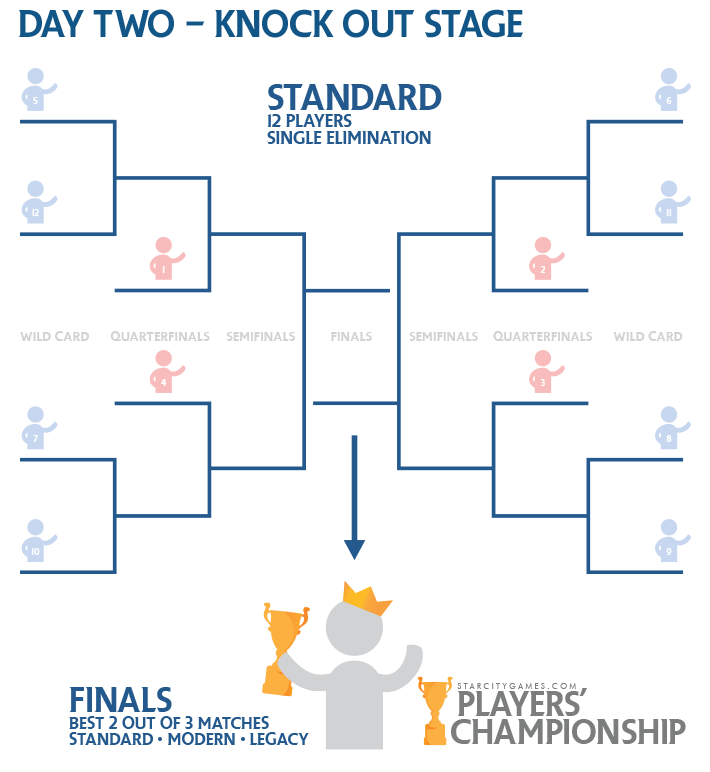 The four players with byes will be seeded 1-4 with the remaining players seeded 5-12. From there the single-elimination bracket will play out to its epic
conclusion.
The Finals

We want the finals of this event to be as memorable as possible. How do we do this? By featuring best of three match wins (with each match
being best of 3 games). Each format (Standard, Modern, Legacy) can only be chosen once.
Instead of just choosing "play or draw"-usually a simple choice in Constructed-the higher-ranked player will have to choose to play first or to select the
format of the first match! Want to play Modern? Great, but you're on the draw! Want to go first? Sure, but your opponent may begin with that Legacy matchup
you're dreading!
After the first match, the player who lost can choose to be on the play or to select the next format. If the finals go to a third match, the last remaining
format will be played automatically with the player who didn't win the second match choosing to play or draw.

Conclusion

Our goal for the Players' Championship from the beginning was to create a truly unique structure with thrilling match-ups, high drama, and every win
mattering. We know that there is always room for improvement, and we feel that these changes move us closer to that goal.
We are excited to hear what you think about the event and welcome any feedback you have. Make plans to join us on December 19th-20th when we crown our new
2015 StarCityGames.com Players' Champion!