The stage is set for the StarCityGames.com Season Three Invitational in Somerset, NJ this weekend. Players from across the country will make the trip to
battle it out for their shot at $10,000, a qualification to the Players' Championship, and the right to get their likeness immortalized on a custom
StarCityGames.com token.
For Open Series grinders, it is a chance to capitalize on their hard work in a three-day split format event. For Joe Lossett and Alex Bertoncini, the
Invitational will determine which one wins the Season Three points race and the qualification to the Players' Championship that comes with it.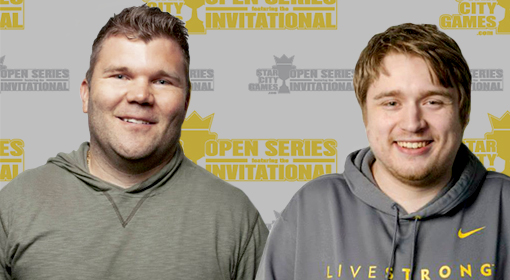 Will Joe Lossett (left) or Alex Bertoncini claim the Season Three points race?

Lossett enters the Invitational and Season Three finale with a 13-point lead over Bertoncini. The lead has come from a strong season that includes two Open
Series Top 8s and five Top 32s. His yearly results include a Top 8 in the Season One Invitational in Charlotte and a 24th-place finish in the Season Two
Invitational in Columbus. Lossett controls his own destiny and can lock up the Season Three points race with an Invitational Top 8 this weekend. But if
things go poorly for the Miracles mastermind in New Jersey, the door opens up for Bertoncini.
To have a chance at winning the points race, Bertoncini has to Top 8 the Invitational – a task he has shown he is more than capable of with his Top 4 in
the Season Two Invitational in June. From there, things get complicated.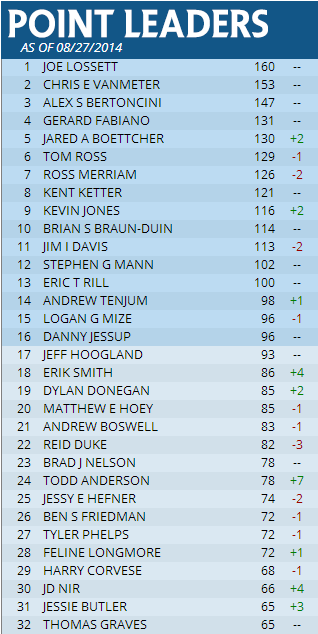 If Bertoncini Top 8s and Lossett fails to make Day 2, they will both end the season with 162 points and Bertoncini will win the season by virtue of having
the tiebreaker edge – the higher finish in an Invitational. If Lossett makes Top 32, Bertoncini can take the points race with a Top 4 finish. If Lossett
makes Top 16, Bertoncini has to make it to the finals. Of course, if Bertoncini wins the whole thing, Lossett will still win the points race as
Bertoncini's qualification would come from the Invitational win, leaving Lossett as the points leader. Bertoncini will be watching Lossett closely as the
SoCal Legacy regular isn't a slouch when it comes to the Open Series' flagship events. Lossett has only missed Day 2 in one of seven Invitationals he's
played in since 2012. His average finish in those six Invitationals he has made Day 2 is 32.
There is more to the Invitational than just the Season Three points race. Two players to watch will be Jared Boettcher and Tom Ross, who both made the Top
8 of both Invitationals this year. Can either of them make it three straight and match the record of Gerry Thompson? Thompson, a six-time Invitational Top
8er made it three in a row at the first three Invitationals of 2013.
Ross, who won the Season Two Invitational and now has a special Poison token bearing his likeness, is always a threat to play on Sunday with his Legacy
Infect deck and whatever hyper-aggressive Standard deck he chooses to sleeve up. For Boettcher, no one would be surprised if he made the elimination rounds
once again as he has seven Open Series Top 8s already this year.
Other strong players to keep an eye on include four-time Invitational Top 8ers Brian Braun-Duin and Ben Friedman, three-time Invitational Top 8ers Reid
Duke and Max Tietze, and of course, five-time Invitational Top 8er Shaheen Soorani.
Statistics aside, who do the experts think will be playing on Sunday? The SCGLive crew made the following picks for the stage on Sunday:
Cedric Phillips:
Jared Boettcher. His Standard deck is great, and he has already made Top 8 of both this year.
Brad Nelson. He's the best Standard player in the world and loves his Legacy deck.
Matthias Hunt:
Gerry Thompson. Invitationals are about reading the meta, not breaking it, and Gerry is one of the best in the world at metagaming.
Max Tietze. Both Standard and Legacy are in a great spot for methodical U/W Control decks.
Osyp Lebedowicz:
Tom Ross and Gerry Thompson. Both are great deck builders, which is huge in a multi-format tournament and both are hungry to do well lately, which should
make them both huge favorites.
Andrew Shrout:
Gerry Thompson. He is beginning to remember what it was like to Top 8 Invitationals at will.
Jared Boettcher. Doesn't remember what it is like to NOT Top 8 Invitationals at will.
Nick Miller:
Tom Ross. I haven't seen another player on the Open Series this year appear more in control of every game he plays than Tom. He always makes great
decisions and puts his opponents to the test.
Ross Merriam: Few players know their Standard and Legacy decks as well as Ross knows his. He was one game away from the back-to-back in Providence and
continues to perform well at Opens with Mono-Blue Devotion and Elves.