The Season Four StarCityGames.com Invitational means a lot for many people.
For Stephen Mann and Jeff Hoogland, it's about hanging on for one of the last spots in the Players' Championship.
For Dylan Donegan and Andrew Tenjum, it's one last shot at punching their ticket to the Players' Championship.
For Tom Ross, it's another chance at history as the back-to-back Invitational winner looks to Top 8 an unprecedented fourth straight Invitational.
For Chris VanMeter, it's an opportunity to Top 8 his first Invitational in his hometown to cap a year where he Top 8ed seven Opens.
For everyone else, it's the Invitational. It's $10,000 for first place that goes along with getting immortalized on a custom StarCityGames.com token, and
an invite to the Players' Championship.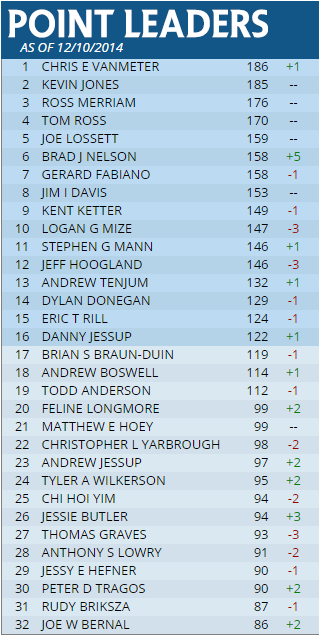 The penultimate Open Series event of the year is here, and as the final ten spots for the Players' Championship are determined, all eyes will be on the
Invitational in Seattle, WA. Players from across the country will be playing in the Pacific Northwest starting with four rounds of Standard and four rounds
of Legacy on Friday for Day 1. This will be the final Invitational with byes, and each player still gunning for the Players' Championship will have two
each before the remaining 14 rounds of Swiss will ultimately determine who will be playing in Roanoke next weekend.
Entering the Invitational, Kevin Jones, Ross Merriam, Brad Nelson, and Gerard Fabiano have each secured one of the eight at-large berths to the Players'
Championship no matter how things break. That leaves seven players battling for the last five slots as either Jones or Merriam will claim the Season Four
points winner for their invite.
Tenjum, the Cincinnati Standard Open winner, sits at 132 points and is the current bubble boy for the Players' Championship. Tenjum trails Mann and
Hoogland by 14 and needs a Top 4 in the Invitational and for one of the players he's trailing to finish outside the Top 16. Donegan, who has three Open Top
8s this year, is at 129 points and needs a Top 4 finish along with Hoogland or Mann to finish outside the Top 64. If one of the eight players in the Top
12 that are not already qualified wins the Invitational it opens up another slot for Tenjum or Donegan at 13th place.
Outside of the Players' Championship race, the biggest storyline for this Invitational revolves around Tom "The Boss" Ross. Ross enters the weekend a
two-time defending Invitational champion and is aiming for four straight Invitational Top 8s, a mark no other player has matched. His current stretch of
three straight is matched by Gerry Thompson, who will be in attendance, as he joins Ross as the only other player to have two Invitational titles. In fact,
Ross has as many Invitational Top 8s this year as the rest of the Top 16 players on the leaderboard combined.
Ross has played Infect in Legacy in all three Invitationals this year and some version of a red aggressive deck in Standard, whether it be Boss Sligh or
R/g Aggro. Ross has no plans of putting down Infect and will even be using his Season Two Invitational winning Poison token this week, but with a new
Standard format since the Season Three Invitational, Ross will likely be on W/U Heroic, another archetype he has championed. For Ross, his strategy in
Invitationals has been "play what you know," and he has no intention of changing that.
"I think the formats tend to come full circle in a way that benefits the style of decks I'm good with. The two Invitationals I won felt like the same
tournaments. Top 8ing all four would be nice as to set a high bar that will be tough to match, like Gerry's back-to-back Open wins," Ross said. "If the
format is going where I think it is with the Whip decks and such going over the top of each other, and there's suitable awareness and hate for U/R Delver
in Legacy, then I'm in a good spot with likely W/U Heroic and Infect. I think my chances are good."
Ross will be joined by 11 of the other 13 players in contention for the Players' Championship this weekend, as only Fabiano and Jones will be sitting out. Eric Rill,
who is in 15th place, will not be making the trip from Ohio as a finals appearance and a lot of help was his only route to the Players' Championship.
In terms of Magic, both the Standard and Legacy metagames were shaken up this past weekend in Portland for the last Open before the Invitational. Abzan
Reanimator and Jeskai Tokens both took up two slots from the Standard Top 8 as players adjusted to what was played at the World Championship. Those decks
joined Abzan Midrange, Mardu Midrange, Sultai Reanimator, W/U Heroic, Esper Control, Temur Monsters, and U/B Control in the Top 16, showing off one of the
most diverse Standard formats in quite some time. Maverick and Reanimator have emerged as popular decks in Legacy as the metagame shifts to adjust for the
rise of Delver decks utilizing Treasure Cruise. Count on seeing Elves, Miracles, and Jeskai Stoneblade to show up as they were some of the more popular
decks at Grand Prix New Jersey.
With many great storylines going down this weekend, the Season Four Invitational will be an exciting three days of Magic. Join Cedric Phillips, Patrick
Sullivan, and Patrick Chapin as they call the action for SCGLive all weekend long. Coverage begins at 2:30 p.m. ET/11:30 a.m. PT Friday.