The last time the StarCityGames.com Open Series hit Somerset, New Jersey, it was for the Invitational back in July. Erik Smith won that tournament and immortalized himself as a 1/1 Goblin token for his efforts, while David Reed and Gerard Fabiano won the Standard and Legacy Opens respectively.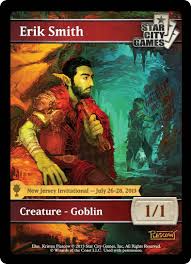 As we head back to the hotbed of Magic in the Northeast this weekend for #SCGNJ, both Smith and Fabiano are in the Top 10 of the #SCGPC Leaderboard, and we can expect them to be battling it out for all the Open Series Points they can along with all the other notable names from the region. New Jersey is always a huge event, so we might even see the rare eleven-round Standard Open and ten-round Legacy Open!
With New Jersey's massive turnouts comes star-studded Top 8s. The previous non-Invitational weekend there crowned Chris VanMeter a Standard Open champion (his last Open win—something he and his beard are sure to remember) and the trio of William Jensen, Reid Duke, and Own Turtenwald as the first Team Sealed champs of the Open Series back in May of 2013.
Enough with the past. Let's look toward the future, more specifically the future of Standard with Born of the Gods. There was a bit of innovation last weekend at #SCGNASH with decks like Brian Braun-Duin and Chris VanMeter's Bant Walkers and Brad Nelson's R/W Burn, and some other fringe decks made an appearance. Bant Midrange with Ephara, God of the Polis and a spicy Jund Aggro deck featuring Pain Seer were seen at the top tables Saturday but didn't grab the spotlight. Ultimately, Mono-Blue Devotion won the event, and the Top 8 had more familiar faces with Mono-Black Devotion and G/W Aggro with a couple updates from Born of the Gods. If anything crazy pops up this weekend, I'll be there to take note and spread the word.
Let's take a quick look at the updated #SCGPC Leaderboard before diving into this weekend's festivities.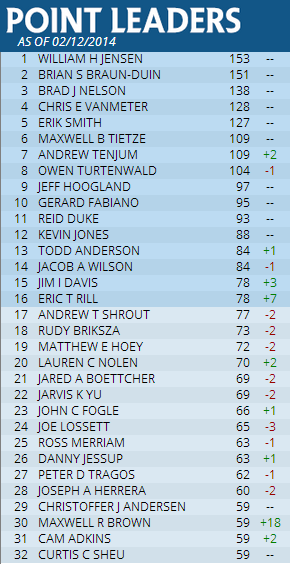 Things are getting pretty tight at the top, as BBD used a Top 32 finish in the Standard Open and a Top 16 finish in the Legacy Open to climb ever so close to points' leader William "Huey" Jensen. Eric Rill capitalized off his semifinals appearance in the Legacy Open in Nashville to jump seven spots and claim a tie for the fifteenth spot on the leaderboard. Other big movers and shakers were the trio of Max Brown, Harry Corvese, and Ben Friedman, who all climbed at least sixteen places after winning the Team Sealed Classic in Richmond, Virginia this past weekend.
All right, let's move on to this weekend's details regarding SCG Open Series: New Jersey.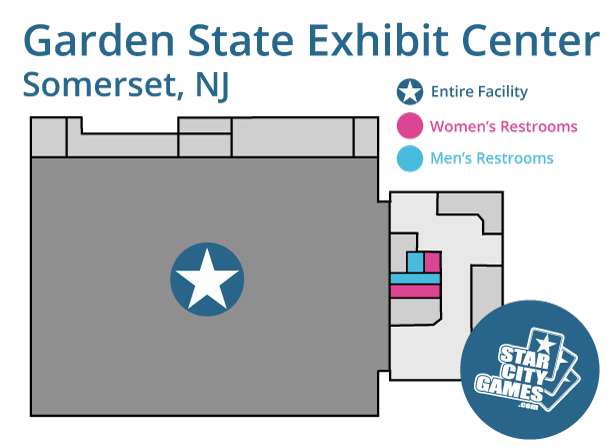 Our home for the weekend is the Garden State Exhibit Center located near the scenic Raritan River. While the convention center is a great setting for the Open Series that offers plenty of space and great lightning for the events, food options are few for those not looking to travel far for sustenance. With just a Ruby Tuesday and a Subway within walking distance, plan your meals accordingly.

What would an Open Series weekend be without special guest artists and alterists? Here are the three artists you can meet in New Jersey!
A recent Fine Arts graduate from William Paterson University, Jennifer Romanek enjoys all genres of art but is a painter at heart. Magic cards piqued her interest, especially the challenge of creating different worlds on a single playing card. For the past three years, Jen has been creating custom pieces, and now she brings her talent to the Open Series.
Xela "the Geek" Shultis joins the Open Series, bringing her full-art and 3D alterations with her. Check out her work on her Facebook page!
Jaclyn will be painting and selling her custom card alterations at this event! She specializes in border extensions and enjoys doing season alters, especially winter. Take a look at her Facebook page!
And if all of that wasn't enough, we're proud to have @SCGLive on hand providing the best Magic coverage on the planet, with Cedric Phillips and Patrick Sullivan returning to the booth this week to call all of the action. Join Cedric and Patrick along with the rest of the @SCGLive crew on Twitch starting at 10:30 AM EST on Saturday for all the action.
See you in New Jersey!