The StarCityGames.com Open Series visited the Pacific Northwest this past weekend, and all eyes focused on William "Huey" Jensen playing in #SCGSEA. But across the country, the race for the top spot on the SCG Players' Championship Leaderboard heated up separately.
The trio of #SCGPC Leaderboard mainstays Brian Braun-Duin, Brad Nelson, and Chris VanMeter weren't going to let up on their hunt for the automatic qualification to the end of the year SCG Players' Championship just because the Open Series was on the opposite coast. Instead, they carpooled to North Carolina for the weekend to play in a Super IQ at Be There Games on Saturday and an IQ at The Dugout on Sunday.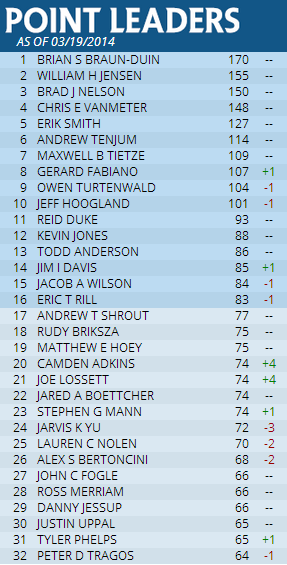 The three players, all still alive for the Season One top spot, which will be determined at the SCG Invitational in Charlotte next weekend, all had hopes of building a lead or passing their travel partners while battling in the Tar Heel state. While they are friends and testing partners, all three knew their competitive natures would kick in, some more so than the others.
"There's definitely some competition. We're all friends, but we're all fighting for the same spot," #SCGPC points leader Braun-Duin said. "Brad was a bit more cutthroat about it, as he said he went down there specifically to prevent us from getting points—that was his goal for the trip."
Nelson didn't deny his intentions either. While obviously gunning to win each event to accumulate the most points possible, he did recognize that part of winning meant preventing his friends from gaining ground on him or passing him by.
"I went there with the stated goal to beat them in points, but mainly I wanted to make a lot of digs at them," Nelson said, who entered the weekend in third place and only one point ahead of VanMeter. "I personally love the friendly rivalry stuff. It's all in fun. I'm always digging on them and joking with them."
First up was the Super IQ in Indian Trail. A win would provide six Open Points and $400 along with a special playmat and Top 8 pin. The points were the main attraction, and all three players decided on grinding out wins with control variants. Braun-Duin and VanMeter registered matching Esper lists, while Nelson decided on his U/W build.
The rivalry and fight for Open Points clashed early on in round 2 as Nelson and VanMeter squared off. After both players took a game apiece, the match went to time and extra turns. VanMeter had an Elspeth, Sun's Champion emblem and the win set up for his last turn, but with no cards in hand, Nelson ripped a Jace, Architect of Thought on turn 4 and ticked it up to survive the incoming attack. VanMeter asked for the concession with both players at 0-1, but Nelson declined. At 0-1-1, VanMeter played on, but he lost his win-and-in match in round 7 to miss out on Top 8.
"As far as points go, Brian and I are actively trying to help each other get as many points as possible, but Brad's goal is to prevent us from getting points," VanMeter said. "He is a little more competitive about it, but that is Brad's nature."
And their work paid off, as Braun-Duin cruised into the Top 8 with the list he and VanMeter tuned together. When the dust settled, Braun-Duin won the Super IQ and padded his lead on the leaderboard with the six points, while VanMeter made Top 16 to get one point.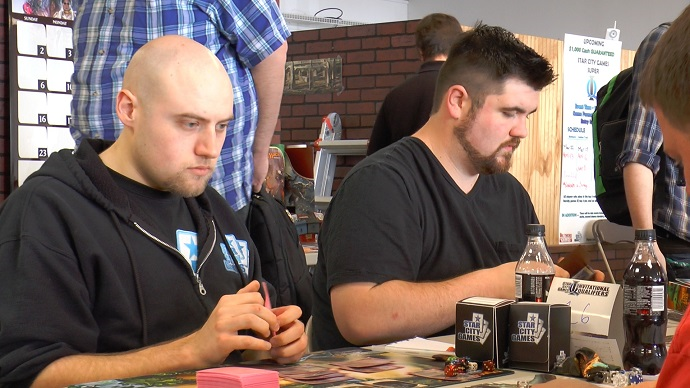 Brian Braun-Duin and Brad Nelson play in the Super IQ at Be There Games in Indian Trail, North Carolina on Saturday.
"CVM and I frequently share decks and work on decks even though we're competing for the same thing because the net benefit outweighs the value lost," Braun-Duin said. "I know Brad played CVM to a draw despite not being able to win, but Brad has a different viewpoint. And of course, when you're in a tournament, you're free to make whatever decisions you want to make, so he is more than welcome to travel down to an event with the expressed purpose of preventing us from getting points and then doing exactly that if he gets paired against us."
After Braun-Duin's victory at Be There Games Saturday, the trio turned their attention to the IQ in Hickory on Sunday. Their competitiveness didn't get in the way of progress either as Nelson decided he wanted to try the Esper list from his friends. With VanMeter not as high on playing control again, he gave Nelson his deck and opted to play an updated Monsters build he brought with him. Braun-Duin decided to run it back with Esper.
The deck choices turned out to be a strong move for all parties involved, as all three reached the Top 8 and the bracket even broke so that all of them could advance to the semifinals. The semifinals couldn't have been scripted any better—all three won their quarterfinal matches and set up what has to be the most stacked IQ semifinals in history. Braun-Duin was paired against Nelson for an Esper mirror, and VanMeter sat across from notable Open Series grinder Chris Yarbrough playing U/W Devotion.
Nelson took the match quickly since Braun-Duin had mulligan issues in both games, and VanMeter lost to Yarbrough in what was a difficult matchup. Nelson went on to win this one, notching two victories on the weekend for the Esper build Braun-Duin and VanMeter tuned.
"To be honest, it was really fun playing against BBD in Top 4, with him drawing nothing and having to mulligan the entire time and me getting to crush him. That was fun. It was very enjoyable," Nelson said. "We all hate to lose, and in a tournament setting I am going to try to win. I am going to be at my best just because I love that part of Magic. Put a camera in front of me and my win percentage goes up. That's proof. That's a proven actual thing about Magic."
With Nelson grabbing the five points with the victory and VanMeter getting three for his finish in the semifinals, Brad added slightly to his lead over VanMeter. Braun-Duin tacked on an extra three points to buff his lead with just #SCGLA between now and the SCG Invitational in Charlotte, North Carolina.
With the Open Series staying on the West Coast this weekend, Nelson, Braun-Duin, and VanMeter will be battling at Grand Prix Cincinnati with goals other than the SCG Players' Championship on their mind. Braun-Duin is trying to qualify for Silver in the Pro Players Club and earn himself a qualification to Pro Tour Journey into Nyx in Atlanta in the middle of May. Nelson is working on reaching Gold, and VanMeter has his own goals.
"I want the PT invite as well, but for me to further my goals in Magic as far as content, the one thing holding me back from moving to Premium or being a figurehead for StarCityGames.com is a premier event finish," VanMeter said. "I've had a lot of success on the Open Series, won a few PTQs, and played in a few Pro Tours, but I've never made Top 8 of a Grand Prix, which is something holding me back in my career."
Looking past #GPCincy and #SCGSEA, Nelson, VanMeter, and Braun-Duin all know what's at stake at the SCG Invitational in Charlotte. While the points up for grabs in the Invitational could skyrocket any of them into first place on the leaderboard for Season One, straight-up winning the event is an automatic qualification for the SCG Players' Championship in December. All three players will be keeping an eye on each other as well as Jensen, who failed to close the gap on Braun-Duin after his performance in Seattle, as the tournament progresses.
"I want to win, but there are two things I want to happen. I want to do well because it is an Invitational, but I also want to stay ahead," Braun-Duin said. "I envision a situation where I need Huey to either lose in the Top 8 or win the tournament and not get second through fourth. Or Huey is locked for Top 8 and I could draw into Top 32, but I have to win to make Top 16 to get the extra points to broaden my lead. I can definitely see the SCG Players' Championship influencing decisions I make in the Invitational."
Now let's look forward to this weekend's festivities in Los Angeles. Our base of operations will be the Los Angeles Convention Center in central Los Angeles, just southeast of Hollywood.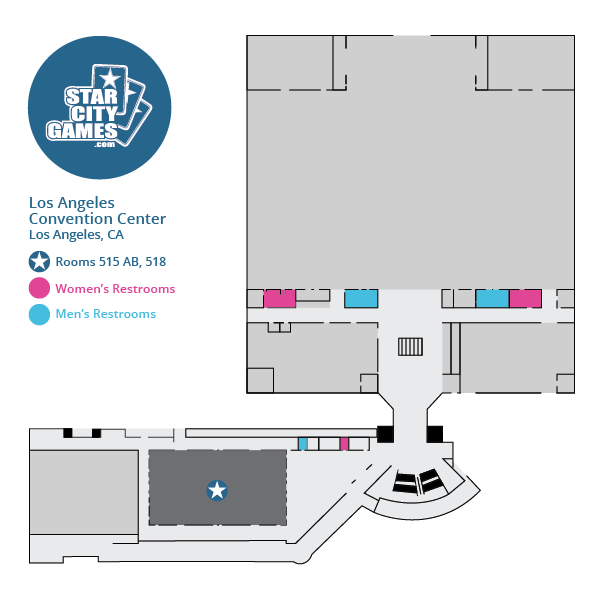 Located off S. Figueroa St., the Convention Center is just a short walk from the Staples Center, home of the Los Angeles Lakers and Los Angeles Clippers. For anyone getting to town early, the Lakers play host to the Washington Wizards Friday night. Among the many attractions downtown LA has to offer, there are plenty of food options as well.

Of those choices, I highly recommend Yard House on Olympic for great dining and an unbelievable selection of beer. Not listed are the multiple fast food options, including McDonald's and Smashburger, both a short walk from the Convention Center.
And of course @SCGLive will be on hand providing the best Magic: The Gathering coverage on the planet. Cedric Phillips returns to the booth after a weekend of slinging spells at #SCGSEA and will be joined by Patrick Sullivan. Coverage begins at 1:30 PM EDT/10:30 AM PDT on Saturday at the start of the Standard Open. Tune in for all the action, with Andrew Shrout providing written coverage and deck techs from the sideboard.
As for me, I'll see y'all in Charlotte, North Carolina next week as the SCG Open Series featuring the Invitational returns to the East Coast!