Before winning the SCG Invitational in New Jersey in July of 2013, Erik Smith had one Top 8 to his name. Finishing third at the Legacy Open in Worcester just three weeks before the Invitational launched him on a path to the biggest Magic tournament of his young competitive career.
Smith, locked in on three Invitational qualifications from Open Points and the fresh Top 8, set his sights on making a name for himself and making his late friend Vincent DeFalco proud. DeFalco passed away in September of 2012 but lives on in the memory of his friends and graces Smith's Invitational winner token—a fitting tribute, as without DeFalco, Smith might not even play the game he now travels the country for.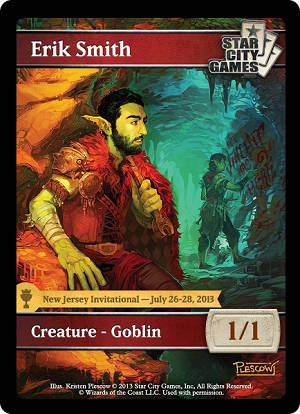 Erik Smith included his late friend Vincent DeFalco in his Invitational winner token.
DeFalco was Smith's biggest supporter and believer in his ability. After his passing, Smith decided he would honor his friend by making it his mission to qualify for the Pro Tour and fulfill DeFalco's prediction of playing on Magic's biggest stage. And while Smith hasn't punched his ticket for a Pro Tour yet, he has accomplished a lot in the past year and a half to back up what DeFalco always thought was true, most notably taking down the Invitational in New Jersey.
"Winning the Invitational was pretty surreal. It took a while to sink in and for me to actually realize I won a tournament of that magnitude," Smith said. "Winning it for Vinnie just meant so much to me, especially because of the token I got and to be able to honor my friend on an official token like that. It was really special, and I am really proud of myself."
After Smith's Top 8 in Worcester, he shifted his focus to the upcoming Invitational in New Jersey. Locked in on U/W/R Delver in Legacy—the deck with which he reached the semifinals of Worcester—and Jund in Standard, Smith tested relentlessly. He knew going in that the competition would be the toughest he had faced yet. Invitational winners in the past had been Open Series all-stars and proven players like Gerry Thompson, Todd Anderson, and Reid Duke.
Smith's testing would pay off despite beginning the tournament with a shaky start. Picking up two losses early on, Smith bunkered down to win his fourth round and be 2-2 heading into the Legacy portion of day 1, where his Delver deck delivered for him round after round. He ended day 1 at X-2 and knew he still had a good shot at reaching Top 8 if his Jund deck performed like it did in testing.
"With it being my first Invitational, I tested for it like crazy, and I think that is why I ended up doing so well," Smith said. "It was tough starting out the tournament 1-2. I was pretty upset. But I bounced back and won out to reach Top 8, and the rest is history."
Smith grinded out four victories with Jund to start day 2 and sailed into the Top 8 with his undefeated Legacy list, choosing to draw in round 16 to reach the elimination rounds. His company in the Top 8 was what Smith expected, with huge names spanning from Thompson to David Shiels to his finals opponent Andrew Tenjum.
Despite the stacked Top 8 he faced (and tends to be what every Invitational winner has to slog through), Smith took down the tournament after playing the maximum amount of games one could play in an Invitational Top 8 (fifteen after going to a rubber match in every round). Smith said that being able to win the event as an unproven name meant a lot to him and said good things about the Open Series as a whole.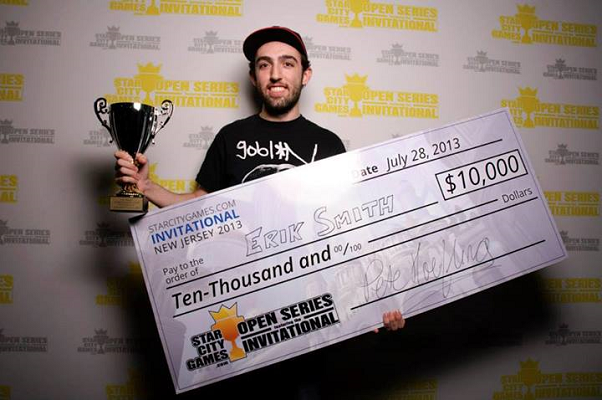 Erik Smith poses with his winnings.
"It meant so much to me because I didn't have a lot of success prior to the event. I had the one Top 8, but nothing really beyond that,' Smith said. "It does say a lot for the game that in every Invitational there are a couple names in there that haven't had a lot of success in the past. It is very good for the game in that it allows people to make names for themselves."
A name made indeed. When the dust settled, Smith stood alone with the championship trophy, the $10,000 check, and the privilege of having his likeness immortalized on a specially made token. Smith would unveil his 1/1 Goblin token, an homage to his late friend who had the nickname of the little green creature, in his tournament write up.
Following his success in New Jersey, Smith attended the next two Invitationals and showed he was no fluke by making the Top 8 in Las Vegas in December. While Smith fell in the quarterfinals, the taste of success has him focused on the upcoming Invitational in Charlotte.
"These things are not easy, that is for sure," Smith said. "I like them because unlike in a regular Open, you have a little larger margin of error because you can lose two or three matches and still be in contention. With my run of success in these tournaments, I'm inspired to keep playing at a higher level, and my goal this weekend is to Top 8 again."
Smith enters the Invitational in fifth place on the StarCityGames.com Players' Championship Leaderboard and has plans to qualify for the sixteen-person tournament in December. Winning this tournament would lock up a spot in that event and would also make Smith the only person besides Thompson to win two Invitationals. Doing so requires navigating an Esper-heavy Standard metagame and playing a strong Legacy deck through eight rounds of Swiss across two days and the Top 8 rounds.
"I've been testing a lot online and some with my friends and expect Esper Control to be the most popular deck, especially with the type of player that qualifies for an Invitational, but I also expect good amount of Mono-Black Devotion variants and Monsters builds," Smith said. "This isn't my favorite Standard format, but I've been tuning a deck I think will be equipped to beat what I expect to be there. I'm pretty confident in my Legacy deck, so I'm focusing testing on Standard."
While the Invitational is priority number one for Smith currently, he has his schedule set for the remainder of the spring and summer. That schedule includes multiple Open Series events in the Northeast and Midwest and also features many Grand Prix and PTQs to attempt to complete the mission he made for his friend.
"I definitely want to qualify for the SCG Players' Championship and will play in a ton of SCG events this year," Smith said. "But my other goal unrelated to the Open Series is still to qualify for the Pro Tour for the first time."
Now let's turn our attention to the details regarding this weekend's event, SCG Open Series: Charlotte featuring the Invitational! Take a quick look at the #SCGPC Leaderboard as we conclude Season One this weekend.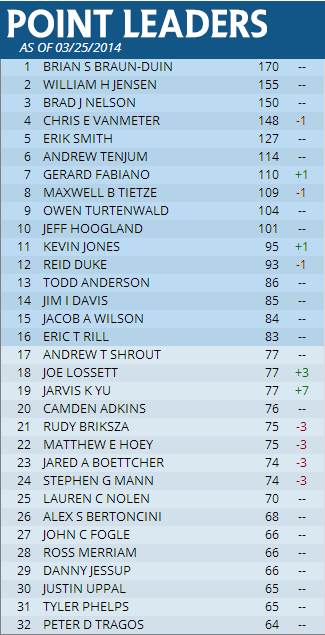 Our home for three days will be the Charlotte Convention Center located in downtown Charlotte, North Carolina right across the street from the NASCAR Hall of Fame.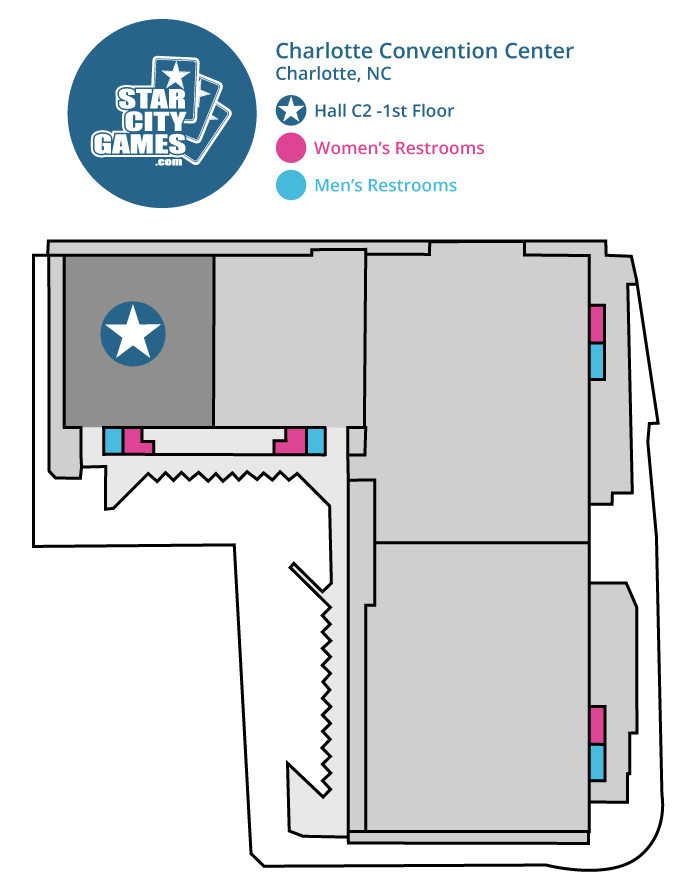 Located on S. College Street, the convention center is a short walk from a plethora of food options and has many choices in the venue itself. Einstein's Bros Bagels, Starbucks, and Bojangles' all can be found in the convention center, while a short walk outside leads to many other options like Buffalo Wild Wings, Fuel Pizza, Jimmy John's, Matt's Chicago Dog, and Amelie's Petite.

Let's not forget that @SCGLive will be on hand providing the best Magic: The Gathering coverage on the planet. Cedric Phillips, Patrick Sullivan, and Osyp Lebedowicz will be calling the action from the booth all weekend long starting at noon EST on Friday with the Invitational. Andrew Shrout and I will be tagging in from the sideboard, bringing you deck techs, interviews, and more.
See y'all in Charlotte!