The race for the StarCityGames.com Players' Championship is about as close as it can possibly get.
After Chris VanMeter's impressive run to the semifinals this past weekend at #SCGSTL, the top four players are all within striking distance of the top spot on the Charlotte Season One Leaderboard. VanMeter rattled off eight straight wins after starting 1-1-1 to make the Top 8 of the Standard Open and finished in the Top 4 to secure ten Open Points and slip ahead of Brad Nelson for third place on the leaderboard.
Heading into #SCGATL, VanMeter, Nelson, and Brian Braun-Duin could all overtake current #SCGPC points leader William "Huey" Jensen. BBD only trails Jensen by two points, so simply showing up and playing in the Standard and Legacy Open will tie the top two players unless Jensen decides to make the trip and battle after skipping the past six Open Series events. Any Top 64 finish would give BBD the lead, and an appearance in the finals of either Open would allow VanMeter or Nelson to take over first place.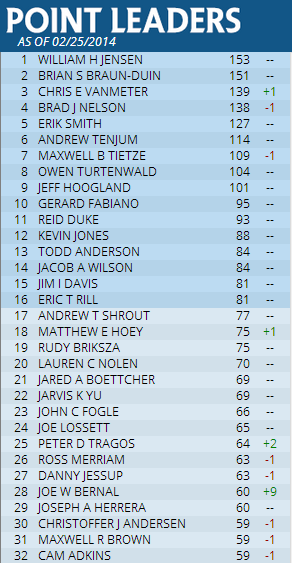 With many of the big names playing in Pro Tour Born of the Gods in Valencia, a handful of Open Series grinders other than VanMeter used this past weekend to grab some Open Points.
Andrew Tenjum was in contention for Top 8 on both Saturday and Sunday, but despite missing the elimination rounds, he was able to edge closer to fifth place on the leaderboard with a Top 32 in the Legacy Open. Tenjum has quietly crept toward the top of the leaderboard and could leap into the discussion of grabbing the top spot with a string of Top 8 finishes. Runs that Tenjum would need are not unheard of after seeing Tyler Wilkerson win the Standard Open in Orlando and Top 8 the Legacy Open in the same weekend along with a run like that of Kent Ketter, who has made the Top 8 of three straight Standard Opens he has attended.
Speaking of Ketter, his rash of Top 8 finishes has quickly propelled him into 38th place overall on the leaderboard. With a little help from some decent finishes in Legacy, Kent could be fighting for a couple byes in the upcoming SCG Invitationals he has qualified for. Ketter expressed to me in St. Louis that he has been working on his Legacy game, knowing that top finishes at Invitationals require strong Legacy records.
Other notable movers and shakers from #SCGSTL were Joe Bernal and Thomas Graves. Bernal jumped nine places into the Top 32 thanks to his finish in the Top 32 in the Legacy Open. Bernal was a win away from making the Top 8 but lost round 9 to eventual semifinalist Lee Prost. Graves, who won the Legacy Open in Columbus and made Top 4 of the Legacy Open in Nashville, moved into 48th place overall after making Top 32 in Legacy and Top 64 in Standard at in St. Louis.
Now let's look forward to this weekend's festivities in Atlanta.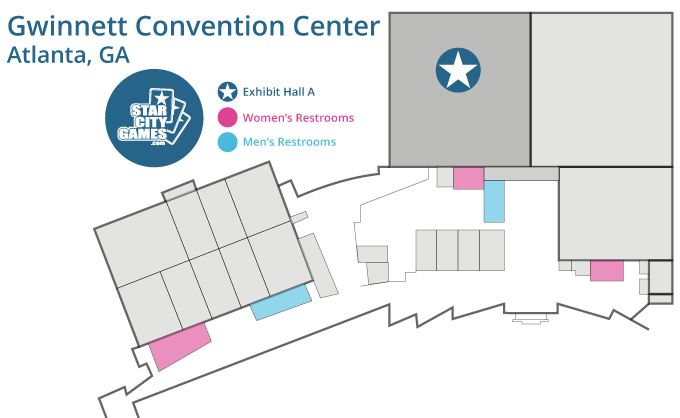 Our home this weekend will be Exhibit Hall A in the Gwinnett Convention Center, a familiar location with plenty of Open Series history. Todd Anderson and Gerry Thompson have both won Invitationals here, while Rudy Briksza, Max Tietze, and Charles Gindy have taken home Open Series trophies. Tietze's run in Hotlanta includes winning two Legacy Opens.
Food options are plenty but require a bit of a walk, so bring along some snacks if you plan on playing control. For those that don't mind walking, options include pizza, Italian, and a plethora of fast food choices.

Let's not forget about the handful of artists and alterists that will be in attendance.
Ron Faris will be painting custom card alterations at the event! Check out his unique alters by following him on his Facebook or his blog.
Lindsay Burley will be selling and creating her unique brand of 3-D cards and tokens, painted alters, and custom playmats. Check out her work on her website, then stop by and check out these awesome cards!
Victoria Shedd will be selling, taking orders, and creating hand-painted cards and will soon start creating playmats. Please check out her work on her website as well as on her Facebook.
And if all of that wasn't enough, we're proud to have @SCGLive on hand providing the best Magic content on the planet, with Cedric Phillips and Patrick Sullivan back in the booth this weekend to call all of the action. Join Cedric and Patrick along with the rest of the crew on Twitch starting at 10:30 AM EST on Saturday.
See y'all for what should be an amazing weekend of Magic in Atlanta!