The Gwinnett Center in Duluth, Georgia has been the host of some memorable moments on the StarCityGames.com Open Series. The all-time leader in SCG Open Top 8s Todd Anderson added another feather to his cap at the Invitational there last year by winning with U/W Delver and RUG Delver just before Return to Ravnica came into the fold. This year we return to the Atlanta area just before the turn of the tide as well, although not for an Invitational this time around, as Innistrad block ebbs out of Standard and Theros flows in to breathe new life into Magic's most popular format.
Our home this weekend, as per usual in the Peach State, will be the Gwinnett Center: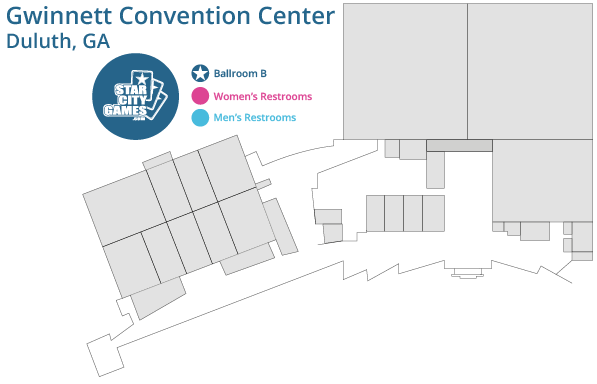 Keep in mind the Gwinnett Center is about half an hour outside the middle of downtown and 40 minutes from Hartsfield Jackson International Airport. Traffic is often difficult heading up to Gwinnett in the fall thanks to college football season. Happily, the University of Georgia has a bye this week, so you won't have to brave game day traffic on the way to nearby Athens for a Bulldogs home game.
The Gwinnett Center is located near food . . . but it's not exactly next door. Plan on taking at least twenty minutes to go through nearby drive-thrus and longer for pick-up and sit-down restaurants in the area. Basically what I'm trying to say is pack snacks in your backpacks.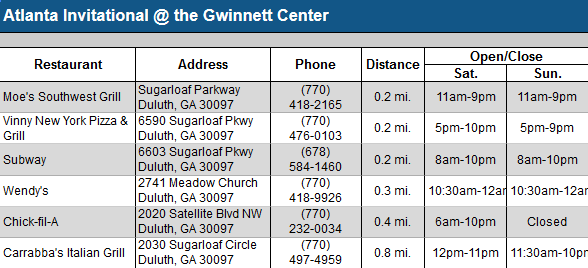 For those of you interested in sports-ball variants, the Atlanta Braves are hosting the San Diego Padres all weekend long at Turner Field. The three-game home stand starts with Friday night's game at 7:30 PM, so gather your playgroup for a night at the ballpark if you feel so inclined!
Each StarCityGames.com Open Series stop now features a number of World of Warcraft TCG event, which includes side events all weekend long and the exclusive World of Warcraft TCG Core Circuit tournament on Sunday! The World of Warcraft TCG Core Circuit tournament is unique to the StarCityGames.com Open Series, offers $400 in cash prizes, exclusive playmats, and World of Warcraft TCG Loot Cards redeemable for special items in the World of Warcraft MMORPG! Last week's event got us off to a great start and we're expecting big turnouts for all of our WoW TCG events, so be sure to join in in Atlanta!
The Open Series is happy to have three Magic alterists at the Open Series in Atlanta!
Cathrine Clinton has been altering cards locally and is a new addition as an official alterist! Now focused on alterations full time and loving it, Cat is known for her smooth style that you can view on her Tumblr.
Open Series stalwart Chris King will be in attendance! You can see examples of Chris King's alters and place custom orders on his website.
Ron Faris will be painting custom card alterations at the event! Check out his unique alters by following him on his Facebook or his blog.
And which complementation of commentation, providing exposition and interpretation, will be delivering the on-air explanation at our celebration? Why, that would be the all-star team of AJ Sacher and Riki Hayashi! Backed up by the crack @SCGLive team, the best Magic broadcasting team in the business, AJ and Riki will provide in-depth coverage all weekend long. Be sure to follow along on Twitter with the hashtag #SCGATL and watch live on Twitch, and you can even keep tabs on pairings and standings from home (or at the event site) by following @SCGPairings.
Good luck, have fun, and get Georgia on your mind!
Video and Coverage Content Associate and Social Media Bulldog for StarCityGames.com