After last week's absolute demolishing of the Modern format by Josh Utter-Leyton, Gerry Thompson, Sam Black, and Matt Nass with their version of Death's Shadow, the Modern format was thrown into chaos. How would the format adjust to the biggest clean break since Eldrazi?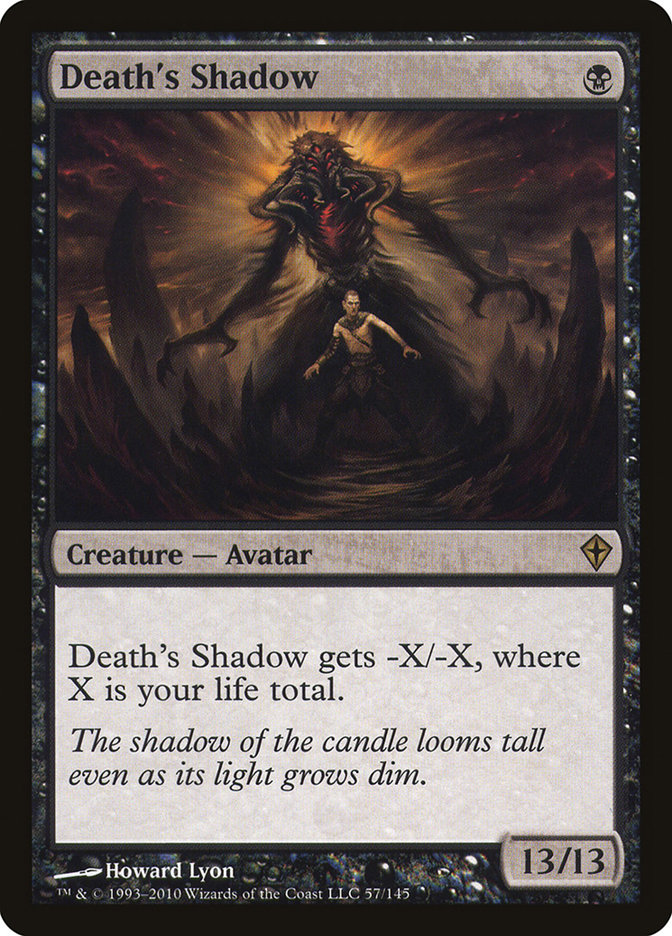 Death's Shadow definitely did not disappoint. At 19.0% of Day 2 of SCG Indianapolis, it was the most popular deck by far (second place was Bant Eldrazi at just 7.0%). Nevertheless, it overperformed, making up 23.8% of the weighted Top 32 metagame. This makes a strong argument that the Death's Shadow deck really is high Tier 1. That said, despite putting two in the Top 8, both were eliminated in the quarterfinals, leaving a fair bit of spotlight for a few other notable strategies of the weekend.
Many of the best players were playing Death's Shadow, including Top 8 competitors Justin Cohen and Michael Majors.
Creatures (12)
Planeswalkers (3)
Lands (18)
Spells (27) Justin's list eschews Ghor-Clan Rampager or Renegade Rallier, instead making room for a Liliana, the Last Hope to complement Liliana of the Veil. He also features just two Fatal Pushes, compared to Majors's full playset. Instead, he used a Collective Brutality and a third Kolaghan's Command.
Creatures (13)
Planeswalkers (2)
Lands (18)
Spells (27) With all the Fatal Pushes maindeck, Majors had a little extra room for spice in his sideboard. The coolest card among them is certainly GerryT's Big Game Hunter.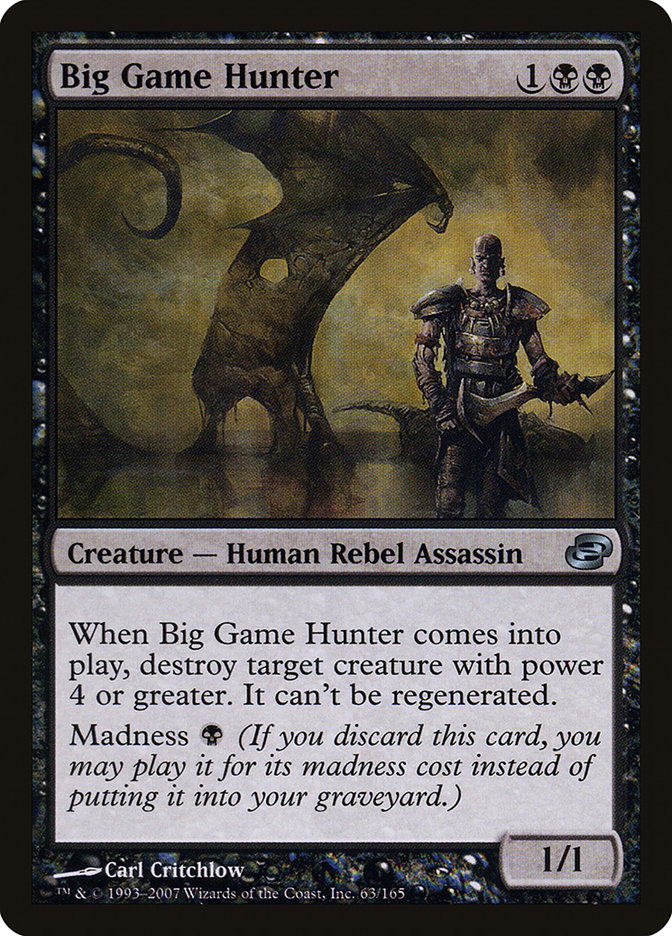 Big Game Hunter is a removal spell for Tarmogoyf that can be searched up by Traverse the Ulvenwald, but unlike Shriekmaw, it can also hit Death's Shadow. That it has madness is a little incidental, but it does combo with Collective Brutality, not to mention occasionally punishing an opposing Liliana of the Veil.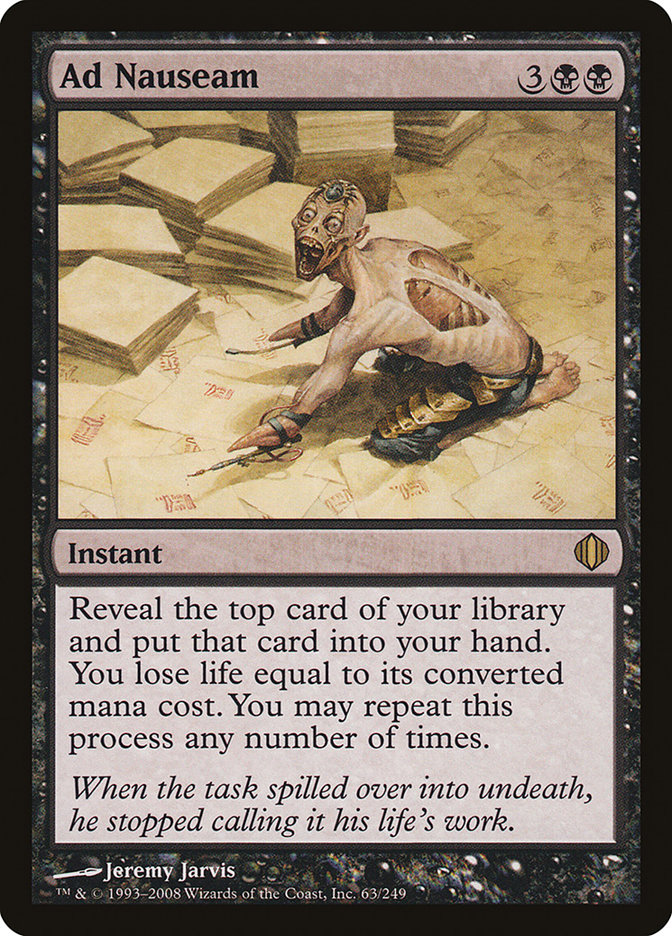 While Ad Nauseam was the talk of the tournament and the eventual champion, let's start by taking a look at the SCG Indianapolis metagame as a whole.
| | | |
| --- | --- | --- |
| Archetype | Day 2 Metagame | Top 32 Metagame |
| | 19.0% | 23.8% |
| Bant Eldrazi | 7.6% | 11.1% |
| Merfolk | 6.3% | 1.6% |
| G/x Tron | 6.3% | 3.2% |
| Burn | 5.1% | 6.3% |
| Abzan | 5.1% | 9.5% |
| Abzan Company | 5.1% | 4.8% |
| Jund | 3.8% | 3.2% |
| Hexproof | 3.8% | 0.0% |
| | 3.8% | 0.0% |
| | 2.5% | 9.5% |
| Eldrazi Tron | 2.5% | 0.0% |
| Infect | 2.5% | 1.6% |
| Dredge | 2.5% | 1.6% |
| Affinity | 2.5% | 1.6% |
| Jeskai Control | 2.5% | 0.0% |
| G/R Ponza | 2.5% | 3.2% |
| Grixis Control | 1.3% | 6.3% |
| Grixis Delver | 1.3% | 4.8% |
| Revolt Zoo | 1.3% | 3.2% |
| Misc.* | 12.5% | 4.8% |
*Misc. = one each of Elves, Lantern, Goblins, Puresteel Paladin, Jeskai Flash, Goryo's Vengeance, U/R Gifts Storm, Mardu, Bant Company, 8-Rack
We see:
Seventeen archetypes with multiple Day 2 players.
Sixteen archetypes cashed (including three rogue decks with only a single pilot).
Death's Shadow was the only deck with double-digit representation, and even at 19.0%, that's not exactly pushing the limits of how dominant a deck can be.
Merfolk and Tron both basically fell off a cliff on Day 2, performing fairly poorly against other successful decks.
Despite many different combo decks in Day 2 (Scapeshift, Hexproof, Elves, Puresteel Paladin, Goryo's Vengeance, U/R Gifts Storm, Scapeshift), almost none of them actually cashed. It was mainly just Ad Nauseam and Abzan Company, and maybe Infect or Dredge if you count them.
It's interesting to see how successful Bant Eldrazi was, dramatically overperforming their pace, despite being the second-most-popular Day 2 strategy. Fatal Push has become an extremely influential staple of the format with cascading ripple consequences. Reality Smasher and Drowner of Hope completely sidestep Fatal Push, and Eldrazi Displacer, Eldrazi Skyspawner, and Thought-Knot Seer sure make life awkward for the Pusher.
There is rarely much variation in the Bant Eldrazi decks these days. About the most exotic elements of Musser's list are his maindeck Blessed Alliance and his sideboard Elspeth, Sun's Champion for midrange battles and the mirror.
Sauer's list doesn't stray far from the beaten path, either, with Talisman of Progress his most unusual card choice (but one that is far from crazy).
Bant Eldrazi has continued to put up fairly consistent good numbers and there's every indication the trend will continue. That said, it doesn't line up super-well against Ad Nauseam…
Open champion Nicholas Byrd brought a well-tuned Ad Nauseam list that hit the metagame with a fast combo that was flying under most radars and was mostly immune to graveyard hate. All weekend, however, his matches were extremely impressive. It just didn't seem like anyone had the right tools to beat him.
I like Byrd's use of Mystical Teachings. Even though there is just one, it stretches some of the one-of bullets, in addition to serving as a slow but reliable way to set up the Ad Nauseam plus Angel's Grace combo.
The first Slaughter Pact can help deal with various hatebears and combo pieces, such as Melira, Sylvok Outcast. Using it with Mystical Teachings can keep us from falling any more behind when we are desperate and need to break up a combo. And speaking of desperate…
Playing one Desperate Ritual is nice. Splicing it really just isn't that big of a part of the power, and the ability to Teachings for it to give us the fifth mana we need when we untap does enough to warrant a slot over the fourth Pentad Prism.
This is how you know Modern is a sweet format.
A fun transformational plan after sideboarding that doesn't require you to give up your other combos. It also lets you sidestep hate cards like Leyline of Sanctity, which would normally shut down your Lightning Storm.
Now this is sideboard tech I can get behind. Darkness is an oft-forgotten black Fog that can be used to disrupt all sorts of combos and brutal creature attacks that function sort of like combos. It can be hard to race a deck like Infect with a deck like this. Darkness is a tremendous boon to such an effort.
Timely Reinforcements is a superior card in general, but there might be some value to adding a copy of Rest for the Weary as a tutor target against Burn. It will really come down to how much Burn you expect to see in your local metagame.
Ad Nauseam looked really impressive all weekend, and Byrd noted that his Death's Shadow matchup was great. Moving forward, I wouldn't expect the same level of popularity for Ad Nauseam that Death's Shadow is enjoying; however, I would guess it keeps showing up in moderation.
Byrd's finals opponent, Patrick Tilsen, continued the time-honored tradition of "Abzan Good Stuff," as well as furthering the recent trend towards "No four-ofs except Tarmogoyf and Lingering Souls."
Tilsen's list is notable in its abandonment of Dark Confidant, replacing it with Siege Rhino, giving him a secret weapon against Death's Shadow decks that love dropping super-low.
He also skimped on discard spells (using just three Inquisition of Kozilek, two Thoughtseize, and a Collective Brutality maindeck) in order to squeeze a couple of Nihil Spellbombs into the maindeck.
Nihil Spellbomb is great right now, dramatically disrupting the Death's Shadow decks' quest to Traverse for 7/8 Tarmogoyfs. Additionally, it can steal a lot of percentage to have maindeck graveyard hate against Dredge, Melira, and Snapcaster Mage decks.
Gideon has been becoming more and more industry standard, but it's worth noting for more than just potential Abzan builds. Yes, people make or copy Abzan lists with Gideon in the sideboard now. However, Abzan is far from the only deck that can make good use of the planeswalker. He pairs well with Lingering Souls, but green cards are not the only way to complement him. Of course, the most natural other home would be Mardu, except for the embarrassment of riches among four-cost planeswalkers. So, Esper?
Of course, why Esper when you can Grixis?
Despite just two Grixis players making Day 2 of SCG Indianapolis, both made Top 8, albeit with different styles of decks. Garrett Strause's Grixis Delver list was the faster, more aggressive of the two, but it eventually struggled against Bant Eldrazi, where his Spell Snares and Mana Leaks did not match up well.
One of the parts of Garrett's deck I really appreciate is the inclusion of Terminate despite the full playset of Fatal Push. Terminate isn't as strong a card, but it's still a good one and happens to be pretty well-positioned in this format full of Death's Shadow, Bant Eldrazi, Abzan, and the like. There was relatively little creatureless combo at the top tables.
Speaking of Terminate targets, Tasigur, the Golden Fang and Gurmag Angler are absolutely fantastic threats right now, as Fatal Push is just about the most popular thing, ever. Getting to spend only a single mana for a threat that beats Fatal Push or Lightning Bolt is great.
I like the use of Painful Truths as the grinding card advantage card of choice. Ancestral Vision is a little slow for a Delver deck, and they really want to be able to play Delver on 1, not suspend a Vision.
Grixis is classically challenged by Tron decks, and two Fulminator Mages and a Crumble to Dust is unlikely are completely turn the matchup around. That said, I do find it interesting just how completely devoid of Blood Moon this tournament was.
The Blood Moon deck of the weekend would probably have to be the G/R Land Destruction or "Ponza" deck that put two copies into Day 2, including Top 16 finisher Ryan Shaner.
Yeah, that's Birds of Paradise, Arbor Elf, and Utopia Sprawl, enabling turn 2 Stone Rain and Blood Moon, not to mention Mwonvuli Acid-Moss, Primal Command, and even Beast Within on occasion.
The mana denial is especially brutal when used to knock out someone's few basics when they are relying on a fetchland/shockland manabase that gets crippled by Blood Moon. Even without Blood Moon, however, this list can leverage a temporary mana advantage to dominate the battlefield with such Modern hits as Inferno Titan; Stormbreath Dragon; Thragtusk; Obstinate Baloth; Pia and Kiran Nalaar; Courser of Kruphix; Chandra, Torch of Defiance; and Nissa, Vital Force.
This is a wide variety of powerful midrange creatures and planeswalkers that can help generate some much-needed card advantage to make up for using so many cards to attack people's lands, while playing more than half mana ourselves.
Personally, it's hard for me to get behind a deck, like this. Maybe this really is the best way to Blood Moon people, and it certainly is the awesomest, but that's a lot of mediocre cards combining to form a very fair gameplan. No question, 10 out of 10 for style, though; and with multiple copies in Day 2, maybe it's not just a gimmick, after all…
As for Grixis, Garrett's Grixis Delver list was cool, but I think my preferred Grixis deck would have to be Richie Sledz's Grixis Control, cut from the Corey Burkhart school of Grixis.
First of all, notice the use of three Terminates despite just two Fatal Pushes. Richie correctly anticipated an adjustment format-wide for Fatal Push, and Terminate helps pick up the slack.
Yes. This card is much better than Negate, and while it has been becoming more and more common of a sideboard card, it's awesome to see Corey's maindeck Countersquall technology continuing to prosper. I particularly like seeing it used over Mana Leak (a card that is often fine but gets used by default more often than it should).
Wait, but why sideboard Negate? Simple: once you are stacking up lots of copies of this type of effect, the casting cost of Countersquall starts being more prohibitive. It might be easy to get UB, but getting UUBB starts putting a little more pressure on us.
Without Delver of Secrets, Ancestral Vision makes a lot more sense. That said, I do kind of wish there was one more card drawer in the sideboard, even if it was just some kind of a planeswalker or something. Kalitas, Traitor of Ghet is fine as an added win condition, but I'm talking something like Jace, Architect of Thought; Chandra, Torch of Defiance; or Keranos, God of Storms.
Speaking of storms, Caleb Scherer made Day 2 with a pretty cool new take on U/R Storm, taking advantage of the addition of Baral, Chief of Compliance.
With both Baral and Goblin Electromancer, Caleb's list can fairly reliably play a two-drop on two that, if unanswered, will often set up a turn 3 or turn 4 kill. Baral is also just a totally sweet combo with Remand!
Playing Baral on 3 and then using Remand to Time Walk the opponent and set up an easy turn 4 kill is already very attractive. Since Remand does count as "countering," we even get a free "loot," which is especially valuable for a deck with Past in Flames!
Losing Gitaxian Probe was a serious blow to this archetype, but the move towards Gifts Ungiven tries to sidestep the critical mass problem by tutoring up Past in Flames, Grapeshot, Desperate Ritual, and Pyretic Ritual.
Usually, the flaw with this approach is how much slower it is when you don't draw Goblin Electromancer. Baral, however, means we now have access to more cost reduction than we know what to do with.
So What Is the State of Modern?
Awesome.
No question, Death's Shadow is a powerful looming specter on the format and is unlikely to fade away anytime soon. It is, however, also a very interactive and fun strategy and, as this weekend demonstrated, it is also one that can be beaten with a carefully constructed strategy and good play.
This Modern format is an exciting, wild, open world to explore with countless viable decks and constantly shifting metagame where it seems like just about everything is at least Tier 2, allowing for tons of personalization and building towards your playstyle. There are a lot of Modern events on the horizon, and I am eager to see what breaks out next!