Leading up to this last weekend's Standard Magic Online PTQ, one thing in
particular stood out to me about the state of the early stages of Dominaria Standard as people eagerly tried out the new cards.
Creatures were taking over.
Powerful incentives for being mono-white or mono-green were leading people
to flood the battlefield with, respectively, hordes of undersized or a few
oversized creatures. Goblin Chainwhirler came to the forefront as people
were eager to punish opposing Legion's Landings and Llanowar Elves.
Meanwhile others were interested in jamming whatever legend-typeline Draft
fodder they had lying around into a deck to ignite the latest piece of
pseudo-powered Mox Amber.
With people energised by these new toys and the fast clocks of many of
these decks pushing back against The Scarab God and God-Pharaoh's Gift
decks that have ruled over the format up until now, it seemed like the
perfect time to register cards that have traditionally set their sights on
beating up on creatures: Wrath of God, Remove Soul and Baneslayer Angel.
Creatures (3)
Planeswalkers (3)
Lands (25)
Spells (29) This decklist, originally tuned by Daniel Fournier, seemed like exactly
what I wanted to be doing early on in this Standard format, where many
matches just feature creatures running into each other. The full four
copies of Essence Scatter clearly point to the state of this week one
Standard environment, and alongside them we also play four copies of the
excellent new removal spell Seal Away, giving U/W Control the two-mana
removal spell it has been longing for ever since Blessed Alliance and
Immolating Glare left the format. Except it's much more powerful and
versatile than those, allowing you to exile creatures at end step once you
know there's nothing you need to counter, or even on your own turn if your
opponent is tapped out to play around Blossoming Defense. With eleven
pieces of interaction at two mana, the deck is better at keeping pace with
its opponent's plays than any Standard-legal control deck we've seen in a
long time.
Alongside Seal Away, Lyra Dawnbringer is the other card that has allowed
U/W Control to boast a good Mono-Red Aggro matchup. In truth, though, this
card is crushing and game-warping in sideboard games against almost any
creature deck. In testing I found that even the threat of you potentially
sideboarding in Lyra is scary enough to make opponents be forced to
sideboard in otherwise bad cards, like Fight with Fire and Plummet.
Meanwhile, a hidden upside of Lyra is she helps you deal with the scariest
cards you can face: planeswalkers. Karn, Scion of Urza, in particular, is
an intensely threatening card for this deck, whilst Nissa, Vital Force and
Chandra, Torch of Defiance often end up being sideboarded in against you in
large numbers too; being able to take these cards down with a creature
relieves a lot of the stress on your Cast Outs. Similarly, using Lyra to
present a clock that can't be raced in sideboard games help seriously
nullify the impact of otherwise scary sideboard cards, such as
Lifecrafter's Bestiary.
The most exciting new addition to the deck for me though is also the reason
I'd even entertain the thought of playing it. Torrential Gearhulk is a fine
win condition but is also vulnerable to all sorts of removal, whilst
Approach of the Second Sun and Drake Haven are both clunky win conditions
to lean heavily on. This card is the win condition we've been waiting for
all along: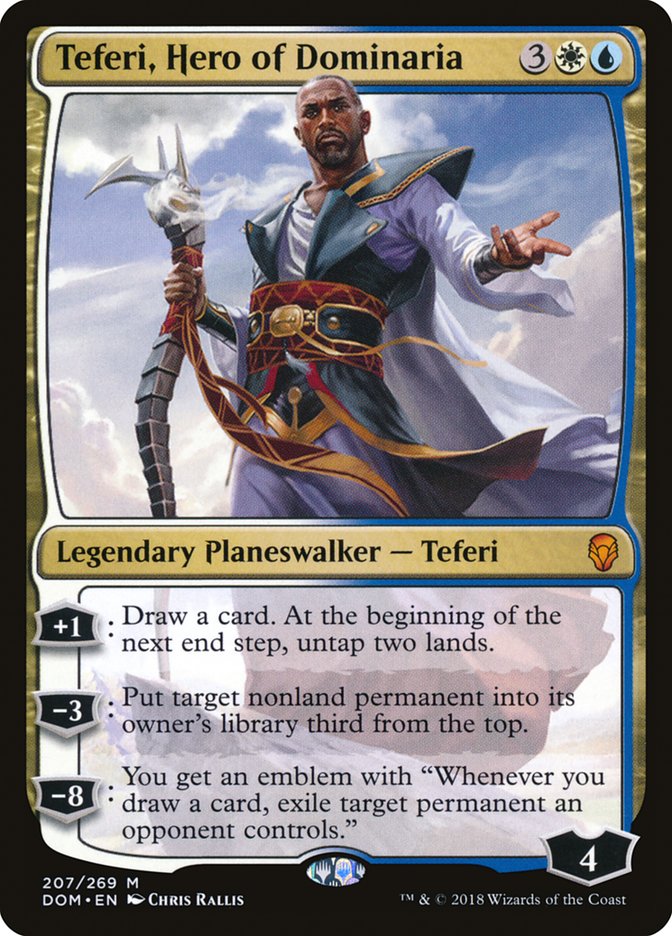 Teferi is wholly unreasonable.
Part of what always made Chandra, Torch of Defiance so scary out of Temur
Energy a few months ago was that often she could plus to make mana the turn
she hit the battlefield and you could immediately Abrade or Harnessed
Lightning whatever creature was threatening her, leaving her sitting on an
empty battlefield. In that deck, Chandra's mana-generating ability was
secretly her most powerful mode.

The fact that Teferi's +1 ability untaps lands achieves a similar effect.
On curve on turn 5, he lets you hold up your two-mana interaction to Seal
Away your opponent's attacker or counter their next threat, whilst later in
the game the extra mana can go so far as to allow you to hold up Settle the
Wreckage to protect him.
The presence of Teferi means you must lean less on Cast Out to answer
planeswalkers and problematic artifacts or enchantments due to his ability
to tuck those cards away with his -3 ability. He also makes it really
challenging for opponents to tap out for standalone midrange threats like
planeswalkers or The Scarab God on an empty battlefield, as a Teferi coming
down and tucking that threat is incredibly swingy and punishing. I imagine
that if Teferi becomes a true centrepiece in the format, then before long,
we'll start to see freshly made Karns -2ing to make a Construct on their
first turn on an otherwise empty battlefield to provide the 1/1 needed to
insulate against an incoming Teferi. Teferi's ability to tuck permanents
warps the threats you can play and how you can deploy them.
In addition, Teferi is predictably crushing in anything resembling a mirror
match, but notably serves as a standalone win-condition in these matchups.
Even if all your Gearhulks are dead, you can build Teferi towards ultimate,
gain his emblem, and rapidly exile your opponent's lands. With no mana left
on your opponent's side, Teferi can safely tuck himself back in to your
deck, leading to you repeatedly redrawing and casting him every turn to
ensure you can never deck out while your opponent inevitably does. As well
as being incredibly elegant, this also single-handedly makes Ipnu Rivulet
much less threatening in mirror matches than it has traditionally been.
A few small changes I'd make going forward include replacing the Admiral's
Order in the sideboard with a single copy of Fragmentize as an efficient
answer to Heart of Kiran (a particularly annoying threat as it dodges both
Seal Away and Fumigate), and replacing one Karn, Scion of Urza with another
sideboard Disenchant effect in the form of Invoke the Divine. I also want
to shift the balance of four mana draw-twos in the main deck slightly more
in favor of Hieroglyphic Illumination.
Creatures (3)
Planeswalkers (3)
Lands (25)
Spells (29) Sideboard Guide

VS Mono-Red Aggro
Out:
In:
In general, against aggro decks you're looking to trim on win conditions
that line up poorly against what your opponent is doing and replace them
with Lyras (which will generally be the best win conditions you can have in
your deck after sideboard). I prefer Hieroglyphic Illumination over Glimmer
of Genius in sideboard configurations against aggressive decks because
being able to cycle an Illumination early on in the game means that you
have a spell you want to recast in your yard if you end up casting your
Torrential Gearhulk as the largest of Ambush Vipers on turn 6.
VS Mono-Green Aggro
Out:
In:
Bring in Fragmentize also if you see Aethersphere Harvesters game 1 (in
addition to the usual Heart of Kiran) or suspect your opponent is bringing
in Lifecrafter's Bestiary. If you see all three of those, or even some
Verdurous Gearhulks, then you can make room for an Invoke the Divine too.
The Mono-Green lists vary so much now that you must be willing to be
flexible with this aspect of the sideboarding.
VS Mono-White
Out:
In:
VS Vehicles
Out:
In:
VS U/W Historic
Out:
In:
Cutting Syncopates here is a nod towards the fact that Raff Capashen,
Ship's Mage can force you to be capable of fighting over spells in your end
step, meaning that in the mid-game a mana-hungry counterspell like
Syncopate can leave you largely tapped out for your opponent's turn. Lyra
lines up poorly against the opponent's deck for multiple reasons (Merfolk
Trickster and Teferi being the most notable ways for the opponent to punish
her and sorcery-speed five-mana spells just generally being awkward against
a deck that tries to play at instant speed), but I want a source of life
gain enough that I'm willing to sideboard her in regardless.
VS B/G and Sultai Constrictor
Out:
In:
I don't like leaning too heavily on Settle the Wreckage against discard
spells, and Settle generally lines up awkwardly against both Glint-Sleeve
Siphoner and Walking Ballista, as both creatures can be threatening without
having to attack. If your opponent is playing Hadana's Climb, find room for
the fourth Field of Ruin by cutting a Plains. Beware Ravenous Chupacabra
from B/G lists and consider holding your Lyra in your hand for as long as
is reasonable out of respect for this card.
VS U/W Control
Out:
In:
You're a bit heavy on Essence Scatters after sideboard, but this is fine as
they are the best way to deal with Gearhulks and let you save your
Disallows for more important spells.
***
We're still only in week one of the new Standard format, and Dominaria has introduced so many great cards that it's hard to know
where the format is going to land, but for as long as the format is about
casting efficient creatures I really like how U/W Control is positioned.
The Top 8 of the PTQ this past weekend was almost entirely proactive
creature decks, and when your opponents are casting three-mana 3/3s and
5/4s, you want to be casting Wrath of God and Baneslayer Angel.