Longtime friend, Magic compadre, fellow foodie, and Pro Tour Historian Brian David-Marshall loves Magic in all of its forms. Commander is no exception. Brian also loves the classic crime novel with low lighting, fedoras, and femmes fatales, so he put together a Lazav deck to reflect his affection for both. I've been bugging him for two years or so to ship me this list; he finally got around to it a week or so ago. He started with this amazing alter by the one and only Eric Klug: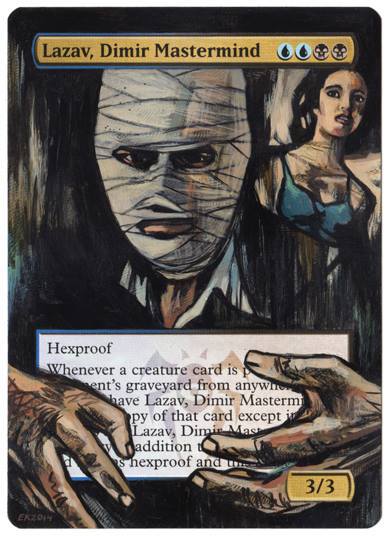 I'll let Brian tell you in his own words how the deck came about:
The inspiration for this deck came from the desire to have a deck built around the Dimir Mastermind, who conjured up images of my favorite character in crime fiction, Parker. Parker is a criminal mastermind who in the second novel of the series undergoes plastic surgery to change his face. I had the amazing Eric Klug (who also altered my Simic Visionary) recreate the original cover of The Man with the Getaway Face and then proceeded to build a deck that involved having all the cards conjure up some element of a hard-boiled crime novel.
I'll give you the whole list and then we'll return to talking about how Brian assembled the various parts of it. This is the kind of method I enjoy when putting together a deck—starting with a theme and then doing my best to fit things into the theme. If the cards are sometimes less than optimal but are strongly thematic, that's fine. Commander is the format which best lends itself to theme decks; in no other can you completely surrender to an idea and still end up with something which you'll enjoy playing.
Creatures (21)
Planeswalkers (1)
Lands (36) To put together the deck, Brian started where thieves start: with the stuff they're going to steal.
Artifacts are generally a freebie in this deck, since a thief can always be counted on to steal an artifact. Some double-up with references to vaults, crypts, maps, and various pieces of jewelry.
Mana Crypt; Sensei's Divining Top; Sol Ring; Elixir of Immortality; Expedition Map; Talisman of Dominance; Dimir Cluestone; Darksteel Ingot; Coalition Relic; Pristine Talisman; Sword of Vengeance
Mana Crypt is additionally an excellent choice because it comes back to bite you occasionally; it's the cost of doing crime. Brian has already started to win on the flavor end, and it only gets better. Compulsion, Brainstorm, and Pilfered Plans set the mood for what will be happening in the deck. Then he puts together the nefarious team to help out with the crime:
Sygg, River Cutthroat; Undercity Informer; Thada Adel, Acquisitor; Dark Impostor; Stealer of Secrets; Scroll Thief; Shadowmage Infiltrator; Faceless Butcher; Notion Thief; Slum Reaper; Evil Twin; Ogre Slumlord; Trinket Mage.
Trinket Mage is possibly too Spikey for this deck, but it keeps stealing Sol Rings. That is both flavorful and fun (for me); she is not going anywhere. Trinket Mage may seem like the one slightly out of place in this group of thieves and impersonators but is the person you go to when you need something—think Red in The Shawshank Redemption. I have soulbonded Trinket Mage with Deadeye Navigator to loop Elixir of Immortality.
I know that Brian, who is a pretty fair competitive player, sometimes worries that his Commander decks get a little Spikey, but I'm a little less worried than he is. I don't find Thada Adel all that Spikey, and Brian bringing it up here makes me think about adding it to my Rotisserie Draft deck. When you play with Thada Adel, you can always expect a tough game, but decks like this demonstrate that Brian hasn't slipped over the edge; he's always been willing to tick it down a notch when a group isn't a fan of a card or combo.
Way back in the early days of his first Momir Vig, Simic Visionary deck, Brian had Brine Elemental and the Pickles lock in the deck. The night before a Pro Tour, we were playing a game with fellow Commander Rules Committee member Scott Larabee and Pro Tour scorekeeper Nick Fang. Brian assembled Pickles, locked everyone out, and a reasonably interesting game ground to a halt. I could see him processing the fact that, while he put the cards (which includes Vesuvan Shapeshifter) in the deck because it was one of his all-time favorite competitive combos (and one of the things which Commander lets you do is go back to cards you can't play in other formats any longer), it took the air out of the otherwise fun and social game we were playing, which was mostly an excuse to hang around and have drinks and snacks.
He later took Brine Elemental out of the deck. While it may have cost him a win or two down the road, he recovered those victories by ensuring that his friends had less of a miserable time. That's not to say that Stasis and STAX locks aren't a viable way to play; you just have to read your group. If it's the kind of thing they think is fine and maybe even enjoy the challenge of getting out from under, then go for it. If your friends like a looser game, you might want to think about not just winning, but how you're winning.
After getting together a crew of thieves that looks like something that Kevin Spacey, Gabriel Byrne, and Benicio Del Toro would be happy in, you can see that the rest of the list continues to leverage the theme in both the names of the cards and the things that they do. Superstars include flavor and strategic winners like Acquire, Bribery, and Blatant Thievery. Brian makes these additional comments on a few of the cards:
Destroy the Evidence is a card that has turned out to be better than could be reasonably expected. I have taken out a number of [irritating] lands with this. I always assumed Cremate was a filler card that would hold space for something that possibly had a little less flavor but worked better in the deck. Then I Cremated Emrakul, the Aeons Torn.
Obviously, Brian didn't Cremate Emrakul in this particular deck, since Lazav didn't come out until well after Emrakul was banned. Still, it's a criminally (see what I did there?) underplayed card in the format.
Graveyard hate needs to be a thing, even if it's just to stop Ulamog, the Infinite Gyre or Kozilek, Butcher of Truth from continually recycling an opponent's graveyard. Since it's a cantrip, it will replace itself, so you've both done something important and gotten something for it.
Brian's experience with Destroy the Evidence makes a compelling argument to reconsider the card. There are a number of lands which deserve to get destroyed: Cabal Coffers; Nykthos, Shrine to Nyx; even a Maze of Ith that's preventing you from attacking with your best creature. Getting two for one plus a few things into the graveyard for reanimation purposes is a grand idea. Brian isn't doing too much tomfoolery with other peoples' graveyards (beside the obvious with Lazav himself), but that Body Double will do some heavy lifting.
Looking down his list, there are a few other cards which I find worth taking another look at:
Every time someone plays Memory Plunder, I ask myself why I'm not playing more of it in my own decks. Michael (who has the Grixis decks) has gotten great mileage out of it already in our Rotisserie Draft League, which led me to put it in the Thraximundar Do Over last week. It's an instant, so in an emergency situation you can use it to get a counterspell if need be or some protection against mass destruction, like Rootborn Defenses or Eerie Interlude. I'll definitely rethink my commitment to Memory Plunder.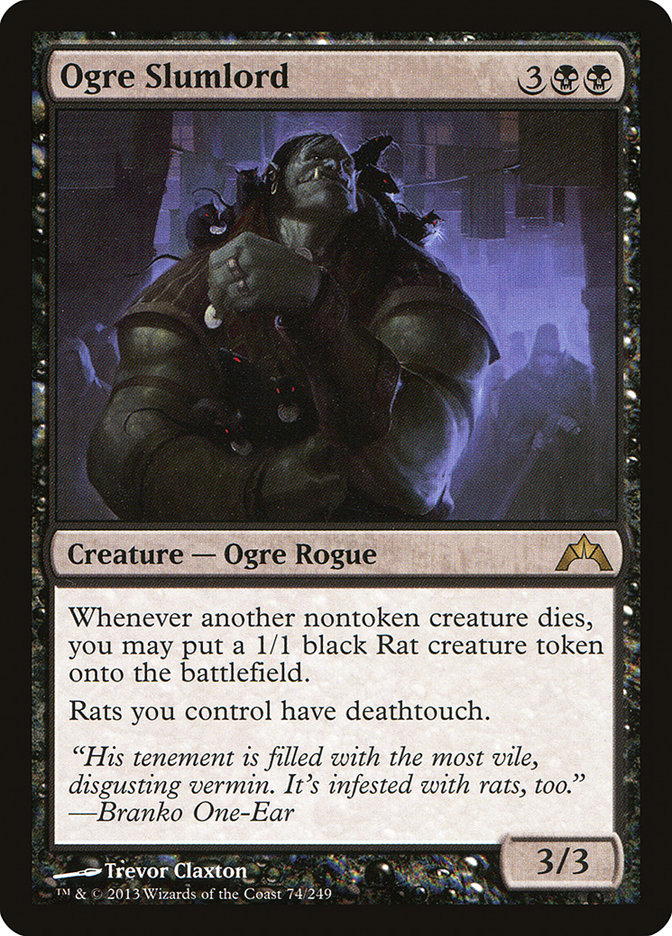 I like creature decks, and battlefield wipes happen. I like to find new and interesting ways of recovering from those wipes, such as Penumbra Wurm and Chasm Skulker. Ogre Slumlord has that same kind of recoverability. It might even go into a Karador, Ghost Chieftain deck that loops creatures through the graveyard to and from the battlefield, creating a little extra value each time, which will eventually make Blood Artist even more painful for someone than it already is.
Back when Avacyn Restored came out, I wasn't doing regular New Set Update pieces. I looked back at all my lists, and Stolen Goods isn't in any of them. It seems like a nicely cost-efficient piece of thievery. It's one blue mana cheaper than Bribery, so you can more reasonably splash it, and you could end up with anything, not just a creature. It's a little wonky and a lot random, but that's part of the fun of it.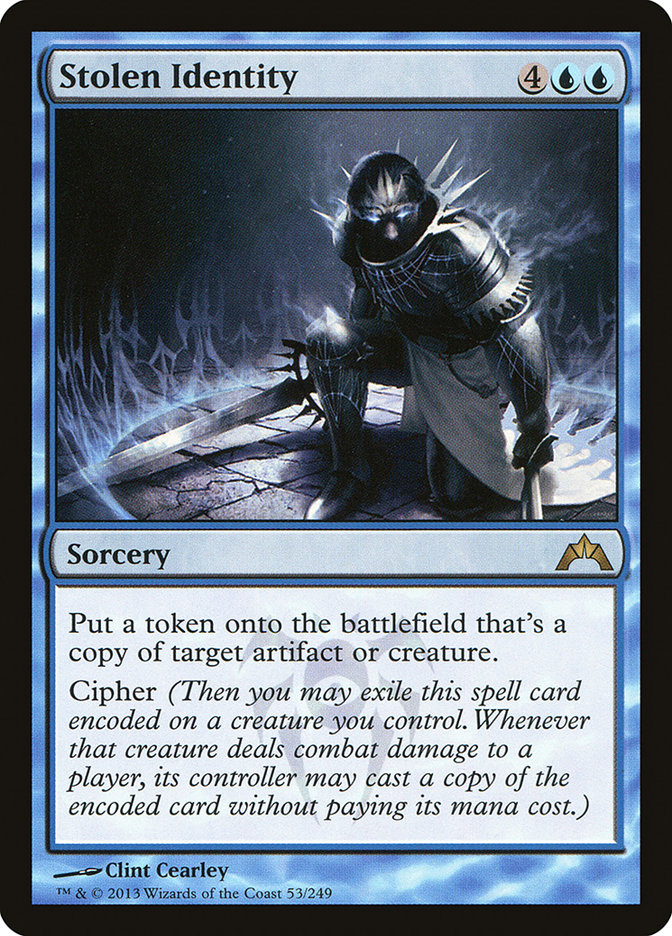 Also not playing Stolen Identity in any decks at the moment, which I'm going to rethink. In Brian's deck, the clear thing to encode it onto is Thada Adel, Acquisitor, since you know Thada's always going to get through via islandwalk. Stolen Identity costs six, so you'll need to get some serious value out of it to make it worthwhile, but being able to get copies of two things on the first turn (the thing you copy, then the one you get after you encode it onto a creature which can attack) seems decent enough. That you can copy an artifact with it makes it even better.
People might be inclined to use creature reset buttons like Wrath of God or Damnation, but mass artifact destruction doesn't happen as often. Multiple copies of Sword of Fire and Ice would be saucy. Repeatable Duplicant can establish some creature control. Even just extra mana rocks is fine; Mind Stone might be the least expensive and best value.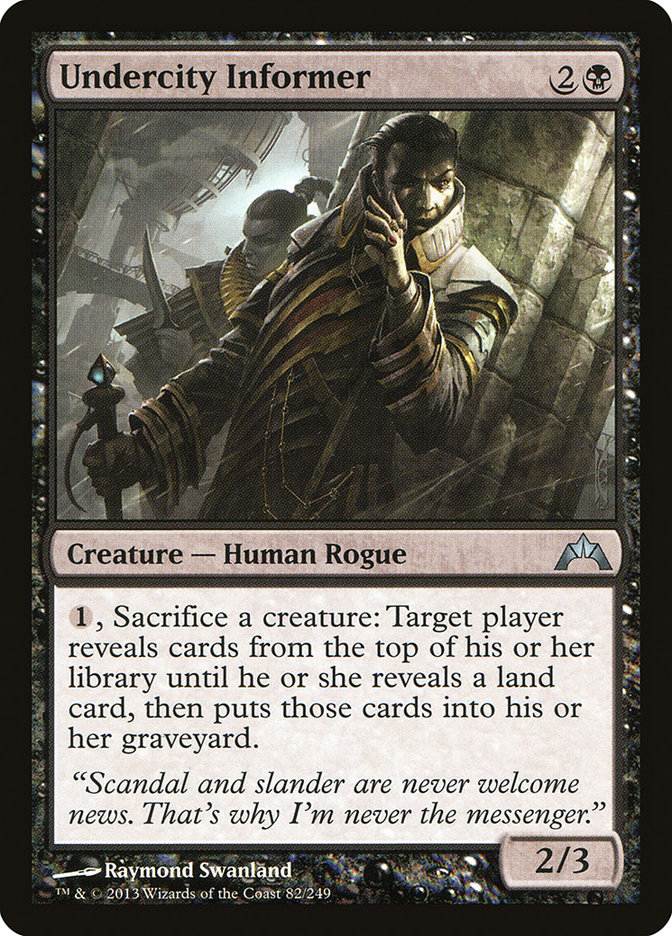 I like inexpensive sacrifice outlets, mostly because people like to steal your stuff (as evidenced herein). As part of a healthy mill plan, Undercity Informer (which I don't have in any other decks either) will get things into the graveyard you want, since it targets a player, not an opponent. Combine with Havengul Lich for all the enjoyment of casting everyone else's creature spells (now that you can generate whatever colors of mana you might want via things like Coalition Relic and Darksteel Ingot).
Brian's commentary on his land selections demonstrates the clever sense of humor Magic coverage fans have come to appreciate over the last two decades:
Lands are even easier [to choose] than artifacts. Basically a land has to either sound like a place you can rob (Cabal Coffers), hide out (Lonely Sandbar), or die slowly from an agonizing belly wound after a job went south (Frost Marsh).
Because they're in line with his thematic approach, I might even forgive him the off-color fetches (don't panic; no one is coming for your off-color fetches). This deck looks amusing enough to play that I might just copy it for my Lazav, Dimir Mastermind Do Over. I count only nine nonland and three land cards which the two decks have in common, so it should be easy to replace them with theme-appropriate cards.
There are plenty more "steal" and "thief" cards running around Magic (Steal Enchantment and Aura Thief come to mind; maybe it's because I have other peoples' enchantments on the brain). Brian's deck has great playability, and in any given game there are challenging decision trees. The deck blends a remarkable thematic approach with enough in-game weapons and trickery to be taken seriously—all in all, my favorite kind of Commander deck.
This week's Deck Without Comment is my own Lazav deck.
Creatures (27)
Planeswalkers (4)
Lands (37) Check out our awesome Deck List Database for the last versions of all my decks:
ADUN'S TOOLBOX;
ANIMAR'S SWARM;
AURELIA GOES TO WAR;
CHILDREN of a LESSER GOD;
DEMONS OF KAALIA;
EREBOS and the HALLS OF THE DEAD;
GLISSA, GLISSA;
HELIOD, GOD OF ENCHANTMENTS;
DREAMING OF INTET;
FORGE OF PURPHOROS;
KARN, BEATDOWN GOLEM;
HALLOWEEN WITH KARADOR;
KARRTHUS, WHO RAINS FIRE FROM THE SKY;
KRESH INTO THE RED ZONE;
LAVINIA BLINKS;
LAZAV, SHAPESHIFTING MASTERMIND;
ZOMBIES OF TRESSERHORN;
MELEK'S MOLTEN MIND GRIND;
MERIEKE'S ESPER CONTROL;
THE MILL-MEOPLASM;
MIMEOPLASM DO-OVER;
NATH of the VALUE LEAF;
NYLEA OF THE WOODLAND REALM;
OBZEDAT, GHOST KILLER;
PURPLE HIPPOS and MARO SORCERERS;
ZEGANA and a DICE BAG;
RITH'S TOKENS;
YOU DID THIS TO YOURSELF;
RURIC THAR AND HIS BEASTLY FIGHT CLUB;
THASSA, GOD OF MERFOLK;
THE ALTAR of THRAXIMUNDAR;
TROSTANI and HER ANGELS;
THE THREAT OF YASOVA;
RUHAN DO-OVER;
KARADOR DO-OVER;
KARRTHUS DO-OVER
If you'd like to follow the adventures of my Monday Night RPG group (in a campaign that's been alive since 1987 and is just now getting started with a new saga called "The Lost Cities of Nevinor"), ask for an invitation to the Facebook group "Sheldon Menery's Monday Night Gamers."