As the StarCityGames.com Open Series heads to Providence, RI for the last Open weekend before the Season Two Invitational in Columbus, OH, one player has
emerged from the pack as the clear leader of the season's points race.
Only six points separated Chris VanMeter and Eric Rill from Joe Lossett three weeks ago as the trio of players at the top of the Season Two leaderboard
battled for their positions in Cincinnati and Knoxville the two weeks leading up to States weekend. VanMeter and Rill were tied at 120 points entering
States weekend, but with Rill heading to Atlanta for the Pro Tour VanMeter had an opportunity to gain some serious ground on the leaderboard in hopes of
locking up a berth to the Players' Championship at the end of the year.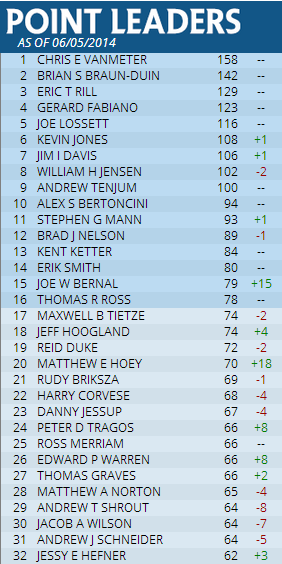 VanMeter took advantage of States weekend by winning in West Virginia and playing in Virginia to grab 11 points and put himself ahead of the pack. In the
past two weeks, VanMeter had seized control of the points race by crushing the New Jersey and Indianapolis Standard Opens behind his trusty Jund Monsters
deck. While VanMeter failed to win an Open–and shave his beard that he's committed to keep until he wins an Open or qualifies for the Players'
Championship-his Finals appearance in New Jersey and his Top-4 finish in Indy has given him a monstrous lead over his closest competitors as Season Two
draws near its end.
VanMeter's 27-3-5 record with Jund Monsters and his determination on the Open Series has added 28 points to his total for the season and catapulted him
above the rest of the competition heading into #SCGPROV. He will be making the trek up north to Rhode Island to attempt to make his lead insurmountable at
the Invitational. A lead of more than 30 points for VanMeter heading into Columbus would lock up his qualification for the Players' Championship – his
current lead is 29 points over Rill. With Rill opting to play in PTQs this weekend rather than travel to New England for the Open, VanMeter will not be
able to be passed by Rill after simply registering for the Standard and Legacy Opens in Providence.
While Rill may no longer be a threat to VanMeter's shot at the Players' Championship, one player has clawed his way into the Season Two race. Two-time Open
Series winner and two-time Grand Prix champion Gerard Fabiano can still make a run at overtaking VanMeter after a season full of grinding IQs.
No one has put in as much work on the IQ series than Fabiano, who won an IQ at Dragon's Den this past weekend to follow up his Top-4 finish in the New
Jersey Standard Open to raise his points total to 123. Even though Fabiano's 123 points puts him in fourth currently below Rill's 129, Fabiano will be
playing in Providence this weekend. A strong finish in either Open or a win can put him in within striking distance of stealing the Players' Championship
berth with great performance in the Invitational.
All eyes will be on VanMeter and Fabiano this weekend in Providence as one of the Season Two Players' Championship invites could be determined. Can CVM
lock it up or will Fabiano make things interesting in Columbus?
Other moves:
Tom Ross won a Modern IQ this past weekend with a spicy G/U Infect deck that greatly resembles the Legacy deck he played to a Top-8 finish in the Season
One Invitational in Charlotte, NC earlier this year. The five points for his win leaves him with 78 and a solid position to go into the Season Two
Invitational with two byes.
Joe Bernal piloted his unique Esper Deathblade build to a finals appearance in the Legacy Open at #SCGINDY to jump into the Top 16 and most likely lock up
two byes for himself at the Season Two Invitational. His finish in Indy marked his 10th Open Series Top 8, but a trophy still eludes him. Bernal trails
only Brian Braun-Duin, who has 11 Open Series Top 8s, as the player with the most Top 8s with no victory.
Stephen Mann, Atlanta 2014 Legacy Open winner, put up nine points on the weekend after his Legacy Top 8 in Indy to move up to 11th place,
passing Brad Nelson. Mann should also be locked in for two byes in Columbus next week.
Matt Hoey jumped to 20th place and well into the Top 32 to lock up one bye for the Season Two Invitational thanks to his Top 8 in the Legacy
Open in Indy. The Top 8 is Hoey's ninth on the Open Series, six of which coming in the Legacy format.