Joe Lossett and Alex Bertoncini are separated by just five points at the top of the StarCityGames.com Season Three points leaderboard, but a familiar face
has joined them in the hunt for a berth to the Players' Championship.
Gerard Fabiano, who had an outside chance at earning the Season Two points qualification for the Players' Championship, is right back in the thick of
things after winning the Standard Open in Worcester, MA two weeks ago. And as the Open Series heads to Baltimore, MD this weekend, Fabiano is a strong
finish from closing the 21-point gap between himself and Bertoncini. But it won't be easy as Bertoncini will be in Baltimore as well, battling for enough
points to surpass Lossett.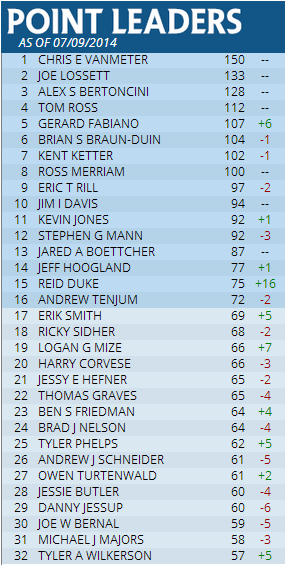 Bertoncini picked up six points in Worcester with a Top 32 and a Top 64 to gain ground on Lossett, who earned two points with an IQ Top 8 in La Jabra, CA
on the same weekend. Lossett, a California resident, faces an uphill battle the remainder of the season as three of the five Opens before the Season Three
Invitational take place on the East Coast. While Lossett has plans to play in Dallas next weekend, the remaining Opens in Kansas City, Syracuse, and
Washington DC look to be outside his travel range. Conversely, Bertoncini and Fabiano can be expected to attend Syracuse and Washington DC.
Fabiano climbed the leaderboard this year by grinding IQs more so than almost any other player in the Top 100. To go with his success at IQs on the local
level, he prefaced his win in Worcester with Esper Control by making the Top 4 of the New Jersey Standard Open in May with a very similar build to his
winning deck. His win in Worcester marked his third Open Series victory and came by defeating five-time Open Series Top 8er Reid Duke in the finals.
Duke, who has an Invitational win from 2012 in Los Angeles to go along with his Open wins, climbed into 15th place on the Season Three
leaderboard with his runner-up finish. Duke followed that result by taking 12th in the Legacy Open, capping his 19 point weekend that came after
his Season Two Invitational Top 8 back in June.
While the points race for Season Three will draw a lot of attention this weekend in Baltimore, the new Standard format with the addition of Magic 2015 is
the main attraction. With M15 in the mix, the Standard card pool will be at its largest, and players will be testing out new strategies as well as more
tuned staples. This will be the first Open not at an Invitational that Brian Braun-Duin, Chris VanMeter, Todd Anderson, and Brad Nelson all attend since
Nashville back in February. While Braun-Duin and VanMeter are qualified for the Players' Championship, Anderson and Nelson are still looking to find a way
into the end-of-the-year tournament.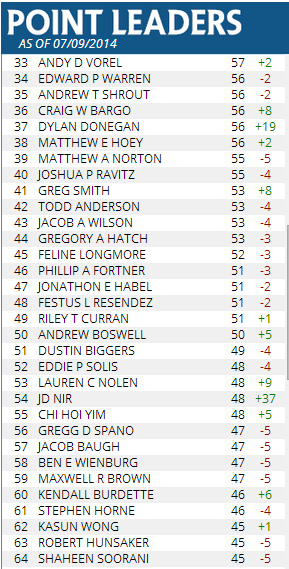 Other moves:
Kent Ketter took second in an IQ in Niles, IL on July 5 to slide up to seventh in Season Three. Ketter has finished ninth in both Invitationals this year
to go with a handful of Open Series Top 8s.
Kevin Jones climbed into 11th in Season Three by Top-32ing the Standard and Legacy Open in Worcester for eight points.
Jared Boettcher continued his stretch of Top 8ing close to everything he plays by making the Top 4 of the Standard Open in Worcester, MA. The finish marks
his fourth Open Series Top 8 of the year, two of which coming from the Season One and Season Two Invitationals. His rash of strong finishes has put him 13 th on the Season Three leaderboard.
Jeff Hoogland won the IQ at Nerd Rage Gaming in Buffalo Grove, IL on July 5 with Jund Midrange for five Open Series points to move into 14th
place on the Season Three leaderboard.
Erik Smith's loss to Dan Jordan in the quarterfinals of the Legacy Open in Worcester marks his third Top 8 in Open Series events in Worcester. He reached
the semifinals of the Legacy Open in July 2013 and won the Team Sealed event there with Gerard Fabiano and Curtis Sheu in September of 2013.
Logan Mize has earned 14 points at IQs around Florida since his Top 8 at the Season Two Invitational to move into 19th place in Season Three.
His latest score was for four points by taking second at the IQ at Campus Cards and Games in Orlando, FL with Mono-Blue Devotion.
Dylan Donegan jumped 19 spots on the leaderboard into 37th place after winning a Super IQ and an IQ on the same weekend in North Carolina. The
two-time Open Series Top 8er won the Super IQ at Event Horizon Games in Raleigh on July 5 and the IQ at East Coast Games in Cary on July 6 both with
Mono-Blue Devotion to gain 11 Open Series points.
Tyler Phelps moved up to 25th place after getting five points from the same Super IQ and IQ in North Carolina that Donegan won. Phelps, who took
10th at the Season Two Invitational, took second in Cary and made Top 16 in Raleigh with Esper Control.
Ben Friedman used a Top 32 and a Top 64 at Worcester to move up to 23rd on the Season Three leaderboard. Friedman has four Invitational Top 8s,
including his runner-up finish in Columbus in June.