Welcome to the third and final part of this series on Board Wipes. In Part One we covered how to kill creatures directly. In Part Two, we discussed killing them with damage or by lowering their toughness. In Part Three we'll talk about the big hitters — the spells and effects which kill more than just creatures. We'll break them into two groups. The first is Disk Effects, which will destroy all (or most) nonland permanents. The second is World Slayers, which also take out the lands while they're doing it.
Disk Effects
Nevinyrral's Disk: Named for fantasy/sci-fi author Larry Niven (Nevinyrral is his name backwards) and the disc called the Warlock's Wheel in his short story turned novella The Magic Goes Away, the Disk was the original Magic board-wiper. It specifies artifacts, creatures, and enchantments, which where the permanents of the day. That means it won't take out planeswalkers. Later-printed versions of other cards would instead say nonland permanent. It only costs four to cast and one to activate, but it comes into play tapped. Initial printings reminded players that it destroyed itself, and rulings at the time specified that it wasn't a sacrifice. If you could somehow regenerate the Disk (or nowadays, make it indestructible), you could repeat it every time it was untapped. Subsequent printings in From the Vault: Relics, Commander 2013, and Commander 2014 have made it readily available and affordable for everyone. Once the Disk is on the battlefield and untapped, it becomes a game of chicken, waiting to see who will risk what in order to force the Disk player to blow it.
Akroma's Vengeance: First printed in Onslaught, Akroma's Vengeance is Nevinyrral's Disk on a sorcery, with the added benefit of having cycling. Like Disk, it specifically mentions artifacts, creatures, and enchantments. Being a Sorcery, you can't just run it out there and wait to see who will throw what in front of it. Of course, that also means that you'll have a better chance of catching players over-committing to their board states, setting you up to wreck them with the big blast.
Child of Alara: Child of Alara destroys all nonland permanents when it dies. If you're playing it as your commander and want its ability to trigger, you have to let it go to the graveyard instead of putting it into the Command Zone. This is because putting it into the Command Zone is a replacement effect, the Child never touches the graveyard. My personal solution to this in my Child of Alara deck is to let it go to the graveyard and then use graveyard removal (like Scrabbling Claws) to get it back into the Command Zone. I have seen other decks, like the one piloted by Armada Games regular John Bolt, which use various spells like Disturbed Burial to put the Child back into the hand and recast it.
Coercive Portal: In real life, I'm less of a fan of committee decisions. In multiplayer games, politics are thought-provoking and intriguing. Coercive Portal has to sit there long enough for players to think about it, since it doesn't trigger until the controllers' next upkeep. In many cases the choice will be obvious, like if one player is clearly in a dominant position. Note that if homage is the choice, Coercive Portal isn't sacrificed; it hangs around to check the Will of the Council again next turn. I've seen tables vote to blow up a board that had a good amount of parity just to keep the Portal player from drawing cards.
Elspeth Tirel: Elspeth's ultimate isn't difficult to get to. You only have to activate the +2 ability once before you can use it — and you'll even still have her around with a loyalty counter left. A slight problem might come in that she doesn't destroy tokens… and you might not be the only one with a token army. It's likely that you'll be better set up for it, but not guaranteed. There are plenty of good token decks running around out there.
Engineered Explosives: You'll have to play around with this one a little because it only destroys things equal to a particular converted mana cost. You can certainly cast it for zero and have it blow up tokens (except tokens which are copies of creatures, which take on the card's mana cost). It doesn't see a great deal of play in the format because of the limitation of the number of counters on it without some Proliferate gymnastics, but perhaps for a metalcraft deck or something which keeps bringing it back like Sharuum the Hegemon – for which it'll have 0 counters, offering only repeatable token-killing – it might have some value.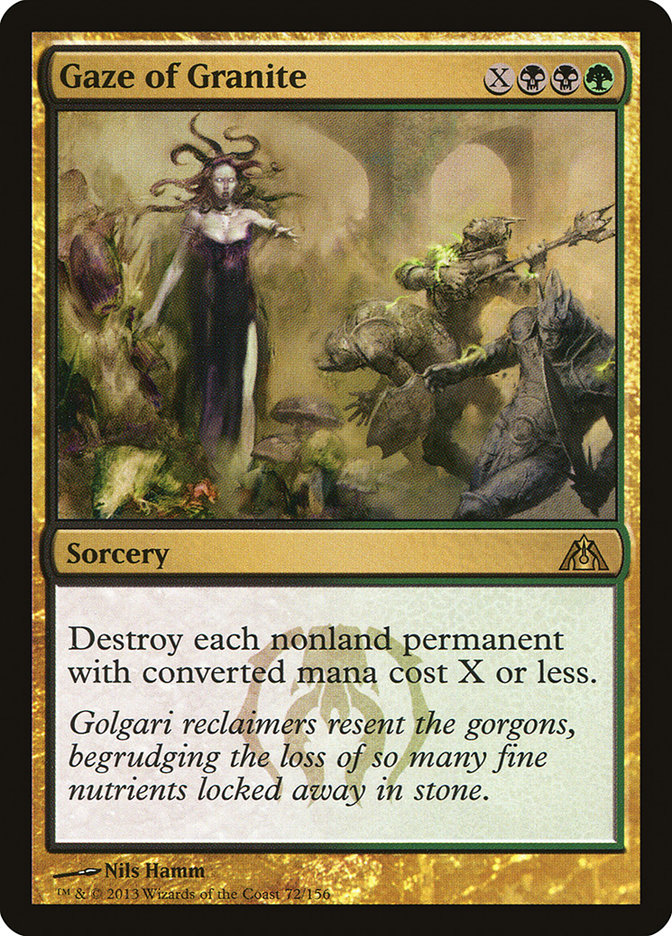 Gaze of Granite: A slightly-improved Pernicious Deed as a sorcery, since it says "nonland." It's in the same Golgari colors, so you can certainly play both. The mana you need to spend (BBG before the X for this, 1BG for Pernicious Deed) is nearly identical. As with the Akroma's Vengeance/Nevinyrral's Disk comparison, you are more likely to be able to create a big blowout situation that someone didn't see coming, but you'll have to invest all the mana now as opposed to being able to split it up by spending three mana up front and the X later.
Magus of the Disk: Even though it was printed after other cards which said "all nonland," Magus of the Disk remains true to the wording of its forebear, specifying artifacts, creatures, and enchantments. I'm a fan of the various "Magus of…" cards, which staple old favorites onto creatures. Sure, they're more vulnerable, but in a pinch they can get into the Red Zone.
Oblivion Stone: Cheaper to cast than Nevinyrral's Disk but considerably more expensive to activate, it also has the capability of saving some of your permanents (or other players' stuff, I suppose) by using the Fate Counter ability. O-Stone specifies nonland, so it will indeed take out Planeswalkers. Unlike Disk, it doesn't enter the battlefield tapped, which means if you have enough mana (the total being eight — three to cast, five to activate), you can blow up stuff right away.
Perilous Vault: It's pretty simple: for nine mana on one turn (or four on one and five on another) you can exile everything except for lands. You've heard me say before how powerful exile is in the format. It reduces the amount of graveyard shenanigans that can go on, and graveyard shenanigans are a major player in Commander. Perilous Vault is not tricky, but it's highly effective.
Pernicious Deed: Some people call this card "P-Diddy." I would not be one of those people. As we mention above, it won't take out Planeswalkers, but it's still quite an effective board-wiper. Playing it on turn three will change the narrative of a game rather quickly, as players then try to push the envelope of what they'll play before you blow it. The obvious danger of playing it early is someone targeting it for destruction before you're ready to use it. Like with Disk, someone else can force the issue at a time or board state more convenient to themselves than it is to you.
Plague Boiler: You can let it slowly build, or you can turn up the steam pretty quickly — albeit expensively. The one thing here is the inevitability. She's gonna blow.
Planar Cleansing: First printed in Magic 2010 with revisits in Magic 2013 and Magic 2014, Planar Cleansing is a no-nonsense reset button. It leaves everyone with nothing but land (although creatures can regenerate from it). It's part of the six-mana choice for white in the board-wipe arena, which also includes the aforementioned Akroma's Vengeance and Austere Command.
Powder Keg: Like Engineered Explosives, Powder Keg only gets permanents of a specific mana cost (unlike Pernicious Deed and Gaze of Granite, which get everything including and less than the specified cost). Another inexpensive token-killer, the upkeep trigger to put a counter on it is optional. You can keep it at zero as long as you might like to protect yourself from tokens, or let it move on up if you see opponents with lots of stuff at particular costs.
Punishment: The second half of the split card Crime//Punishment, it's another with that destroys everything at a specific converted mana cost. I wouldn't play it just to have the Punishment part, but to have the flexibility of the Crime half in addition is definitely worthwhile.
Ratchet Bomb: One more in the Powder Keg camp. Same basic idea, different way of getting counters on it.
Scourglass: A selective Disk which you have to wait until your upkeep to activate, except for this one everyone gets to keep their artifacts. Obviously, this would go into an artifact-dedicated deck. The problem is that everyone gets to keep their artifacts, not just you.
Steel Hellkite: Selective, but strong since you're dealing damage as well. You can fly over and get rid of any number of things for a small mana investment (to include 0 if you want to hit tokens).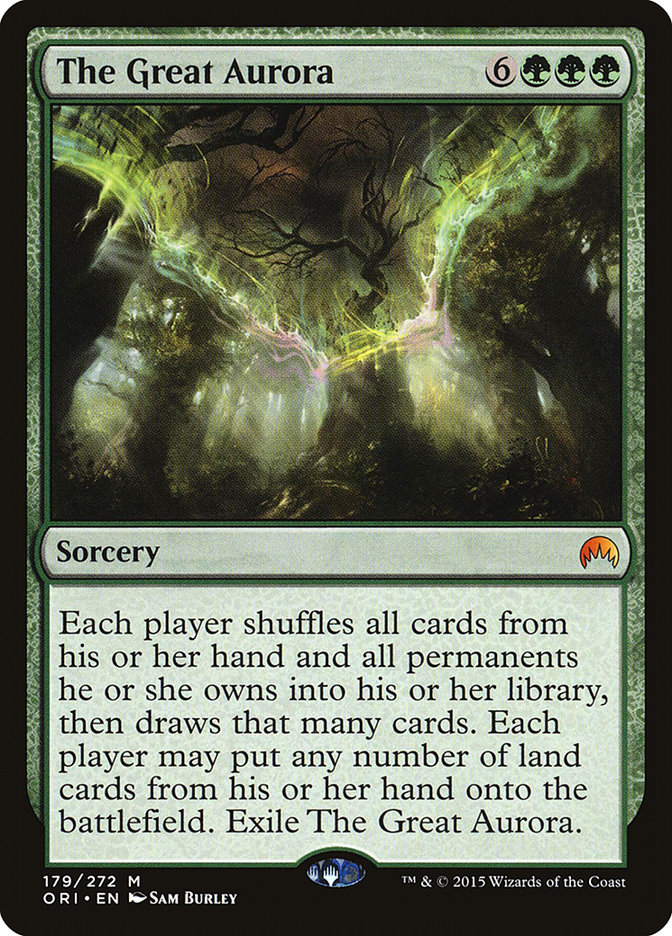 The Great Aurora: Gets rid of everything and leaves people with just lands. It's an expensive Planar Cleansing that is likely to let the caster cast some more stuff. People have likened it to both Upheaval and Warp World, two comparisons I understand but don't find all that accurate. Upheaval leaves the other players with nothing while the caster can rebuild. Warp World just puts bunches of stuff back; you never really know what you're going to get and I've seen the Warp World player get blown out more than once. The Great Aurora is certainly strong in that the caster gets first shot at rebuilding his or her board, but the other players aren't defenseless since they'll have lands (which is where the Upheaval comparison breaks down) and a grip full of cards. At nine mana, it deserves to be strong.
As a subset of Disk Effects, I'll list without comment the cards which destroy all of a permanent type:
Artifacts: Creeping Corrosion, Pulverize, Seeds of Innocence, Shatterstorm
Artifacts and Enchantments: Bane of Progress, Fracturing Gust, Purify, Serenity
Auras: Serene Heart, Simple
Enchantments: Back to Nature, Calming Verse, Cleanfall, Cleansing Meditation, Essence Filter, Hush, Multani's Decree, Nova Cleric, Paraselene, Patrician's Score, Reverent Silence, Tempest of Light, Tranquil Path, Tranquility.
World Slayers
World Slayers are cards which do complete (or nearly complete) resets of the game, including lands. They're a touchy subject. Some players consider them fair game, some consider them anathema to all that is good and holy. I advise discussing them with your local group before playing them. Personally, if you think you can set them up to be followed by an immediate win (and I mean this turn or next, at the latest), then they're fine. If they're just going to make the game a prolonged study in agony, you might think twice about playing them. The idea of this format is to enjoy games with your friends, not irritate them into quitting. There's no right or wrong associated with these cards, but they end up creating the kinds of games I'm not fond of playing in. I get that they're an effective way to win games, but they're the antithesis of a way for a group to enjoy a game.
Apocalypse: The saving grace here is that the caster won't have a hand but the other players will. Unlike Upheaval, with which the caster can float a bunch of mana to recast stuff, the only thing the caster can do with the floated mana here is cast their commander. Still strong.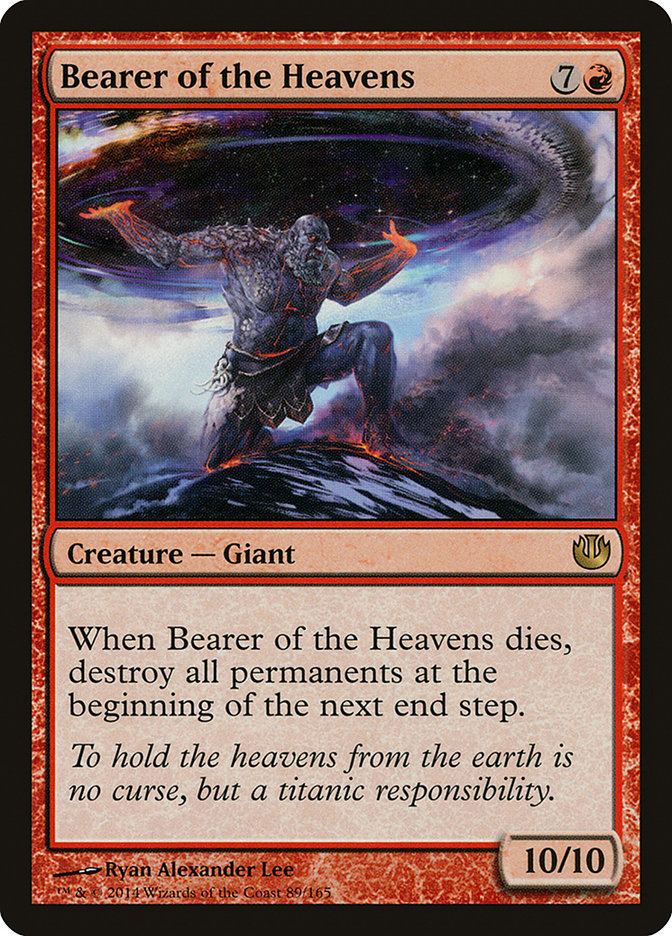 Bearer of the Heavens: I imagine there are some scenarios in which this can trigger, someone can float mana and then after the trigger resolves, cast Savage Summoning and a creature. Or just have creatures with flash.
Decree of Annihilation: This really is annihilation because it gets everyone's hands too. It doesn't, however, hit planeswalkers. Again, as an immediate win con, fine. As a way to make everyone wait an hour while you play and they don't? Not so much.
Devastation: Hitting only creatures and lands, this is a limited World Slayer, but it gets the two most likely things for players to have. Only available in Portal and Starter 1999.
Dimensional Breach: This creates a kind of Thieves Auction-like state in which you only get to bring back the stuff you own. The upside here is that the caster of Dimensional Breach is the last player to get something.
Gideon, Champion of Justice: I suppose that if you can afford to -15 Gideon, the game will be over reasonably soon. Or not.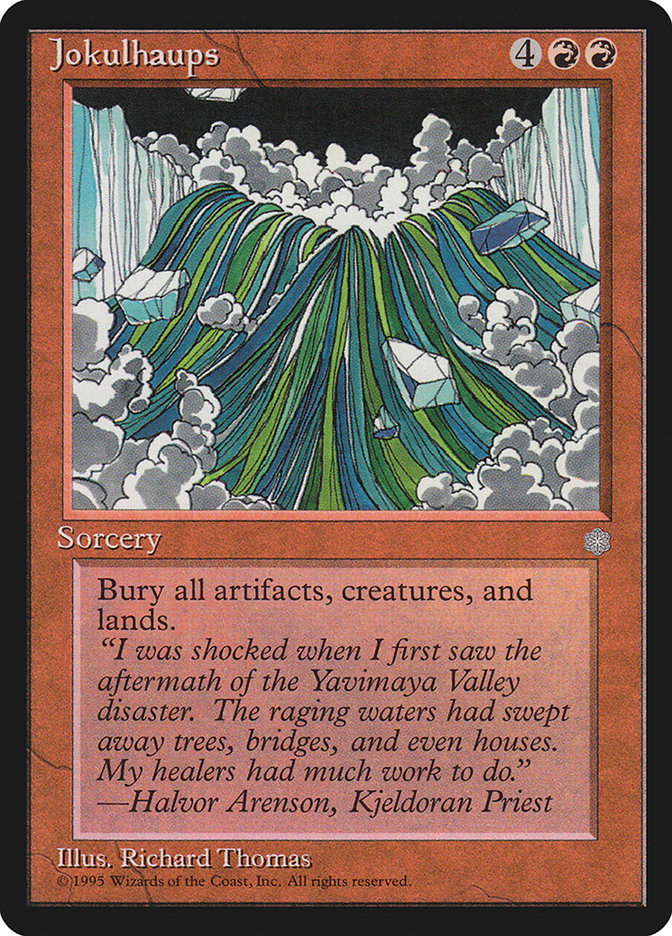 Jokulhaups: Jokulhaups (along with its uncounterable big brother Obliterate) leaves both enchantments and planeswalkers on the battlefield. Super Friends decks will play one or both. Believe it or not, this was in a Standard deck in the ancient days, with the kill condition being the agonizingly slow Smoldering Tar.
Obliterate: See Jokulhaups. This one briefly paired with Nether Spirit as its gruelingly-slow Standard kill mechanism.
Ugin, the Spirit Dragon: Sure, it will leave artifacts and Eldrazi, and sure, it will hit only stuff below a certain converted mana cost, so it's not a complete World Slayer, but it's close enough. I've said before that it probably provided the final nail in the coffin making sure that Painter's Servant never comes off the banned list. I have no reason to move off that stance.
Worldslayer: A cool name for a boring card. You know the person playing it is going to equip it to something indestructible and just never let anyone have anything again.
This closes out our series on Board Wipes. I hope we've given you some interesting and new ideas on both how to maximize the use of certain cards and new ideas on building and playing interesting decks.
This Week's Deck Without Comment is a newer one which has become one of my favorites:
Creatures (31)
Planeswalkers (1)
Lands (38) Check out our awesome Deck List Database for the last versions of all my decks:
ADUN'S TOOLBOX;
ANIMAR'S SWARM;
AURELIA GOES TO WAR;
CHILDREN of a LESSER GOD;
DEMONS OF KAALIA;
EREBOS and the HALLS OF THE DEAD;
GLISSA, GLISSA;
HELIOD, GOD OF ENCHANTMENTS;
DREAMING OF INTET;
FORGE OF PURPHOROS;
KARN, BEATDOWN GOLEM;
HALLOWEEN WITH KARADOR;
KARRTHUS, WHO RAINS FIRE FROM THE SKY;
KRESH INTO THE RED ZONE;
LAVINIA BLINKS;
LAZAV, SHAPESHIFTING MASTERMIND;
ZOMBIES OF TRESSERHORN;
MELEK'S MOLTEN MIND GRIND;
MERIEKE'S ESPER CONTROL;
THE MILL-MEOPLASM;
MIMEOPLASM DO-OVER;
NATH of the VALUE LEAF;
NYLEA OF THE WOODLAND REALM;
OBZEDAT, GHOST KILLER;
PURPLE HIPPOS and MARO SORCERERS;
ZEGANA and a DICE BAG;
RITH'S TOKENS;
YOU DID THIS TO YOURSELF;
RURIC THAR AND HIS BEASTLY FIGHT CLUB;
THASSA, GOD OF MERFOLK;
THE ALTAR of THRAXIMUNDAR;
TROSTANI and HER ANGELS;
THE THREAT OF YASOVA;
RUHAN DO-OVER;
KARADOR DO-OVER;
KARRTHUS DO-OVER
If you'd like to follow the adventures of my Monday Night RPG group (in a campaign that's been alive since 1987 and is just now getting started with a new saga called "The Lost Cities of Nevinor"), ask for an invitation to the Facebook group "Sheldon Menery Monday Night Gamers."