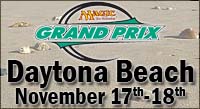 Initially, I was going to take a week off, since I spent the past weekend moving and didn't have any time to write. I didn't want to miss the week though, as I'd built up some situations I wanted to write about and Lorwyn is approaching rapidly.
This is probably the last Situations article I'll do on TPF, as I'm planning to do at least one article on the Masters Edition on Magic Online when that is released.
An Interesting Build
The first situation I want to get into involves a relatively difficult draft deck I had to build a couple weeks back at CMU. Before I get into the actual deck construction, I want to talk about a pick I had to make in the beginning of pack three that ended up contributing somewhat to the direction I took when I had to build.
For my second pick in Future Sight, I was faced with the decision of Ghostfire or Akroma's Memorial. I don't have the contents of the pack in its entirety, since this was a live draft and I just forgot to write it down. Nevertheless, this situation is mainly about the build of the deck rather than this specific pick anyway, so it's not a huge deal. Normally this would be a simple decision, and I'd take the Memorial without much thought, but this wasn't a standard situation. Here's what my deck looked like when the pick came up. Unplayables have been removed from this list to protect the innocent.
Ovinomancer
2 Coal Stoker
Conflagrate
Fledgling Mawcor
Hammerheim Deadeye
Jaya Ballard, Task Mage
Prodigal Pyromancer
Shaper Parasite
Skirk Shaman
Spin into Myth
Sulfur Elemental
Viscerid Deepwalker
Wipe Away
Ana Battlemage
Assembly-Worker
Dreamscape Artist
Fungal Reaches
Fury Charm
2 Gossamer Phantasm
Trickbind
At this point in the draft my deck looked very tempo-oriented, mainly due to the two Coal Stokers and possibly a Gossamer Phantasm or both being played. I first picked Spin Into Myth and now was faced with this Akroma's Memorial or Ghostfire decision.
In almost all instances I will slam the Memorial, but this deck just didn't seem to want it as much. I envisioned the games playing out with me playing a guy and then Coal Stoker into removal, or playing some evasion guys and killing anything that caused a problem. Sure, Memorial is always going to be fine and in most decks it will be a complete bomb, but it just doesn't seem necessary in this deck. What I'm trying to say is that the game shouldn't stall out in most cases if things are going according to plan, and I really want that Ghostfire to cast off of a Stoker or to kill an important creature. A final reason for taking Ghostfire here is that I was planning on playing Ovinomancer in this deck, due again to the Stokers, and also because of Conflagrate and a low curve in general. Ovinomancer and Memorial are not exactly a combo unless the Artifact is already in play. If you're in a situation like this and you're not sure you should almost always go with the Memorial anyway, because it's hard to be wrong taking the bomb. In this case, I went for consistency over power.
Moving on to the actual build of the deck, after the draft was completed my relevant cardpool looked like this.
Ovinomancer
2 Coal Stoker
Conflagrate
Cryptic Annelid
2 Fatal Attraction
Fledgling Mawcor
Fomori Nomad
Ghostfire
Hammerheim Deadeye
Infiltrator il-Kor
Jaya Ballard, Task Mage
Prodigal Pyromancer
Shaper Parasite
Shivan Sand-Mage
Skirk Shaman
Spin into Myth
Sulfur Elemental
Viscerid Deepwalker
Whetwheel
Wipe Away
Ana Battlemage
Assembly-Worker
Dreamscape Artist
Fungal Reaches
Fury Charm
2 Gossamer Phantasm
Kavu Primarch
Trickbind
Unblinking Bleb
There are quite a number of directions I can go with this deck, and I'm interested to see how you guys would build it if you want to post lists in the forums. At least attempt to build it before you read my analysis and what I ended up doing.
For those of you interested enough to count the total number of playables in that list, it comes out to 32. Assembly Worker and Trickbind probably aren't making the maindeck, so we can say 30 instead.
The first issue to tackle with this card pool is whether or not to splash Green, and if so, whether I want just the Battlemage or both cards. The Primarch is a fine splash in U/R, since he gives you some late game strength coming down as a 7/7. Fungal Reaches makes splashing for just the Battlemage more attractive, since I only have to spend one slot on a Forest, and I can also use Reaches to power up a Conflagrate or Inferno ability on Jaya. As a side note, does anyone ever even use the Inferno ability? I can only remember using it once, and I've had Jaya a bunch of times.
A build including the Green would look something like this.
Ovinomancer
Ana Battlemage
2 Coal Stoker
Conflagrate
Cryptic Annelid
Dreamscape Artist
2 Fatal Attraction
Fledgling Mawcor
Fomori Nomad
Ghostfire
Hammerheim Deadeye
Infiltrator il-Kor
Jaya Ballard, Task Mage
Prodigal Pyromancer
Shaper Parasite
Shivan Sand-Mage
Skirk Shaman
Spin into Myth
Sulfur Elemental
Unblinking Bleb
Viscerid Deepwalker
Forest
Fungal Reaches
8 Mountain
7 Island
If you wanted to add the Primarch, you can either take out a land for another Forest, and probably put the Hammerheim Deadeye in the board, or you could just try to squeak by with only one Forest and the Reaches. At any rate, I laid this out and wasn't totally happy with how it looked. With a deep card pool like this I'm not sure it's worth messing with the Green splash, even if Ana Battlemage is amazing.
Next, I tried a speed version.
2 Coal Stoker
Conflagrate
Cryptic Annelid
Dreamscape Artist
2 Fatal Attraction
Fledgling Mawcor
Fomori Nomad
Ghostfire
2 Gossamer Phantasm
Infiltrator il-Kor
Jaya Ballard, Task Mage
Prodigal Pyromancer
Shaper Parasite
Shivan Sand-Mage
Skirk Shaman
Spin into Myth
Sulfur Elemental
Unblinking Bleb
Viscerid Deepwalker
Wipe Away
9 Island
8 Mountain
This build looks alright on paper, but the players in the draft are all very competent, and playing two copies of Gossamer Phantasm is something that could easily backfire on me. Sure, they're quick, but they're also vulnerable, and will probably be boarded out in a good amount of matchups. If I felt I was outmatched in the draft and likely to be outplayed by most of the players, this is definitely the build I would go with, as it is much quicker and doesn't give your opponent as much time to get into the game. If you're one of the less skillful players in the draft, then you should keep this idea in mind and try to build your draft decks in such a way that they will not only be easier for you to play, but also give your opponent less time to get his better cards online and less of a chance to outplay you.
Since the players in this draft were all competent, I wasn't comfortable with this type of build. I have options too, and would be more likely to build this way if my card quality level was lower.
After some more toying around, I finally settled on a build.
9 Mountain
8 Island
Ovinomancer
2 Coal Stoker
Conflagrate
Cryptic Annelid
2 Fatal Attraction
Fledgling Mawcor
Fomori Nomad
Ghostfire
Hammerheim Deadeye
Infiltrator il-Kor
Jaya Ballard, Task Mage
Prodigal Pyromancer
Shaper Parasite
Shivan Sand-Mage
Skirk Shaman
Spin into Myth
Sulfur Elemental
Viscerid Deepwalker
Whetwheel
Wipe Away
Sideboard:
Ana Battlemage
Assembly-Worker
Dreamscape Artist
Fungal Reaches
Fury Charm
2 Gossamer Phantasm
Kavu Primarch
Trickbind
Unblinking Bleb
A few things that were different here were the maindeck Whetwheel and no Gossamer Phantasms or Green splash. It's possible the Whetwheel was a mistake, and that I should've just run the second Unblinking Bleb, but I wanted to try it out some more and thought it might give me another option for the late game if I had to go there. It's also possible that Fungal Reaches should be in the final build, but I decided to just go for straight consistency.
This deck ended up going 3-0 pretty easily in the draft, and Ovinomancer was excellent for me since I didn't have a whole lot to use my mana on anyway. I also used him to flashback Conflagrate for six in one match, which was my intention in the first place.
A Tough Pick
The pick I'm going to cover here will then be directly followed by a couple of in game situations from the same draft in order to help things flow more easily. This pick comes from an 8-4 and it is my first pick from Planar Chaos.
The relevant card in my deck looked like this at the time of the decision.
Spinneret Sliver
Aether Web
Primal Forcemage
Penumbra Spider
Looter il-Kor
Dream Stalker
Coral Trickster
Crookclaw Transmuter
Riftwing Cloudskate
Walk the Aeons
I picked Penumbra Spider over Tendrils for my fourth pick in pack one because I tend to favor Green. I almost took Tendrils because of my third pick Looter, but decided that Green was more likely to be open from what I'd seen so far. Nothing else of real note happened in pack one except I passed Magus of the Jar when I took Riftwing Cloudskate first pick.
The pack in question contained the following.
Mire Boa, Battering Sliver, Aven Riftwatcher, Erratic Mutation, Citanul Woodreaders, Dash Hopes, Aquamorph Entity, Shade of Trokair, Melancholy, Merfolk Thaumaturgist, Gossamer Phantasm, Ana Battlemage, Darkheart Sliver, Pongify, Rolling Horror
To simplify, my options were Mire Boa, Erratic Mutation, Citanul Woodreaders, Aquamorph Entity, Gossamer Phantasm, Pongify, and Ana Battlemage.
The Phantasm and Entity are clearly outclassed and not even considerations at this point. As far as the rest of the cards, there are a number of arguments you could make.
Citanul Woodreaders is good in this type of deck and also has synergy with Dream Stalker. Erratic Mutation and Pongify are both great because U/G tends to lack removal, and you really need some form of it in this format. It's for this reason that most of my U/G builds end up splashing Black for Ichor Slick or Death Rattle. I've already written about my feelings on Pongify – I'm not a huge fan of it. Between the removal spells I would certainly favor the Erratic Mutation in this deck, and almost any deck in general.
Ana Battlemage is amazing for reasons I don't feel I need to explain, and Mire Boa is always a fine addition.
During the draft I felt stumped for a minute, as I couldn't clearly identify what my deck was lacking and how to fill that hole with this pick. Had there been a Giant Dustwasp in this pack, I would certainly take that because of the additional synergy with Primal Forcemage. Since there isn't, I believe the pick comes down to Ana Battlemage and Erratic Mutation for a couple of reasons.
First of all, they are the best two cards in the pack on power level alone. I also need a big swing card or a removal spell and either would help in this situation. I decided to go with the Battlemage as there are some other options like Utopia Vow or more Mutations for removal, and the Mage can really turn a game in my favor. He also has obvious synergy with Blue bounce, and I already have Cloudskate to help in that department as well as any Venser's Diffusions or Aven Augurs I may pick up.
Even though I went on to win this draft, I'm really not sure I made the right pick here because the Mutation is so important. Yeah, the Battlemage can be a bomb in lots of situations, but being able to kill an annoying utility guy like Saltfield Recluse or Telekinetic Sliver is so key in this format.
Some In-Game Situations
As I said in the previous section, these few game situations are coming straight from the deck I was just talking about. Here's a look at the finished product of that draft in order to help you analyze these decisions.
7 Forest
6 Island
2 Swamp
2 Ana Battlemage
Aquamorph Entity
Aven Augur
Blind Phantasm
Coral Trickster
Crookclaw Transmuter
Dream Stalker
Evolution Charm
2 Fa'adiyah Seer
2 Foresee
Ichor Slick
Llanowar Empath
Llanowar Reborn
Looter il-Kor
Pact of Negation
Penumbra Spider
Riftwing Cloudskate
Spinneret Sliver
Tolaria West
Unblinking Bleb
Utopia Vow
Vorosh, the Hunter
Sideboard:
Auramancer's Guise
Clockspinning
Drifter il-Dal
Haunting Hymn
Melancholy
Merfolk Thaumaturgist
Primal Forcemage
Veiling Oddity
Walk the Aeons
Aether Web
This deck was interesting to build, as two Fa'adiyah Seers ended up making the maindeck due to their synergy with Scry as well as the need to hit six mana for two Battlemages, Vorosh, and other control elements. The last two cuts were the Forcemage and Veiling Oddity, and I did board them in to win round 1 in a matchup where my opponent also had a slow deck and I needed another way to punch through in the very late game.
These situations come from game 1 of round 2, so I didn't have a whole lot of information about my opponent's deck yet. He had mulliganed on the draw and thought for some time before keeping his opening hand. He started with two Forests and Essence Warden and when he cycled Ichor Slick on my end step it confirmed my suspicion that he'd kept a marginal hand and was in need of mana. He went on to suspend Mindstab and on my turn four the board looked like this. The only things I'd done this game were cast Evolution Charm searching up an Island and then cast Spinneret Sliver.
My Turn 4:
Him: 2 Forest, Swamp, Essence Warden, Suspended Mindstab with 4 counters (19 life and 4 cards in hand)
Me: Forest, Swamp, 2 Islands, Spinneret Sliver (tapped from attacking) 19 life.
My Hand: Forest, Ichor Slick, Riftwing Cloudskate, Fa'adiyah Seer, Foresee
If you take a minute and look things over, you should see that my options are casting Foresee or casting Fa'adiyah Seer and putting Cloudskate on Suspend.
What would you do? Most people would instinctively cast the Foresee here and see nothing wrong with it, but the other play available is so much stronger for the development of my position. The general thinking would be that you can Suspend whenever, and you want to see what options you'll have in order to play your hand out in a better manner. This is flawed thinking, as playing Fa'adiyah first insures maximum value.
With Scry 4, Fa'adiyah will be much more effective on the following turn and will probably make my draw more fluid as well as essentially neutralize any impact Mindstab would have. Looking back over things, I think casting Foresee here was a mistake and I should've just cast Seer and Suspended Cloudskate instead, to minimize the impact Mindstab would have.
Chalk that up as misplay number one. The reason I think I made it was because I fell back into somewhat of an auto-pilot mode that seems to happen when you're not totally focused on a match. This deck also had a number of unusual interactions and I wasn't giving enough thought to situations that seemed easy but were actually more in depth than they appeared.
At any rate, when I cast Foresee I saw Island, Forest, Utopia Vow, Aquamorph Entity.
What would you do with this Scry, bearing in mind that Fa'adiyah is still in hand? There are a number of ways you can do this.
The first is to leave everything on top and put the lands as the bottom two, and plan to Fa'adiyah them later. The problem with doing this is that you will have to draw a land for your next draw step just to ensure I get another off Fa'adiyah on the following turn's upkeep, and I'm unsure it's even necessary.
Since I'm totally unsure which direction the game is going to take at this point, as well as being unsure of my next turn's play, I can also consider putting everything but the Vow on the bottom and just draw a random card.
To summarize, I can leave all four cards on top and get a free draw off of Fa'adiyah on the following turn as long as I'm able to cast him immediately, or I can put everything but the Vow on bottom and hope to dig into better things.
I decided to just draw the Vow and a random card off of the Foresee, and again I feel that I probably misplayed because of the need to hit six mana in this deck. I drew Vorosh off the blank card, and wouldn't have been able to play it if I didn't luckily Fa'adiyah into a random land.
A few turns later a situation came up that I want to talk about, because it emphasizes what's really important and how that can easily become lost due to the availability of a "cool play."
It's my turn 7, and my opponent is still stumbling on mana. The board looks like this.
Him: 2 Forest, 2 Swamp, Essence Warden, Mana Skimmer, Suspended Mindstab with one counter (22 life and 4 cards in hand)
Me: 3 Forest, Swamp, 2 Islands, Blind Phantasm, Fa'adiyah Seer (tapped), Vorosh, the Hunter 18 life.

My Hand: Utopia Vow, Tolaria West, Ichor Slick, Foresee, Riftwing Cloudskate
Okay, so I used Fa'adiyah already this turn and missed. I'm obviously attacking with Vorosh, but I could also send in the Phantasm and happily trade for the Mana Skimmer.
This is a situation where my opponent is completely on the ropes, and the only thing that matters is killing him before he can get back into the game. It's very easy for me to type that statement right now, but in the heat of battle you can easily become concerned with less important things and let it cloud your judgment.
In this particular case, I was ecstatic about discarding Ichor Slick to Mindstab and paying the Madness to kill a guy. This is a very cool play, and one we'd all like to make. It seemed like this was what was going to happen for a few turns prior to this one, but now that Mindstab is going off next turn, hopefully you can see that it makes no sense to do this! If my ultimate goal is killing my opponent before he can get his feet back on the ground, then the correct play is simply to Ichor Slick his Mana Skimmer, attack with both guys, and ensure that Vorosh grows larger this turn. Then I simply discard everything but Cloudskate and it's extremely unlikely my opponent can ever win with anything other than Damnation.
So I misplayed again, right?
Actually no, but I came very close! I was so bent on Madnessing the Slick that I almost let it get the better of me by Suspending Cloudskate (a play that really makes no sense at this point in the game except for mana efficiency reasons) and keeping four mana up.
My point with this last example is to avoid fancy plays when it just makes sense to kill your opponent. This play almost caused me a whole lot of heartache if I'd made the wrong one, as I killed my opponent on the following turn… and he revealed an Enslave that he couldn't cast since he was stuck on five mana. Pumping Vorosh is the top priority in this example, and if it means I lose a card on Ichor Slick, then so be it.
Hopefully these examples proved helpful and you can learn from spots where I made a mistake. Analyzing your play on a regular basis is the best path to improvement.