The Northeast Vintage Series is quickly becoming the premier place to play Vintage in the United States. With 62, 45, and 87 people for each of the series' first three events, I only expect things to continue to grow for Vintage and this series moving forward. I want to extend thanks and congrats to the men responsible for its creation, Nick Coss and Nick Detwiler.
More and more new faces and new Vintage players begin to populate the format's tournaments and its Top 8s. I think it's a bit early to call it a full format resurgence, but the times are a-changing. Vintage's future and growth looks promising thanks to this Vintage Series. With Vintage's continued growth, 2012 looks to be shaping up as the format's banner year. Deck design space is being pushed further and further with each dynamic printing, while the metagame continues to rapidly evolve and change based off of weekly results. 
As I've said before, if you aren't playing Vintage you are really missing out on quite the experience.
We interrupt your regularly scheduled Workshop article for a tournament report.
Mission Accepted
When I am not busy in the lab trying to break Stoneforge Mystic, Skullclamp, or Food Chain, I'm usually consulting with Matt Elias, Dredge Extraordinaire. Despite my strong play and theory with Dredge (sometimes lack of play…Narcomoeba anyone?!?!), I don't consider myself the strongest deck designer when it comes to Dredge…
Uhhh easily Matt Elias….NOT CLOSE!!
Well it was that time again; time to consult with Matt Elias about Dredge before another big tournament.
The Tournament:
Part of the newly created Northeast Vintage Series, Nick Coss's Top Deck Games Winter Open
The Enemy:
Grafdigger's Cage (AKA Johnny Cage)
Our Weapon of Choice:
Cagebreaker Dredge (AKA Seal Team Six)
Mission Brief:
Johnny Cage is expected to be a real ball breaker against Seal Team Six.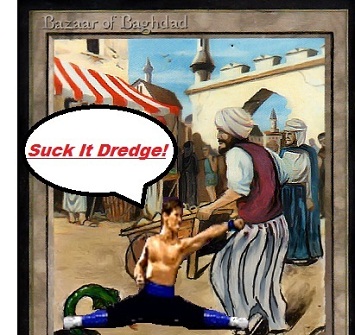 Our mission, if we choose to accept, is to infiltrate New Jersey, sneak past the threat of Johnny Cage, and take down the Top Deck Games Winter Open.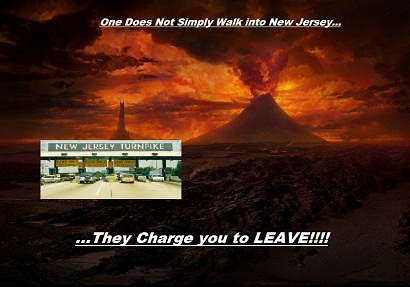 The United States of Dredge needs to flex its muscle to show everyone that they forgot about Dre (dge)…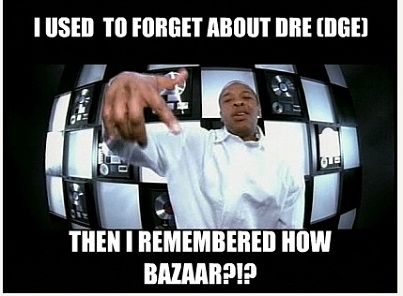 Breaking the Cage
Standard Mark Hornung message to Matt Elias before a big Vintage tournament:
Mark: What Do I PLAY?!?!?
Standard Matt: I DON'T KNOW!?!?!?
Mark Hornung message to Matt Elias before Top Deck Games Winter Open:
Mark: I guess we are playing this?!?!
Matt: ROGER!! Seal Team Six is a Go!
And so this is how it began….
…Well not exactly…
Dark Ascension Spoiler Night Number X
11:59PM: Can't wait to see the new spoiler!!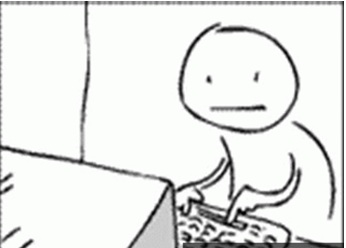 12:01AM: Ok Grafdigger's Cage…what does this do?……Oh…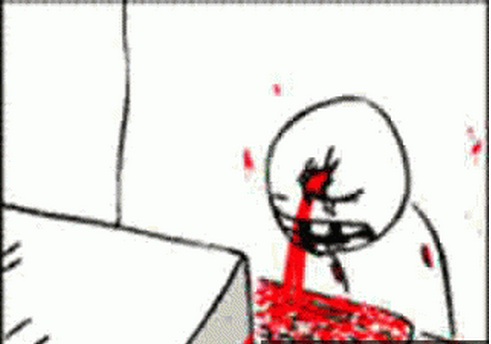 NOOOOO DREDGE IS DEAD!!!
Testing Grafdigger's Cage, for Fun and for an Article
I tested with Grafdigger's Cage heavily leading up to and for my set review on here. As I said in my set review, "I expect a shift in the metagame because of this card, but in all actuality, it shouldn't be that big of a change."
After logging a lot of testing with and against Johnny Cage, I felt that all of the decks in Vintage were either:
Bottom Line: Not scary enough for the Boogeyman of Vintage!!
As such I tried to warn everyone in my set review….
"One more caution to everyone is that this card should be treated as nothing more than a colorless one-mana Yixlid Jailer when dealing with Dredge. This should not replace Leyline of the Void where applicable!!
I repeat this SHOULD NOT replace Leyline of the Void where applicable!!
This is a great addition to Leyline of the Void and gives every deck access to a Yixlid Jailer type shutdown card against Dredge. I still feel that you should look to diversify your Dredge hate if you are playing black, however, since Jailer and Leyline of the Void are still very much superior to this card. With Leyline of the Void, they can't dig as they are building their graveyard; whereas with Cage/Jailer, they still can."
Grafdigger's Cage ≠ Nightlight for the Boogeyman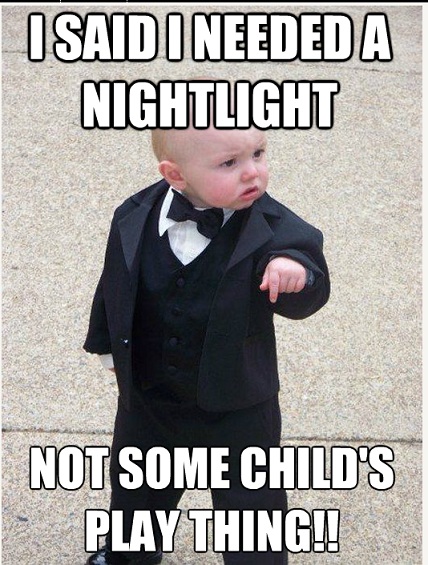 The logic Matt Elias and the rest of our team used was straightforward after that. For that I will defer to what Matt has posted already here.
Like I mentioned at the beginning of the article…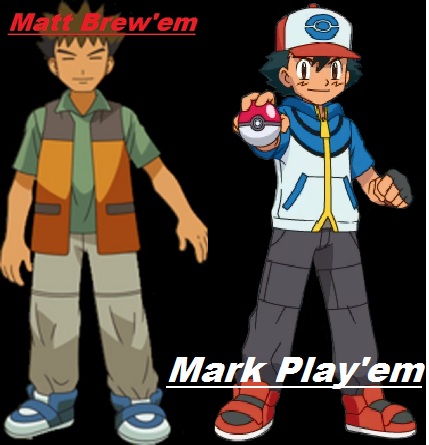 The Brew
Originally Matt had proposed the following list:
Creatures (23)
Lands (12) As an ode to the old FOWIchorid decks of the past, the deck was a very heavily blue-based Dredge list. Main decking Mental Misstep and Chain of Vapor gave the deck a lot of sideboard space and versatility in dealing with any main deck Johnny Cages. The sideboard Force of Will gave the deck extra ways of dealing with Johnny Cage as well as any problem cards (Tinker, Oath of Druids, Time Vault, etc.) and hate cards our opponents might be casting. My biggest problem with Force of Will in Dredge is that I always feel much of its application is very narrow and goes strongly against what Dredge wants to do.
When you are playing Dredge you are discarding for the most part a lot of cards, not to mention you are mulliganing very aggressively to get a Bazaar of Baghdad. This makes Force of Will's two-card requirement to cast it very straining on Dredge's natural in-game habits. If you aren't relying on Breakthrough and/or Careful Study, I feel Force of Will shouldn't even become a part of the conversation when determining your 75 for Dredge.
Mental Misstep on the other had is exactly what Dredge needed. Ironically enough, Mental Misstep is one of the best counter spells against Dredge since so many of its answers cost one mana. So what better way to fight Johnny Cage AND punch through your other hate cards than to play Mental Misstep?
Chain of Vapor was pretty good in the main deck, but if we are main decking something like that while not make sure it has a lasting impact for that game.
Enter the Swap:
Creatures (24)
Lands (13) The 60 above is the eventual main deck we played at the tournament. Again Matt kept insisting on keeping Force of Will in the sideboard, and since he was ROFL-stomping me in testing with it I couldn't at the time make a valid argument against it unfortunately….
Allen Fulmer helped me test the deck against Workshop variants and I finally had my argument AGAINST Force of Will. I really wanted to max out Ingot Chewers; they helped the Workshop matchup (which we assumed would be the most played deck at The Grudge Match), they couldn't be countered with Mental Misstep, Flusterstorm, or Spell Pierce, and finally even with multiple Johnny Cages in play the Chewer can still trigger Bridge from Below. Already being unimpressed with Force of Will and wanting to drastically help my Workshop matchup it was proposed to cut the Force of Wills.
The final change in the sideboard was Unmask. I was unhappy with Mental Misstep against Workshop decks, but Nick Detwiler insisted that keeping in Mental Misstep could allow Dredge to steal games especially on the draw since most of the time a Workshop deck will not have the resources to play around a Mental Misstep or expect to be playing around it.
Detwiler's logic was sound, but what about game three or when they know what's going on. That's when Matt proposed Unmask. Most decks have a similar game plan against Dredge in sideboard games in that they try to mulligan to at least one hate card or something that allows for a quick line to victory; brining in Unmask while on the play allows you to completely blow up their plan before they can get anything going. I popped in an extra Ichorid in the sideboard to further help with Workshop decks. Ichorid also allows the deck to play long, resource-intense games, which are usually the case post-board.
With that I felt comfortable with the deck and was locked in with the following list, along with Matt Elias, Chas Hinkle, and Allen Fulmer.
Creatures (24)
Lands (13) The Grudge Match
87 players ascended upon Cherry Hill, NJ despite the threat of snow to battle in one of Vintage's premier events in the United States, the Grudge Match. The Grudge Match is a unique event in that it intensifies a local Vintage regional rivalry between the New England, New York, and Pennsylvania regions. Team NE would like to forget issuing the initial challenge, however, as they have been in the basement of the standings since its inception…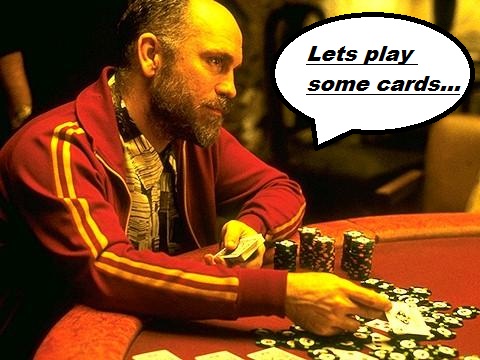 Rd. 1- Bernie Parisi (Landstill)
Game One:
Only six out of the 87 people in the tournament even knew I was on Dredge. I end up winning the die roll and I needed to Serum Powder my seven right off the bat…I guess the cat is out of the bag at this pointBernie keeps a hand with Engineered Explosives and some Wasteland effects, but without any inherent pressure or broken spells in the deck I'm easily able to maul him game one.WinI saw an Underground Sea game one so I automatically put Bernie some sort of Jailer and/or Leyline plan for game two.I sideboard as follows:
-2 Dread Return
-1 Flame-Kin Zealot
-1 Sun Titan
-2 Fatestitcher
-1 Dakmor Salvage
+4 Chain of Vapor
+1 City of Brass
+2 Petrified Field
I am willing to gamble on him not having Cage here and even then I feel it's not much of a gamble with four Nature's Claim, four Mental Misstep, and four Chain of Vapor all in the main deck for game two. I always consider game two the scouting game. This game is very crucial in determining what your actual sideboard plan should be and if you correctly sideboarded, which is why it's so critical for Dredge to win game one.
Game Two:
Bernie runs out Strip Mine and Engineered Explosives on zero. I am able to keep my seven which allows me to draw and discard a Golgari Grave-Troll on my first turn to slow dredge initially. I am then able to play my Bazaars with an already juicy graveyard at this point. He is able to run out double Wasteland to further delay the inevitable but Bernie like many on the day tell me, he was simply unprepared and not expecting Dredge.
Win
1-0
Rd. 2- Allen Fulmer (75-Card Mirror Match) – Feature Match
So obviously I get paired with one of the people I tested the deck with very heavily. It also just so happens to be that we actually did test the 75-card mirror match two nights prior as well. With the reduced number of Fatestitcher and Sun Titan in addition to not playing Elesh Norn, Grand Cenobite or Leyline of the Void, our match was going to be very die roll dependant as well as dredge (and draw) dependent.
Game One:
He wins the roll and I know I am going to need some luck. He keeps his opening and I have to mulligan to six but luckily find Bazaar there. He leads with Bazaar and I follow suit, but he has a color-producing land and a Fatestitcher. Due to some missed triggers, I have one shot to potentially steal the game as I'm staring down a lethal attack next turn. The scenario involved me needing to get three creatures into play in order to Dread Return my Sun Titan to hopefully return a Bazaar that isn't yet in my graveyard.
So my options at this point are I can discard Bloodghasts and draw my Dakmor Salvage back to hand, which would ensure I have three creatures but will severely reduce my chance of getting a Bazaar in my graveyard.
The other option is to have my Ichorid eat Bloodghast to come into play; thanks to having two Bridge from Below and a Cabal Therapy I can make two creatures, and I just need to hope when I draw my Golgari Grave Troll I hit a Bazaar and another creature.
I chose to go with the second option there even though the first option may have bought me a turn; because I had to Serum Powder away a Bridge from Below already I would have been stuck with only one Bridge left in my deck after his turn. This would have pretty much ruled out any sort of counter-attack that would win the game for me.
Loss
I don't actually have specific cards for the mirror, but one of the keys in the matchup is Ichorid because he controls the Bridge from Belows on both sides of the table. Because of this Ingot Chewer also comes in. Petrified Field makes the cut as well since I have more dead cards I need to cut. It will also allow me to potentially get the all-important Bazaar of Baghdad advantage as well.
-4 Mental Misstep
-4 Nature's Claim
+4 Ingot Chewer
+2 Petrified Field
+1 City of Brass
+1 Ichorid
Game Two:
The critical play here is that I have to Serum Powder away my Flame-Kin Zealot in the pregame. This comes back to haunt me because on turn three I have a chance to counter-attack him, but there is no Flame-Kin Zealot to get. I lose in a game that took a lot longer than it should have due to me holding on to false hope, but pumping out zombie blockers the whole time.
Loss
1-1
Rd. 3- Robert Gildea (Blue Control)
Game One:
At this point everyone knows I'm on Dredge as my feature match is the last match done in the round. Pairings were up before I even de-sideboarded and was able to leave my round two seat.
I sit down and he pretty much tips me he knows I'm on Dredge, at this point I'm just hoping he doesn't have game one hate to mulligan to.
I'm able to win the die roll and keep my seven in this one, and he mulligans down to five or six. I'm pretty sure he's going to have a pretty spicy hand but I have Mental Misstep, hoping it's my first Johnny Cage sighting on the day. I'm trying to go about my business when he runs out a turn two Nihil Spellbomb thanks to a turn one Vampiric Tutor which crushes my loaded graveyard. He has the counter backup for my Misstep and sets me way behind. I have a couple guys on board to get some pressure in but he has a Time Vault in play; I am able to Nature's Claim it and not a turn too late because his next card is Gifts Ungiven. Fortunately he is mana light with that and his Yawgmoth's Will which allows me to squeak out a very close game one.
Win
At this point he could have any of the hate cards; the main deck Spellbomb makes me think he could have Trinket Mage which would mean he most likely has some Johnny Cages. I sideboard as follows in my game two:
-2 Dread Return
-1 Dakmor Salvage
-1 Flame-Kin Zealot
-1 Sun Titan
-2 Fatestitcher
-1 Golgari Thug
-1 Ichorid
+4 Chain of Vapor
+4 Ingot Chewer
+1 City of Brass
Game Two:
I see Leylines and Jailers and get crushed easily…
Loss
At this point I am going to re-sideboard since I'm going on the play.
-4 Ingot Chewer
+1 Dread Return
+3 Unmask
The addition of Dread Return helps me both potentially get a big Grave Troll or zombie army online ASAP as well as add to my black card count to help with Unmask. I bring in Unmask for reasons I mentioned earlier, most decks need to mulligan to hate and Unmask might be able to steal a Jailer, Spellbomb, or Cage on the play.
Game Three:
He has to mulligan to six. I believe I keep my six or seven and which contains a Nature's Claim and Mental Misstep. I drop my Bazaar and then he plays his land. He sighs as he pretty much tips he has just drawn his Leyline of the Void and passes back. I'm able to Cabal Therapy on my turn two, he tried to get me to name Leyline of the Void but I'm going to put him on Yixlid Jailer as the reason for the keep. I'm not too worried about Spellbomb or Cage with Misstep in hand. He has a Jailer which gets discarded, and he's stuck with a Leyline with no business and no way to cast it. I'm able to cruise to victory.
Win
2-1
Rd. 4- Ryan Glackin — Remora Gro
Ryan Glackin has been unable to beat me in Vintage thus far. I am somewhere close to 8-0 against him including a very close win in Vintage Champs Top 4 this year. Glackin wins the die roll and is pretty confidant with his six card hand, mentioning he might even steal game one from me.
Glackin calling his shot against me….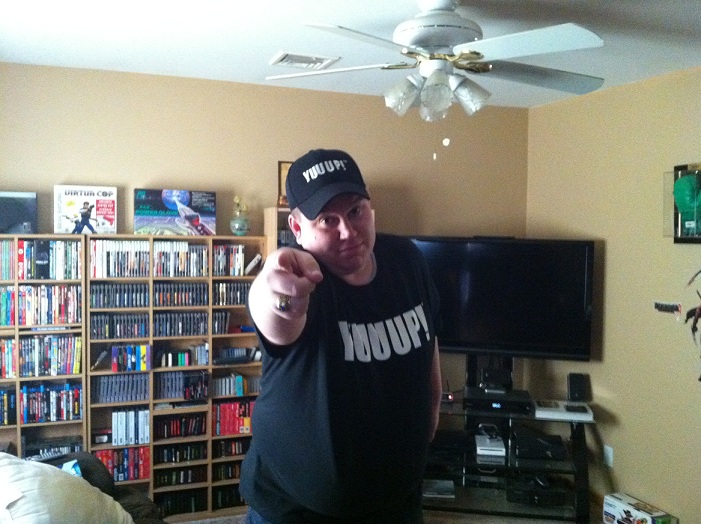 Game One:
Glackin ended up keeping a hand with a Fastbond and multiple Gush, but unfortunately he was unable to hit a second land. Needless to say blue decks can't really win with only one mana source in play the whole game, and the zombie army quickly overran Glackin.
Win
I don't have Glackin on Johnny Cages at this point so I sideboard as follows:
-2 Dread Return
-1 Sun Titan
-1 Flame-Kin Zealot
-2 Fatestitcher
-1 Dakmor Salvage
+4 Chain of Vapor
+3 Ingot Chewer
Game Two:
Glackin mulligans to five and I'm forced down to three. My three include Bazaar of Baghdad, Mental Misstep, and Stinkweed Imp. Glackin leads off with a Johnny Cage which runs right into my Mental Misstep…
SICK LIFE!!!
Unfortunately I can't find any steam after that, and Glackin quickly finds another Johnny Cage and a Tarmogoyf to finish the job before I can break the Cage.
Now that I know he is on Johnny Cages, I decide to adjust for game three being on the play.
+1 Ingot Chewer
+1 City of Brass
+1 Dread Return
+3 Unmask
-1 Ichorid
-1 Golgari Thug
-4 Mental Misstep
Game Three:
Glackin keeps a seven but he seems very visibly torn about keeping it. I try to play it up before he makes his mulligan or keep decision by saying, "Don't worry Glackin, my hand doesn't have THAT much gas." I end up Serum Powdering some Bridge from Belows but get to keep a seven. I lead off with a Bazaar, and he turn ones into a Jace, the Mind Sculptor. He chooses to Brainstorm with Jace but unfortunately for him when I activate my Bazaar my discard includes Stinkweed Imp, Golgari Grave-Troll, and Ichoird….just a little gas and a quick answer to Jace.
Glackin once again gets caught land light, and the zombie army once again overruns him in this game as well.
Sorry Glackin but maybe you can get your revenge next time against me….
Win
3-1

Rd. 5- Vito Picozzo (Blue Control)
Game One:
I win the die roll and I am able to fan out a dream seven with Dredge, Bazaar of Baghdad, City of Brass, Mental Misstep, Nature's Claim, Fatestitcher, Golgari Grave-Troll, and Ichorid; Vito mulligans because he knows what I'm playing after sitting next to me for round one.
I drop my Bazaar and he leads out with a Sol Ring; I choose to not Mental Misstep here in case he has a main deck Johnny Cage and/or is trying to set up a fast Time Vault–Voltaic Key. If he plans to Tinker turn one into Blightteel I'm in fine shape still since I'll most likely have Ichorid online and Fatestitcher to help push me there to form a zombie team of blockers. He then tries to play Voltaic Key, which swiftly meets my Mental Misstep. Vito is able to Force of Will my Mental Misstep though, untap his Sol Ring and then slam down a Time Vault. Unfortunately with only once card left in Vito's hand he doesn't have the mana to activate the time machine or anything to keep me from Nature's Claiming the Time Vault. I hit some more action from my graveyard and Cabal Therapy just to make sure he doesn't have the Mental Misstep, which he doesn't. Instead of activating Fatestitcher I chose to play it safe and just kill the Time Vault with my Nature's Claim. After that I am able to breeze to victory.
Win
I am not one hundred percent what to expect as I only saw an Island and Vault-Key but I am going to assume he is on the better Dredge hate cards such as Leyline and Jailer.
-2 Dread Return
-1 Sun Titan
-1 Flame-Kin Zealot
-2 Fatestitcher
-1 Dakmor Salvage
+4 Chain of Vapor
+3 Ingot Chewer
I probably should have cut a Golgari Thug here for the fourth Ingot Chewer since he could have Johnny Cage and at worst I know he has Time Vault – Voltaic Key in his deck. For some reason I decided not to and move onto game two.
Game Two:
I don't remember much of the details about this game other than that it ended very quickly and ugly for Vito. I found out after the match that Vito had chosen to register his deck without any Dredge hate for the day, as he did not expect many people to be playing the deck. Anthony Scalzo was yelling around the room before our match that Vito had no hate for Dredge getting some rub-ins I suppose since he was paired up against me for the round, however I did not hear Anthony's remarks before our games. 
Win
4-1
Rd 6. – JP Kohler (Mono Red Shops)
JP was visibly tilted from his last round lost and it showed. I feel rather unfortunate for what happens to JP next.
Game One:
I win the die roll and my hand is a pretty absurd seven. I have double Golgari Grave-Troll, Ichorid, Bloodghast, Fatestitcher, Bazaar of Baghdad, City of Brass. I open up with Bazaar and JP slams down a turn one Crucible of Worlds after a mulligan to five or six. I am able to get some insane dredges off of my Trolls and thanks to Fatestitcher I am able to kill him turn two.
Win
Finally the matchup I have been expecting to play all day!!!
I sideboard as follows:
-2 Dread Return
-1 Flame-Kin Zealot
-1 Sun Titan
-2 Fatestitcher
-1 Dakmor Salvage
-1 Darkblast
-4 Cabal Therapy
+4 Ingot Chewer
+4 Chain of Vapor
+2 Petrified Field
+1 City of Brass
+1 Ichorid
I want to thank Chas Hinkle for bringing this to my attention. Cabal Therapy has long been one of those cards people just automatically keep in and sometimes correctly so. The problem is against Workshop decks on the draw you are most likely not going to be able to Cabal Therapy successfully. The Workshop deck will either have played out their hate (or hand) or will have some sphere effects on the field preventing you from being able to Cabal Therapy. It makes the most sense to turn the game into a grind fest with the Ichorids because if you can successfully Cabal Therapy you are most likely way ahead anyway.
Game Two:
JP opens up with a mulligan to six and leads off with a Mox Emerald and Sol Ring into a Johnny Cage and Tormod's Crypt, but he doesn't have a land. I feel confident with my opener as I have a Nature's Claim and Ingot Chewer to go with my Bazaar and City of Brass. I play a Bazaar and pass back; JP follows it up with a Phrexian Metamorph on Grafdigger's Cage but is still without any land or additional pressure. I Bazaar right into Crypt and then Evoke my Ingot Chewer, JP then activates his Crypt and I'm forced to restart my graveyard. I hit a Chain of Vapor for his cloned Johnny Cage and Nature's Claim the original Johnny Cage. After that he has no business and scoops when I Ingot Chewer his Sol Ring leaving him with just a Mox Emerald for mana. 
Win
5-1
Rd. 7- Jeff Anand (Slaver Control)
Jeff is the top seed and looking for the draw to relax before the cut to Top 8. Unfortunately, after I look at the standings I find out I am unable to draw here and need a win. Since Jeff is already locked in for Top 8 he scoops me in and we both get to relax before Top 8.
Thanks Jeff!!!
6-1
Rd. 7.5- Red, Hot, and Blue (Memphis BBQ- Pulled Pork Sandwich)
At this point it's been close to twelve hours since I have actually eaten something and thankfully I now have time to get food. I simply murder my Pulled Pork Sandwich so much so that it could have been alive originally and I would have decimated it that much.
After some congratulatory Top 8 shots it's on to Top 8!!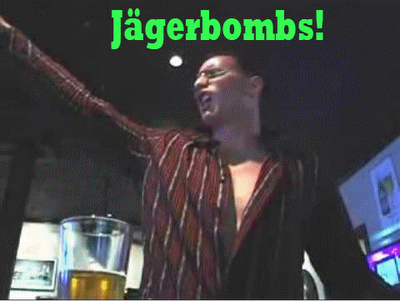 Top 8- Paul Mastriano AKA East Coast Vintage End Boss (Meandeck BUG Fish)
What an unreal opponent to have in my first round of Top 8. However, in order to win one of these tournaments you pretty much have to go through Paul at some point in the tournament. Vintage Champs Paul and I have been getting paired more and more often at some point in a tournament with our most recent battle being in Top 8 at the December NYSE event where I fell in three games.
Game One:
I win the die roll and Paul comments on how he pretty much is unable to win game one. I saw him on BUG earlier which makes me think he left his Gush at home and went with a more Fish-based deck. I get a double Bazaar opening seven and from there it was pretty hard for me to lose that game. He mulls to five finds nothing good to Ancestral Recall into, and we are quickly on to game two.
Win
I am snap-putting Paul on strictly Jailers and Leylines, I just don't see Paul as being the Johnny Cage type; he definitely comes off more as a Scorpion or Sub Zero fan. I have to respect Johnny though so going against my read I decide to bring in stuff for Cage anyway.
I sideboard as follows:
-2 Dread Return
-2 Fatestitcher
-1 Flame-Kin Zealot
-1 Sun Titan
-1 Ichorid
-1 Dakmor Salvage
-1 Golgari Thug
+4 Chain of Vapor (1 signed by Paul Mastriano…hehe)
+1 City of Brass
+4 Ingot Chewer 
Game Two:
I have some Bazaars and Nature's Claims in my opening hand but Paul explodes out of the gates with a Leyline of the Void and quick Tinker into Blightteel by turn two. I have one chance here to rip a Chain of Vapor once again off the top…
(Spoiler alert: we are going to game three)…
Loss
I decided to adjust my sideboard plans for game three now that I am on the play. I still don't buy Paul being a Johnny Cage guy so I adjust for game three accordingly:
-4 Mental Misstep
-4 Ingot Chewer
+3 Unmask
+2 Ichorid
+2 Dread Return
+1 Flame-Kin Zealot
I figure on the play I might be able to snipe a Jailer or Cage if he has them with Unmask. I also want to adjust the speed of the deck to take advantage of being on the play for game three so I bring back some of the Dread Return package.
Game Three:
Paul mulligans to five I believe and I keep my six and we are off. He turn zeros a Leyline of the Void which slows me down a bit since I don't have my color-producing land yet for Chain of Vapor. I hit my land before Paul is able to get more gas and bounce the Leyline of the Void. I don't have much in terms of pressure, but I'm able to Cabal Therapy his Preordain away to further keep him off anything; Paul makes a nice attempt to have me name Leyline of the Void instead but I wasn't biting. Paul is unable to draw any addition hate or a way to cast the Leyline and gets overrun with zombies the following turn…
Win
Top 4-Matt Gotshall (Orb of Dreams Workshops)
Woot another Workshops matchup!!!
Ironically my buddy Andy was complaining to me two days prior about losing to a Workshop deck with Orb of Dreams, low and behold it was actually my Top 4 opponent who crushed him on Cockatrice.
Game One:
He wins the die roll and mulligans to what I assume is a suitable hand against Dredge. Unfortunately I am unable to keep my seven, which would have allowed me to slow dredge since I am going to assume he mulliganed to a Wasteland-heavy hand. I am able to keep my six and he leads with multiple Wastelands but he doesn't have any pressure to apply. I am able to slow dredge my way to a victory for game one.
Win
Typical Shop sideboarding for game two:
-2 Dread Return
-1 Flame-Kin Zealot
-1 Sun Titan
-2 Fatestitcher
-1 Dakmor Salvage
-1 Darkblast
-4 Cabal Therapy
+4 Ingot Chewer
+4 Chain of Vapor
+2 Petrified Field
+1 City of Brass
+1 Ichorid
Game Two:
My opening seven is very awkward: two Bazaars, three Bloodghasts, and two Ichorids. I obviously keep but he is able to stick a turn one Johnny Cage to really ball-break my hand. I continue to dig but he follows it up strongly with a Relic of Progenitus and Precursor Golem. I quickly succumb to the golem army and we are onto game three.
Loss
Like I talked about earlier I want to readjust for being on the play now in game three.
I sideboard as follows:
-4 Mental Misstep
+3 Unmask
+1 Dread Return
A lot of the theory is a Mental Misstep on their turn one for a Cage is inferior to Unmasking them on your turn, which gives you additional knowledge of their hand as well. Workshop decks don't have the resources to mulligan generously to multiple pieces of hate. Their game plan is to hopefully get one piece and protect it with sphere effects and/or Chalice of the Void. This is why we decided on going with Unmask for games we are on the play against Workshop decks.
Game Three:
I keep my seven after I Serum Powder away my original seven which included a Bridge from Below. My new opener contains a Bazaar, double Nature's Claim, City of Brass, and Dakmor Salvage as my only Dredge action. I lead off with my Bazaar, and he counters with a Lodestone Golem. I try to get things going, but instead I hit three Bridge from Below leaving me with none in the deck now. He follows up with Precursor Golem at which point I am in trouble here if I don't hit something. I'm able to get Ichorid online and pass the turn time to slowly assemble a zombie army, being mindful that I have no more Bridges if I kill one of his guys. He then Phyrexian Metamorphs and I assume he was going to choose to copy nothing and nuke my Bridges, leaving me with three lonely zombies and two Narcomoeba on board. Instead he copies his Precursor Golem, but doesn't attack with his team to put pressure on me. I'm all but certain the all-out attack is coming next turn, and I need to peel a land real bad here. I activate my Bazaar and draw instead of Dredging and find my City of Brass AND….
Chain of Vapor!!!! Ding!!
This allows me to set up an alpha strike opportunity now since I don't have to worry about him gaining a ton of life from Nature's Claim. I return my Ichorid again, play my land, and then pass the turn since I now have enough zombie tokens to kill him on my counter attack. It works out better than I could have ever imagined as he drops double Orb of Dreams BEFORE he attacks with his golem army. This allows me to easily Chain of Vapor his whole team away and since he tapped out for both Orbs he can't even replay his team. I counter attack for the win…
Win
Finals- Shawn Griffiths (BUGish)
We decide to split the Black Lotus and Mox Ruby but you can't split NEV Series points so there will still be blood…
Game One:
Shawn mulligans to six and I am able to keep a strong six myself featuring Mental Misstep and Nature's Claim. Shawn attempts to Vampiric Tutor which meets my Misstep, however he has one of his own Missteps for mine. I play Bazaar and pass the turn in which Shawn slams down a Johnny Cage. I have the land and the Nature's Claim to return the ball-breaker to Johnny and coast to victory from there.
Win
I sideboard similar to how I sided against Paul:
-2 Dread Return
-2 Fatestitcher
-1 Flame-Kin Zealot
-1 Sun Titan
-1 Ichorid
-1 Dakmor Salvage
-1 Golgari Thug
+4 Chain of Vapor (1 signed by Paul Mastriano…hehe)
+1 City of Brass
+4 Ingot Chewer 
Game Two:
I keep my seven but I have no anti-hate cards in my hand. I get overwhelmed by Shawn's hate measures featuring Nihil Spellbomb, Leyline of the Void, and Johnny Cage. It's only a matter of time before he is able to get some pressure on me and beat me down in a very uneventful game for me.
Loss
I kept things the same game three because I saw Johnny Cage, Spellbomb, and Leyline. He also played a Trinket Mage to get his Johnny Cage that game, so I figured keeping in Mental Misstep since I expected a heavy concentration of his hate would cost one mana was the right call instead of going into the Unmask plan. I debate briefly with myself if that is correct, decide it is, and shuffle up for game three.
Game Three:
I keep my six here with some actual anti-hate and Bazaar hoping to get there. He opens with a Leyline of the Void into a Spellbomb on his turn. He then Mystical Tutors for a Tinker which forces me to use my Ingot Chewer on his Mox Emerald to ensure I have at least another turn and force him to draw more mana sources. Unfortunately, I'm unable to get rid of the Leyline of the Void and he's able to get more mana sources before I can even get going. He Tinkers into his Blightteel with only one card left and he informs me it's not a Mental Misstep. I guess I'm alive here with four outs…
we have seen this script before…
obviously needing to peel a Chain of Vapor to snatch victory again from the jaws of defeat…
(spoiler alert:Â  it wasn't there this time and I extend my hand in defeat).
Loss
Moving Forward
Overall I felt the deck was well equipped for the field all day. The only card I really found myself questioning was Unmask. If I was going to play this again in a tournament tomorrow, I think my sideboard would include Dredge hate and a way to deal with multiple Grafdigger's Cage and/or Leyline of the Void in play. Moving forward I would propose this sideboard to everyone who wants to play the deck:
2 Petrified Field
1 City of Brass
1 Elesh Norn, Grand Cenobite
2 Serenity
4 Ingot Chewer
4 Chain of Vapor
1 Ichorid
The four Ingot Chewer I felt were rock stars all day. Every time in testing when I tried playing three I instantly regretted not having the fourth. Other than that, I would say that the Elesh Norn and Serenity spots are metagame calls and could flex depending on what you expect to play against. Darkblast, Contagion, and Wispmare were some of the other considerations for those spots. The deck is ironically very weak to the other versions of Dredge since it lacks Leylines and Elesh Norn. Other than that the deck performs just fine against the rest of the field. If there is one big takeaway from all of this it's that one can never really underestimate Dredge, EVER! Doing so will just handicap yourself at any given tournament.
Props and Slops
Another Grudge Match came and we saw yet another Team PA victory triumphantly taking down Team New England and Team New York who somehow didn't vote Jeremy Lin on their team…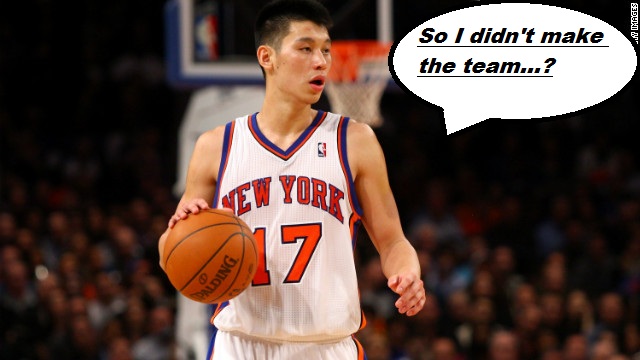 Props:
Team PA taking this event down again!!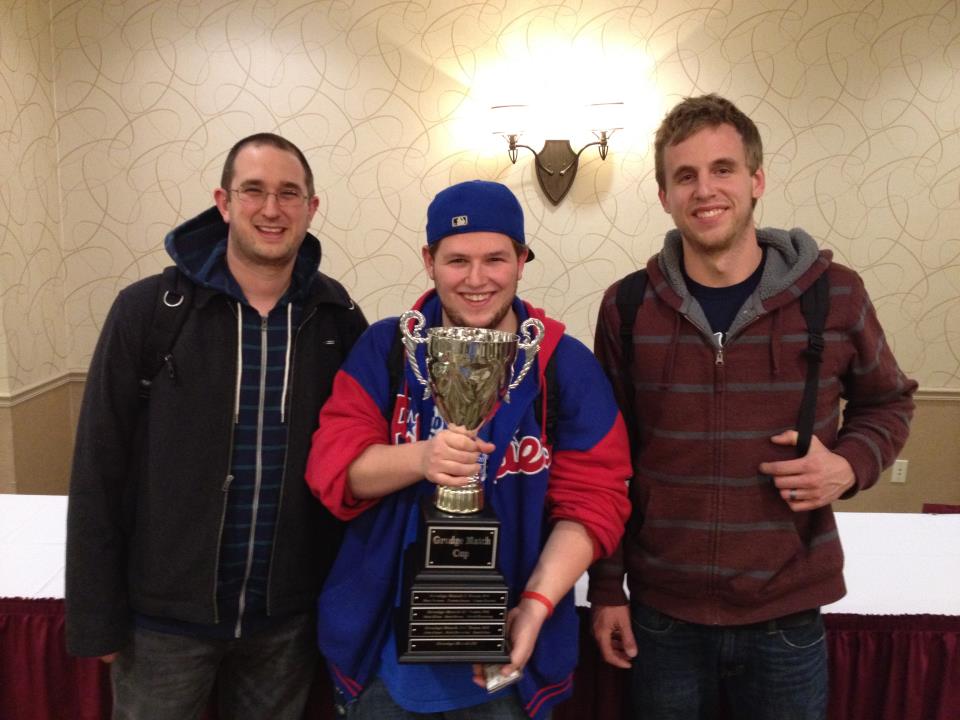 When you have a team like that, how hard can it be?
Team East Coast Wins for helping to create and test such a sick Dredge deck.
Nick Coss and Nick Detwiler for having created a truly amazing Vintage series.
Jeff Anand for allowing me to get something to eat before Top 8…
Everyone who plays Vintage, we have such an amazing community of players that if you don't play Vintage you don't know what you are missing.
Matt Elias for being such a sicko at creating Dredge decks.
Shawn Griffiths for taking it all down.
Paul Mastriano and his continued streak of being a Vintage End Boss.
Slops:
Variance…which apparently can't slow down the Dredge Monstrosity….
Losing my first Dredge mirror to someone whose last name wasn't Gans.
Johnny Cage AKA Grafdigger's Cage – I had 99 problems on the day but this card wasn't one.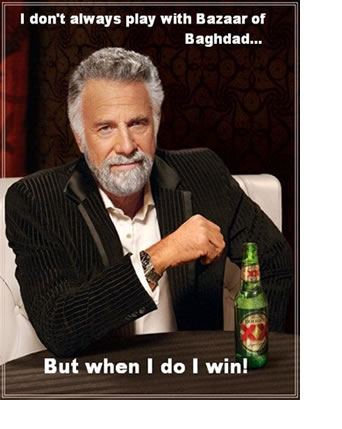 @Womba_ on Twitter