It's still good!
After Grand Prix Richmond, I had a bunch of changes in mind for Infect but not really any tournaments to test out my ideas. I knew Ichoclaw Myr was trash,
and I was constantly wanting a Dryad Arbor to give some extra late-game punch when I'd inevitably draw a fetchland or two more than I needed. In a world of
fetchlands and shocklands, people do deal themselves a healthy amount of damage, and I wanted to keep people honest. It gets to the point sometimes that
people shock themselves just on a pure bluff.
It's also widely known that Spellskite is a great card against many decks in the format, from Splinter Twin variants to the Slippery Bogle deck. Infect
gets hit by the splash damage of those, and Spellskite is always a concern post-sideboard. The worst spot to be in is to sideboard in Nature's Claim to
solve a problem that they may or may not draw (or have even sideboarded in).
The two biggest decks at the time of Grand Prix Richmond were Affinity and Birthing Pod strategies. Both decks are disrupted by artifact removal.
And so came the idea of maindecking four copies of Viridian Corrupter.
I was sideboarding Virridian Corrupter in almost every matchup. Sometimes it was aggravating to be unable to cast it because I had Ichorclaw Myr in play.
The phyrexians aren't big on choices as the "destroy target artifact" trigger isn't a "may".
I knew what my deck wanted and the design needed a large overhaul to accomplish. This past Sunday I won a local Invitation Qualifier with the following
list. Compare it to a more traditional list that placed second at another IQ.
Mine:
The Other Guy:
Twenty lands was the norm before, and Dryad Arbor is like a half-land. We also see a Birds of Paradise doing its best Noble Hierarch impression. The fifth
mana dork isn't super-impressive but is necessary when the curve jumps a little higher. Going from eight turn 1 plays to nine has felt like a big
difference.
The Phytoburst sticks out in the list. It's a card that I've been wanting to try out for the longest time but have never pulled the trigger on. Truth be
told, I somehow couldn't find my last two copies of Might of Old Krosa and settled on giving Phytoburst a try at the IQ, along with one more copy of
Gitaxian Probe than I typically run.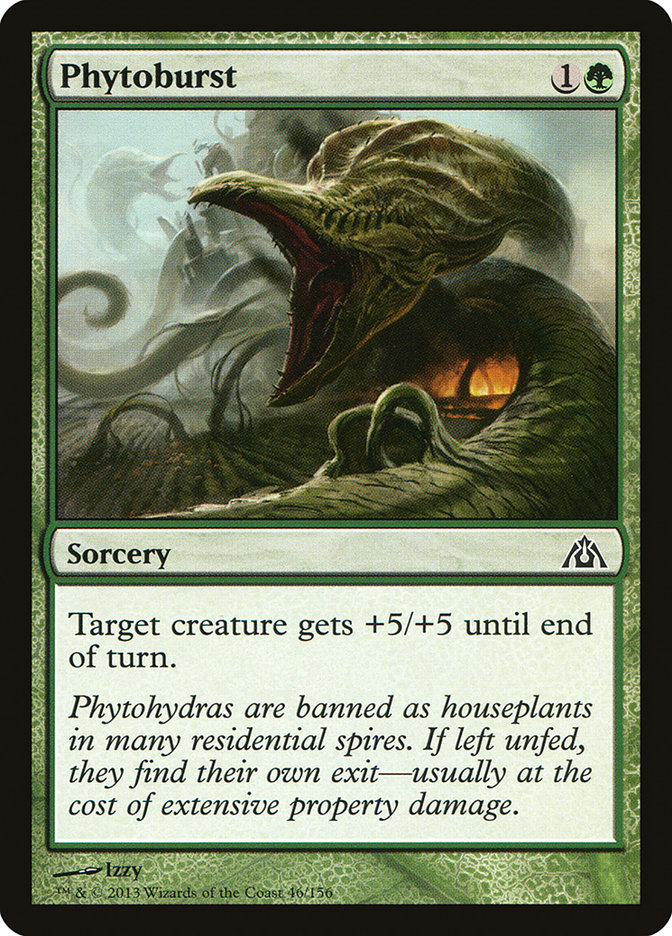 The way the math works out in Infect, you often are able to hit for nine poison damage in one turn, but not ten. Groundswell, Might of Old Krosa, a kicked
Vines of the Vastwood, and a double Mutagenic Draw all do four and you usually are doing two of those things. 1/1 with +4/+4 and another +4/+4 just misses
out on one-shotting your opponent.
Noble Hierarch, Pendlehaven, and Distortion Strike are there to hit that last extra point. The extra point also sometimes comes in with a lone Inkmoth
Nexus activation and attack, or a Glistener Elf that came down on turn 1 and got a hit in before being dealt with.
Phytoburst giving +5/+5 was pretty nice and allowed me to set up hands a bit better when I drew it. I could use Vines of the Vastwood more defensively.
I've grown to not like Apostle's Blessing and to love Dispel. I like the idea to presenting lethal with less cards and have room for backup.
Speaking of not liking Apostle's Blessing for defense (or sometimes the falter effect on offense), you now see a lone Pact of Negation. Infect plays like a
combo deck oftentimes, and Pact of Negation is a free counterspell when you're killing them that turn. Strangely enough, I was paying the upkeep on Pact of
Negation more often than securing a win with the card during the IQ. With the increased number of mana sources, I've been impressed by the card as it feels
like it's a touch more versatile in Infect that it is in dedicated combo decks.
In John Rian's Infect you see the Ichorclaw Myrs and Rancors. They're a nice combo together, making the Ichorclaw Myr essentially unblockable. The problem
I found is that when things weren't working perfectly and people were doing normal things like killing your creatures or casting Thoughtseize or
Inquisition of Kozilek, those cards ended up in the graveyard a lot. So what's so bad about that?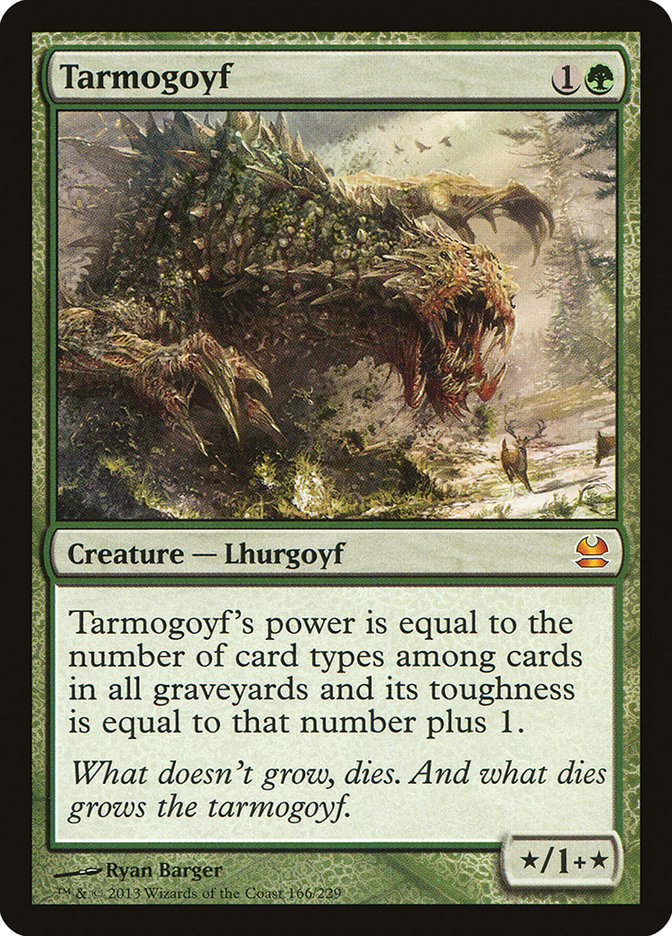 Tarmogoyf is second best creature in Modern (next to Glistener Elf obviously) and makes an appearance in a wide variety of decks including RUGTwin
nowadays. It turns out that there's a big difference between them having a 4/5 or a 6/7 Tarmogoyf, as a smaller Goyf can be taken down sometimes in combat
with a pump spell and poses less of a threat to race you. Tarmogoyf players rarely have artifacts or enchantments of their own in their graveyard and not
pumping theirs for free anymore has been a relief.
I've seen a lot of lists shying away from Gitaxian Probe. I understand that it's not exactly a freeroll and can make for tough mulligan decisions (this
card could be anything, even another Gitaxian Probe!) but working with more complete information is crucial for a deck that has to play around
counterspells, Lightning Bolt, Path to Exile, Abrupt Decay, Dismember, Electrolyze, etc etc etc. Through experience of the format and what opposing decks
are capable of, you do get a feel for what they have but intuition isn't 100%. What is 100% is seeing that they don't have it and not playing overly
cautious to give them extra turns and draw steps to get out of a tough spot when you have them dead to rights.
Let's look at the sideboard before going into the matchups.
SIDEBOARD
So Viridian Corrupter and Dryad Arbor are sideboard cards. The Dryad is best against Liliana of the Veil and kind of awkward in opening hands. So why not
have them in the sideboard and more "normal" cards maindeck? Because starting them in the maindeck frees up sideboard slots.
Good against the mirror, Twin, and Bogles. I don't usually sideboard this in just to fight removal like Bolts and Path to Exile. I side them in together
with high hopes to get both into play with a Wild Defiance to keep redirecting a pump spell between them. Turns out, Wild Defiance triggers when the
creature becomes the target of a spell, not when cast.
Super efficient. Affinity with their Cranial Plating draws is one of the scariest things to face down in Modern, and Affinity is capable of coming out
faster than Infect. That said, I never bring in all four in any other matchup. Having eight artifact removal spells may be overkill, but that's a luxury of
freeing up sideboard slots.
Awesome against UWR Control. Electrolyze, Path to Exile, and Cryptic Command are some of the best cards against you and I'm always happy to draw a Dispel
or two before starting a removal/protection/pump/counter war with them.
Never ceases to impress. Against Melira Pod, this slows down their acceleration and is a safe card to bring in when you expect anyone to have Spellskite.
Also, it gets Affinity pretty good. It outright kills the following:
..or it makes Glistener Elf a 3/2 after a Pendlehaven activation.
Pressure and a removal spell in one package. The Dryad Arbor and Birds of Paradise help to increase the green creature count to enable playing this gem.
Any green creature will kill Melira, Sylvok Outcast, even an 0/1. It's almost capable of mowing down Tarmogoyf or Kitchen Finks with a little help from
another pump spell.
One of the best cards against UWR Control. Their Lightning Bolts and Helixes become much worse. Electrolyze will start going to the face at an all-too slow
pace. Pump spells become lethal much, much faster.
THE MATCHUPS
This is the deck you've been worried about since you started reading the article. This is your hardest matchup, and while it has dominated the field at the
Grand Prix, it doesn't seem be having great showings lately. In fact, there were six Modern IQ's this past weekend and Melira Pod only claimed five out of
the forty-eight top 8 decklists. With people switching over to Kiki Pod or LSV's Angel Pod, the future is looking good for the Phyrexians.
Out:
In:
I actually wish there were a card or two more to bring in for this matchup, like possibly another Twisted Image or Hunt the Hunter. Phytoburst or Pact of
Negation would be next to be sideboarded out if that were the case.
VS Affinity
I remember the days of real Affinity. Affinity was the best deck, not close. Affinity beat decks that were designed to beat Affinity. No number of Viridian
Shamans and Oxidizes could contain it. However, we're in a new age where Affinity is only a shadow of it once was. Viridian Corrupters and Nature's Claims
do a good job at containing it.
Out:

In:
VS UWR Control
A tough matchup before Wild Defiance was discovered. Path to Exile is much harder to beat than Lightning Bolt is. This is one of the only times I wish
there were a third Forest in the deck.
Out:
In:
You need less pump spells. You're going for a more grindy game. They're well-equipped to deal with quick creatures, and you're better off waiting until you
have a hand/board that's capable of winning a spell-fight with them.
Out:
In:
If you can help it, try to stay above 18 life for as long as possible. To do that, you have to pay real mana for Gitaxian Probe and have Breeding Pool come
into play tapped. The reason is because they can do 18 damage to you easily with seven lands and a Scapeshift.
Out:
In:
Your Vines of Vastwood are key in this matchup as they serve to "counter" Splinter Twin when you cast it on the target in response. Be careful not to tap
down to just one mana before passing the turn as they can often flash in a Pestermite or Deceiver Exarch to tap your lone land. This is a matchup where you
get a lot of regular attacks in with a Glistener Elf or Blighted Agent as neither player is willing to expose themselves too much to each other's combo.
VS Storm
Out:

In:
Mostly just two ships passing in the night, this comes down to who is fastest. Both players have the option to dilute their core plan by bringing in more
answers. Nature's Claim can deal with Pyromancer's Ascension but is a poor card in the matchup overall. You want to kill them on turn 3 optimally. They
might have Lightning Bolt which matches up poorly against your pump spells.
VS G/R Tron
I've powered through a Pyroclasm on turn 2 and Karn on turn 3 before. They certainly do some powerful things, but mostly at sorcery speed. They generally
have a tough time interacting with Inkmoth Nexus.
Out:

In:
Viridian Corrupter is your main line against their Spellskites, and thus, you don't need too much more to deal with them. You have a wealth of artifact
removal. Whenever I have a chance, I tend to hit whatever artifact is vulnerable anyway. If they leave an Expedition Map or Chromatic Sphere exposed, go
ahead and eat it up.
VS Jund
Here is where you're happy to have Dryad Arbor. It'll do everything from being a surprise creature to sacrifice to Liliana of the Veil (or a surprise
attacker into her), to chumping a Tarmogoyf, to realistically pressuring their life total. Dark Confidant damage adds up with fetchlands and shocklands and
I wouldn't be amazed if they show up with Dismember as well. Usually once per tournament, I get a game win through normal combat damage and Jund is usually
that victim.
Out:
In:
Because Wild Defiance is an enchantment, we don't want it pumping their Tarmogoyfs. Spellskite could have a bit of utility, but for similar reasons,
doesn't make it since it's an artifact. Since Pact of Negation can't get Abrupt Decay, it goes as well. It's also less effective when they know it's there,
which is likely from a Thoughtseize or Inquisition of Kozilek. Twisted Image is a nice hedge card even though they don't have anything to outright kill
with it. Gitaxian Probe being an "unknown card" is beneficial in this matchup as you will have more unknown cards for them to play around after the turn 1
discard spell.
VS G/W Hexproof
This deck plays very similarly to infect, but their opponent will have to take a full twenty damage. Bogles sacrifices the infect counters for a less
fragile win condition. I was originally on this deck before switching to Infect. My sideboard plan was to bring in four copies of Glistener Elf after my
opponent took out all their targeted removal. At that point, I asked myself why I wasn't just playing Infect in the first place…
Out:
In:
VS Infect
Out:

In:
Here is where you miss having access to Dismember the most. Every creature trades with one other because infect puts -1/-1 counters on; Hunt the Hunter
isn't effective. Viridian Corrupter will get Ichorclaw Myr/Spellskite and will generally be the biggest creature on the table. Whoever is on the play will
be the beatdown, and the other players will be forced to control.
I'm pleased with the current state of Infect, and it feels like it's positioned very well in the metagame. There are PTQs in Texas in the coming weeks, and
I'll be piloting this for sure. I recommend it to you folks as well.
If you enjoy fast rounds like I do that is…