Hello.
No jokes about the word "Izzet" from me… I'm not that funny. [Thank the lord. — Craig, eyesight muzzy from an overdose of Izzet humor.]
Part one, dealing with the Orzhov Guild, can be found here.
Part two, dealing with the Gruul Guild, can be found here.
The rating system:
10: Bomb!
9: Excellent card
8: Great card
7: Good card (almost always play it)
6: Decent (feel free not to maindeck it, or side it out)
5: Fair
4: Only a deck-filler
3: Unplayable without crazy combos or circumstances
2: Just unplayable
1: …
On to the Guild of many tricks; the Izzet Guild!
Fencer's Magemark
Another creature enchantment in the Magemark cycle, and this isn't any better than the others I've discussed already. Creature enchantments are bad unless they impact the game when they come into play (example: Galvanic Arc) or have a big enough impact to make it worthwhile (example: Pollenbright Wings).
3/10
Hypervolt Grasp
An interesting enchantment, as it does not expose you to two-for-one trades as easily as most other enchantments in the set, since you can return it when you've got 1U open. It looks like it's a Viridian Longbow, but more expensive. I'm not sure you want to play this unless you've a few cards that work well with it, like Viashino Fangtail, Tidewater Minion, or Wojek Embermage.
4/10
Ogre Savant
In a deck with as many comes-into-play effects as the Izzet Guild's got to offer, Ogre Savant is more than just tempo advantage, and provides an essential effect. On its own it's nearly as good as Vedalken Dismisser, but it really shines when you combine it with cards like Peel from Reality or Steamcore Weird.
8/10
Pyromatics
This is a very versatile removal spell, but you have to pay a lot for it. Still, when you're able to replicate it a few times it can be very good. The problem is that most decks are three colors, and it's hard to pay the price.
7/10
Shattering Spree
There are a few targets for Shattering Spree, but it's very rare if there's enough to make it worthwhile. I suggest you leave this card where it belongs: in Extended sideboards, absolutely destroying Affinity.
3/10
Aetherplasm
It can be a nice trick, but I'd much rather just play my creatures and not get stuck with a useless 1/1 for four mana in my hand. It costs you a card and four mana to hopefully pull a successful trick, and it's just not worth it.
3/10
Crystal Seer
When you get this active in the late-game, it'll be very hard for your opponent to get rid of it. Apart from that, it's really, really slow. As a five-drop, you get something that maybe trades for a two or three-drop, and the decks that Crystal Seer appear in won't usually have any shuffle effects to make the Seer's ability shine. It should only be played as a late-late-game indestructible 2/2.
4/10
Drowned Rusalka
This 1/1 for one has a pretty good ability. However, in Blue, a 1/1 for one doesn't usually have any synergy with the deck unlike, for example, decks with Convoke-spells. Its ability is good enough to sometimes make it worthwhile, but only as a deck-filler.
4/10
Frazzle
Counterspells aren't good in Limited unless they either are really cheap (example: Remand) or they give you card advantage (example: Overwhelming Intellect). If a counterspell is expensive you probably won't be able to do anything on your own turn, if you actually want to counter something. That means your board position should be equal or favorable at that point, and then it's easy for your opponent to put you on a counterspell when you have a few cards in your hand and four mana open.
3/10
Gigadrowse
I'm sure that when you're in a race it can work out nicely, but it's way too narrow. It's horrible as a defensive card since it's simple card disadvantage. Besides, there are many other cards that can win you a race and also have other functions when you're not in such a situation.
3/10
Infiltrator's Magemark
It's Blue, and Blue is the color of evasive creatures, making the Magemark hardly useful. In Green decks though, it can function as Treetop Bracers, making any fatty a lot more impressive and harder to deal with. It's still a non-reusable creature enchantment though, exposing you to an unfair trade, but in some games its impact can be major.
6/10
Repeal
Decks with Izzet-cards in them usually revolve around getting card advantage by triggering comes-into-play effects multiple times, and Repeal is the perfect card to enable such effects again. Unlike Peel from Reality, it replaces itself and doesn't have to target one of your own men. Therefore, Repeal is great in the early-game, helping to keep up with your opponent. This makes it the perfect card for an Izzet-based control deck; it can be effectively used both for obtaining board control and (especially) maintaining it.
9/10
Runeboggle
It's not an especially cheap counterspell, but it does sometimes give you card advantage. It's amazing when it works out but it's almost always safer to play permanents on the first few turns than to keep up mana, and after the first few turns it doesn't often do more than cycle for three. If you're low on three-drops, you could run it, but it's usually not the right play to keep mana open for it when you have another decent drop.
4/10
Steamcore Weird
Steamcore Weird has a comes-into-play effect and it's about as good as it gets for the Izzet Guild. Peel from Reality, Repeal or Mark of Eviction are all cards that allow you to abuse the Weird's ability multiple times and that's what a good Izzet deck is built upon, therefore Steamcore Weird is essential for such decks.
9/10
Stratozeppelid
It doesn't really fit into what appears to be the Guild's main game plan, as it's not a defensive creature at all; nevertheless it's a five-turn clock for your opponent and therefore great, just like Moroii was still very good in a millstone-deck. It's different from Moroii, of course: decks using the Izzet Guild usually win by dealing damage and not milling the opponent, making it better then Moroii in the U/B control variant.
9/10
Thunderheads
I'm not a fan of cards that have to be played on the opponent's turn, as it's often hard to keep open mana, but when Thunderheads works out it's like a removal spell, and almost every form of removal is playable in Limited.
6/10
Torch Drake
Another great flying creature that doesn't fit into the Guild's main strategy. If you have a few flyers then you could make that your main game plan, and keep the comes-into-play card advantage as a backup plan. Torch Drake helps to do this, as it's a reasonably priced body with a great ability.
8/10
Train of Thought
While it can be annoying to draw in the early game, it's great in late game situations. Here, it helps you to outdraw your opponent and win the game through pure card advantage. Its power increases greatly if you have a deck that defends easily, since a good defense can compensate for the tempo-loss it causes.
7/10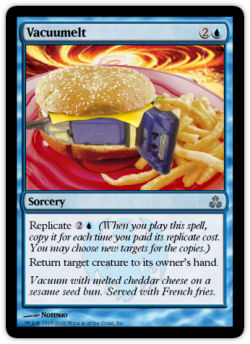 Vacuumelt
It's not an instant, and that's what keeps it from being good in a defensive U/R-based deck. If it was, you could use it to re-use your comes-into-play triggers while blocking attackers with your creatures, but as it is it's a bit too slow and is much better in an aggressive deck. In such decks you can use it to gain a lot of tempo; if you curve out a few flying creatures, and top it off with Vedalken Dismisser or Vacuumelt, it'll be hard for your opponent to get back in the game. For three mana, it simply isn't worth it (most of the time), and as a six-mana bounce spell it doesn't always work out as well as it should. The tempo advantage isn't always as great (when your opponent has smaller creatures rather than fatties, for example).
6/10
Vedalken Plotter
This card's obvious goal is to steal a common Guild land from your opponent, messing up his colors and giving a land swing of two in the process. The land swing for two is the same as a Stone Rain on his double-mana land, but the 1/1 body it's attached to can be very relevant when you're able to use it again. If your opponent does not have a double-mana land, it'll only switch a land and not produce any swings in mana. Therefore I like to have it in my sideboard: I bring it in if I see a few double-mana lands and other useful lands (Skarrg, Sunhome, etc.), but I'm unhappy to have it in the main deck.
4/10
Vertigo Spawn
It nullifies almost every two-drop in the format, and also many three-drops. After that it'll chump-block a bigger monster twice and helps you to obtain board control or win a race. However, against some decks it doesn't block a lot of creatures and can be pretty much a dead draw; when you're playing against a Blue deck with flyers or a Green deck that has acceleration instead of early drops.
7/10
Electrolyze
Two or three-for-one, at instant speed, for only three mana. Electrolyze is an excellent card, and anyone who's played Draft before will recognize that.
9/10
Gelectrode
On its own it's already a cheap Tim, but it's never on its own in a Blue/Red deck. Every instant or sorcery you play now has a built-in Shock-effect; allowing Gelectrode to dominate the board whenever it hits play. Its single point of toughness makes it slightly vulnerable but that's not a good enough reason to dislike this fabulous guy.
9/10
Goblin Flectomancer
The obvious downside is its casting cost, making it hardly playable in the U/B/r archetype. When you can cast it and Flectomancer comes down, your opponent will have to make a two-for-one trade before he can use any other removal spell on your creatures. This gives it value, obviously.
6/10
Izzet Chronarch
It's a bit slow, but provides you with a lot of card advantage as you'll often be able to return a card-drawing spell or Repeal… not to mention what happens when you combine it with Peel from Reality. Izzet Chronarch is very important in any U/R-based deck, because it gives you a lot of gas after you've used most to get into a favorable board position.
8/10
Leap of Flame
This is a risky combat trick, as it won't work when damage is already on the stack, so if your opponent has a trick of his own (or a bounce or removal spell) you'll be on the shallow end of a two-for-one. Besides, decks with Blue and Red don't really get involved in creature combat too often, making the Leap of Flame too narrow.
4/10
Schismotivate
Another combat trick, and it's pretty expensive for a trick if you need to keep open the three mana on your opponent's turn. You do have many other instants you could cast with that mana: the Blue bounce spells and Black removal. It's not a huge problem to keep the mana up when you're going to play a trick anyway. Then again, U/R isn't the Guild of creature combat; therefore Schismotivate isn't a great card for it.
5/10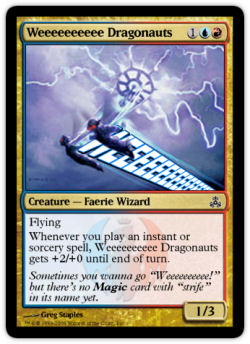 Wee Dragonauts
A 1/3 flying for 1RU isn't great, but it's quite easy to trigger it once every few turns in a deck filled with removal and card-drawing spells. Tricks won't usually trigger it offensively, as you'll want to play those more often during your opponent's turn rather than your own. It's not that great, as it's not exciting on its own and somewhat hard to cast.
7/10
Izzet Guildmage
A solid, easy to cast two-drop, and for its effect we'd have to look at some of the cards in the common and uncommon slots that would be good to copy. Looking at the most common three-color combinations for Izzet (White and Black), Ravnica has Lightning Helix, Last Gasp and perhaps Peel from Reality as good targets, and Guildpact has only Repeal to bounce some tokens and draw some cards. There aren't many good targets, but when you're in a Draft you've already had two packs of Ravnica with which you can adjust the value of Izzet Guildmage. Overall, I'd average it around 7/10.
7/10
Petrahydrox
It won't die, but sometimes it can't stay down either. When your opponent has a re-usable effect that targets a creature, like Skarrg or Ghost Warden, it's virtually useless. If you need to play it in the maindeck, it's fine, but it's better as a sideboard card when you haven't seen anything that takes care of it permanently.
6/10
Nivix, Aerie of the Firemind
Like the Orzhov uncommon Guild-land, Nivix is only worth it when your mana base is barely harmed by it, as its effect is quite expensive and will do something only one out of five or six activations in a usual deck, unless you've got something that works well with it. [This card is simply terrible, surely? Am I missing something? – Craig]
5/10
Tomorrow and Friday's articles will show you my analysis on the changes in the format. Please tune back in for more reading!