Hello everybody, and welcome to another edition of the Grand Prix Miami blog! Today I'm going to talk about
all of that sweet, sweet swag you get FREE just for playing in the main event. Even better, all of these rewards are guaranteed! You will get these rewards
no matter how many players attend the event.
* Grand Prix Griselbrand Foil Promo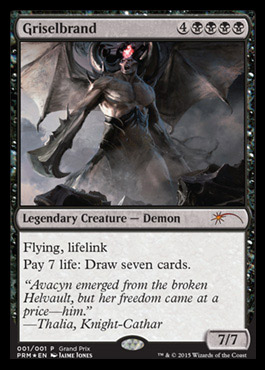 The legendary demon himself, Griselbrand flies high with all-new artwork on this foil promo you can only get by playing in a Grand Prix this year. Get
your free copy and start drawing those cards!
* One-month StarCityGames.com Premium Voucher
Want to learn from the best? Let us give you a free month of Premium access to do so! Featuring Pro Tour champions such as Brian Kibler, Patrick Chapin,
Ari Lax, Shaun McLaren and more, Premium's strategy and insight are available nowhere else. A $10 value is yours to redeem or gift to a friend.
* Free 8-player Side Event Voucher
Who doesn't want to play in a free draft? Or battle in a free win-a-box flight? StarCityGames has you covered as we're happy to provide
every single entrant the ability to do so. Rare-draft to your heart's content or metagame yourself into 360 Prize Tickets (enough for a whole booster box)
on us!
* 10 SCG Prize Wall tickets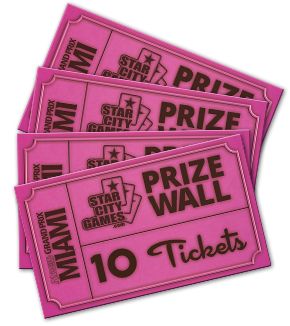 The Prize Wall is the new hotness at Grand Prix events, and StarCityGames.com is proud to debut our Prize Wall at Grand Prix Miami. The Prize Wall allows
you to redeem your tickets for the items you want, beginning with booster packs but with an almost endless amount of additional prizes to shoot for. These
include Grand Prix concert-style t-shirts, uncut sheets, limited edition Funko products and much more!
* Grand Prix Miami Mardu Scout playmat
Last but not least, here is the official event playmat!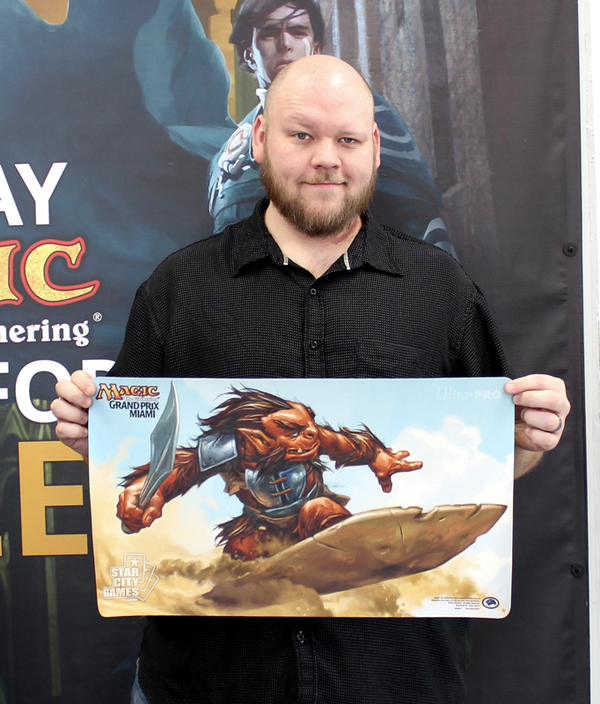 Hey look, it's me! Mardu Scout is that sand-surfin' goblin we know and love from many a Mono-Red deck these days. This limited edition high-quality playmat
is guaranteed to be yours just for playing. As these pieces of artwork are never made as playmats again, this is your chance to get a Mardu Scout playmat
before they become collector's items!
What are you waiting for? Preregister today for GP Miami on March 6-8th, and let's battle
at South Beach for thousands of dollars in cash prizes, pro points, and invitations to the Pro Tour! I'll see you tomorrow with info on our half-dozen
artists and multiple vendors you'll see at the show!