Gerard Fabiano will celebrate his 31st birthday this weekend by doing the one thing he has done more than almost everyone else in the world: play Magic.
Not just any Magic, but his 49th Pro Tour in Portland, OR for Pro Tour Magic 2015.
Fabiano's 60,997 Planeswalker Points is the most for any player in the United States, leading Brian Kibler by 5,554, and ranks him fifth in the world. With
two Grand Prix wins, a handful of Pro Tour Top 16s including his Top-4 finish in Pro Tour Boston in 2002 as part of team Slay Pillage Gerard, Fabiano is
one of the game's strongest and oldest ambassadors.
While Fabiano goes into this weekend's Pro Tour with hopes of a Top 8 to help bolster his Hall of Fame resume, he's also in the thick of the
StarCityGames.com Open Series points race for Season Three. After his Standard Open win in Worcester, MA in the first week of July, Fabiano has plans to
hit Opens the following weeks after the Pro Tour in Syracuse, NY and Washington DC. His consistent work on the Open Series has him in prime position to
secure a berth to the end-of-the-year Players' Championship. Even though Fabiano knows he is a longshot to overtake Joe Lossett for the Season Three points
lead by the Invitational in New Jersey in the end of August, he leads the Season Four points race and is a favorite to secure one of the eight at-large
bids awarded to the year's highest points earners.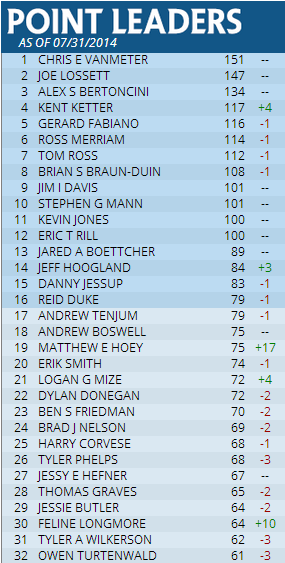 Fabiano is focused on making the Players' Championship, but he also uses his time on the Open Series to have fun with the game and connect with players.
For someone who has been around the game as long as he has, Fabiano has reached the point in his career where he values helping new players and enjoys
seeing others succeed. With Fabiano's record in team events and his support of team formats, his enjoyment of watching others succeed comes as no surprise.
"When you win a tournament it is awesome, but it is even better to share that success with other people," Fabiano said. "When you want your friends to do
well, you sweat them even more and run over to their match when you are done. You always want to see your friends succeed, and when you play in a team
event, you and your friends succeed simultaneously, so it is so much better."
On top of his Team Top 4 at Pro Tour Boston, Fabiano took second with Eric Ziegler in the Two-Headed Giant Grand Prix in Massachusetts in 2007, and won the
Team Sealed Open in Worcester, MA in 2013 with Erik Smith and Curtis Sheu. The win in Worcester with Smith and Sheu is one of Fabiano's favorite Magic
memories in his long and storied career as he got to be a part of his up-and-coming friends' success.
"I have a lot of fun helping new players, and when I see friends win it feels great," Fabiano said. "When I won the Open with Erik and Curtis it was super
rewarding. Erik had some success with his Invitational win, but Curtis hadn't quite had the same amount, so it was a big stepping stone for them both, and
it was great winning as a team."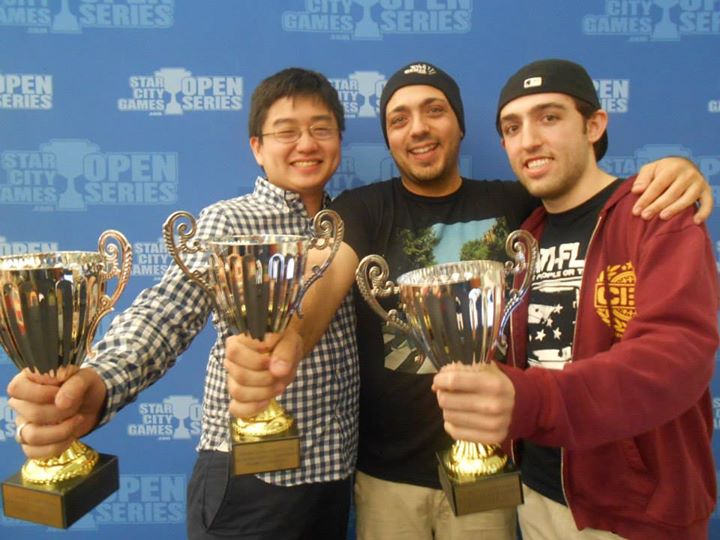 Gerard Fabiano, flanked by Curtis Sheu and Erik Smith, after winning the Team Sealed Open in Worcester, MA in 2013.
Fabiano's shift to helping others began in 2011 when he started on a path that would lead him to become a high school business teacher. After graduating
from Seton Hall in 2006 with an education in accounting and business, Fabiano took a handful of business and marketing jobs, including one as a financial
advisor. But taking a marketing position with the Truth Tour, a program that spreads awareness about the dangers of tobacco, in the summer of 2011 exposed
him to how much he enjoyed working with and educating teenagers.
Going on the road with Truth and the Vans Warped Tour, living in one of Snoop Dogg's old tour buses, took him across the country on a trip that would
change the trajectory of his life. Interacting with teens, speaking in front of Congress, and going on morning TV shows opened his eyes to teaching and
helping out youths. Fabiano began looking into teaching opportunities and was offered a position as an afterschool SAT tutor while at Pro Tour Dark
Ascension in Honolulu in 2012. Fabiano turned his SAT tutoring into a full-time teaching job this year as he completed his first year as a high school
business teacher.
"Being on the Truth tour was the most fun summer I had ever had and led me to pursuing a career in teaching," Fabiano said. Being on the road and
interacting with the teens was a great experience, I even got to see some Magic friends when I hit their city. Teaching now is very rewarding, and I like
what I am doing a lot."
Focusing on his teaching career has led Fabiano to take a step away from Magic, most notably in that he is no longer qualified for every Pro Tour. With his
ability to travel and play limited compared to what he could do when he was playing in every Pro Tour from 2002-2009, Fabiano is content on playing in the
tournaments close to him in New Jersey and when traveling is convenient. Fabiano qualified for Pro Tour Magic 2015 by winning Grand Prix Montreal in March
and spends his time playing in Opens, close Grand Prix, and PTQs when can. He needs a strong finish at the Pro Tour to qualify for the next one in Hawaii,
though with his work schedule, he isn't sure he can go in the first place.
"I am really grateful that I got to play in and be at all the Pro Tours I have, but I think it is better for me now to go to the events I can and try to do
my best at those instead of dedicating all the time to go to all the events," Fabiano said. "I play because it is fun and I like the people. The Opens are
great for me because they are close and while I don't expect to win Season Three, maybe I can get a spot in the Players' Championship from Season Four."
Playing on the Open Series with longtime friends like Reid Duke, who Fabiano defeated in the finals of the Worcester Standard Open, and Andy Boswell has
helped him get ready for this coming Pro Tour just by chance of the events sharing formats. Both players helped him on his deck and gave him feedback in
Baltimore, the first major Standard tournament with the Magic 2015 core set.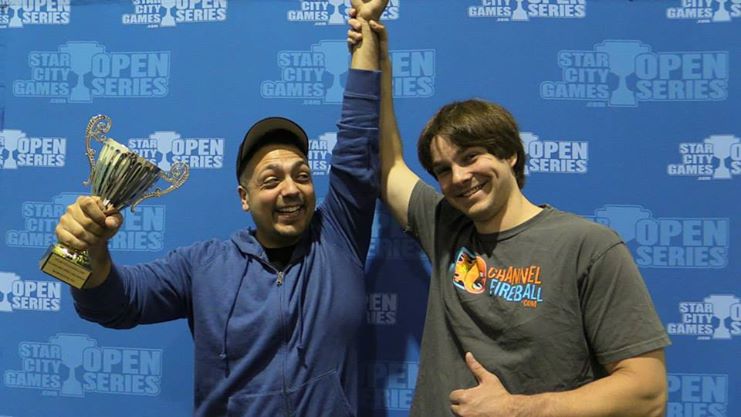 Gerard is congratulated by Reid Duke after winning the Standard Open in Worcester, MA in July.
Fabiano credits playing and talking with other strong players from his area as a major reason for his success. Duke was one of Fabiano's car mates on the
trip to Montreal, where they went over almost every card in Theros and Born of the Gods limited. His experiences with Duke and Boswell highlighted the
importance of working with others and has led him to helping the new players in his area.
"The better players you surround yourself with, more likely than not, the better you will become," Fabiano said. "It is important to be open minded and
learn from everything. I learned a lot heading into the Pro Tour this weekend by playing in the Opens and talking with a bunch of people. Having a big
network is good, and by being good to people they will be good to you. You give one good piece of advice and down the line they will give you some."
While Fabiano is connected to Magic players across the world now from his years on the Pro Tour, he started just like many others, playing with his friends
in middle and high school. He began playing competitively in his junior year of high school and remembers playing in the state championships in 1999. He
played Patrick Sullivan in the Swiss and went on to take second place and get his name posted on the Dojo.
"I played Patrick in the third or fourth round and didn't know what was going on, I thought this was as high as you could go in Magic," Fabiano said. "I
ended up taking second and ever since then I thought this game was awesome. From there, my friends and I learned about PTQs and we started going up and
down the East Coast and eventually started qualifying."
Fabiano can still describe the room layout, what was on the walls, and every other detail about his first PTQ win. Fittingly it was a Team PTQ at Nationals
in 2001, shortly after he graduated from high school. He flew down to Florida with Osyp Lebedowicz and Matt Rubin and teamed with Matt and Andy Stokinger.
He still remembers the bombs he and his friends had in their Invasion limited decks and remembers how crazy it was they won.
Fast forward thirteen years and 48 Pro Tours later and Fabiano is ready to battle on the biggest stage along with his friends Mark Evaldi and Marty
Kollmer. Not only is he recognized among his peers, but even some of his students know who he is. At the end of the school year Fabiano treated some of his
students to the videos of him winning Grand Prix Philadelphia and Montreal.
Whether Fabiano qualifies for the next Pro Tour or not, one place he will continue to grab the spotlight is the Open Series and what looks to be the
Players' Championship in December. Until then, he wants everyone to know he appreciates the support and feedback from the players he interacts with.
"Whenever someone congratulates me, asks me a question, wants a photo, or me to sign a playmat, I really appreciate it," Fabiano said. "It's great to help
people get better, and I like doing it and enjoying it. When someone says they are happy for me that I win it is a great feeling. Just as it is to see a
friend ask for guidance and see him doing well, it's just awesome."