"Ceditor's Note: Due to Grand Prix Orlando being right around the corner, we've made Ari's fantastic Khans of Tarkir Limited analysis available on Select to help you prepare for the tournament."
Morph:
First off, three toughness is again the sticking point of the format for low drops, similar to Magic 2015. A X/3 for two or three will hold down the
ground, while a X/2 for four will be hard pressed to perform as it trades down.
Morph also makes splashed multicolored commons way easier. The way the fixing breaks up in this format also feeds this, as it seems easy to randomly have
an extra "Refuge"-style land or single on-color Banner to support a very powerful multicolored morph common.
Morph creatures will certainly be valued higher than other cards at their cost due to the flexibility.
There also will never be a shortage of three drops. I've only listed morphs at their normal cost on the curve because the assumption is that if you need a
three drop you will find a creature with morph in any color to take. If you are taking a three-drop at all early, it better be very good.
Aside: There doesn't seem to be a big power-toughness line on the high drops the way morph creates one on the low end. The best read I can get is 4/4
doesn't get through a ton but is reasonable, while 3/3 isn't super exciting but fights a few things and trumps the early game.
Colors:
There are five multicolored commons in Khans of Tarkir. All five have morph:
I do not expect most decks to be solidly three colors. Even in Shards of Alara, which had non-morph Shard commons plus a cycle of two color commons, the
full on three color even split decks were awkward unless you had a ton of good fixing.
I also don't expect two color decks to be that common. Have you seen some of these cards?
The most common color configuration in Khans of Tarkir will be two color splash the third of a wedge, with some decks finding enough reason to splash for
the "adjacent" wedge. For example, B/W splash Red and Green for some crazy Abzan and Mardu uncommons or rares.
Note that there are a lot of good uncommons in multiple colors. In fact, there are the same number of multicolored uncommons in Khans of Tarkir as there
were in Shards of Alara. The difference is that there are two enemy pair cards instead of one of each two color pair. In the three color setup, this
effectively translates to one less on Shard/Wedge uncommon you can expect to see late. Both Mardu and Jeskai can play Ride Down in Khans, as opposed to
only Bant being able to play Jhessian Infiltrator in Shards despite it only being a two color card. This means multicolored uncommons will cycle around the
table later. In another step away from full on tricolor decks, there aren't Battlemages, though to be fair most of the Shards Battlemages were still great
when only one of their abilities could be activated.
That all said, don't pass Charms that are on color.
Removal:
The removal in this set isn't Theros level bad because the creatures don't go sky high like they did in that format, but it isn't great. Use it sparingly,
and realize a lot of removal is not going to make positive trades on mana alone. That last point is likely because Shocking a morph in Onslaught was too
good, so almost all of the tempo positive removal for a Grey Ogre is gone.
The Mechanics:
Raid is… raid. People attack a lot in Limited, so I expect the raided form of the card to be the default. This is especially true if the card is red.
Just be aware that if you overload on raid cards your deck gets much worse at coming back from behind.
Prowess has a lot of the heroic issues. You want X creatures in your deck but have to play Y spells to make them good. There aren't a ton of Raise the
Alarm style creature-spells in the format, so I would mostly rely on the prowess creatures playing to their base stats when evaluating them in draft. Just
remember to change your evaluation once they are in play.
Ferocious is similar to raid on the surface but functionally a bit different. Bad board states are bad if you have a bunch of ferocious cards, but they
turn around real fast.
Delve is a bit awkward. You can build a "delve deck," but at the same time even that deck can't support a ton of delve cards. The numbers to mill just
aren't there. The best way to handle delve in my mind is just end up with a bunch of cards that marginally support it, and at most, four or five delve
cards to take advantage of the situation popping up.
Outlast is just Chronomaton, which was one of the best uncommons in Magic 2013 Limited. More expensive activations may prove problematic, but the cheap
ones should be valued highly.
Mardu
Common Creatures By Curve:
One Mana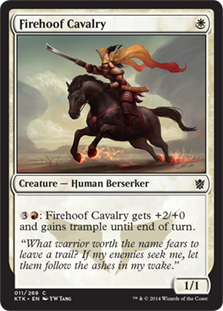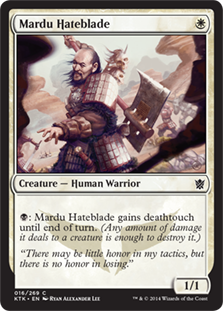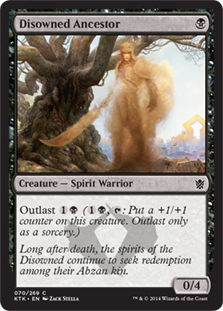 Two Mana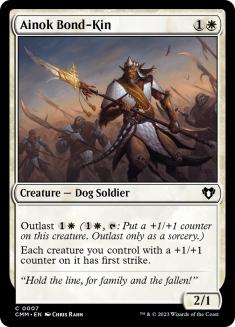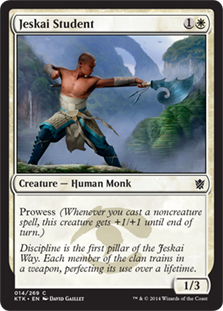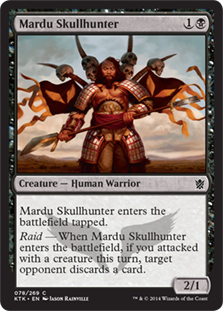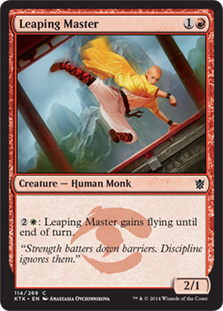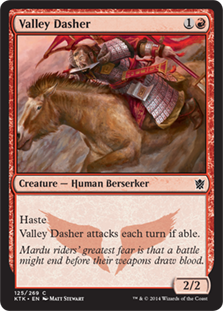 Three Mana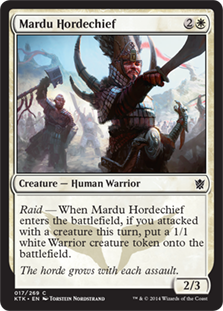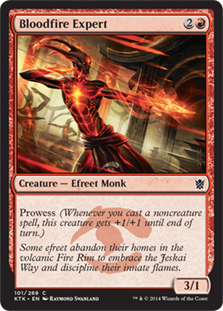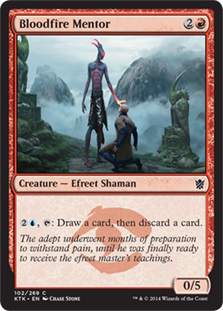 Four Mana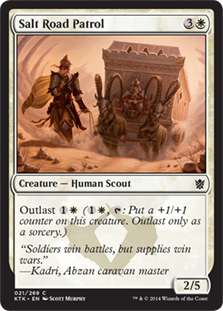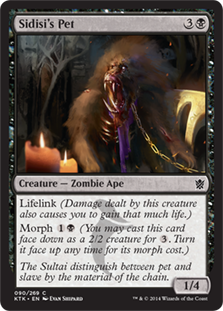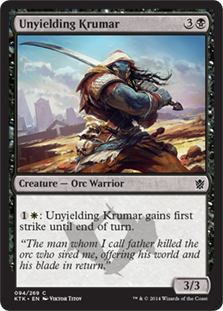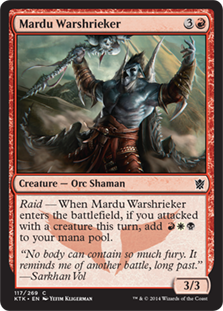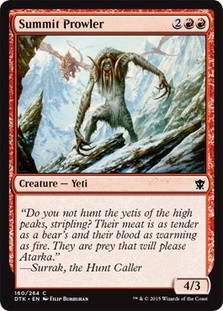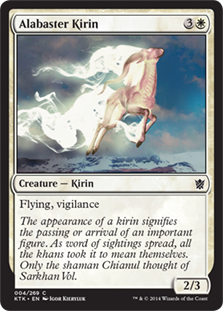 Five Mana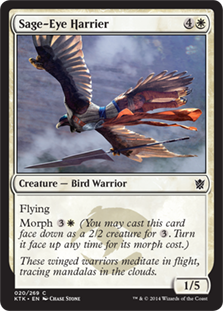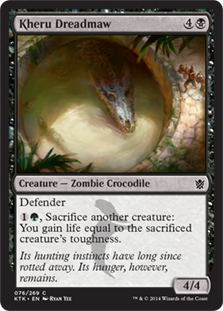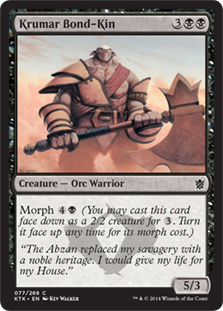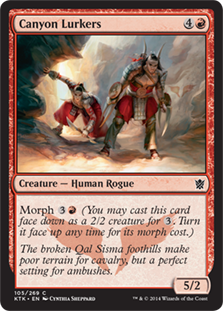 Six Mana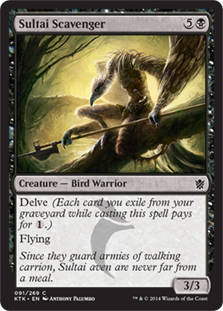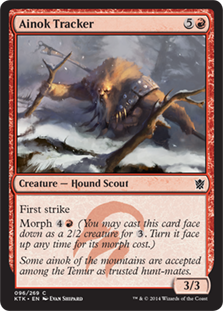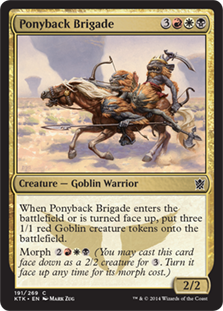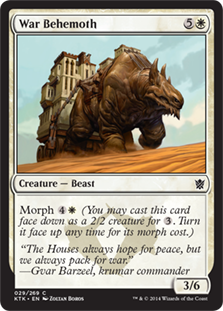 Eight Mana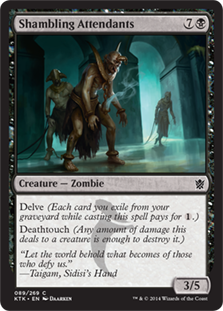 Mardu Removal:
Mardu Tricks:
Mardu Morphs:
Mardu Outliers:
Starting from the bottom, my gut reaction was that the one drops were bad because there is only one raid two drop they enable. Then I realized I would play
Typhoid Rats (Mardu Hateblade) and Chronomaton (Disowned Ancestor) every time I could.
I absolutely hate all of the black creatures. We get morph Mass of Ghouls, a defender, a 1/4 Morph that I really don't want to flip, and more all-stars.
Tied to the above, don't just compare Rite of the Serpent to Sip of Hemlock. This is not a Nessian Asp format. The reverse goes for Throttle and Lash of
the Whip as it kills mostly everything. As for Debilitating Injury, I'm pretty sure it's the best black common by miles. Two mana kill a morph is a big
tempo game early. As for the other colors, I'm pretty sure I'll feel terrible every time I pass Arrow Storm. It's Lava Axe or a removal spell! Since when
is that remotely okay to let anyone play?
Also note that the removal spells I listed as good cost single black or double red. I would predict the best Mardu decks to be base R/W splashing black for
removal.
There aren't a ton of tokens incentives in this set, so I'm not really seeing why you would necessarily want a 2/2 and three 1/1's over a 5/5. Trumpet
Blast and Rush of Battle are fine, but both have qualities that have dragged them down in the past such as sorcery speed on Rush and everything still dying
in a Trumpet Blast combat. I feel like both are going to be cut a lot in a color combination that has a saturation of removal spells to use the spell slots
on.
I guess the draw is that you keep them low on creatures so multiple attacks with a full squad add up to more damage. For an example, four 1/1 tokens versus
a 2/2 blocker adds up to ten damage assuming no changes, while five 1/1s versus two 2/2s adds up to only four damage.
The other thing that makes it seem like removal is the key to this clan is the abundance of high drop morphs. They fit in under your removal wall, then
flip to negate smaller threats moving forward. They also fill in for the complete dearth of three-drops outside of White. That four total is really a three
as I'm not playing a vanilla 0/5. That said, I don't see Canyon Lurkers shining as a 5/2 with a waterline of 2/2 morphs, but as a 2/2 morph it's still
playable.
Note that the removal aggro style makes Kill Shot way worse and makes Delve very good as you are trading cards. There also aren't a ton of Ferocious
enablers, but there also aren't a lot of Ferocious cards just in red. Prowess is very at home here as every removal spell gets +1 damage tagged on, while
outlast seems to lend itself to a slightly different subarchetype that eschews the early attacks for Bitter Revelation card advantage and removal overload
to win a late game.
Uncommon Creatures By Curve:
One Mana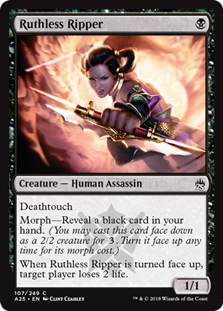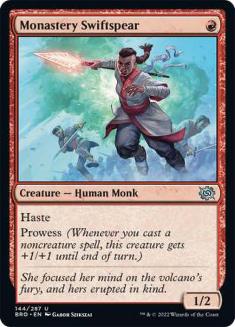 Two Mana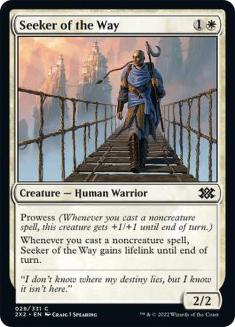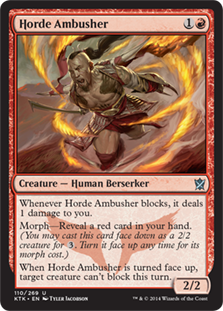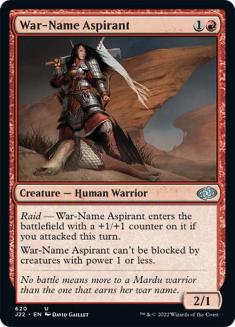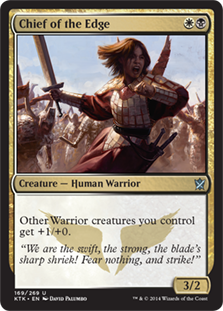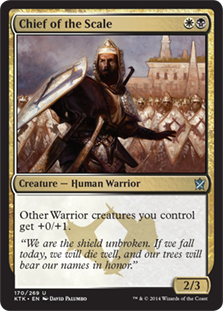 Three Mana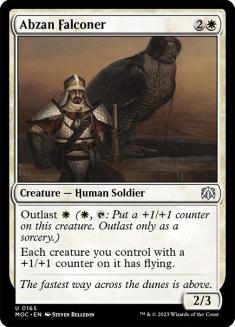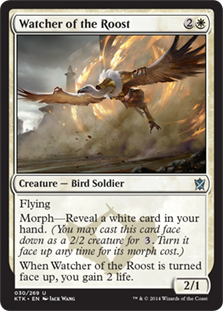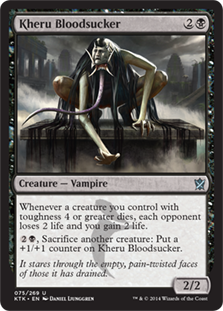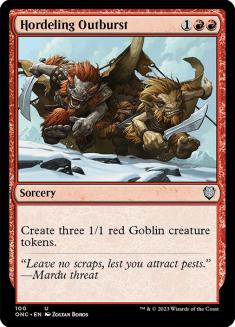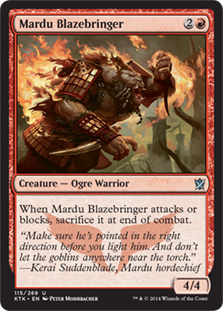 Four Mana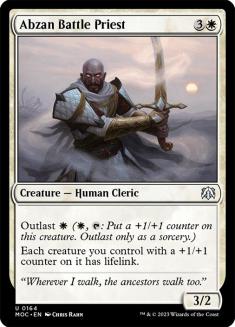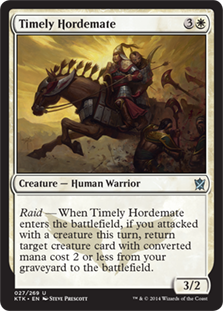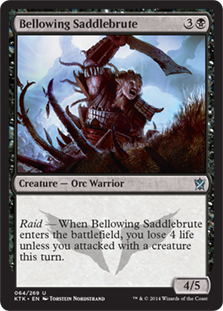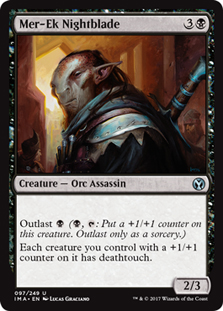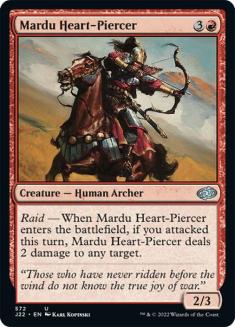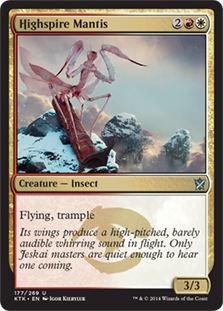 Five Mana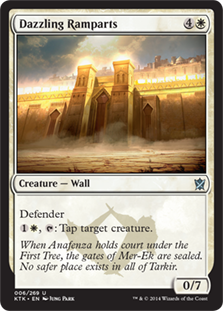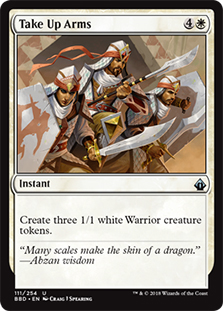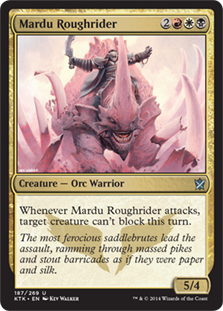 Seven Mana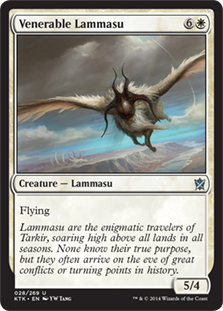 Mardu Removal:
Mardu Tricks:
Mardu Morphs:
Mardu Outliers:
The uncommons seem outstanding in the role of getting your opponent dead when backed by removal. The good ones seem fairly straightforward: well costed
fliers, undercosted fatties.
As for the oddballs, I can see both Goblinslide and Raiders' Spoils being great. Keep in mind that Raiders' Spoils and warriors is definitely a base B/W
subarchetype. Only two red cards are Warriors, one of which is the nearly unplayable Mardu Blazebringer, while all the white tokens and both B/W uncommons
are.
On the subject of Mardu Blazebringer, you really need to be ferociousing hard to want this creature. Brackwater Elemental was awesome because it was
basically Typhoid Rats with Lava Axe Flashback. This card is choose one of the above.
Mardu Heart-Piercer, this set's Flametongue Kavu, seems way below where people will start it. Two damage makes it seem best setting up the tempo play of
kill your morph, except you have to attack and give them a chance to trade first. The creatures also scale up very fast from that point, so two damage
isn't going to do a lot beyond that early exchange. If you get someone I can't imagine losing the game, but that's a big if.
Abzan
Common Creatures By Curve:
One Mana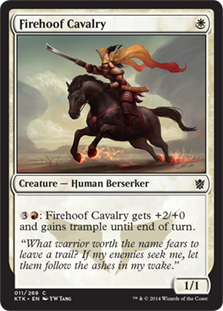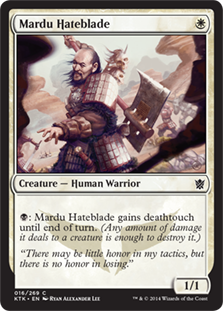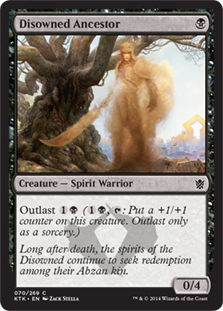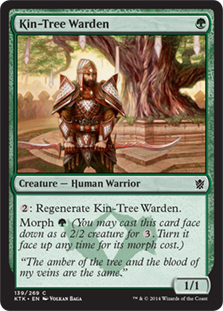 Two Mana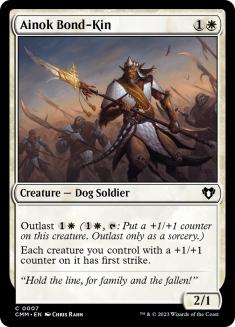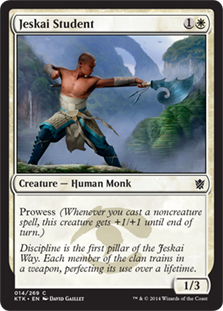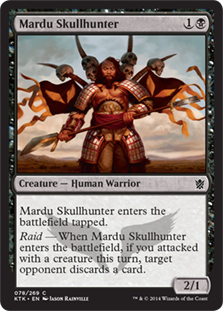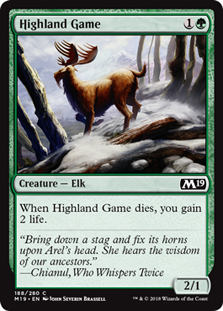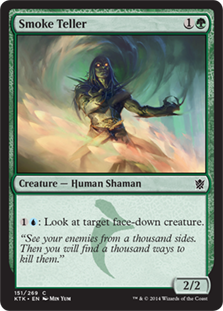 Three Mana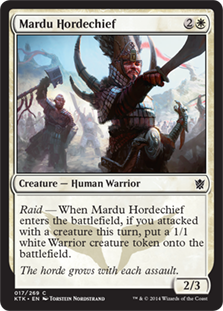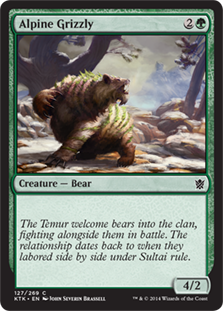 Four Mana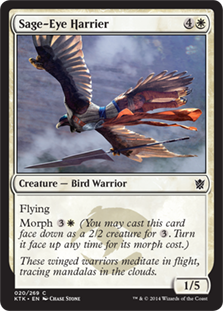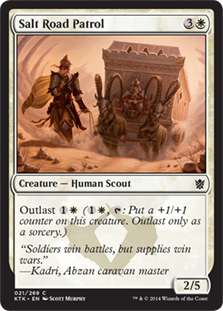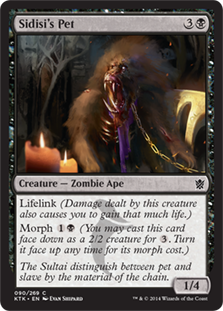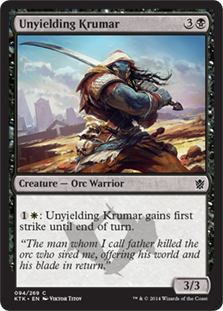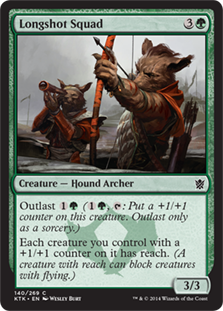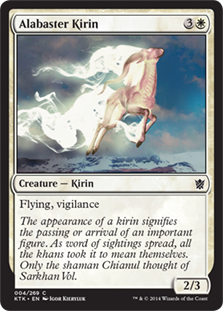 Five Mana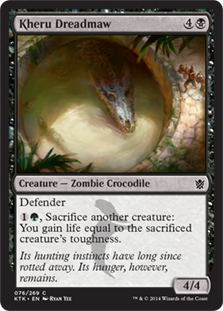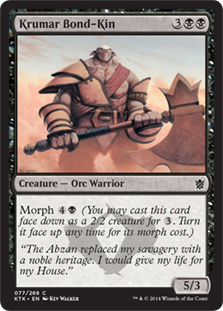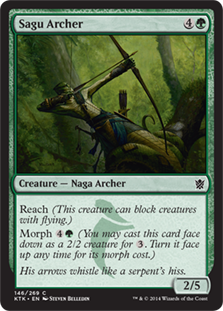 Six Mana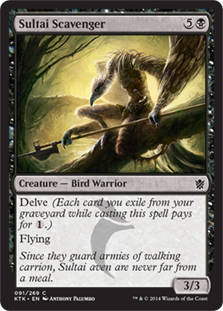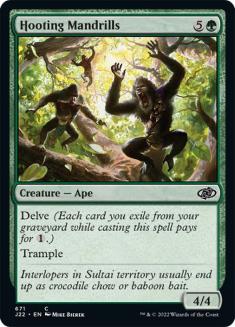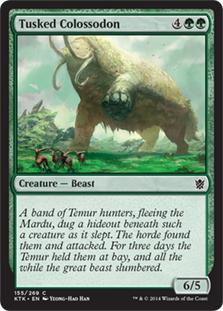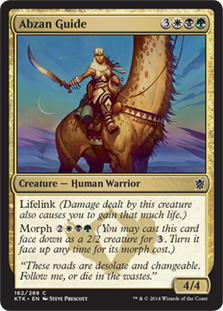 Eight Mana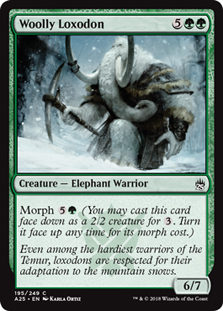 Abzan Removal:
Abzan Tricks:
Abzan Morphs:
Abzan Outliers:
The contrast here from Mardu is subtle, but it is there. A slight shift in two drops from attacking 2/Xs to blocking ones, some more inevitability in the
form of top end bulk, and a couple less removal spells. The best Abzan decks will be able to play like the Mardu decks, but most of the time the filler
cards will push your games in a different direction.
To clarify the 2/X point, we have a bear with no abilities (Smoke Teller) and one with a death trigger (Highland Game) versus one that can gain flying
(Leaping Master) and one with haste (Valley Dasher). The first ones really want to trade, the latter really don't.
My first thought when I saw the cards here was that I couldn't really see a reason to be Abzan or Sultai other than multicolored cards, but Kill Shot and
Smite the Monstrous play into the slow plan where you line your removal up for the exact cards it has to hit to prevent your opponent from winning. That
said, I expect there to be a decent amount of bleed between these wedges and for B/G double splash to be the most common four color pairing.
Bitter Revelation will shine in this archetype. Find your good removal or threat or lands, bin some cards to delve away. Again, less delve cards in the
color trio is a good thing as you don't have to worry about having too many.
Morphs will also shine here. Green is only barely surpassed by Black in the "needs three drops" category. Fortunately you have a bunch of those on color
and can steal random ones from other colors.
The fact that you have a giant morph creature or two (Abzan Guide and Woolly Loxodon) also makes Tusked Colossodon much less awesome as it's the big fatty
that can't be used early on. There also aren't Myr in this set, so don't think about trying to Alpha Tyrranax people out.
Sagu Archers brick walls almost anything, allowing for better removal use. Considering Chronomaton Spider (Longshot Squad) won't be passed very often, I
expect Archers to pull a lot of weight.
I can't imagine casting Kin-Tree Warden. Consider it's really a three drop that lets you pay mana when it would die to get a bad Drudge Skeletons.
Uncommon Creatures By Curve:
One Mana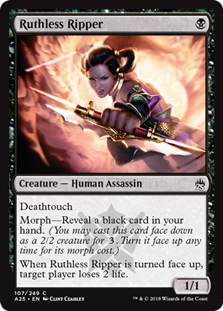 Two Mana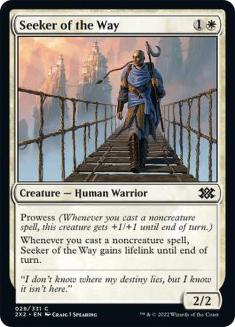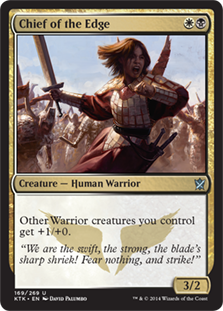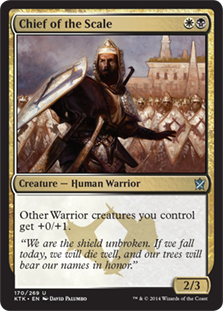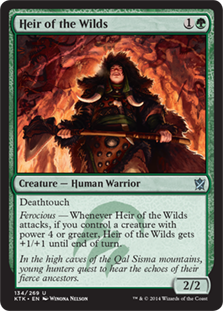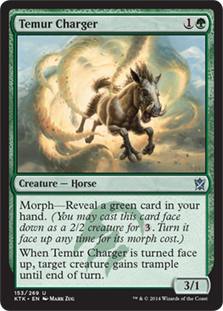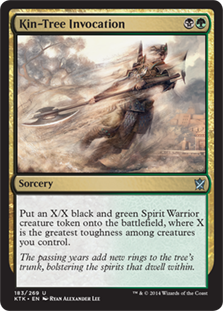 Three Mana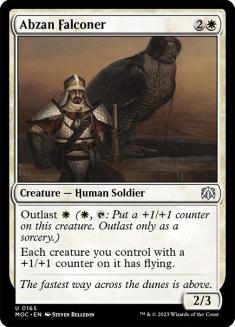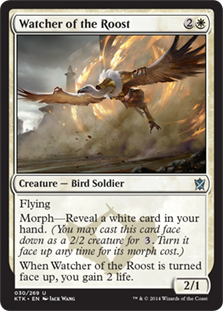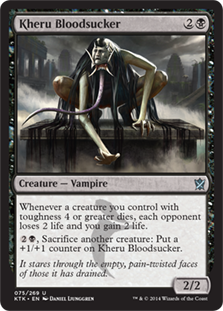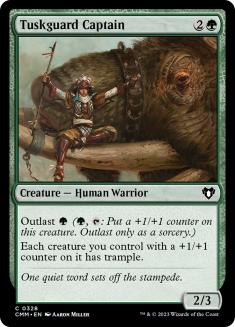 Four Mana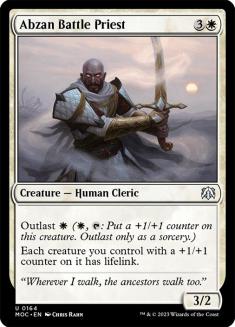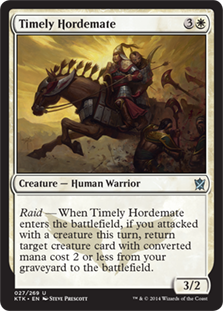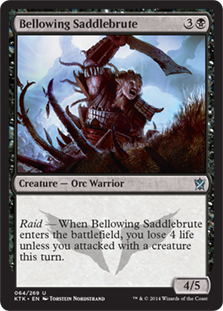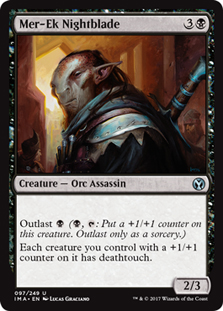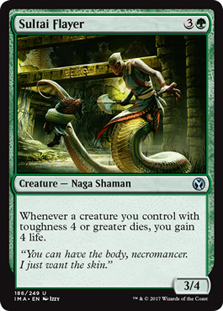 Five Mana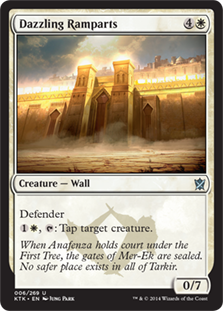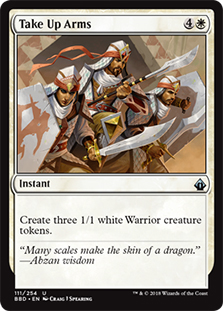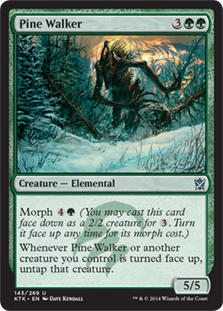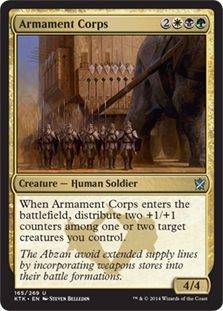 Seven Mana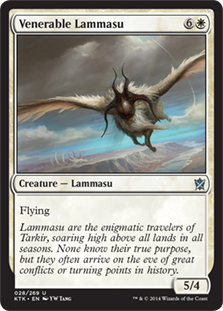 Abzan Removal:
Abzan Tricks:
Abzan Morphs:
Abzan Outliers:
The uncommons in Abzan are a bit worse than the ones in in Mardu, part of the reason of which is that the two drops that looked great in Mardu suffer in
Abzan. If you aren't trying to end the game by turn 7, another Grizzly Bear looks pretty dumb. Who cares if this one is a small amount better? The other
one is still in the pack five picks later, and I can use this pick on removal.
Swarm of Bloodflies gets way better here relative to Mardu. Despite there being less removal it seems like you want longer games where the 2/2 for five can
grow out of control instead of being undersized for trying to immediately end the game.
Notice that unlike every other multicolored set forever, Seek the Horizons is the only extra green fixing. The closest common is Scout the Borders, and
Grisly Salvage was really never mana-fixing in the typical sense of the term.
There are four uncommons that outlast for one mana: Tuskguard Captain, Abzan Falconer, Abzan Battle Priest, and Mer-ek Nightblade. Nightblade is probably
the worst. They are all Chronomatons plus some. Take them early.
Take Up Arms is basically Fog here. I didn't really like it in Mardu as five mana for three power without evasion is a bad rate, but it can only get worse
from there. The other token maker, Kin-Tree Invocation, is a card I have no idea how to rate. I'll have to see it cast a few times to see if the Treefolk
token is a relevant size.
Worth noting on Pine Walker and also Woolly Loxodon: Besides these creatures, blocking a five mana morph with a 4/4 is a reasonable play. Green just makes
that idea a joke.
Sultai
Common Creatures By Curve:
One Mana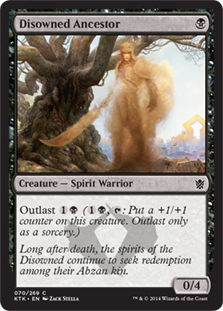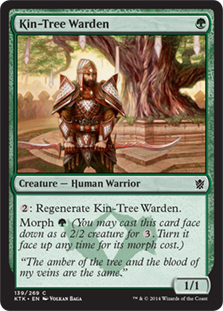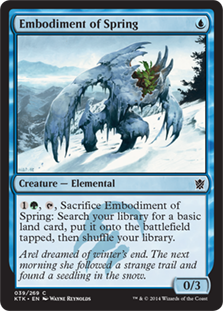 Two Mana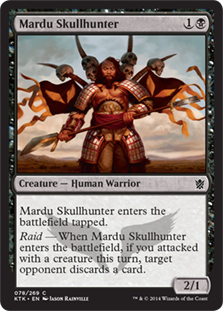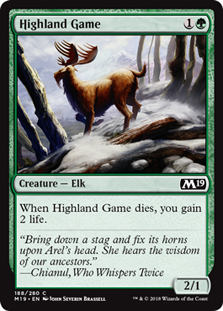 Three Mana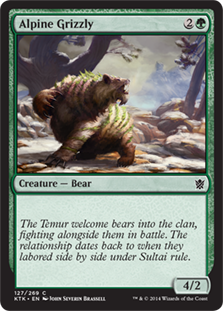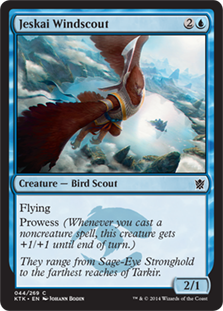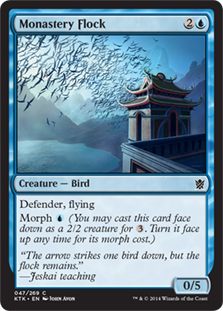 Four Mana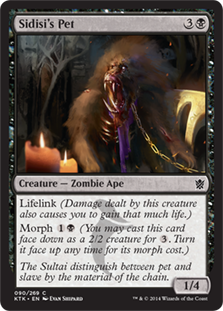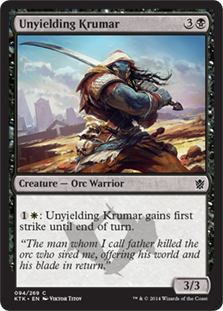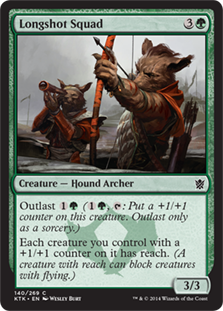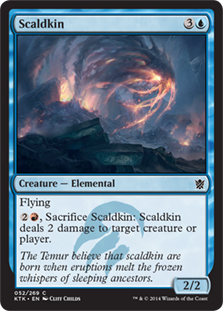 Five Mana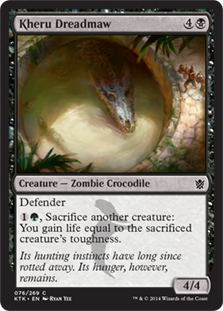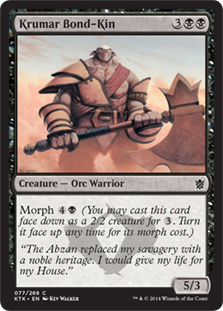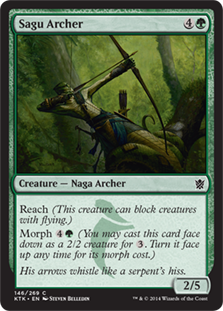 Six Mana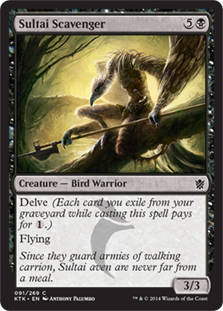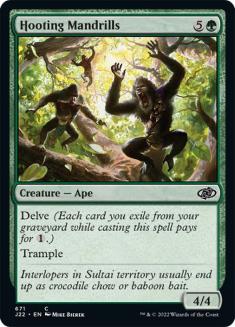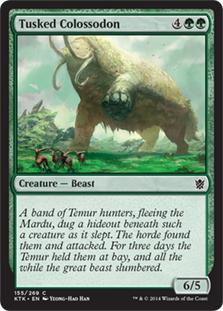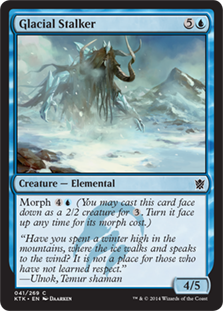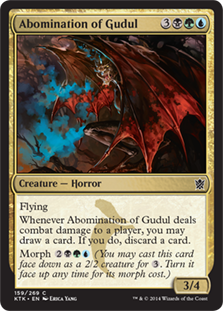 Seven Mana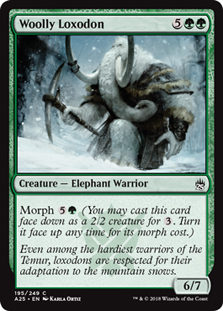 Eight Mana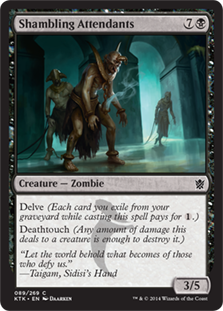 Sultai Removal:
Sultai Tricks:
Sultai Morphs:
Sultai Outliers:
I want nothing to do with this clan. Delve is not good in multiples, and the enablers aren't great either. 1U mill five? Great card… (Taigam's Scheming).
What's the pay off? Treasure Cruise and draw three more cards that I have to tap out to play? Woooo!
For the record, Golgari had a lot of the same issues in Return to Ravnica. The solution was get the good cards late, draft combat tricks, and bash them to
death with minor graveyard synergies.
I will also say that this makes the other high drops much less interesting. Can't play a six mana 6/5 when you will draw openers with it, a six mana 3/3
flier, and an eight drop.
The low drop cards all point to a do nothing blocker deck, except Abzan does that better and has better removal from White. I would say just splash white,
but there just aren't blue cards I even want. I guess Singing Bell Strike is okay if you're attacking with evasive creatures, and they can't just use mana
to untap for a block, and Mystic of the Hidden Way does work along that axis, but that's about it.
Note that Cancel is super awkward in a three color set. Not that Disdainful Stroke isn't super awkward when the best high drops are already in play as zero
cost spells on turn 3.
I have bounce (Force Away) classified as removal based on it being that way in the last two sets with bad removal. I think it will vary in power depending
greatly on matchup in this set. Resetting a delve or outlast creature is great, as is turning off ferocious. Bouncing a raid creature or a 1/1 is not where
it's at.
Embodiment of Spring has to be the most important Sultai common. Fills the graveyard, does something early game, and gives you more actual mana.
Savage Punch is at its absolute worst here. See delve creatures with three power plus having to cut other high drops to support them.
Uncommon Creatures By Curve:
One Mana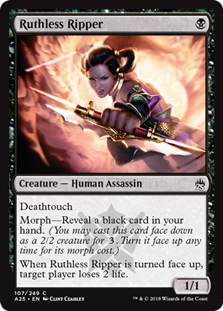 Two Mana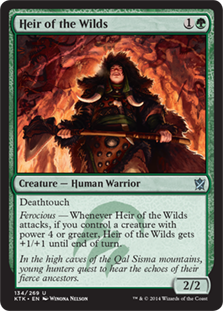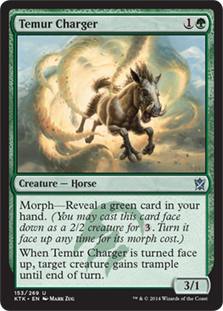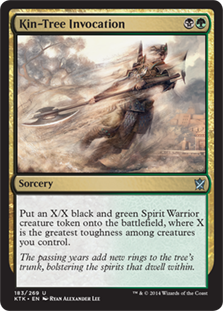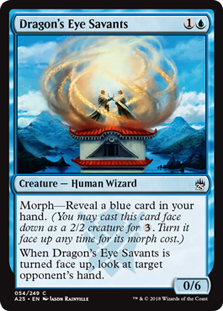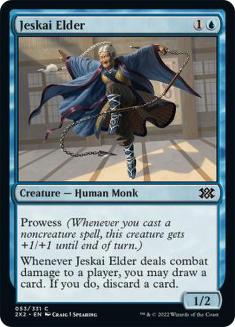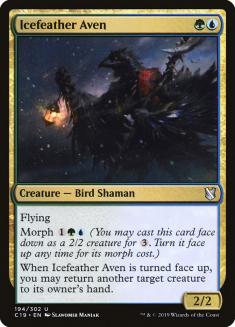 Three Mana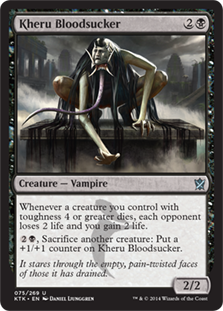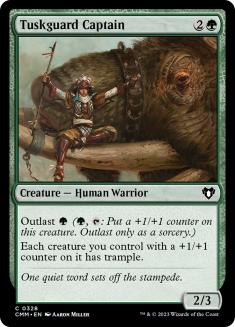 Four Mana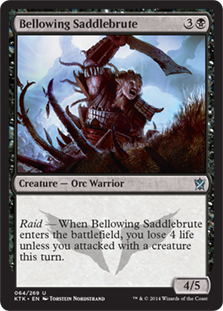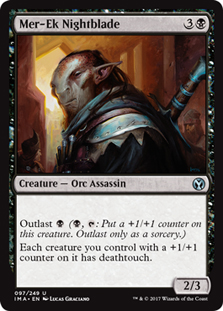 Five Mana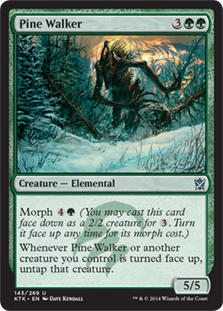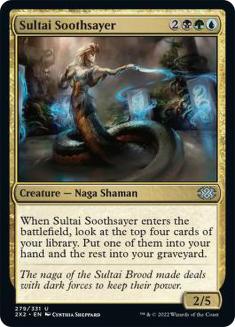 Six Mana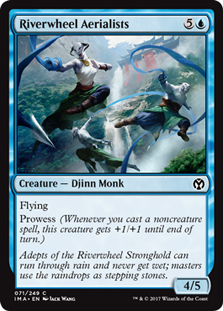 Sultai Removal:
Sultai Tricks:
Sultai Morphs:
Sultai Outliers:
Oh look, all the awesome blue cards.
They cost a single blue.
Well, guess Abzan splash Sultai is the trick then.
For the record, the cards I'm talking about are Icefeather Aven, Mistfire Weaver, Set Adrift, Sultai Charm, and Riverwheel Aerialists. All great, all
splashable. Look at those Morph creatures doing mana fixing work!
The only heavy blue card I like here is Waterwhirl. Sea God's Revenge at instant speed is still Sea God's Revenge.
If you get stuck playing heavier blue in a Sultai deck instead of base B/G, Jeskai Elder seems very important. You don't have a lot of great tricks for it,
but the Looter effect is basically a mana better on top of normal Looter benefits.
Quiet Contemplation looks good here, but I can easily imagine not having time to cast it and just dying because you need such a fine balance for delve.
Secret Plans is a good way to derail a deck. I'll wait to see someone cast it before I determine if it is good, but my guess is that it isn't great.
Temur
Common Creatures By Curve:
One Mana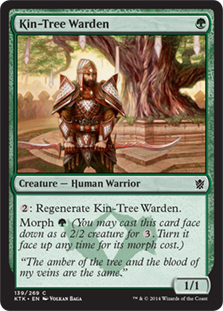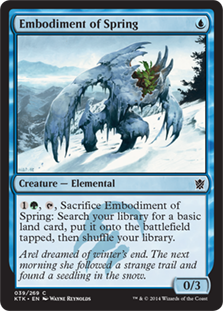 Two Mana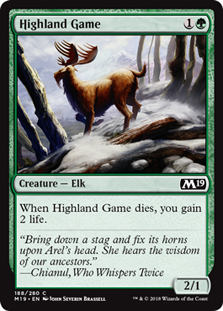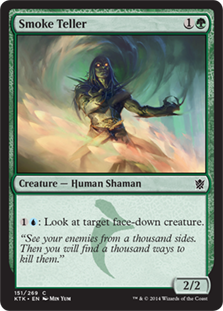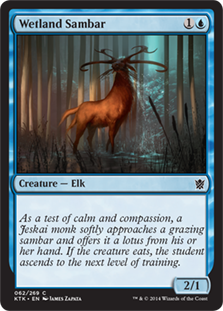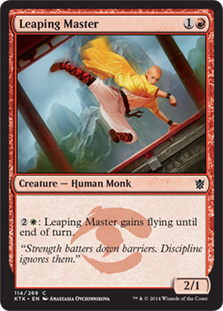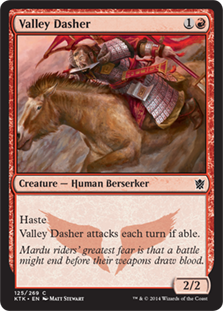 Three Mana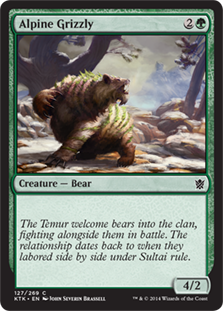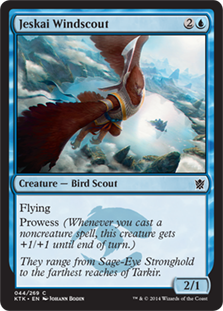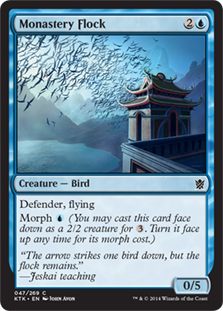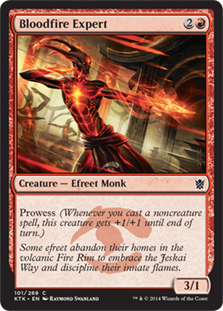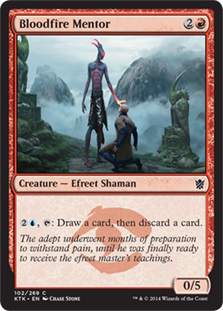 Four Mana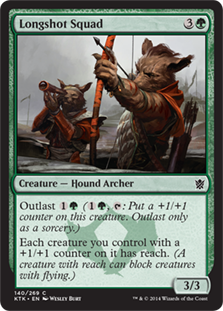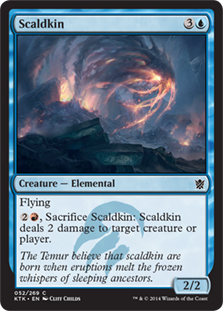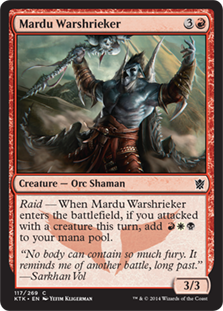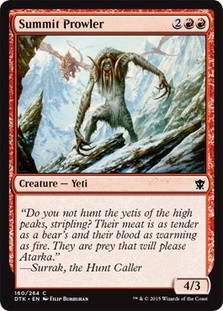 Five Mana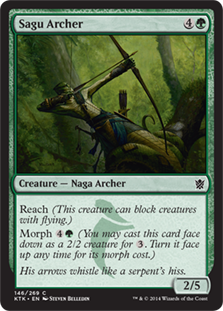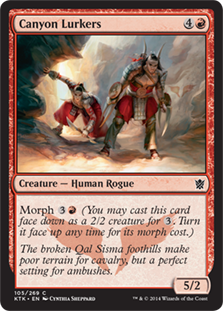 Six Mana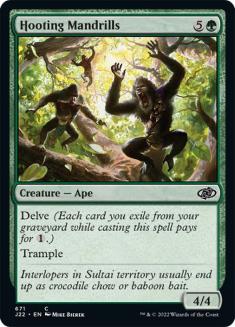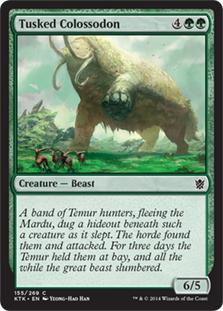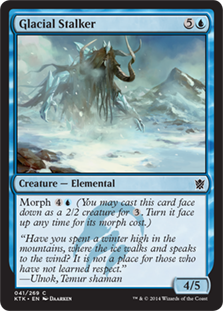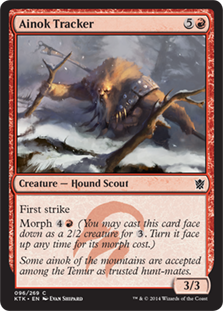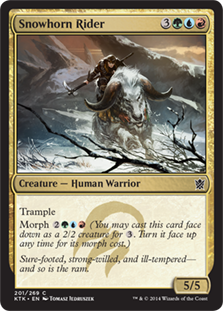 Seven Mana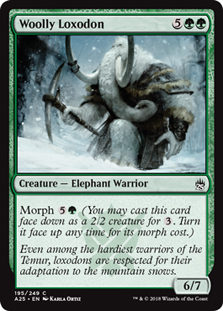 Temur Removal:
Temur Tricks:
Temur Morphs:
Temur Outliers:
Ferocious isn't actually a theme here. Barrage of Boulders is certainly good at Falter plus Electrickery, but the bump on Force Away is small, and Feed the
Clan is obviously unplayable.
The real theme appears to be the big creatures as "Lava Axe each turn" deck, also known as the Incurable Ogre/Sangrite Surge special from Shards of Alara.
All of your two drops have terrible abilities. Trade them aggressively so that your Alpine Grizzly doesn't trade for their 2/2.
Again, Embodiment of Spring is huge as you are a tempo ramp deck. Bloodfire Expert is also great as it's a cheaper version of the same effect you are
trying to get out of 5/2s like Canyon Lurkers.
On the morph front, you are going to lean towards the larger ones that you are going to use as your end game and early game. Things like Monastery Flock
are fine but not nearly as good as they might be in Sultai where blocking is a big deal. I also think Woolly Loxodon is going to be much worse here than in
Abzan as you aren't trying to get to seven mana. If you do, your goal is to play two tricks, not flip the biggest creature in play.
Also on the morph note, despite providing double off color mana, Mardu Raidshrieker's raid mana casts a morph just fine.
Awaken the Bear may be my favorite card name in the set. There's also a reason it's not just Predator's Strike. The effect is very good in this style of
play and at two mana would likely be too good. Similarly, the trample on Hooting Mandrills will shine in this deck.
On the removal front, Singing Bell Strike is excellent if you want to end the game almost immediately. It's basically a cheaper Claustrophobia. I have
mixed opinions on Swift Kick as a lot of the creatures in Temur have lower toughness. I would much rather have the cheaper toughness pump on Savage Punch.
Aside: Why is Savage Punch a dude punching a bear when I expect a lot more Alpine Grizzlies to be punching dudes thanks to the card? Why can't we have a
bear knocking some guy off a horse or something?
I can't really imagine playing Bloodfire Mentor after learning all about Research Assistant in Magic 2015. Three is a lot of mana to loot. If this was a
green creature that looted for blue maybe Sultai would be doing things.
Uncommon Creatures By Curve:
One Mana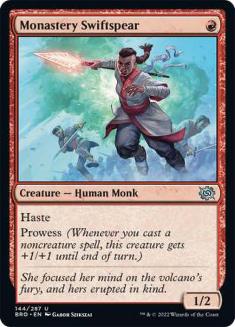 Two Mana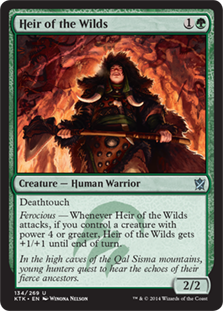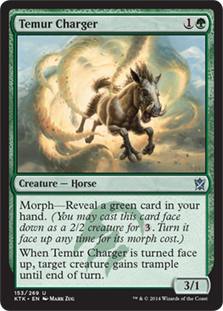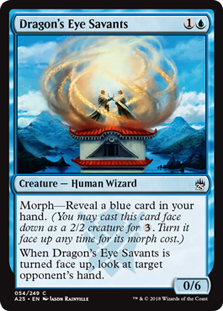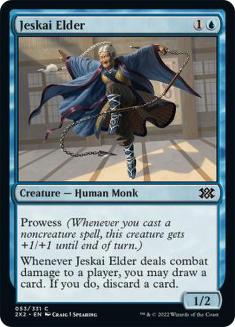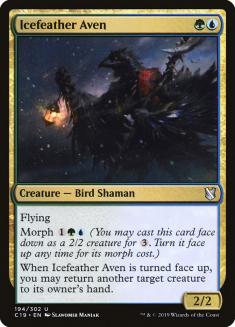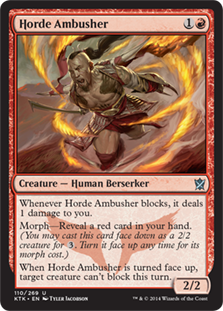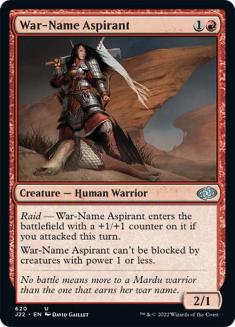 Three Mana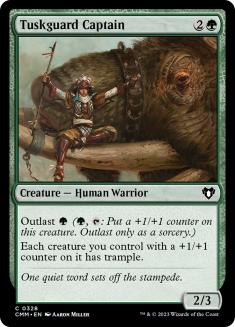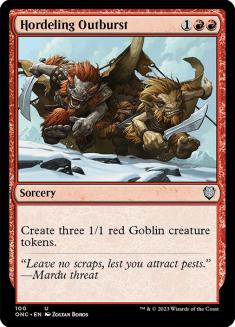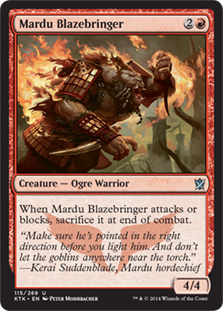 Four Mana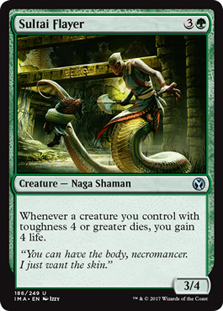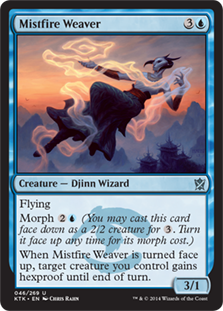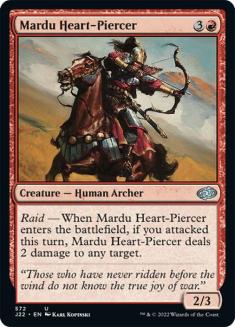 Five Mana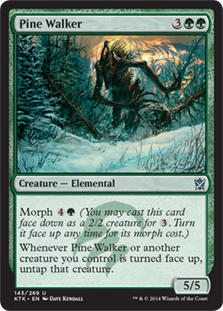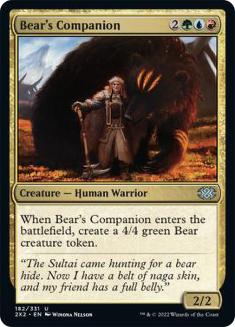 Six Mana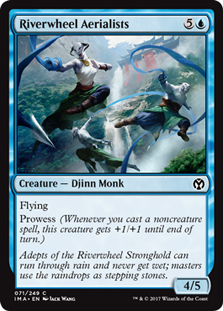 Temur Removal:
Temur Tricks:
Temur Morphs:
Temur Outliers:
There's a lot of good removal here. Take all you can get.
Icefeather Aven seems near unbeatable in this archetype. Remember, Echo Tracer was the best common in Legions and didn't even fly. Or don't remember
because Legions was a laughable set for Limited over a decade ago.
Hordling Outburst is more of a Fog here than anything else.
I have failed to mention Incremental Growth in either of the other green wedges. I don't have a well formed opinion because the last time it was around was
in a very bizarre and linear format (Lorwyn), but I can't imagine it is anything but great as similar cards like Reap What Is Sown and Common Bond are
crazy. Just remember it has to have three targets. This was a common issue with Incremental Blight in Shadowmoor draft. I'm glad that Magic 2015 fixed that
one by letting Cone of Flame just deal damage to them with the leftovers.
Quiet Contemplation seems great if precariously balanced in a deck that needs creature density. Goblinslide…. not quite.
After looking at the Ferocious offerings I don't think I really even want Mardu Blazebringer here. At least Cloud Elemental had flying. If only Sultai had
this creature, it might want the random way to trade early.
Despite the morph density, I don't really like Secret Plans. I would much rather just flip my morphs for damage and use the card on a combat trick. I guess
it means they have to make some awkward blocks into a larger creature, but if you have the mana to flip something big they aren't blocking your 2/2 morph
with theirs, let alone a 2/3 Morph.
Jeskai
Common Creatures By Curve:
One Mana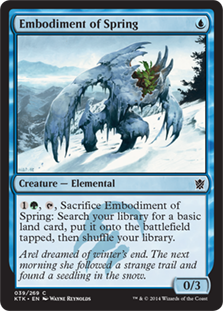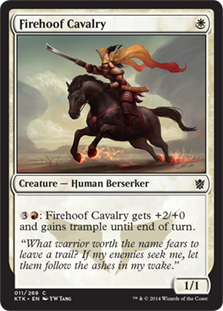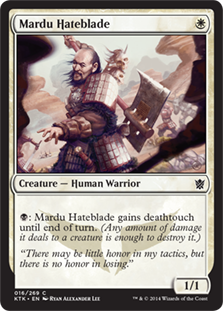 Two Mana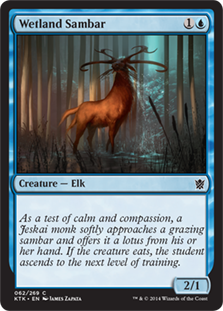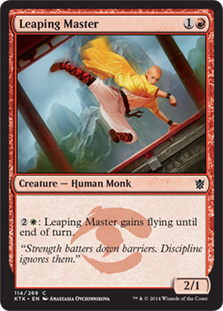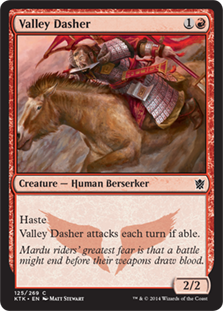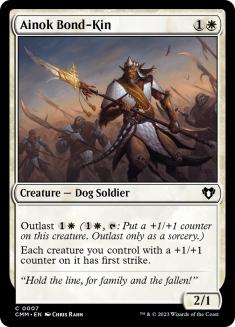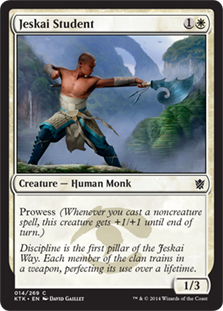 Three Mana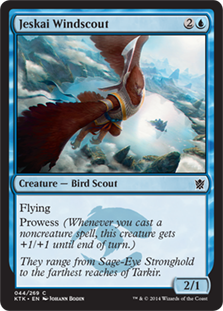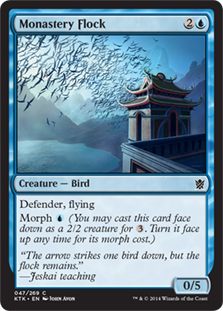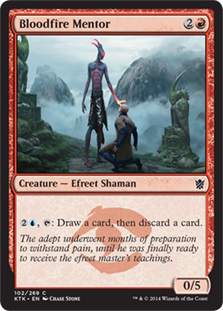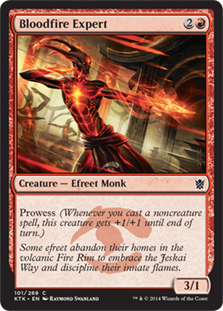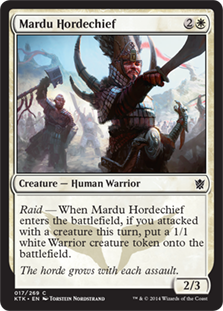 Four Mana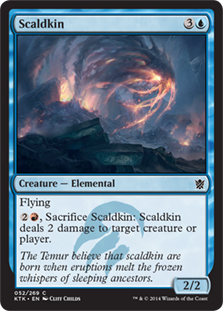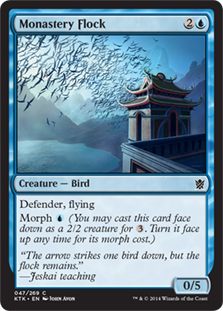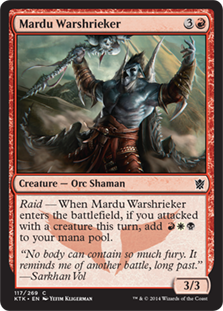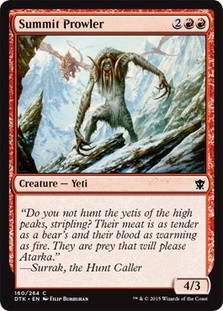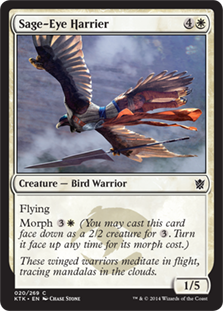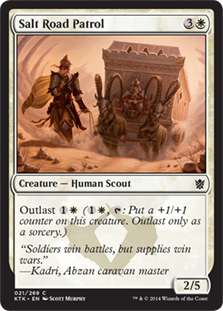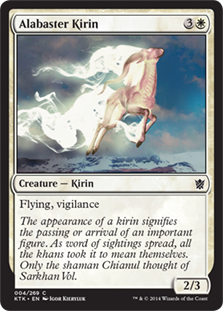 Five Mana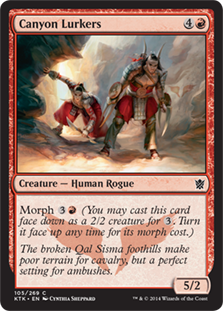 Six Mana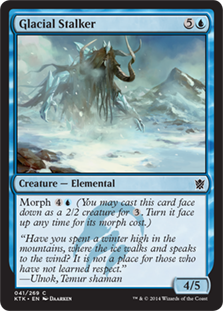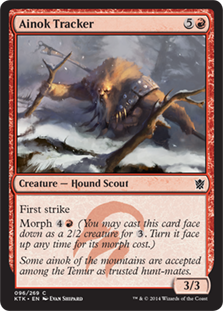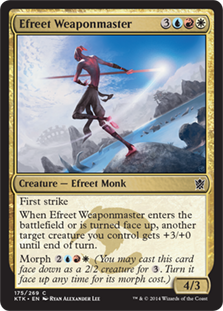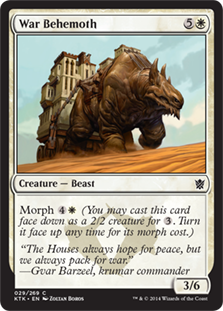 Jeskai Removal:
Jeskai Tricks:
Jeskai Morphs:
Jeskai Outliers:
It should go without saying, but Siegecraft should excel here if it goes well anywhere. You have the most fliers and other evasive creatures to put it on.
The card seems hard to fight on an Alabaster Kirin. Kill Shot is also great as Jeskai seems to emphasize trading blows and setting up scenarios where you
can Kill Shot as removal and a pump trick.
Salt Road Patrol is going to shine here. It's probably the worst outlast creature in other colors, but when you only have access to one common that has
that effect it gets a lot better. It also plays well with the surplus of instants in Jeskai.
Cool note about prowess: The trigger resolves before the spell. So your creature has +1 toughness on Swift Kick or +1 power to hit ferocious on Barrage of
Boulders.
Never get into combat against Jeskai with a five mana morph up without thinking about Efreet Weaponmaster. So many things on that card wreck combats. Just
remember that blocking with an X/4 on their morph should be safe.
Jeskai Windscout is somewhere between Wind Drake (good) and a three power flier for three (insane). It may be the best common in Jeskai, with Arrow Storm
or Singing Bell Strike as the other options.
I have a distinct feeling Jeskai is going to feel a bit underpowered a lot of the time, but that is almost always universally true of U/R decks with this
style. And as always it will outperform the expectations.
Uncommon Creatures By Curve:
One Mana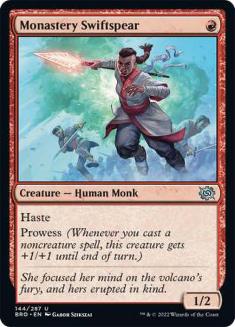 Two Mana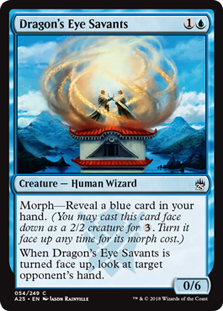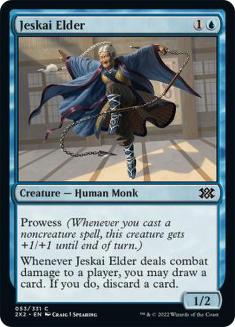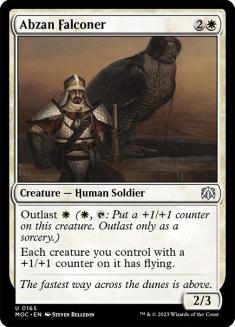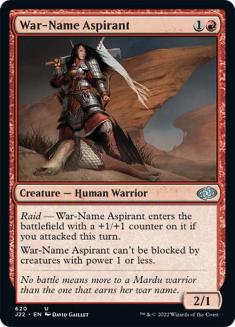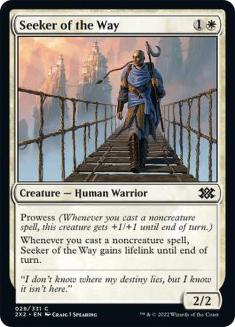 Three Mana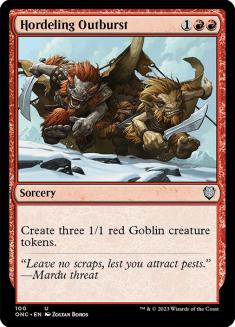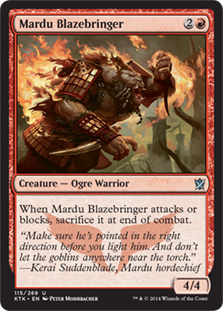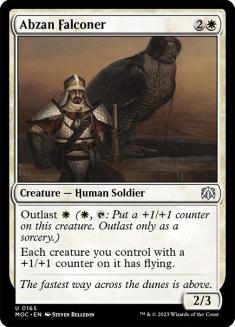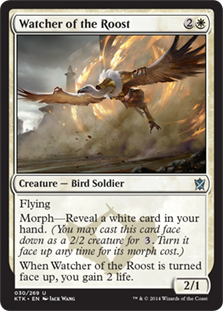 Four Mana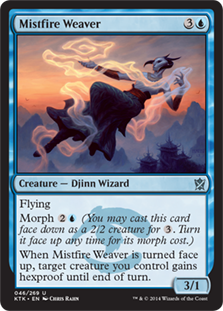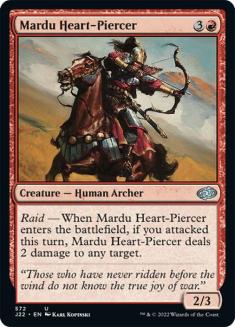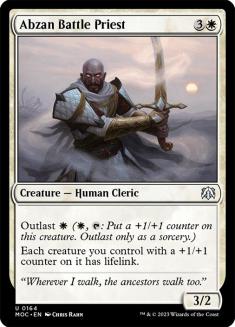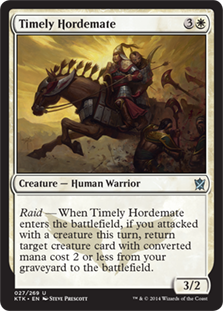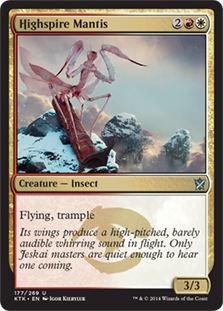 Five Mana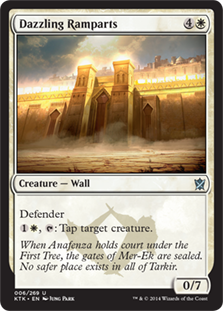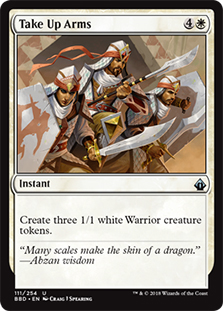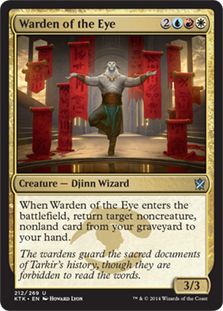 Six Mana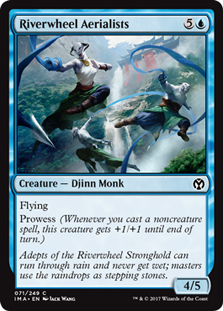 Seven Mana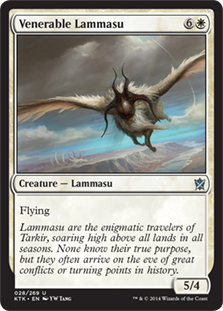 Jeskai Removal:
Jeskai Tricks:
Jeskai Morphs:
Jeskai Outliers:
The token makers are going to shine here. There aren't a huge number of prowess creatures, but when you can trigger them all, it matters a bit more.
Ride Down is much worse here than in Mardu. I don't think the Jeskai goal is to be blocked.
Dragon Grip does not get the usual prowess bonus as you have to have the power before flashing it in. Too bad as that card is absolutely insane with flash.
I've covered most of these cards earlier, but just as a reminder: the outlast creatures are insane.
Overall:
Mardu or Abzan is probably the best clan in the abstract sense, but Black is one of the weaker colors. Sultai is probably the worst as delve doesn't scale
well. Jeskai and Temur are both very tempo-ish, though it seems Temur is lighter on playables as there's a lot of Sultai support that isn't great there.
Creature sizing is all over the place on the high end. Six toughness should stop anything. In the middle, the 2/2 morph sizing rules. A morph with five
mana up could be literally anything, so good luck there. That said, blocking is certainly possible as there are creatures sized well to be defensive.
Pick good multicolored spells early and use the ones floating around later to guide you to the open colors.