I've had some time to calm down since the Standard announcement on Monday.
That doesn't mean I still believe it was the best thing for the format, but
I have at least started to work within the lines. Formats are always more
interesting when you have a banning alongside the release of a new set. The
older cards don't just fluctuate in value due to the new cards being
released, but also from the exclusion of those cards that dominated the
format for some time. Today we will be taking a look at where Standard may
be going, but through the lens of trying to remember all those cards that
didn't get their fair share of play due to Energy and Ramunap Red
dominating the formats.
We'll start today off with the most difficult take: finding the diamonds in
the rough. This is a list of cards that I believe got pushed out of the
past formats, but may now have a chance to put up good results.
We start with one of my favorite cards: Rhonas the Indomitable.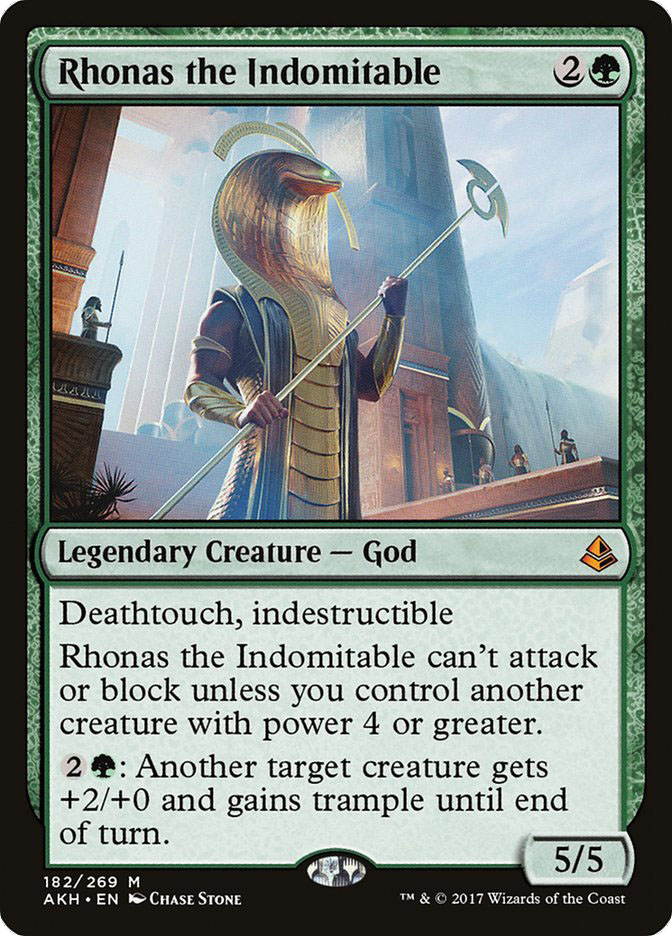 This God has always been fringe playable, which could just point to where
it will fall in Rivals of Ixalan Standard. It's always been a fine
card but not something you wanted to rely on when designing a strategy.
That was mostly thanks to how the format was. Not only did Aetherworks
Marvel dominate the format, causing most green mages to just do that, but
the God was also not strong against the other decks in the format:
Mono-Black Zombies and U/R Control. After we saw Aetherworks Marvel banned,
we saw the format eventually shift over to Temur Energy and Ramunap Red.
Now, Rhonas the Indomitable wasn't bad against Temur Energy, but Vizier of
Many Faces and Confiscation Coup both made it difficult to justify playing
it.
Rhonas the Indomitable finally may see a format where enough of the good
things are gone that it can see some level of play. I wouldn't suggest
going all in on this card for


#SCGDFW


, but I do believe you should be considering this card for potential play
once the format settles down.
This is the card I expect to do big things for anyone still wanting to try
to play green midrange strategies. Without Rogue Refiner there's less of a
reason to want to play blue alongside green anymore. Without this
supporting color, a green midrange deck will lose out on both card
advantage and counterspells that are both needed to fight controlling
decks. Lifecrafter's Bestiary is by far the most impressive card a green
mage can get onto the battlefield against the control decks, as the steady
stream of card sifting and pure advantage is difficult to overcome.
There are ways control decks can beat this card. The Scarab God can
overpower it on the battlefield, and Approach of the Second Sun can simply
ignore the advantage. That's okay though, as both of those cards can be
beaten with a well-tuned sideboard. You'll just have to make sure you can
supplement a card advantage sideboard with removal for The Scarab God, and
Lost Legacy for Approach of the Second Sun. Hopefully there's enough room
for everything!
On the subject of green midrange, I'm still uncertain if it will be
playable. Obviously the first place everyone's going to find out is through
the lens of Winding Constrictor, as the color combination is quite
powerful. There's a lot of talk about Ravenous Chupacabra becoming one of
the staple cards of Standard, and even though I don't want to be on the
wrong side of history, I just don't have those same feelings. Just hear me
out!
Ravenous Chupacabra is a good card, but to me it feels more like the type
of card you want for mirror matches, and not so much against the field.
It's fine at killing The Scarab God, but that would rarely swing a game 1
against U/B Control. It's obviously bad against U/W Approach, and probably
not going to help too much against U/W Gift. The new Nekrataal is decent
against a deck like Mardu Vehicles, but B/G Constrictor has always done
well there anyway. So that pretty much leaves the card being amazing in
mirror matches.
This is why I don't really want to go all-in on Ravenous Chupacabra in a
B/G Constrictor-based strategy immediately. The card seems much better in a
U/B Gate to the Afterlife shell if those end up being playable.
Don't get me wrong though, I do believe this card will see substantial
play. I just don't think it will replace all other four-drops in decks that
play black.
The death of Temur Energy and the crippling of Ramunap Red both play a part
into why I believe Deadeye Tracker will become a great sideboard card in
the next Standard format. If you don't know, this card is amazing against
God-Pharaoh's Gift strategies. It's a cheap card that can be deployed on
turn 1 if in an opening hand, but it also just costs one mana during the
middle of the game. This is important as every answer a deck like U/W Gift
has for it costs more, creating nice tempo boosts. When they can't deal
with Deadeye Tracker, then the fun begins. This card removes a graveyard
extremely quickly, which is nice against God-Pharaoh's Gift as they don't
need to target their creatures they want to get back. Being able to remove
two at a time makes it possible to interact with the deck on this front.
Combined with a card like Deathgorge Scavenger, a deck like B/G Constrictor
can now stand up to the midrange monster that is U/W Gift.
With all this said, I'd most likely design my B/G Constrictor deck like
this:
Foul Orchard is almost as bad as my ability to make manabases that I'd
probably not be able to register it, but I just don't know what else we can
do. Maybe we don't need the additional dual lands anymore? As of right now
that's my biggest hang up. The deck's filled with cards that cost double
black and double green; a good mana base is necessary…but Foul Orchard?
Besides that, the deck seems to have enough tools to deal with all the
initial decks we are expecting. Fatal Push and Aethersphere Harvester are
both excellent against aggressive strategies like Mardu Vehicles, which is
nice since the strategy needs to focus on the more powerful decks out
there. The sideboard is filled with cards for control and combo-based
opponents. Maybe an Appetite for the Unnatural would be nice to help out
against Abzan Tokens and U/W-based strategies, but I'm always wary of
adding the card as it's often not that great. Especially when we have
access to Vraska, Relic Seeker already.
Before we move on I want to take a moment to talk about Merfolk
Branchwalker. Merfolk Branchwalker is not a good card and has no business
being in a B/G Midrange deck. The only reason why we think Jadelight Ranger
is playable right now is thanks to its ability to manipulate the top of the
deck so well that there's a very high likelihood of always drawing at least
one card off of it. Merfolk Branchwalker is not this reliable which makes
it not a card you want to be playing. It's not good enough for Standard.
The next card that's going to get a whole lot better isn't all that
surprising.
Abzan Tokens was poised to be a part of Standard after Ixalan
released, but Temur Energy had too much to say about it. Even though Abzan
Tokens was great against Temur Energy in game 1, the tokens deck just
couldn't stand up to Temur's sideboard. On top of that, Rampaging Ferocidon
caused too many headaches for the deck to compete with Ramunap Red. Abzan
Tokens could beat every other card in the strategy except for that one,
specifically. As a result, the deck fell out of favor once everyone figured
out how to beat it as it just wasn't powerful enough to stand up to the
hate.
It's a whole new ballgame now. Abzan Tokens seems poised to take advantage
of the bannings and become one of the more powerful decks in the format.
That said, I'm not an expert on its matchup against U/W Gift so that's a
matchup I suggest practicing before pulling the trigger to play Abzan
Tokens. I also expect more decks to play River's Rebuke now in anticipation
for Abzan Tokens so I'd test it against this list.
If this matchup proves to be difficult, I'd try to make room in the
sideboard for two Crook of Condemnation.
Speaking of U/W Gift, it seems difficult to go wrong if this was your deck
of choice for


#SCGDFW


. Much like Abzan Tokens, this deck struggled against Rampaging Ferocidon
and Temur Energy. Now with them taken care of by Wizards it could be a
great time to play something extremely well-oiled for week one. You can
always worry about integrating the new cards later!
I do believe control decks are going to be very well-positioned, but I'm
not comfortable pushing my opinions onto you about them right now. I just
don't have a deep enough foundation to know if U/B Control or U/W Approach
would be better fit for the metagame. Once I get finished with Pro Tour
Rivals of Ixalan I'll get more invested into the format, but that will be
in a few weeks. For now I can only say that I don't see Rivals of Ixalan making as big of a splash as we'd hope. The
payoffs just aren't there.
For example, Merfolk and Vampires both got a new two mana lord and have
decent mana, thanks to Unclaimed Territory, but the power doesn't seem to
be there. Both struggle against Fumigate strategies, and that card should
be everywhere now. I just can't see it even though I would love for some
tribal aggressive decks to be a part of the metagame.
So to put a neat bow on today's talk, I'd like to voice my predictions for


#SCGDFW


. Firstly, control will be extremely popular. Since Rivals of Ixalan doesn't seem like it will impact Standard that
much and cards got banned, it seems that many will lean on just playing
some counterspells to get them through the weekend. This shouldn't
completely impact your decision of deck, but I would make sure you have a
deep enough sideboard to compete with both U/B The Scarab God-based Control
and U/W Approach. I'd also make sure to be able to interact with graveyards
thanks to U/W Gift. These matchups should be the main focus for when
designing your sideboard. Don't fall into the trap of assuming you need too
many cards for aggressive strategies as there won't be as many as you'd
expect.
Next up, I expect B/G Constrictor to show up in decently high numbers. They
will look more uniform than you'd expect week one decks to be. I also
expect them to do relatively well right out of the gates but slowly get
worse as the format tightens up. I'm not confident Winding Constrictor is
good enough without Nissa, Voice of Zendikar, but that hasn't stopped the
masses from playing it before.
My last prediction is that Mardu Vehicles will put up some impressive
numbers. The deck didn't get anything from the new set, but that doesn't
mean Heart of Kiran needed any upgrades. Mardu Vehicles was the second best
deck that could support Hazoret the Fervent, and it didn't need Rampaging
Ferodicon to fight through some of the tougher matchups. Plus Abrade should
be played in way less numbers than before, which is obviously a very good
thing for the vehicle-laden deck. Sadly, I don't have a good enough list to
suggest at this moment, but I do believe we will know how it should be done
by the end of the weekend.