Pack 1, Pick 1
The Pack:
The Pick:
This is a fairly easy first pick. Pitiless Pontiff is one of the best uncommons in the set. My Pack 1, Pick 1 order has it ranked as the 31st best card in the set. If you haven't played with it yet in the format, I strongly suggest taking it higher. Green decks pretty much can't beat it and it's still very good in all the other matchups.
Additionally, none of the other cards in this pack are cards I'm happy to take early, which makes this pick even easier!
Pack 1, Pick 2
The Picks So Far: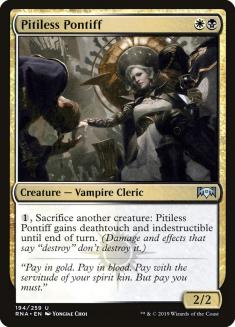 The Pack:
The Pick:
Don't take Imperious Oligarch or Ill-Gotten Inheritance here. It can be tempting to follow up Pitiless Pontiff with a black or white card, but there's no reason to bias so hard to your first pick unless it's a card as powerful as Ethereal Absolution. For the first couple picks of Pack 1, you should only use the cards you've taken as a tie-breaker. For example, let's assume you believe it's correct to take Chillbringer over Summary Judgment Pack 1 Pick 1, but the pick is close. Now, for Pack 1 Pick 2 if you start with Pitiless Pontiff and are deciding between Summary Judgment and Chillbringer, it's reasonable to take Judgment, using the fact that it goes with Pontiff as a tie-breaker.
Trollbred Guardian is too much better than every card in the pack. While it's incredibly unlikely to play alongside Pitiless Pontiff, that's okay! The delta in power-level is simply too large to ignore and I believe it's the correct pick out of this pack.
Pack 1, Pick 3
The Picks So Far:
The Pack:
The Pick:
Both Syndicate Guildmage and Bolrac-Clan Crusher have underperformed in the format. I'll play the Guildmage in most of my Orzhov decks, but it's pretty much just a glorified Bear and I don't want to take it early under any circumstances. The Crusher has a lot of upside, especially in Simic, since you can pair it with repeatable sources of counters such as Aeromunculus. However, more often than not it's just a five-mana 4/4, and Rampaging Rendhorn is just a more impressive card.
Similar to the last pack, Blade Juggler is the best card by a noticeable margin, and for the first couple picks of a draft, it's often correct to take the best card out of each pack.
Pack 1, Pick 4
The Picks So Far:
The Pack:
The Pick:
Have you been listening? If you're taking Noxious Groodion here, then you certainly haven't.
A mistake I see frequently is that people commit too early. The following thought process sounds rational at first: "Pitiless Pontiff and Blade Juggler are great, and there are no good green cards to go with my Trollbred Guardian. I guess I'll take Noxious Groodion." Don't be afraid to deviate from where you start in Pack 1. It's common to fear a train wreck if you don't find your archetype, but if you rush into one, you'll miss the opportunity to capitalize on the signals later in the pack. Be flexible. If there was a better Orzhov card, say an Imperious Oligarch, it would be reasonable to take it here. But Essence Capture is better than Noxious Groodion by a large enough margin that I think it's the correct pick. It even can synergize with the Trollbred Guardian if Simic is open!
Pack 1, Pick 5
The Picks So Far:
The Pack:
The Pick:
This pack has a variety of options. Deciding between five cards isn't easy. A useful heuristic is to compare cards two at a time in order to eliminate your options. And it's best to compare cards that are in the same colors because that yields the most natural result.
Arrester's Admonition is a full tier better than Code of Constraint. While that's a bit odd, given that they are similar cards and Admonition is lower rarity, the tempo of bouncing a creature is worth much more than freezing a creature for a turn. And the two-for-one in combat that Code of Constraint sometimes provides is rare enough that I don't consider it a core aspect of the card.
Gruul Beastmaster versus Rampaging Rendhorn entirely depends on the deck. For the most part, Rendhorn is a more impactful card because a 3/3 body is very easy to handle in this format, whereas a 4/4 body trumps most creatures and removal spells. Beastmaster is more valuable than Rendhorn in terms of replaceability, as it provides a unique and powerful effect. If you can pair Beastmaster with combat tricks, you can kill your opponent out of nowhere, and all it takes to get that ball rolling is one card like Applied Biomancy to remove a blocker and simultaneously buff the Beastmaster. Given the potential of Gruul Beastmaster is much higher than that of Rampaging Rendhorn, I would choose the Beastmaster this early in the draft. But once it's Pack 2 or Pack 3, this can flip if you don't have enough cards to help push the Beastmaster through.
Now this pick is between Gruul Beastmaster, Arrester's Admonition, and Impassioned Orator. Orator pairs with Pitiless Pontiff and Blade Juggler, which is a better start to a draft than Trollbred Guardian and Essence Capture. However, Impassioned Orator is enough worse than the other options in the pack that I don't think it's in consideration. Pack 1, Pick 1, I think Admonition is much better than Gruul Beastmaster, so the real question is, does having a stronger bias towards green thanks to Trollbred Guardian change this? I don't think so. If the pick between Beastmaster and Admonition was close, similar to the Chillbringer versus Summary Judgment example given earlier, I could see taking the Beastmaster. But it's not. Arrester's Admonition is one of the top commons in the set. Some of the best players in the world even think it's better than Chillbringer – I still have Chillbringer higher but admit that the cards are very close.
I think this pick is Arrester's Admonition, and it's not all that close, but it's still useful to exercise process of elimination on a pick like this!
This draft ended up taking quite the turn into a good version of the Dovin's Acuity / Clear the Mind deck with only one creature. While I could have played a couple more creatures (e.g. the Trollbred Guardian from Pack 1, Pick 2), I believe blanking all the opponent's removal is valuable enough to exclude the powerful uncommon.
The final product is below, and if you want to see the whole draft, you can view the video here!